40+ DIY Projects That Have Us Breaking Out Our Pencils And Hot Glue Guns
By Israel O May 1, 2023
---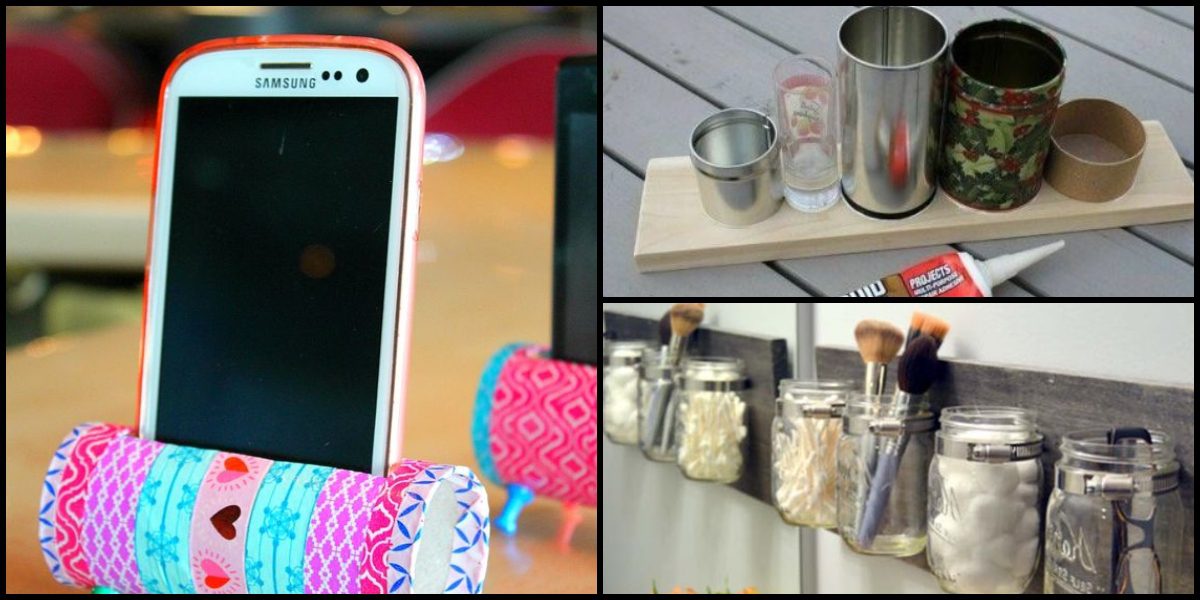 This article was originally published on
mydiwise
While people have always taken pride in projects they've made themselves, "Do It Yourself" projects have become increasingly popular with the advent of the internet. Tutorials, videos, books, and blogs that outline how to transform everyday items into masterpieces are now available to everyone with internet access. It's not just the ease of access, either. Another factor responsible for the palpable surge in the number of people involved in DIY projects is the fact that it helps to save costs and encourages creativity. You can also use DIY projects to stimulate your young ones and help them develop a great sense of intuition. Today, we scoured the world wide web for the most admired Do It Yourself projects. We hope that some of these masterpieces will inspire you to create some yourself. Without further ado, let's get into it.
1- Simplified wall art
You don't need expensive supplies to decorate your home. You can make a simple yet elegant wall art piece from everyday materials, as you can see in the picture. Once you have some spray paints, leaves, and a frame, you are on your way to creating beautiful pieces.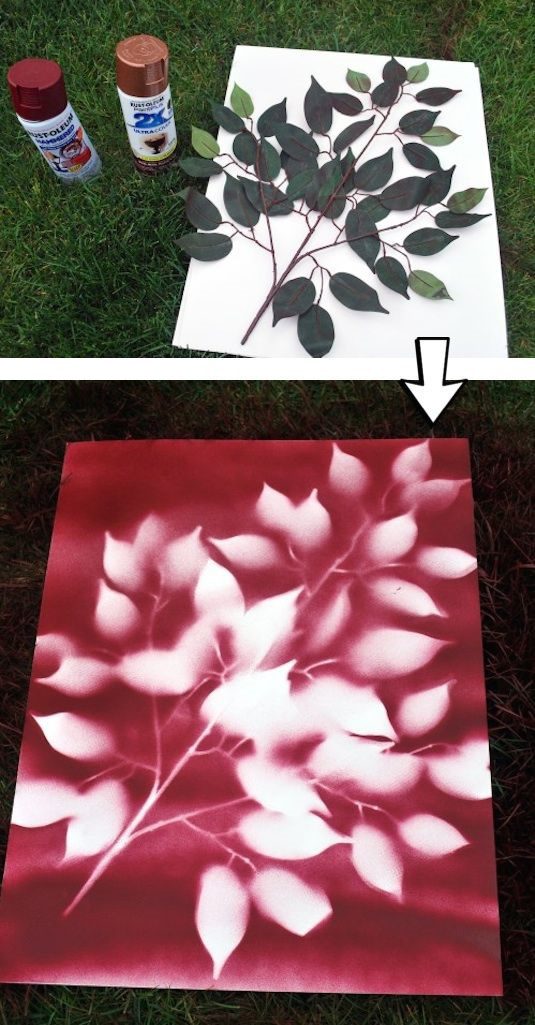 You can also tweak the materials depending on what you wish to design. The lesson with this DIY is that art doesn't necessarily have to come from sophisticated sources. Sometimes, common elements that we see are enough to create a masterpiece.
2- An incredible centerpiece from glass bottles
We're sure not many people would think that a stack of glass bottles could be turned into a beautiful flower centerpiece. But, as shown in the picture, it's not only possible but relatively simple. You just need some empty bottles, tape, and paint.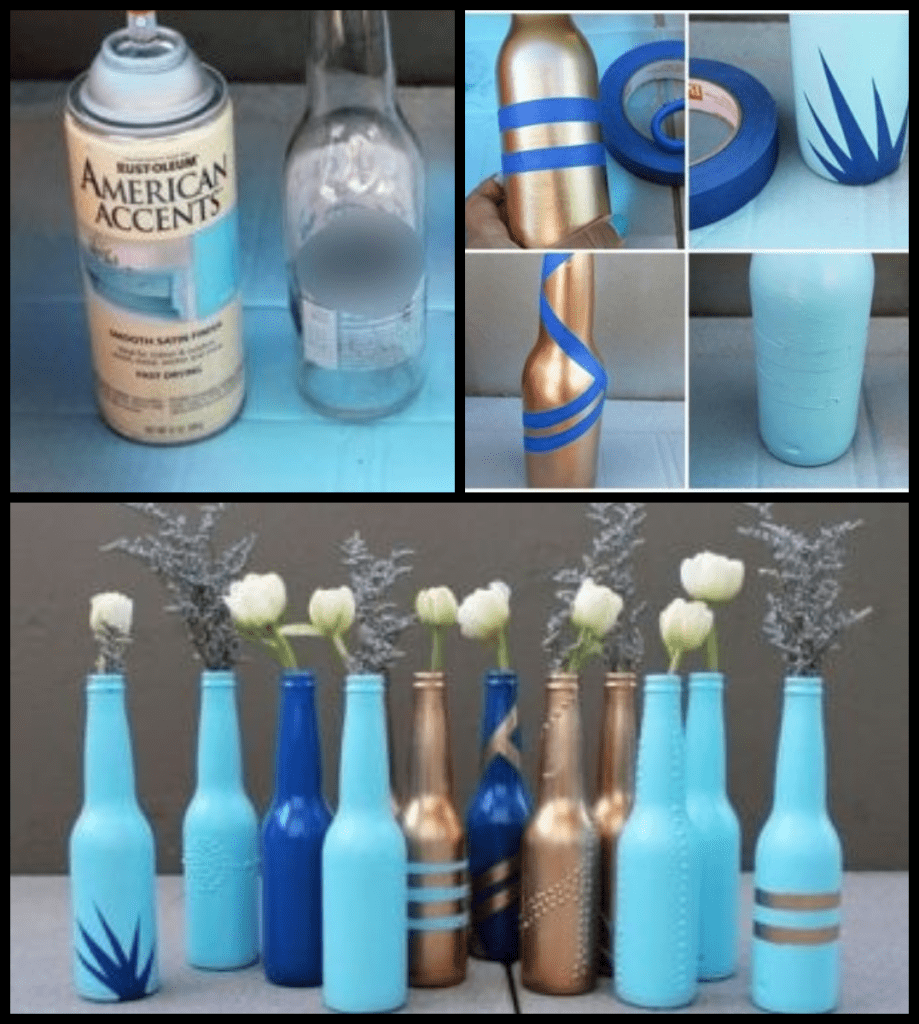 This craft requires an immense amount of creativity, especially if it's your first time painting on improvised raw materials. Between colors and patterns, the options are limitless. However, the result is very encouraging as these bottles could easily pass for professionally made flower vases.
3- Wall art from paintings and photos
The person that created this has taught us that you do not need to break the bank before you can own timeless wall art. This simple yet personalized art was created using a painted frame, photos, clothespins, and some twine.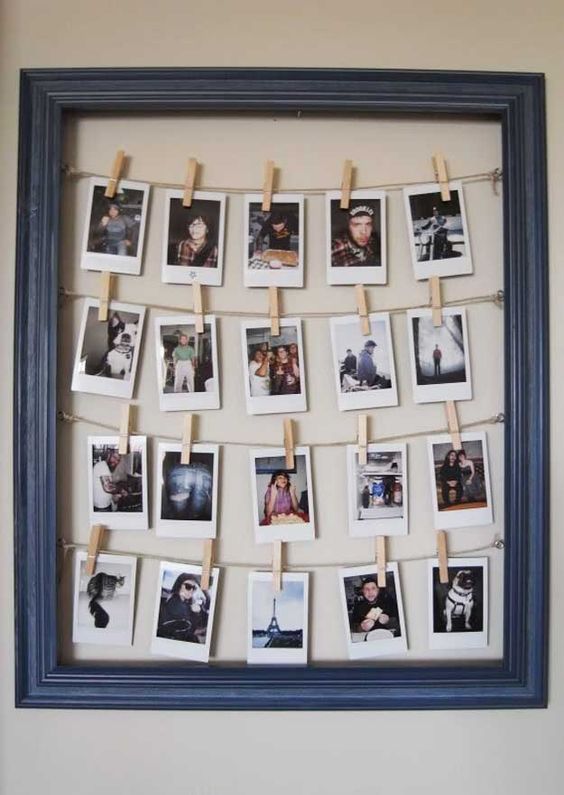 The result of putting all these household materials together was a timeless wall art that showcases simplicity and class. We also love the fact that one can rearrange and change the photos to give the art a refreshing look over time.
4- Open fruit shelf
Apart from the fact that adopting this open fruit shelf will make you eat more fruits, it will also add some glamor to your walls. This is a crafty shelf made from just two materials: a wooden base and metallic frames.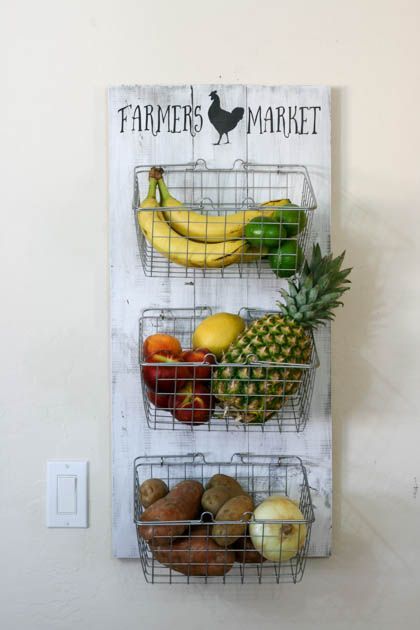 It's an inexpensive and easy way to organize your fruits. You'll also have the opportunity to monitor the freshness of each fruit on the shelf due to the open design. If you have the right materials, making this shelf shouldn't take you more than an hour.
5- Drawers becoming a side table
When it comes to "do it yourself" projects, there's no restriction as to the length you could express your creativity. As long as you're armed with the necessary raw materials, funds, patience, resilience, and adequate time, the sky is your limit.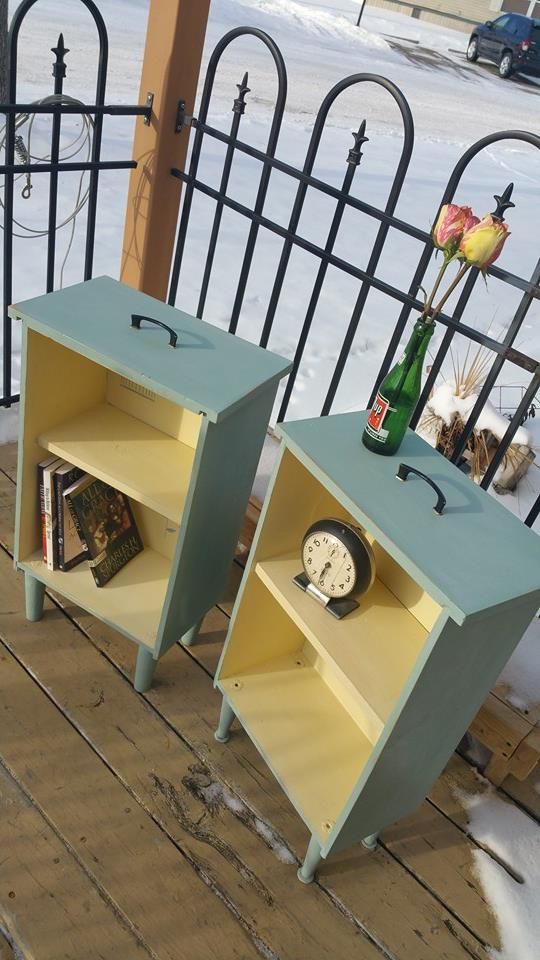 We're sure that these drawers couldn't have dreamt of becoming side tables in their life. However, removing the wooden parts of the drawer in the front gave a creative transformation into side tables. The tables also looked portable and refined.
6- Storage space from thrift store drawers
Many homes lack adequate storage space, sometimes due to insufficient space or expanding wardrobes. A journey to a nearby thrift store could help you solve these issues. Our evidence is these drawers that have been converted into cool storage spaces.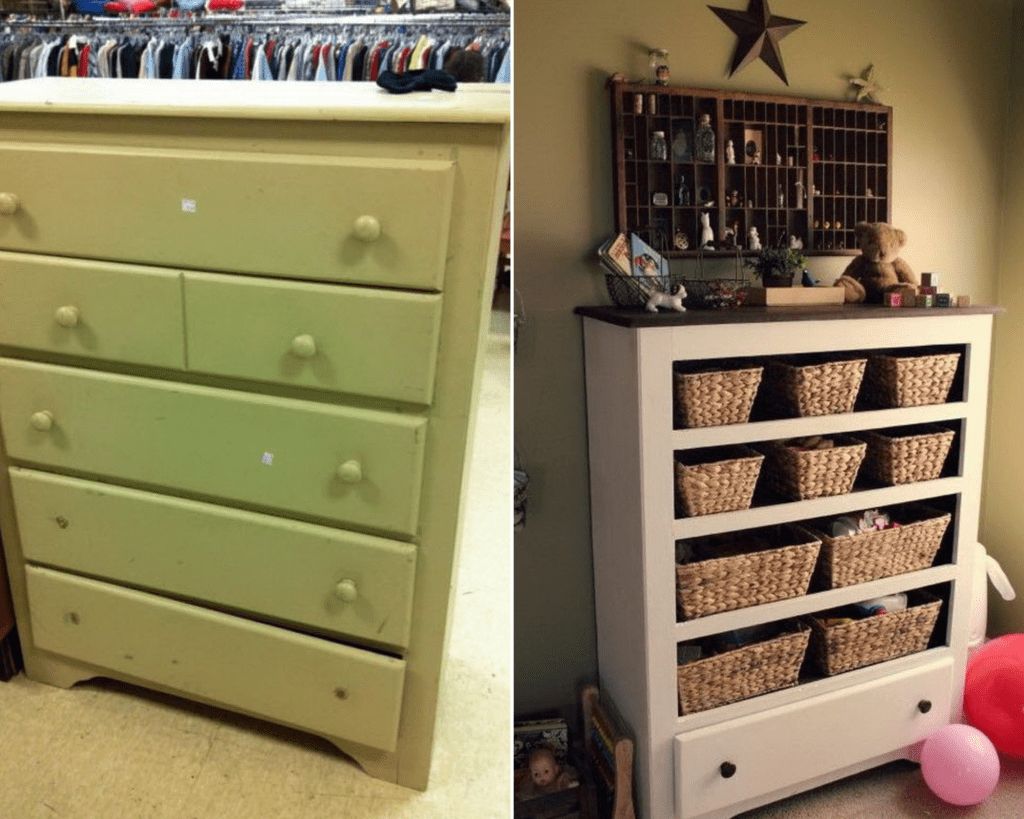 A very crucial advantage of these makeshift drawers is that one can easily clean and replace faulty parts, which means that you can get cheaper drawers that no one will want. You can also save more space around the house and consequently make it tidier with these drawers.
7- A clothes rack made from a ladder
This is one of the most interesting DIY projects we've laid our eyes on. The creator made us realize that creativity knows no end. If you've got a spare ladder in your house, you could make a clothes rack out of it.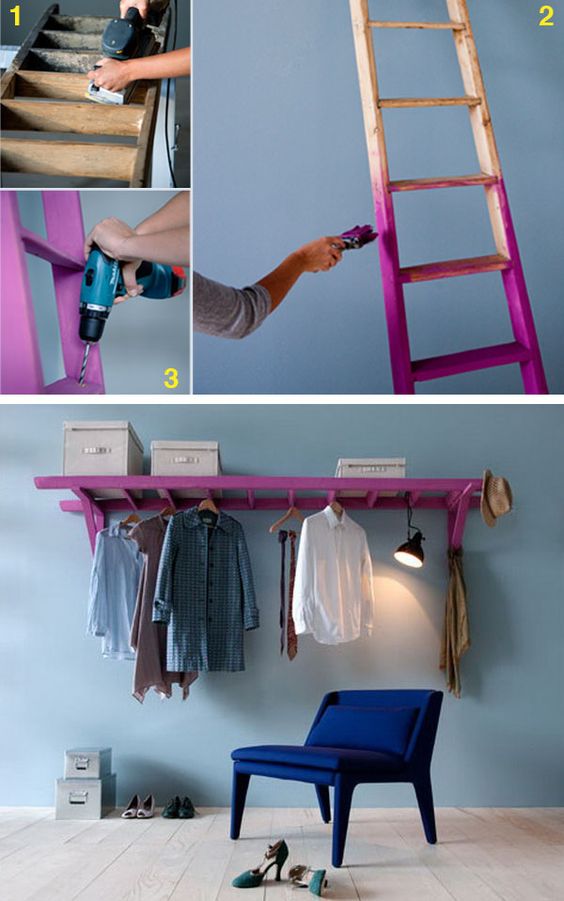 All you need is two brackets and paints. You'll also need to smoothen the wood and tighten the nails on the ladder. Each step of the ladder would form a place to attach your hangers. You can also use the ladder top as an extra storage space.
8- An armchair with a bookshelf
If you are a fan of reading in a comfortable and cozy location, this DIY project should be your next target. This person converted wooden pallets that were probably meant for a makeshift bed into a couch and bookshelf combo.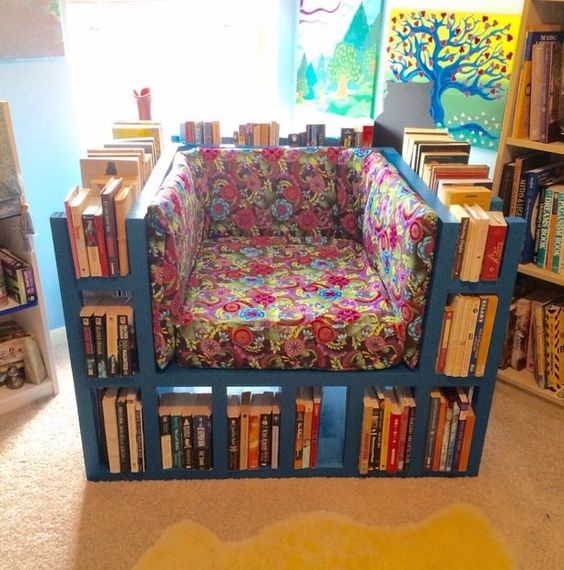 The best part of this project is the maximal space management skills that the designer portrayed. Apart from utilizing the center space as a cozy and comfortable armchair, the person also ensured that every other part of the structure was filled with books.
9- Using watermelon to serve Jell-O shots
A jelly shot or Jell-O shot is a mix of alcohol and gelatin. It's usually served cold in various cups, glasses, and bowls as a sweet yet mature treat. Here, we can see someone carved the inside of the watermelon to serve theirs.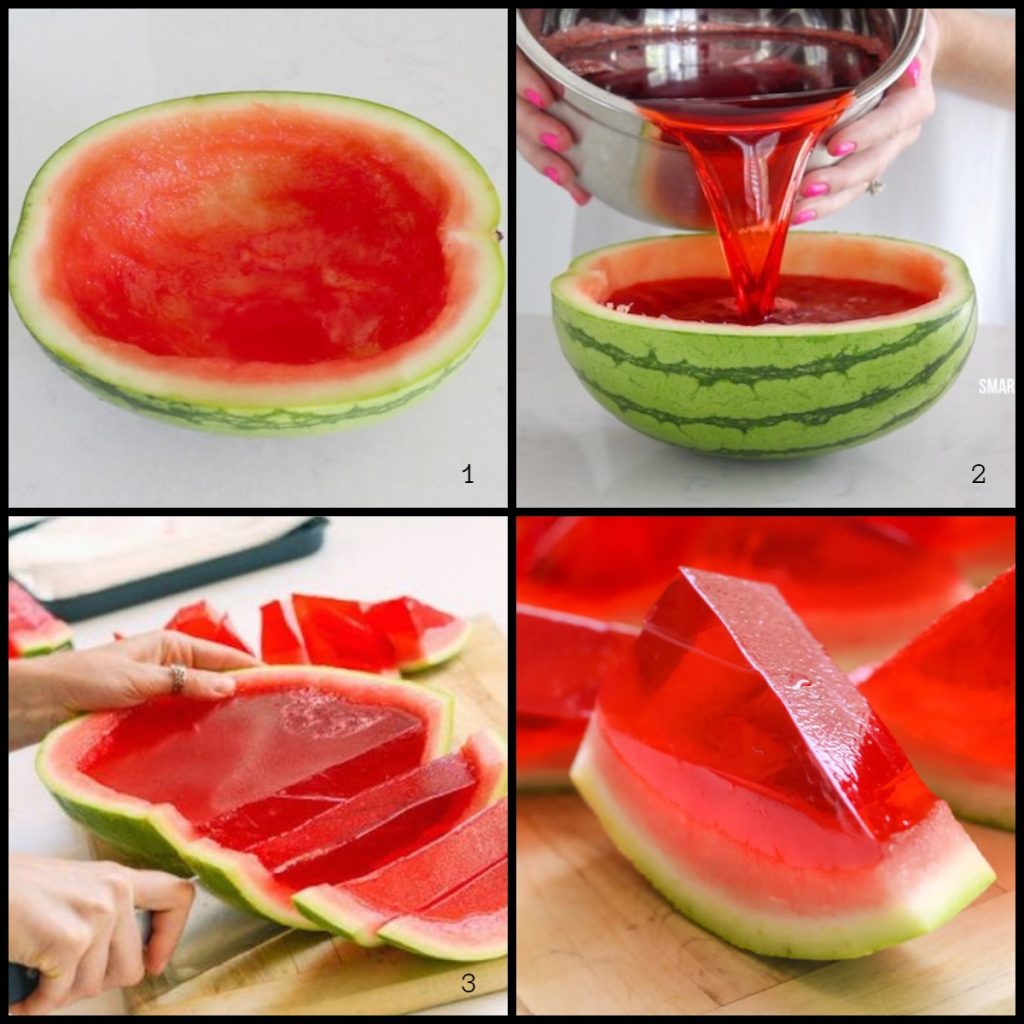 An interesting fact to note is that the modern gelatin shot was invented by Tom Lehrer. He used the invention to sneak alcohol into a military base during a Christmas party. Since then, his invention has crept its way into many parts of the world.
Here's a great way of utilizing your empty pill bottles. Instead of throwing them in the trash can, you could transform your empty pill bottles into hidden key storage. All you need is a small rock, an empty bottle, and glue.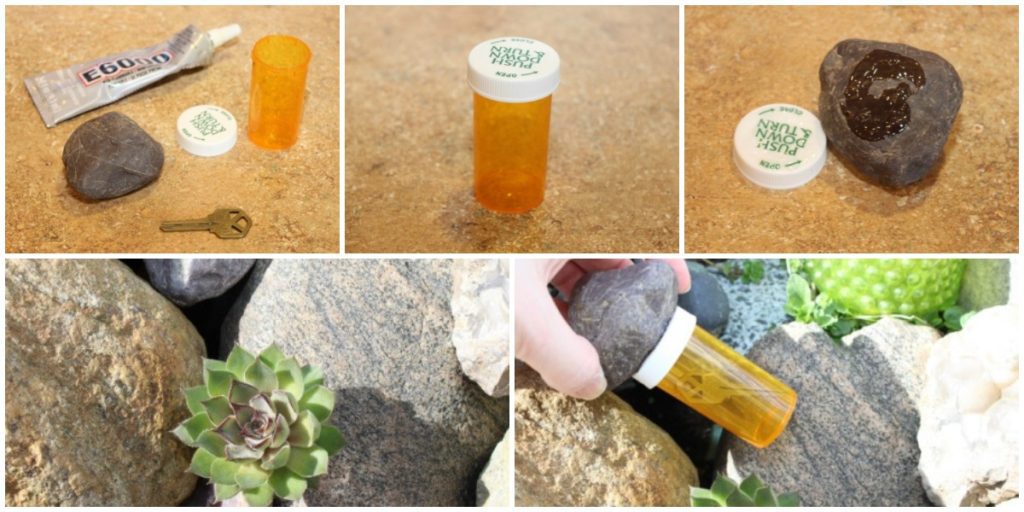 The glue is for attaching the rock to the bottle. You'll need to do this if you wish to disguise the bottle among stones. Once the rock is glued to the cover, you can place the key safely in the bottle.
11- Making a cork rug
Cork is an impermeable material that is harvested from the unique cork oak tree. This tree is so special because it regenerates its bark after being harvested, making it a great renewable material resource. Cork also has elastic and fire-retardant properties.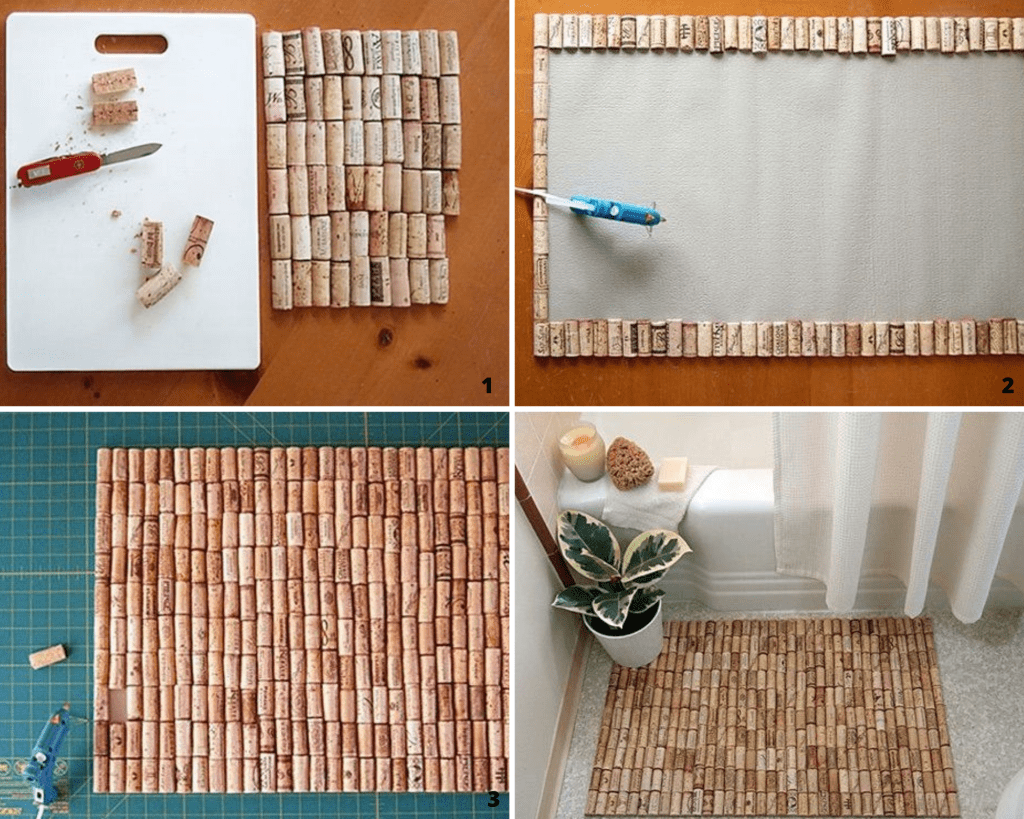 All these properties make it the perfect material for a variety of purposes. Commonly, it could be used as a cork stopper for wine bottles. If you have many of them in your house, you can split them and make a rug out of them.
12- Wall art from handprints
Making memories does not have to come from costly materials. This amazing DIY project testifies to this fact. This person used handprints from all the family members, human and pet alike, to make beautiful wall art that could last a lifetime.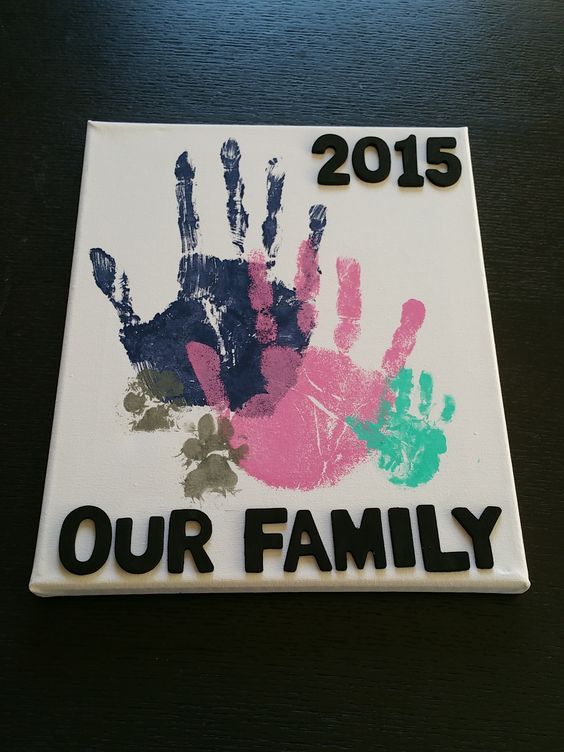 The most exciting part of this project is that the raw materials are readily available. All you need to create an everlasting memory is a canvas and paint. With time, the family members can make another handprint if they wish.
13- A simple chicken coop
Keeping animals like chickens or rabbits in your yards is a fantastic endeavor that brings numerous economic and health benefits. You will enjoy the privilege of eating fresh and economically cheap chicken eggs that you can trust. And, of course, there's no denying the benefits of having some friendly pets in your life.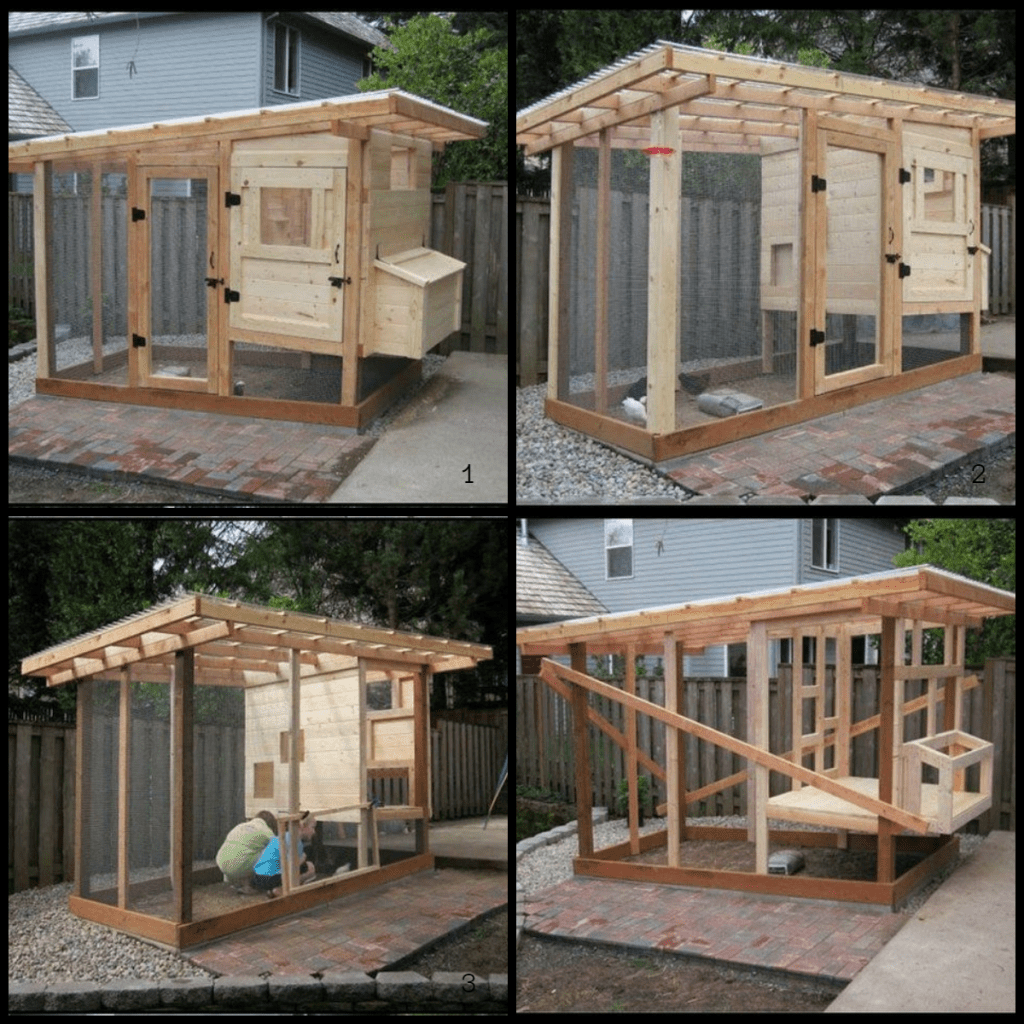 But letting chickens run free isn't always an option, and you'll need a coop as simple and crafty as this in your yard. It might not be this elaborate as long as it serves your needs. The raw materials for this project include pallet woods, nails, roofing sheets, and some basic carpentry skills.
14- Bobby pin case from a Tic Tac box.
Bobby pins have a great propensity of littering your space if you do not have a dedicated container for them. If you have empty Tic Tac containers, you can convert them into a cute and safe haven for your bobby pins.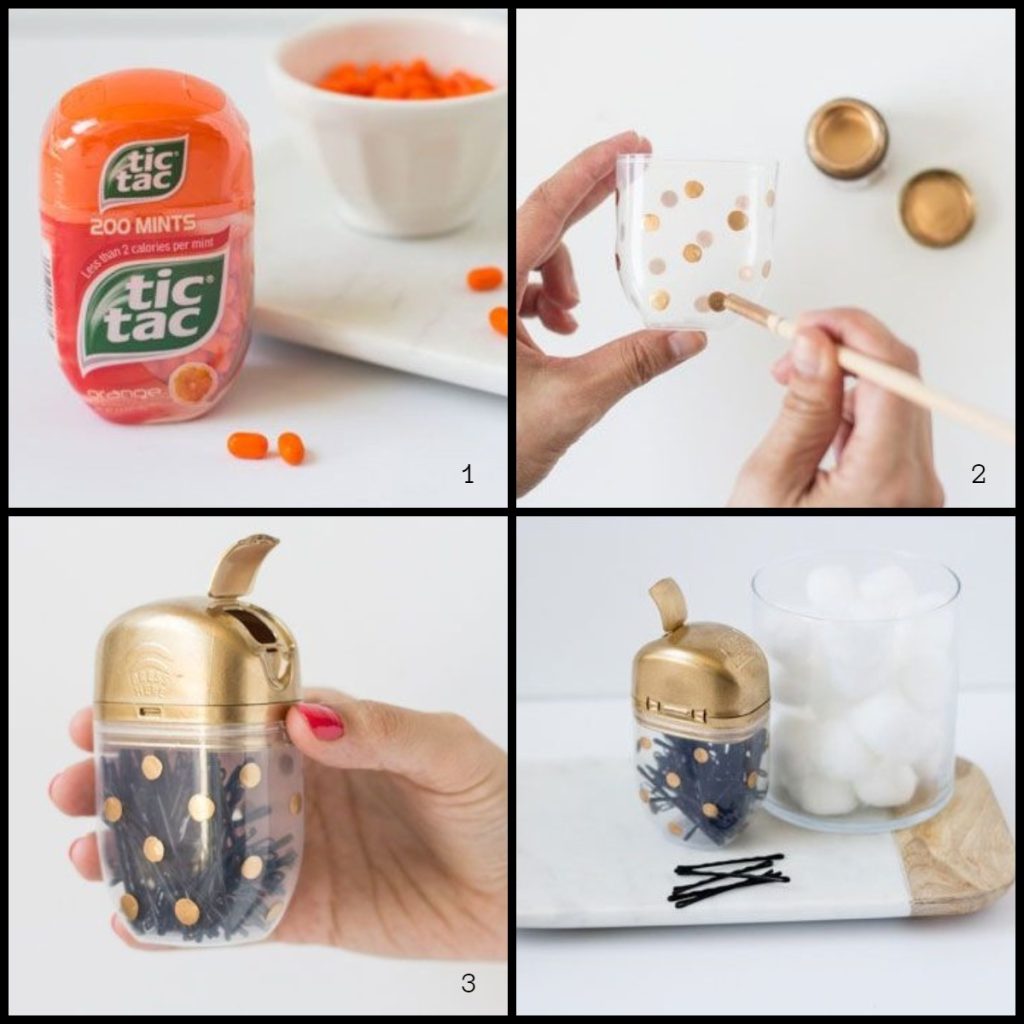 The flip-action hinged lid on most Tic Tac mint containers makes it a compatible box for bobby pins. The lesson here is that you can embark on your next DIY project by using the seemingly useless items in your home.
15- Building a tree swing
This DIY enthusiast showed us how to build a simple tree swing in less than an hour; the result is a recreational tool that can last several years. The materials you need for this project include a small piece of wood for the seat and a rope.

You'll need to find a tree with a strong branch from which you will suspend the swing. You'll also need to ensure that the ropes are tightly knitted around the tree branch and the seat. All this is to ensure safety while enjoying a ride on the swing.
16- Storage space from cabinets
Typically, cabinets are used to store office files or books and not garage items. However, when you're short on storage space around your home, you can transform an office cabinet into a garage storage box. Here's how to do it.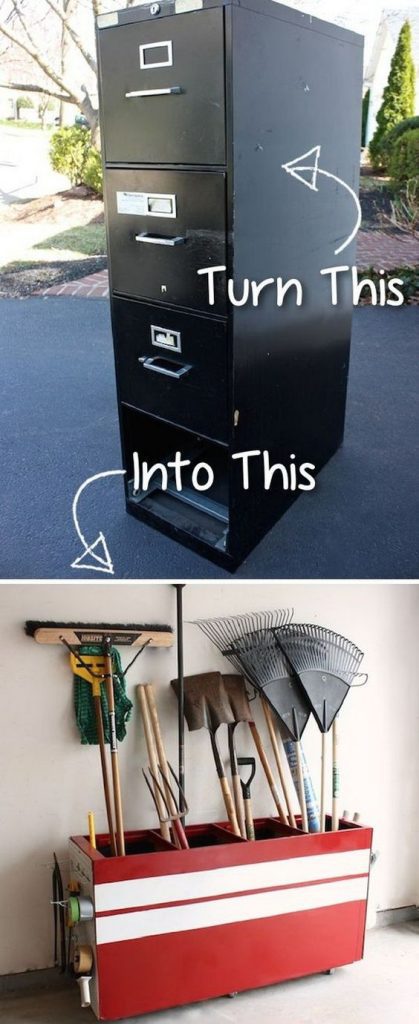 Remove each drawer in the cabinet and lay it down horizontally. Doing this will create enough space in each partition where you can place long garage items like rakes and shovels. You can also attach nails on the side to hang smaller items.
17- Designing a heart Sharpie mug
This project is a heart-melting one that requires little or no artistic skill. You can have a heart-shaped impression on your mug by doing some minor improvisations. You'll need oil-based Sharpie paint, contact paper, a mug, and a paint pen.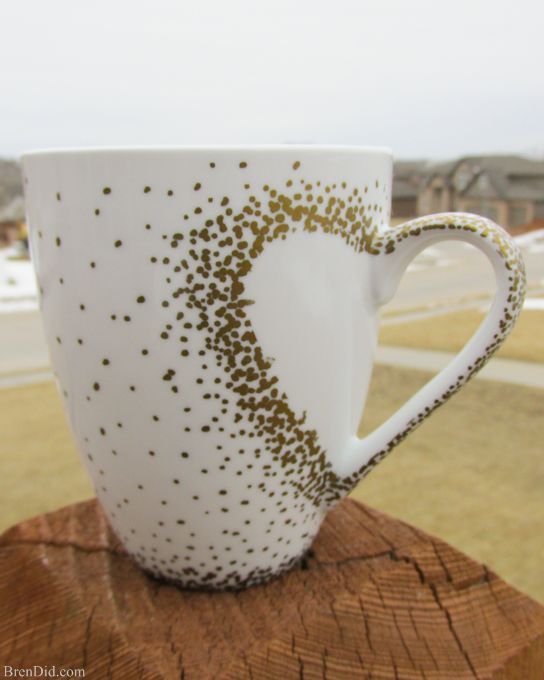 The heart Sharpie mug could easily pass for an industrial-made one due to the meticulous work done by the designer. As we mentioned above, you need little to no artistic skill to pull this off, as most of the work was done by paint.
18- An impressive craft
You must be ready to invest in spray paints if you wish to join the DIY bandwagon. This shiny craft is one of the reasons we are making this assertion. This person transformed some random containers into an impressive home office set.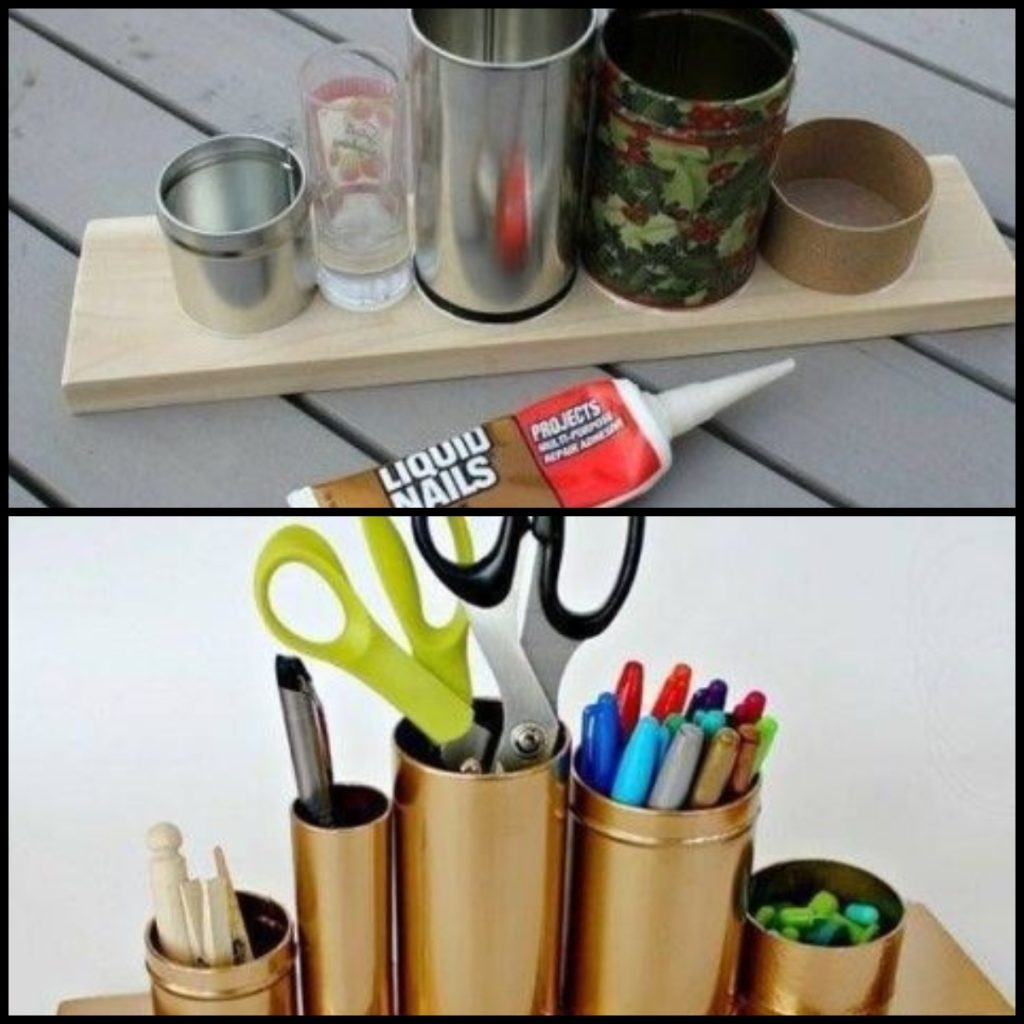 We noticed that the spray paint contributed largely to its sleek, high-end look. The lesson with this craft is that you can transform many mundane items in your home into pricey and beautiful artifacts. You'll also save costs at the same time.
19- An extra use for your nail polish
Here's another way you probably never thought one could use nail polish. Apart from painting your nails, you can also make a beautiful marble mug with nail polish. The good part is that you will hardly notice any difference from a high-end type.

The designer invested in a substantial amount of nail polish and poured them on a plate. Thereafter, a plain white mug was dipped into the plate to create the impression that you see. However, it'll take a while to dry.
20- An upgraded nightstand
Most old household items need simple refurbishing instead of total replacement. A simple refurbishing will not only save you money, as parts and tools are cheaper than full/new products, but also allow you to showcase your creativity. Here's an example of a refurbished nightstand.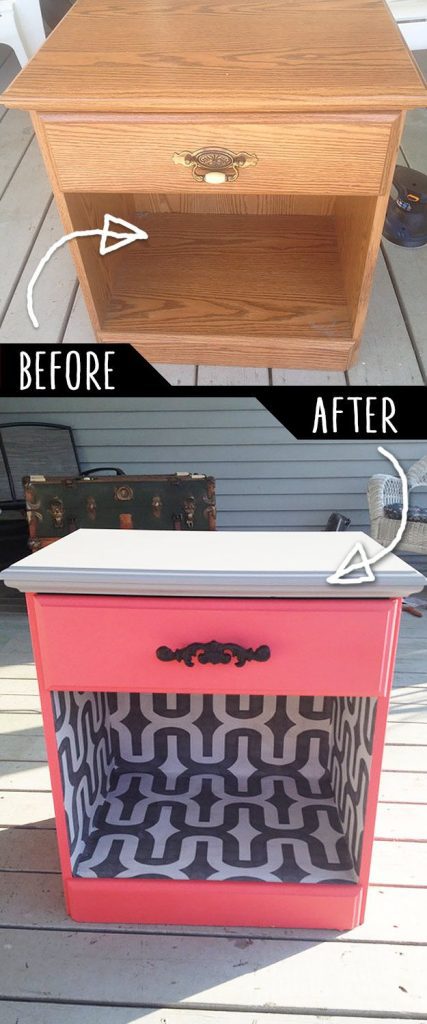 The DIY enthusiast did a simple painting job and turned the nightstand into a colorful masterpiece. The inner frame and color were changed, and the upper part was repainted. The most interesting part is that all of this costs eight dollars.
21- Making phone holders with a tape
Not so many people would think that you do not need to buy expensive phone holders to enjoy your music or videos hands-free. This project made us realize that phone holders can be made with common items like washi tape.
Once you have a paper roll and colorful tapes, you're on your way to making a unique and colorful phone holder, like this one, for example. However, you must make sure that the unit is thick enough to support the weight of your phone.
22- A professional transformation
Apart from investing in spray paints, many "do it yourself" projects also require a good sense of color combination and an eye for aesthetics. For instance, the attractive combination of this wood's brown and gray gave this small shelf a revamped look.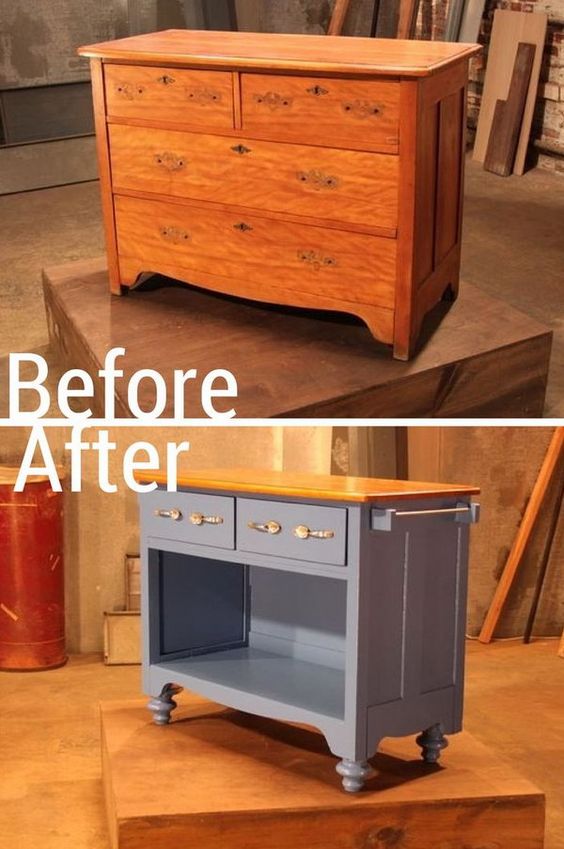 You do not need to break the bank to buy company-made products all the time. Here, we simply learned that objects and furniture from a flea market could be refurbished to make a high-end product. If we only looked at the bottom picture, we never would have guessed that this is a DIY project.
23- A good use of Sharpie pens
Sharpie pens have the reputation of creating water and fade-resistant impressions. An excellent way of harnessing this enviable property is to make wall art. And with the wide array of colors, it's easy to create a colorful masterpiece. You can invite your children to join you in making something like this.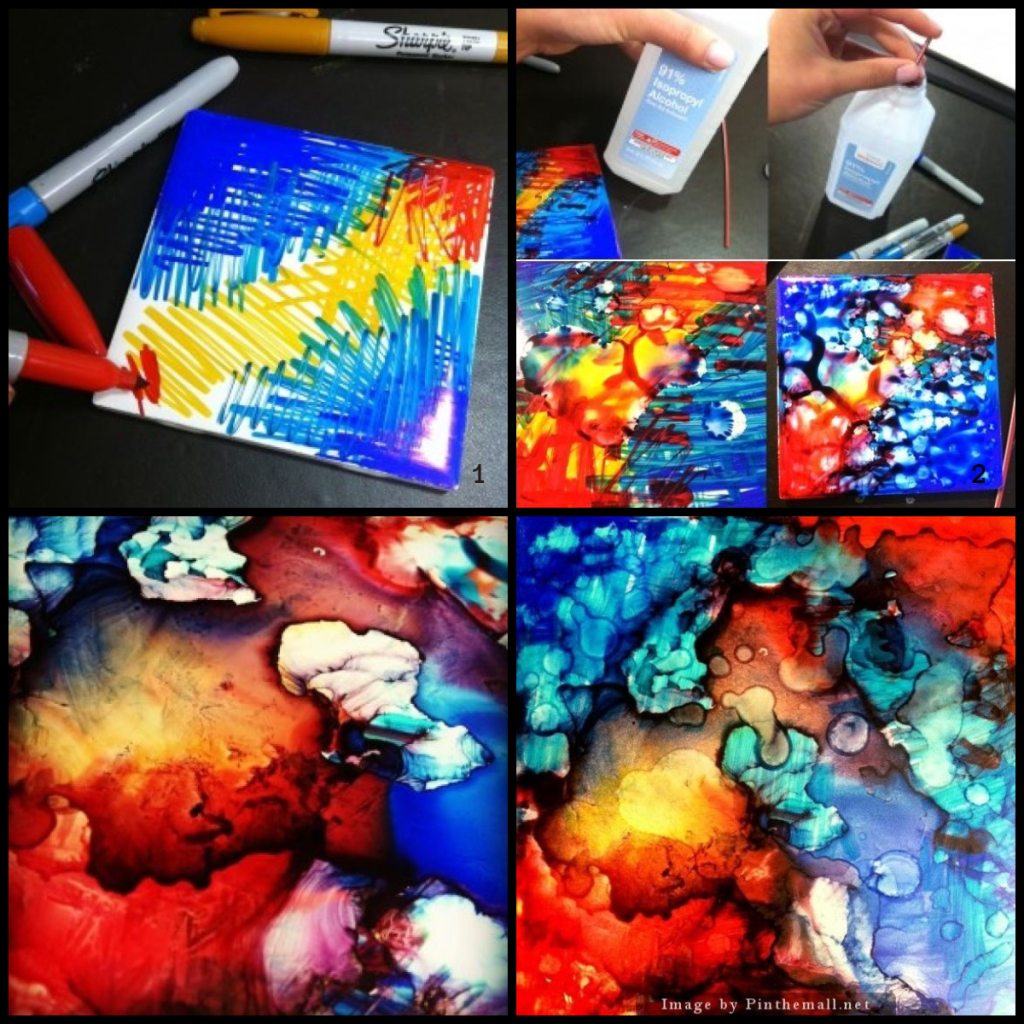 Since art is a function of what the artist feels and wishes to communicate, it doesn't matter if your project looks disorganized or meaningless. As long as it appeals to you, wall art could be a single transformation your living space needs.
24- An attractive flameless fire pit
Christmas time is a period where fire pits take over the place. They create a cozy and warm feeling which usually augments the festive mood. Of course, not every house has a safe space for an open flame, so a flameless fire pit is a perfect solution! Here's a simple flameless fire made from common household items.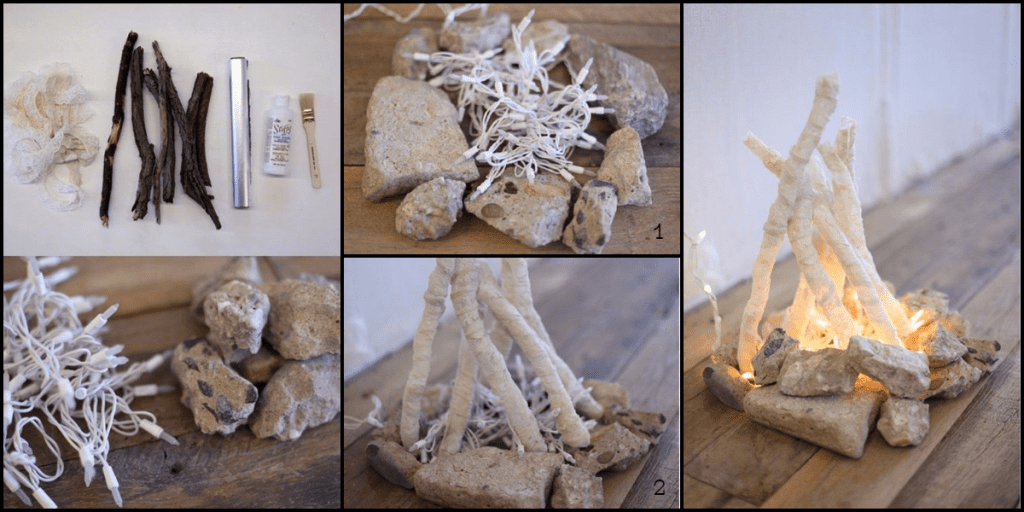 This project caught our eyes majorly due to its simple and colorful nature. The materials you need to pull this off include lace strips, aluminum foils, tree branches, a paintbrush, and rocks. Just wrap the branches in aluminum foil, and you're on your way to making one of these.
25- Transparent light bulb planter
This is an eye-catching project that is capable of transforming any space into a garden without hassle. We haven't seen many planters that are this beautiful or cheap. All you need to do this on your own is a light bulb and some pliers.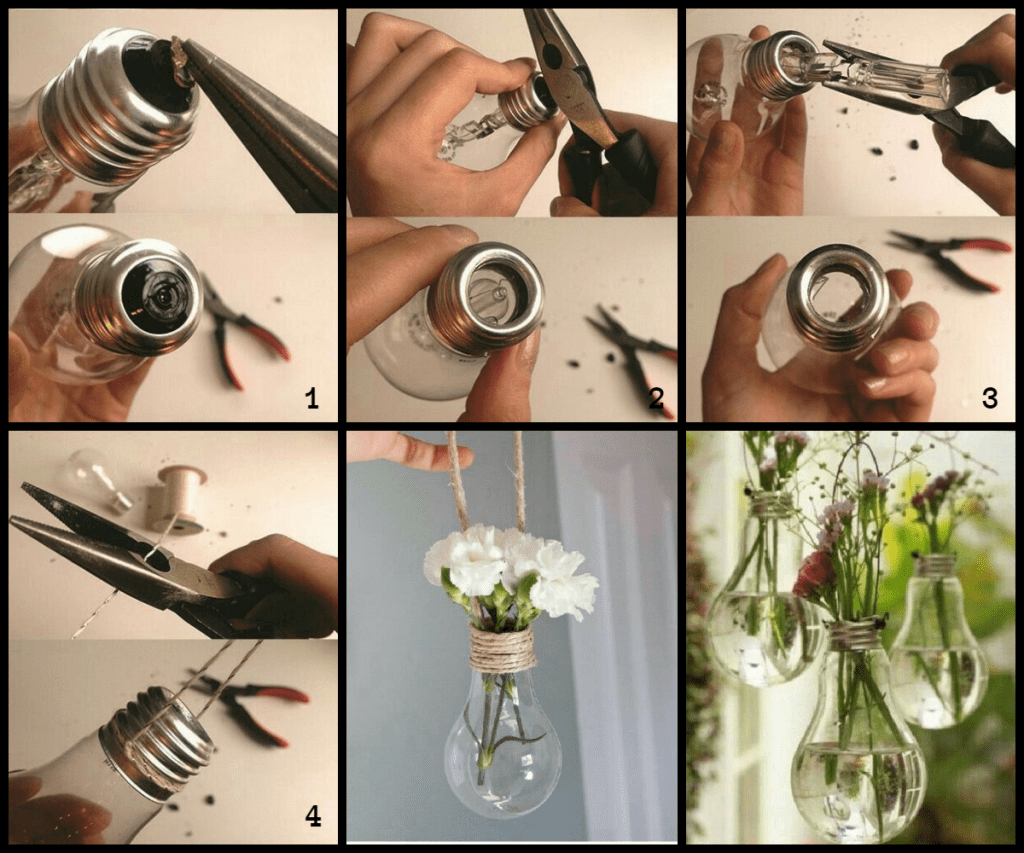 Ensure that you get a transparent bulb and remove the elements on the head to create a space where the flower will hang. Once all the insides are safely removed and disposed of, attach a string or twine to hang it from any surface.
26- A simple tree coat hanger
If you have limited hanging space in your house, a very helpful alternative is to find a tree branch to make yours. This is a crafty piece of art that almost makes us want to abandon the conventional coat rack.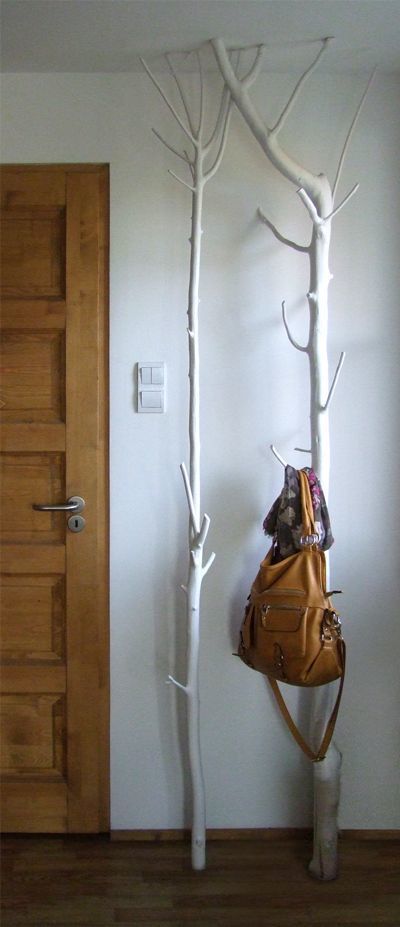 You can talk to your wood supplier to get you fallen tree branches that can be used for this purpose. You'll also need to get paint and be ready for some minor carpentry work. This rack looks beautiful and would most likely be durable.
27- Making a finer lampshade
As we mentioned earlier, many household items do not need a replacement if you're interested in investing a few dollars and showcasing your creativity. An example is this refurbished lampshade which could easily pass as a factory-made product that your friends could buy for themselves.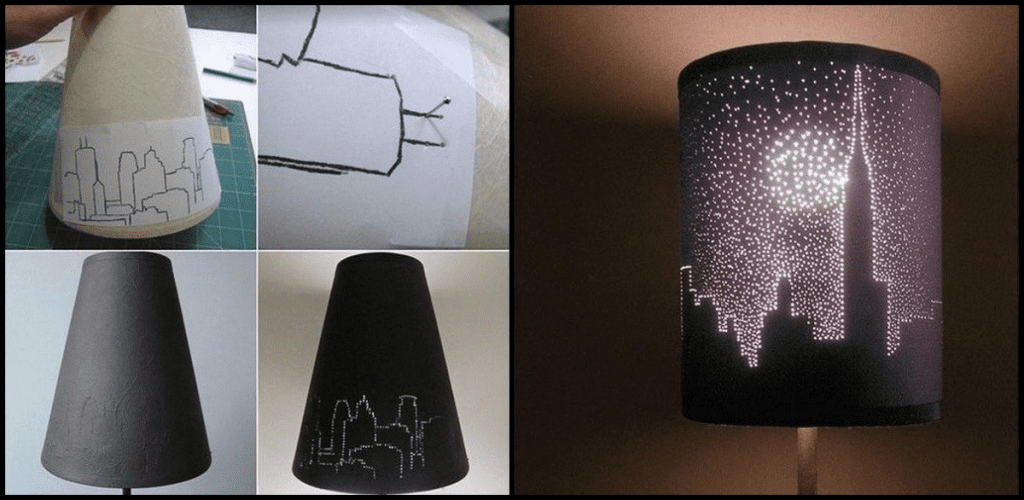 Drawing skills are needed here as you'll have to download or draw a city silhouette to make this impression. The bulb must also be on to get the full feeling from the drawing. All these would cost far less than buying a new lampshade.
28- Pebble flooring
Going to the river bank now has a decorative use. You can pick colorful pebbles at any river bank and use them to make a beautiful pebble shower floor. This flooring type gives an undeniable natural presence in your shower.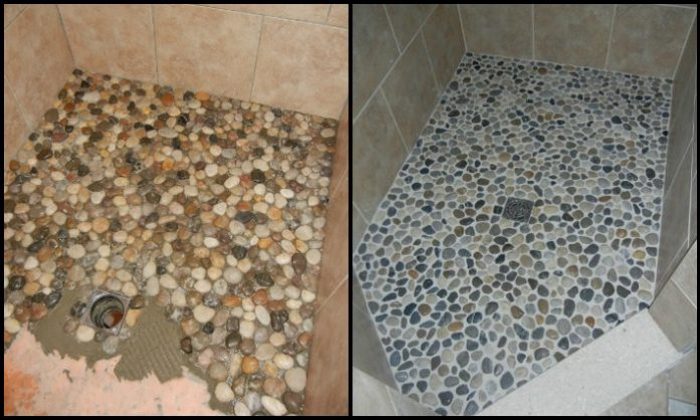 Doing this requires lots of patience and meticulousness since you have to arrange the pebbles one after the other. You'll also need an adhesive to hold all the stones. Some people also take note of color patterns during the arrangements.
29- A framed flower letter
Framed flower letters are extraordinary graphic works of art. You can hang them on a wall or pack them as a gift to your loved ones. The materials needed are not that elaborate or expensive, especially when you already own a frame.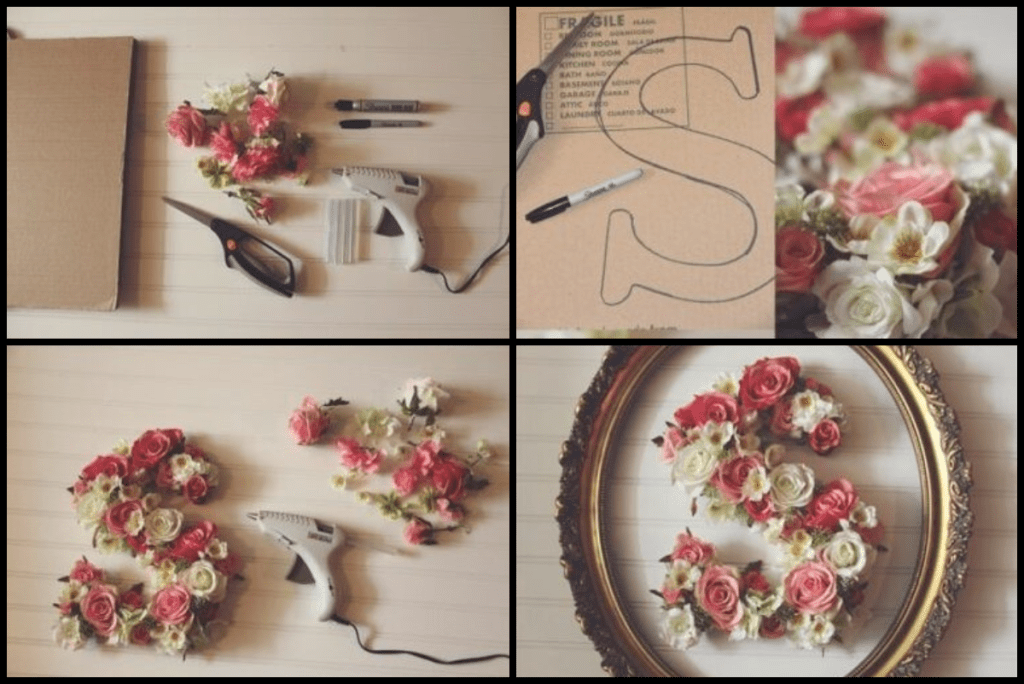 Flower letters are known for their delicate yet durable nature. For this DIY, you'll need a piece of cardboard and a pen to trace the letter you wish to design. Once this is done, simply glue the flowers to the letter and voilà!
30- Designing monogrammed letters
Making clothes is not the only place where ombre yarns can be used. You can also use them to make monogram letters. Apart from its delicate nature, the advantage of these yarn ombre designs over the flower ones we just saw lies in their resilience.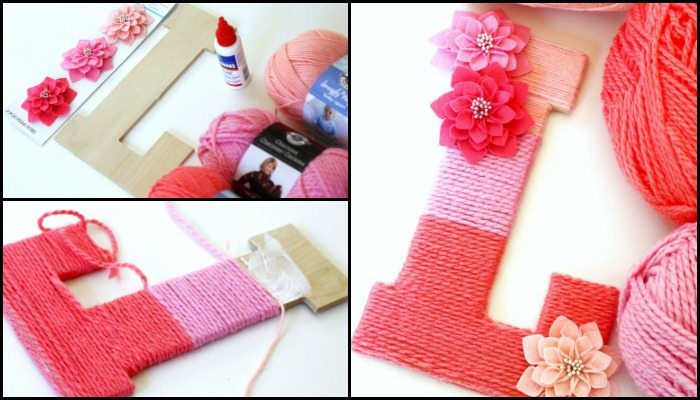 You can also easily place them in frames or any other place you'd place a flower letter. If you wish to use them for a long time, there's also an opportunity for you to change the colors and font from time to time.
31- All that glitters is gold
This project is making us doubt our belief in the saying that not all that glitters is gold. At first glance, one could easily make a mistake and think this item is made from a gold-plated material. The trick is to invest in a lot of glitter.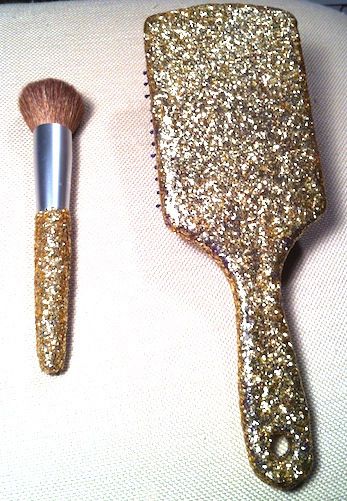 Glitter can help you with amazing transformations in a wide variety of DIY projects. You can use glitter to accentuate a factory-made product's design or even give it a custom flair. You can also use them to refurbish an old or second-hand item.
32- Making a hanging bookshelf
This project has some embedded technicalities but before we delve into that, let's use a moment to appreciate the creativity behind this masterpiece. Our attention goes majorly to the sculptured wood that forms the base. This project is beautiful, but not ideal for first-timers.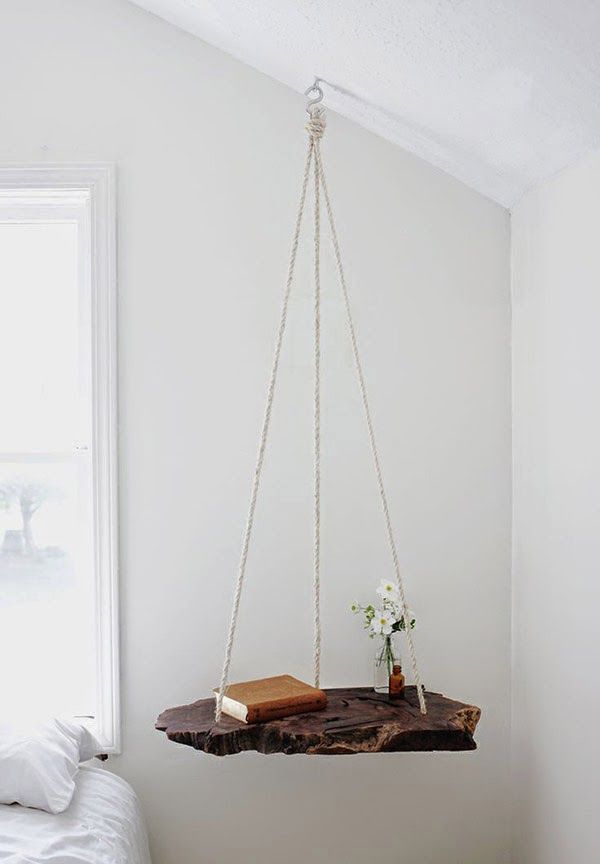 The designer must have invested in some wood shaping tools to make the base. Other materials needed for the project include ropes, anchors, and nails. And, of course, some basic carpentry skills. The rope must be strong to avoid talking off the ceiling.
33- A bowl made from glitter
This is another wonderful use of glitter. Here, it has been used to make a bowl that could easily be mistaken for a gold-plated variety. However, the process of making this masterpiece requires a lot of patience and careful consideration.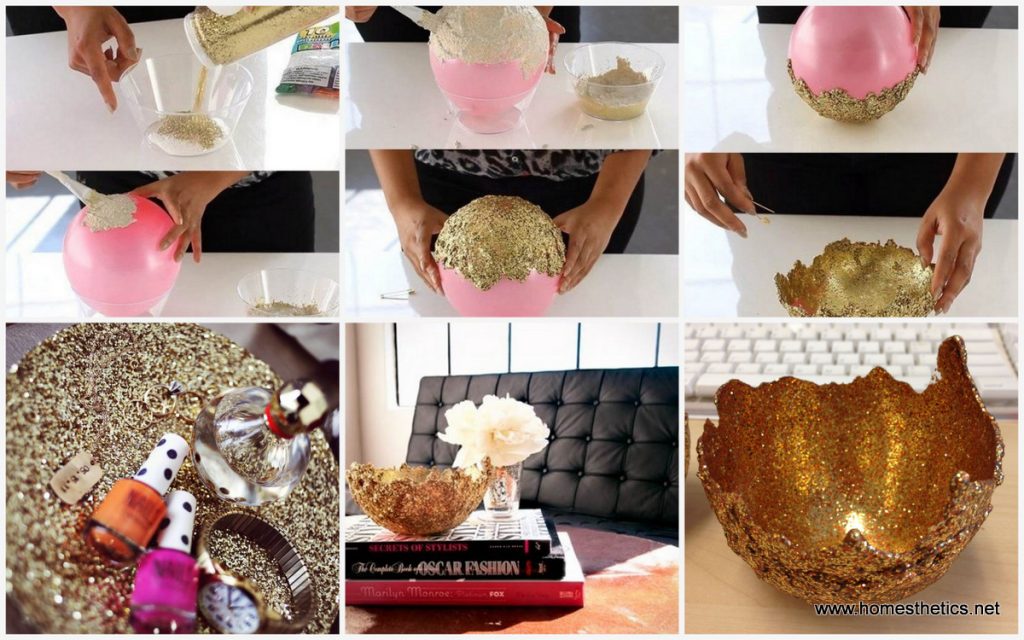 You'll need to be meticulous while painting the outer portion of the balloon to avoid losing track of the pattern. Any simple deviation from the template could ruin the project. There's no need to rush during this kind of project.
34- A simple rack for toilet paper
Trees are usually found outdoors, but throughout this compilation, we've seen numerous use of trees as an essential interior decor element. Let's take a look at this wooden rack for toilet paper rolls that have caught the attention of many DIY fans.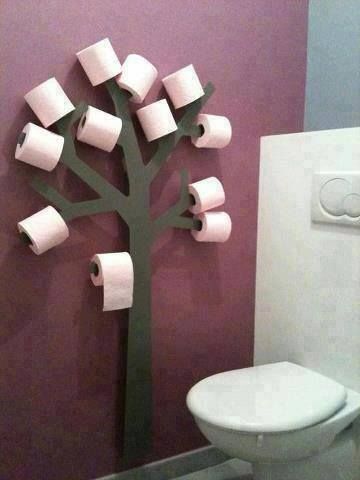 The rack would serve several purposes. It could be used as a makeshift hanger for underwear or items of clothing in the toilet. It would also help you organize your toilet papers and keep the rolls for other DIY projects.
35- Creating colorful dreams
A jar has several uses at home. You can use it for a swear jar, a makeup organizer, or a flower planter. You can also use them to save your dreams and aspirations. All you need to create lasting memories are colorful notes.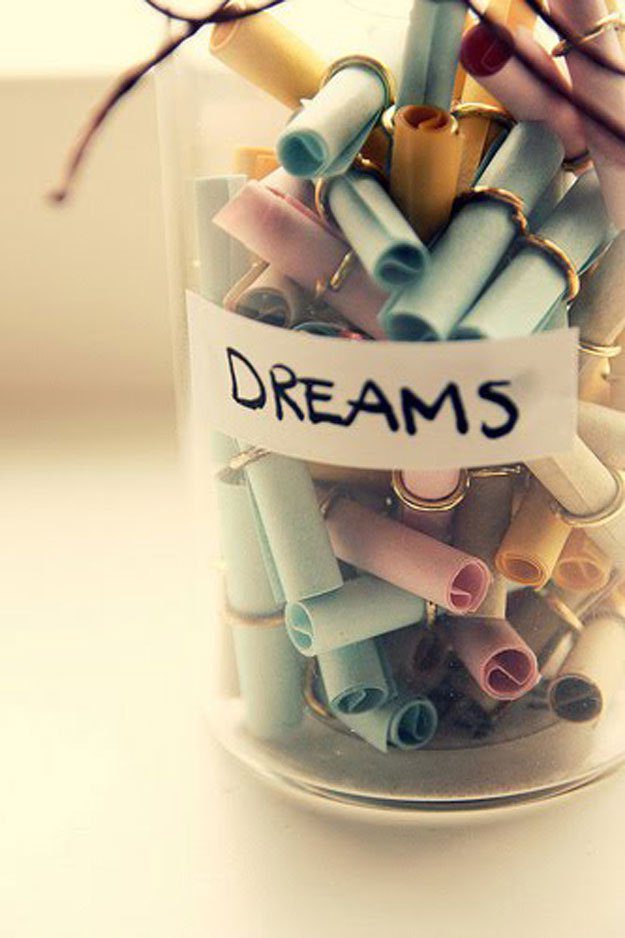 Whenever you have a DIY idea or you learn something new online, you can scribble them on colorful papers and save them in the colorful dream jar shown above. This way, you would have a cheap timeless journal for all your daily activities.
36- Block zipper handbag
A block zipper doesn't only have functions in a conventional bag or clothes; you can also use them to make amazing DIY projects like this. You can make a personalized pouch from the comforts of your home by following simple steps.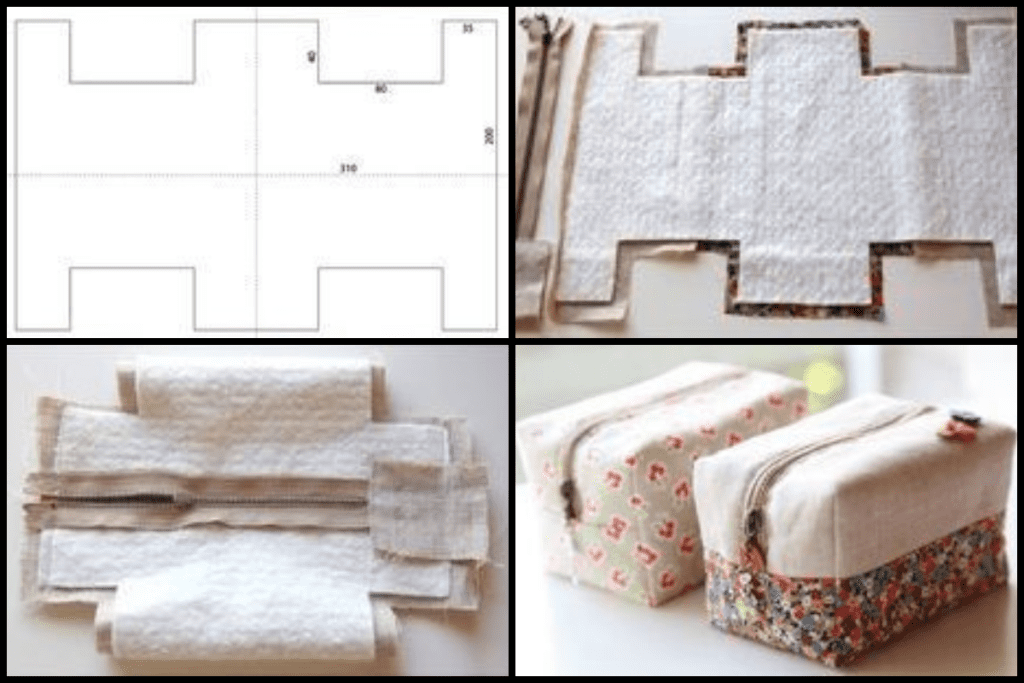 The first step is to gather the needed raw materials: drawing papers, pencils, sewing tools, block zippers, and cloth materials. You must also spend some time outlining the dimensions of the pouch by making a drawing. After that, it's simply a matter of sewing.
37- Salt has other uses
Salt has several uses, and today, we found an unusual way of utilizing your table salt. You can use salt to make art pieces, like this fireworks display. In conjunction with paintbrushes and paints of various colors, salt can help you produce a high-quality impression on paper.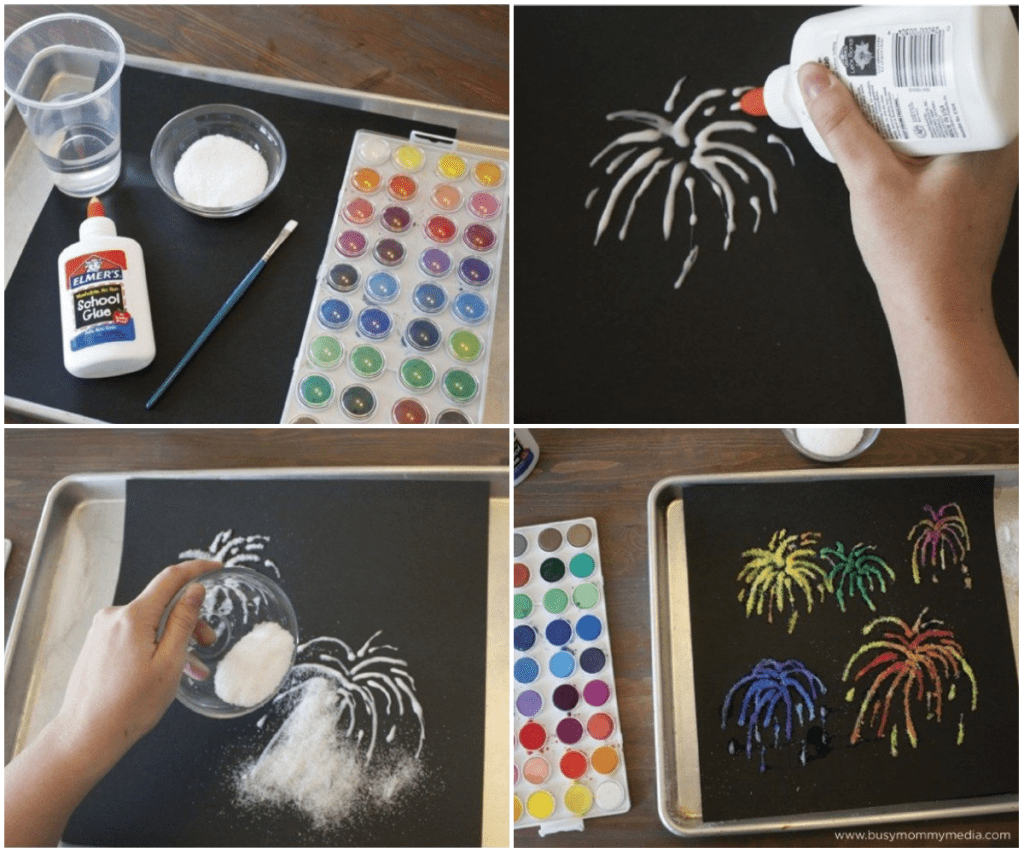 To make this, pour some school glue on paper and then add some salts to fill the outline. The last major step is adding colors to the mix. This project can be done with your little ones as a way of stimulating their creative gift.
38- Frosted tumblers
These tumblers can be your next gift item idea using only special tapes and paints. It is also a great interior decor element. Glass dyeing can help you transform all your tumblers instead of buying new ones, if you're looking to add some new designs to your cupboard.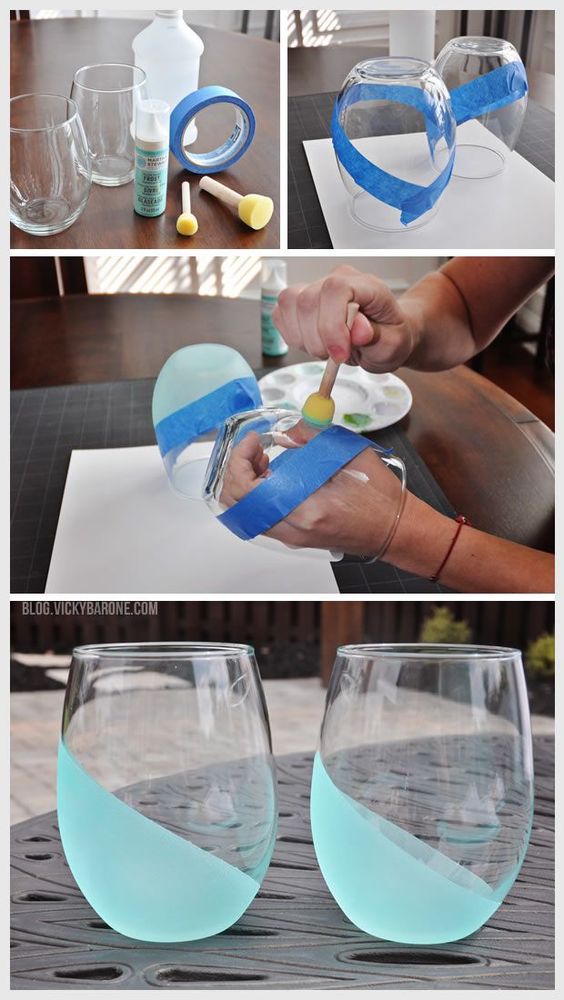 To start, fix the tape around the glass in whatever design you'd like, and the work is half done. The remaining part is getting the paint on the tumbler. You can buy multiple color shades if you wish to experiment further.
39- A simple ladder shelf
Here's a ladder shelf that caught our attention due to its simplicity and versatility. Of course, ladders are usually used to climb tall structures in your home; this DIY project makes us look at them in a new light. You can use the shelf in each step as an extra storage space.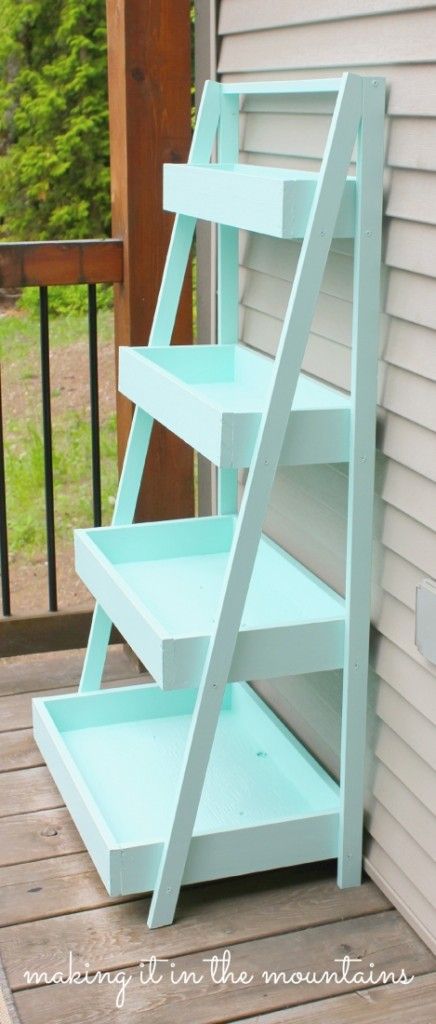 You can customize the color if you do not like the shade, and there's no restriction as to which part of the house you can use this shelf. You can use it in your bathrooms for storing towels or in the hallway for storing photos.
40- A window becomes a showcase
This is a professional and fantastic transformation of a window into a showcase. When it comes time to replace the windows in your home or office, you can transform them into works of art instead of just throwing them away.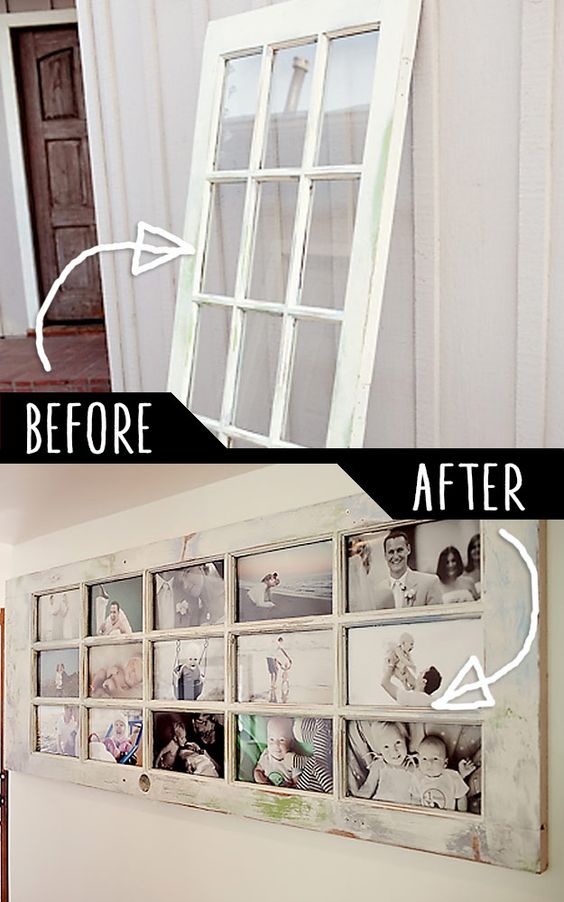 A great deal of work goes into designing windows, and as such, they do not deserve being thrown out when worn out. You can nail it on a wall and use the frames as picture holders, as you can see in this DIY.
41- Heart-shaped garland
Garlands are a simple yet elegant wall design that anyone can make. There's an endless versatility in color and shapes, giving each one a unique look. And, with a little extra artistic talent, they can look just as good as factory-made, like the one shown here.
This is a papercraft that could be designed in less than a day. It's also not expensive and could be a game-changer in your room's decoration. All you need are thick paper and scissors. We love the design on this one; we can't believe that this wasn't bought at a store!
42- A beautiful light orb
Outdoor decoration is as vital as interior decor. The reason is that visitors and onlookers might not enter your home but would judge the interior from what they see outside. A quick way of investing in outdoor decor is to have good lighting.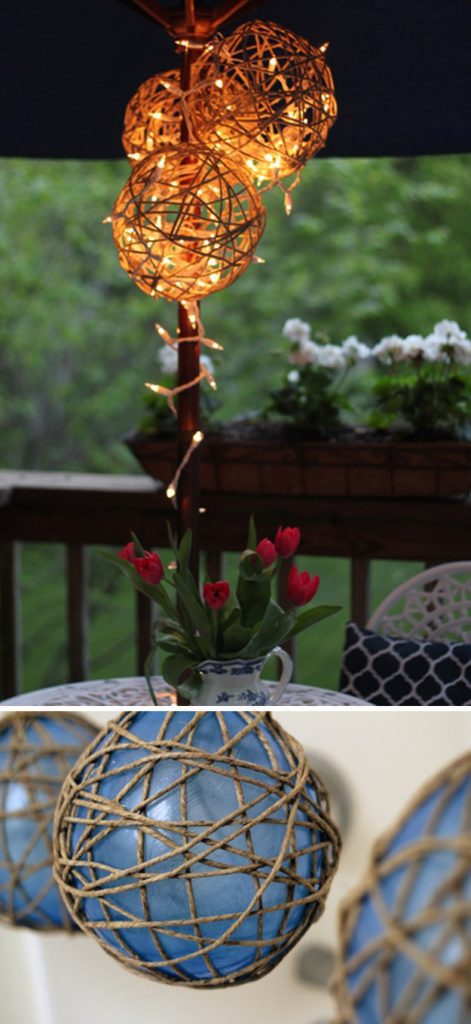 This beautiful outdoor light bulb would give any house a welcoming glow. It's also an impressive use of embroidery hoops. Other materials used in this project include ropes, glue, and a balloon. These are common items, but the result looks like a factory-made product.
43- Makeup organizer from mason jars
If you have spare mason jars, you can stack them up and make something like this. This is a helpful alternative for those that suffer from disorganized bathrooms. All you need to pull this off is wood, jars, and some hoop mount brackets.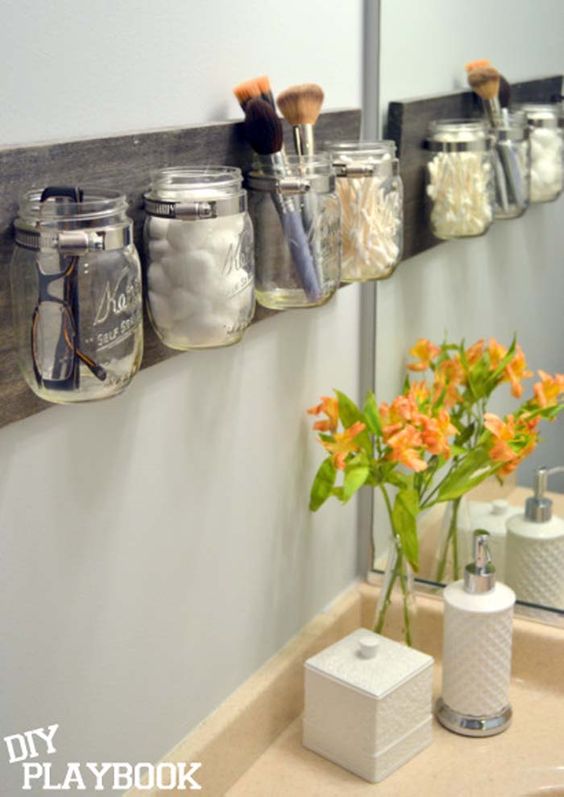 Of course, this project isn't only good for bathroom storage. It works as a custom organizer at a home office or really anywhere that you need to keep smaller items organized. Just make sure to mount it on a sturdy wall.
44- Mirror art using spoons
This person showed us an ingenuine and impressive use of disposable plastic spoons. The designer embarked on a journey of creating a chrysanthemum mirror, but no one would have thought that spoons would play a major role in the project.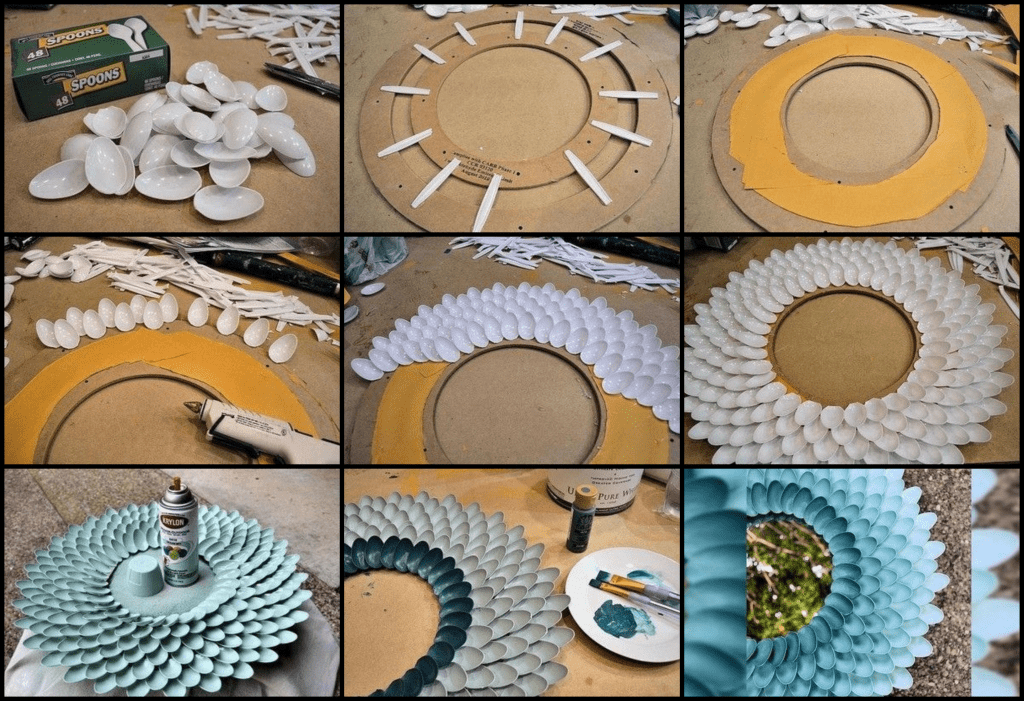 Once layered in the right way, spoons form the perfect impression of a flower. With a gradation of paint colors, the final work truly looks like a giant flower. This is a great way to upcycle plastic spoons if you find yourself using them often.
45- A beautiful art shaped wall art
We've seen many heart-shaped wall arts, but this one caught our eye due to the raw materials and simple color pattern. The designer used twigs as the major raw material, and typically, we do not think much of branches and leaf litter in the forest.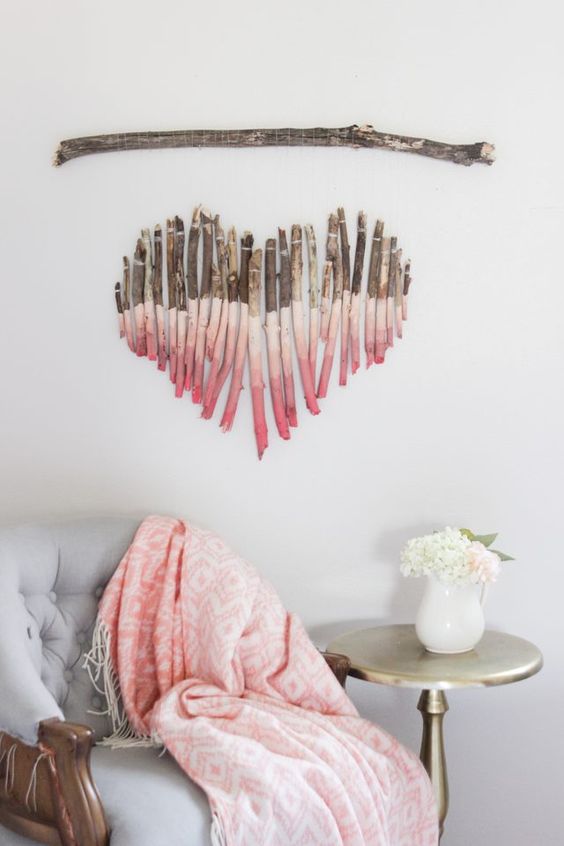 The impressive color gradient transformed the twig and made it into something one could hardly recognize. The designer must also have invested in cutting tools that would enable creating the shape we see on the wall. And like so many of the other DIY projects, the shape and color are as limitless as your imagination.
46- Outdoor potting bench
Sometimes, you can decide on a home improvement project that turns into an amazing functional feature that leaves you wondering how you lived without it in the first place. This potting bench is one such project since it gives you, well, a potting bench, a garbage can enclosure, and storage space too!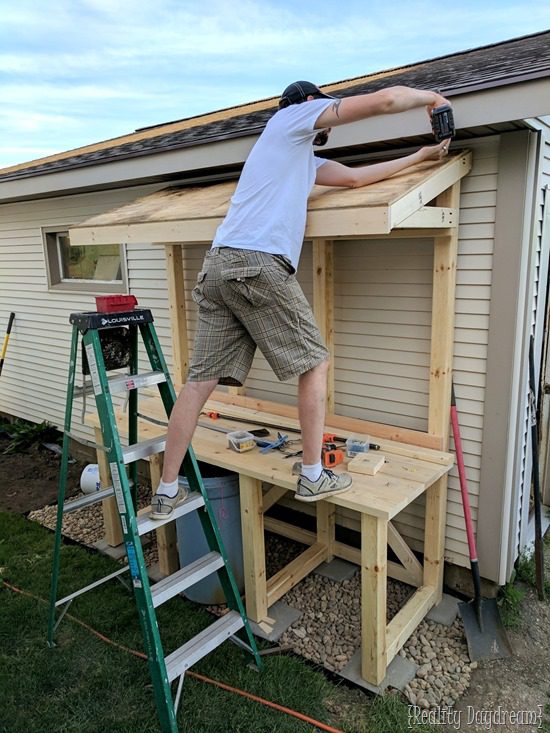 First, you need to level the ground and create holes where the legs of the bench will go. After installing the stands, add the top and make sure it's secure before proceeding to the roof. The space at the bottom can also be turned into shelves if you need more storage at home.
47- DIY crotchet lamp
You can never have enough lamps in the house! So, if you feel yours could use one more, we have the perfect way to make that happen at a cheap cost. You'll need a balloon, glue, and crotched doilies you probably have somewhere in the house. To begin, blow the balloon to a reasonable size.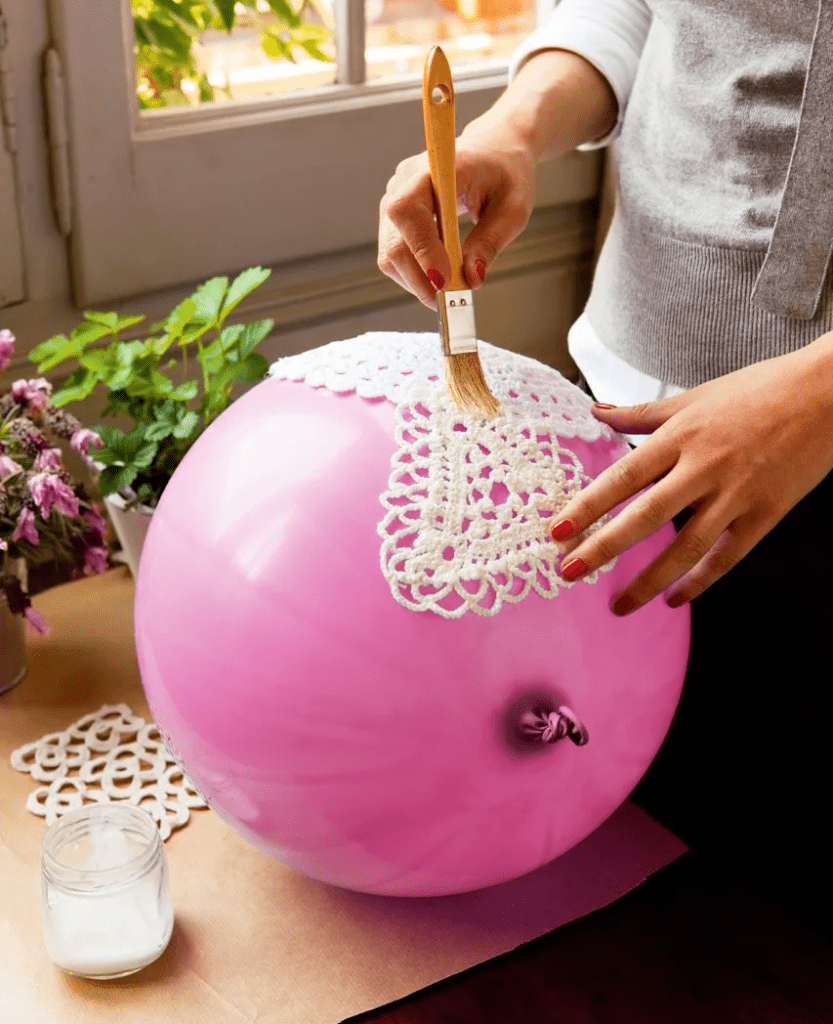 After that, glue the doilies and attach them to one side of the balloon. Let them dry for about two days before sticking the rest of the doilies on the other half. Remember to leave space for the bulb holder to pass through. Once dry, prick the balloon and remove it, then assemble your bulb.
48- Decorative balloon bottles
This one is so simple it made us wonder why we have never thought of it before. Decorating bottles with balloons is a fun and inexpensive way to elevate the deco during events like kid parties. All you need is balloons, a couple of bottles and a ribbon.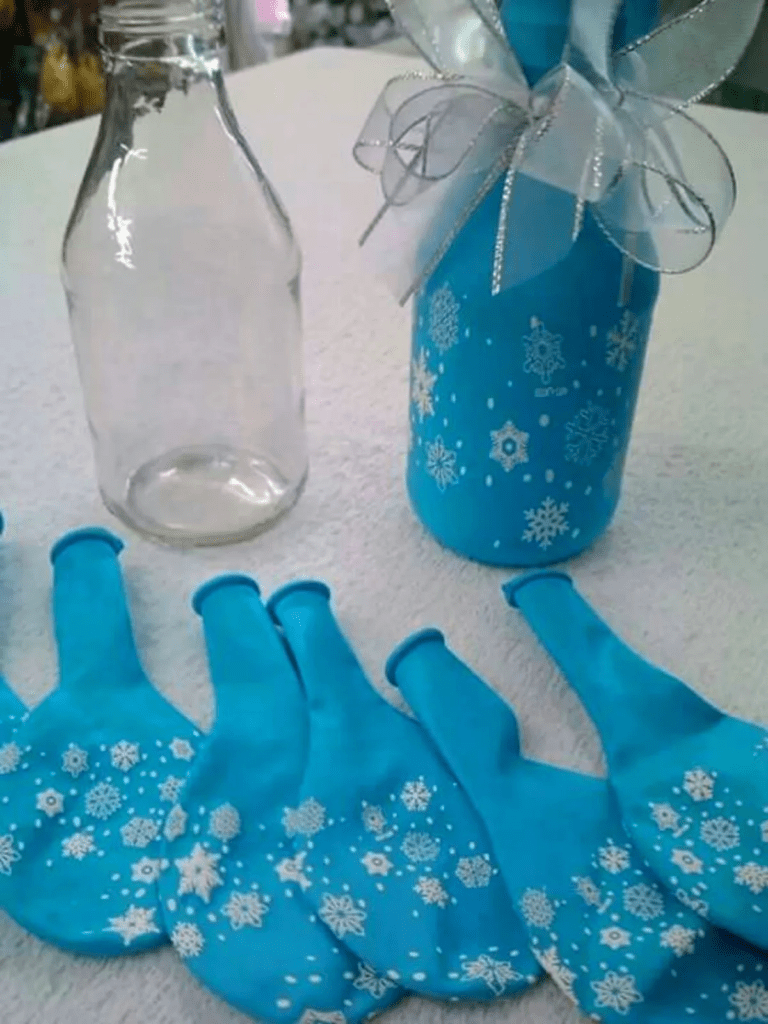 People love picking themes for their parties, so ensure the color of the balloons matches the one you've picked. Also, get balloons in a larger size. Simply roll one up and onto a bottle and then tie a colorful ribbon on top.
49- Scratching post
We all love our furry friends, and more than anything, our one wish is that they live long, happy lives full of cuddles and rubs. That said, sometimes having a cat can be a bit tricky because of how much they love scratching on the furniture. And they always pick the best ones!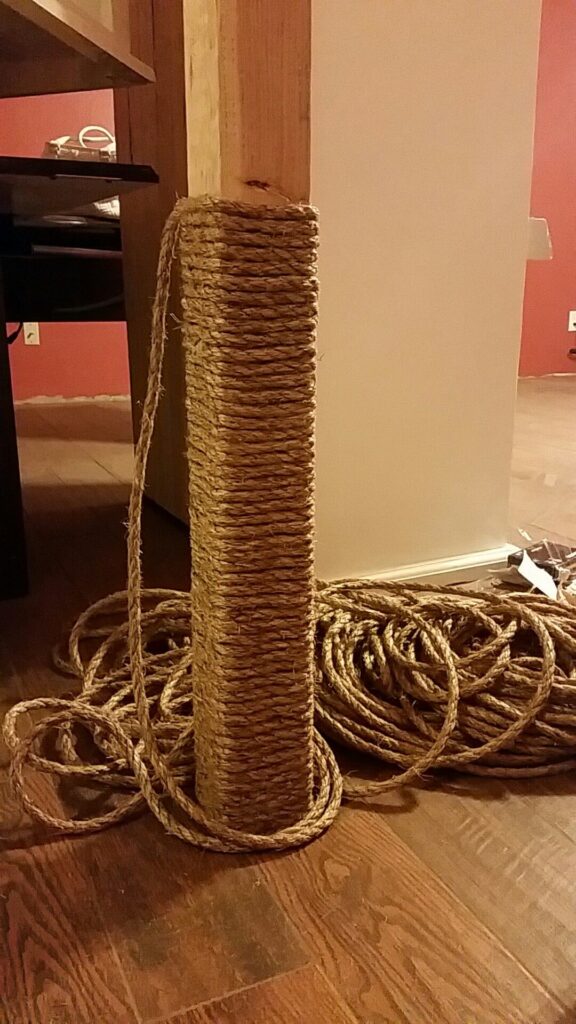 If this is a problem you can relate to, you can fix the situation by making a scratching post using a long post, some rope, nails, and glue. Simply set up your post firmly in you location of your choice and wind the rope tightly around it. Ensure to reinforce it with glue and nails.
50- Books as decor
Booklovers assemble! We know, we know, books are precious and should always be stored well because they contain valuable knowledge. Our wall decor idea doesn't infringe on any of that. So, if you love DIY and love books, this will be perfect.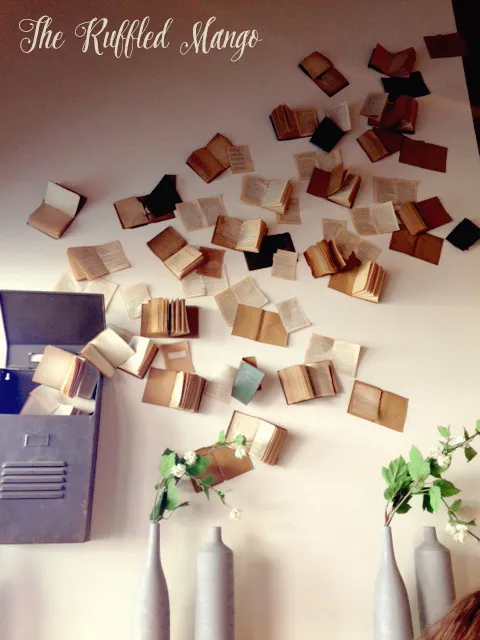 We suggest using books you don't particularly reach out for regularly for this decor piece. We all have a couple of those. Since book pages are often in a shade of white or cream, we also suggest using a dark background. That will make the decor pop even more.