45 Times A Mother Refashioned Clothes And Increased Her Social Media Following
By Jhoana C September 15, 2022
---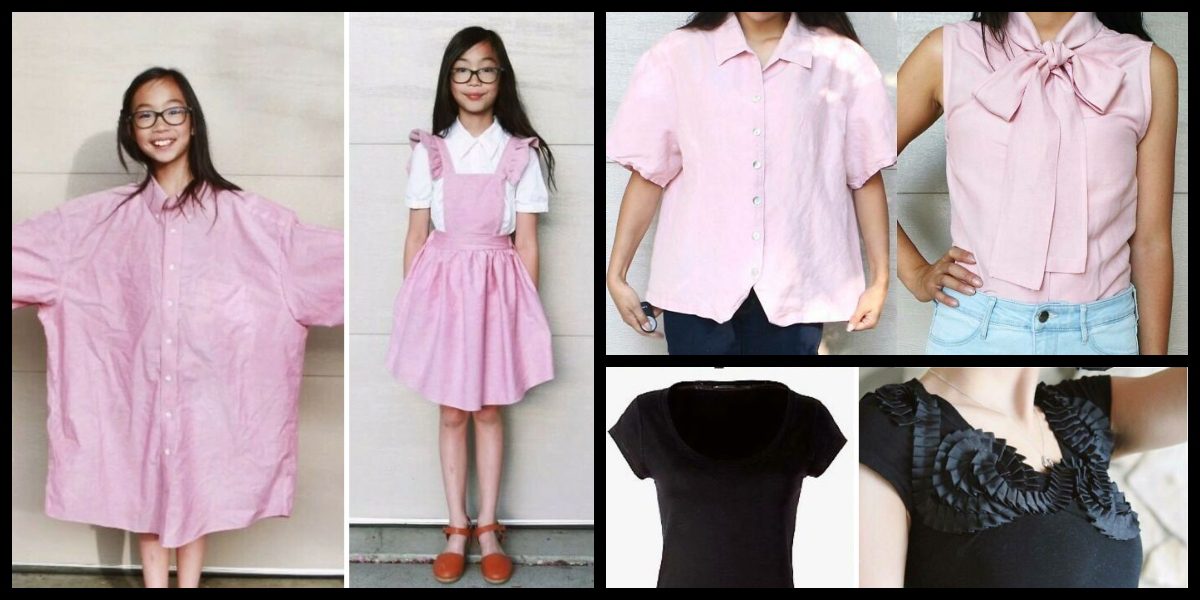 Dressmaking skills are something that only a handful of people have. Aside from the fact that many people would like to work for big corporations pushing pencils and spending time on their computers, not everyone has the patience to sew patterns, attach appliques or even embroider. It's a tedious task, and most people don't even appreciate how many hours are spent on the clothes they wear.
Sarah Tyau is unlike most people because the self-proclaimed refashion designer likes sewing, and she doesn't just sew fabrics. She repurposes old or oversized clothes into things that she and her little daughter can wear. Not only does she save money and help Mother Earth, but she also showcases her creativity and fashion genius on her Instagram account. Pretty neat, right? Well, that's enough talk; scroll down, see our favorites, and be in awe of her creations.
All images in this article are courtesy of @sarahtyau on Instagram.
1. From unflattering to fashionable
If you were given a dress that's too big for you, what would you do with it? Would you leave it hanging inside your closet to gather dust? Or would you attempt to make something good of it just like this mom did? After all, a dress would be more useful when worn.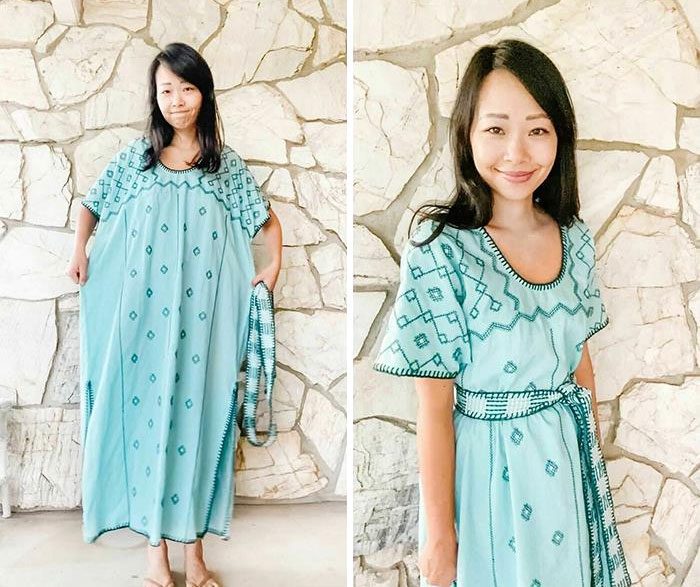 The dress went from unflattering to fashionable with just a few adjustments. We wish we had this lady's talent in dressmaking and eye for fashion. Pretty much all we do is buy mass-produced dresses and clothes off the rack and close our eyes when we meet someone in the street wearing the same thing.
2. From pants to dress
There's nothing wrong with the pants, really. They look great on her, but perhaps she just didn't like them that much and wanted to change them to something that would suit her better. With her scissors and magic hands, she did!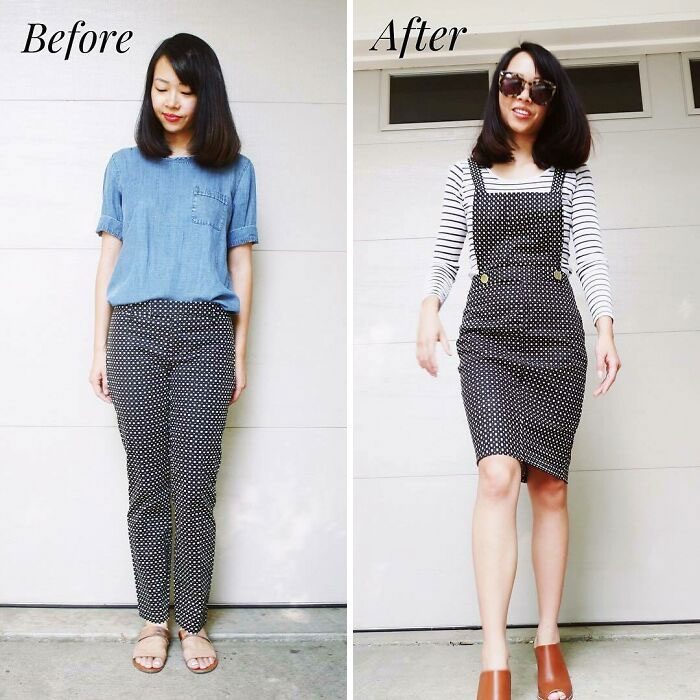 She transformed it into a jumper dress, and this is going to be a great outfit for the summer, no doubt about it. The dress is OK for both office settings and casual dates. We wish we had her talent, patience, and sewing and dressmaking skills.
3. Oh, we love this red dress
We love the fabric, patterns, and color of this dress. We bet mommy Sarah loved it too, but it was much too big for her. It looked more like a tent rather than a dress. Fortunately, her sewing skills rescued her; as always, she made something nice out of it.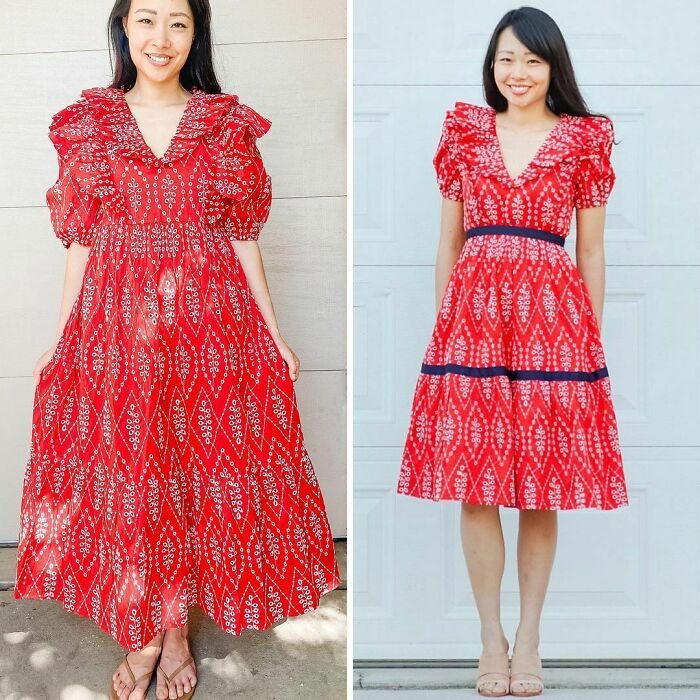 By making the shoulder ruffles significantly smaller, shortening the sleeves, cutting off the skirt's bottom tier, and sewing it again after cutting the main skirt bodice, she came up with a gem of a dress we would gladly pay for.
4. From a sweater to a child's dress
This lovely little girl is lucky because she has a mom who can make all sorts of splendid outfits for her. She doesn't have to live with buying and wearing all those mass-produced and fast-fashion products which don't last very long.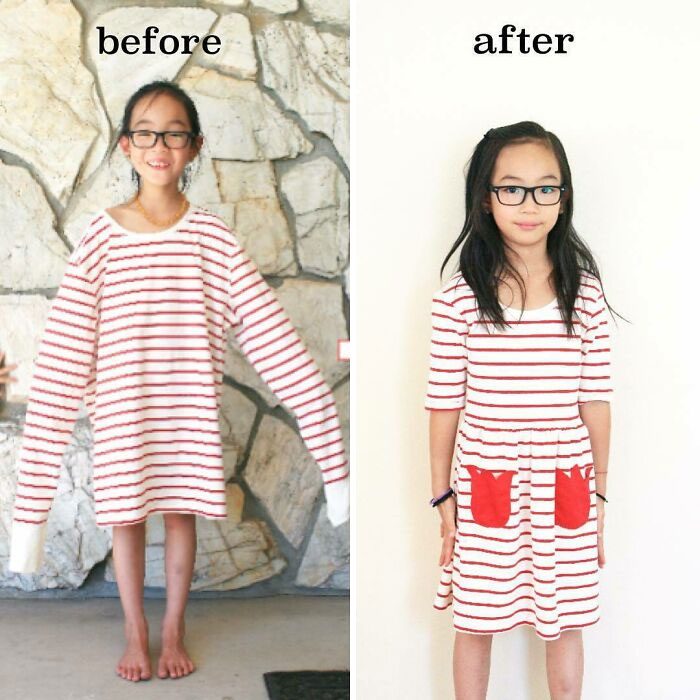 Mommy Sarah turned one of her shirts into a dress for her daughter, and, we have to say, we love the red pockets on this one. Imagine how much money they save and how much they are helping the environment by repurposing clothes.
5. Very creative!
How do you go from the 'before' picture to the 'after' picture? Well, most of us regular humans throw away the dress in the 'before' photo, head to the mall, and buy ourselves the dress in the 'after' photo. However, that's not the way it works for this talented mama.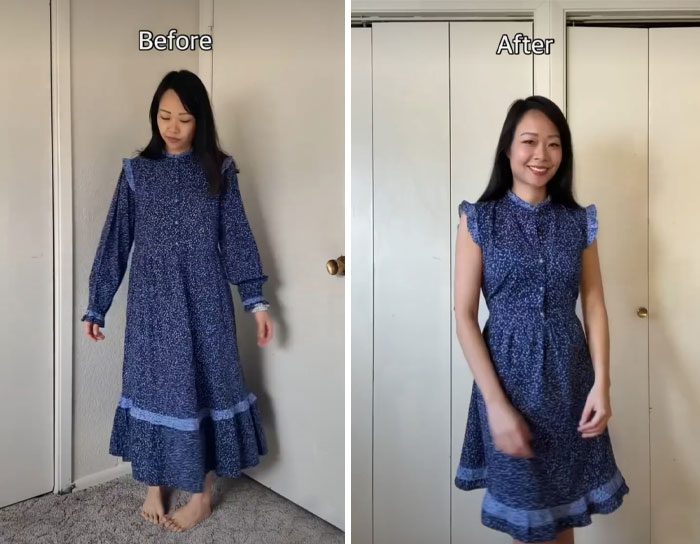 What she does is use her talents in sewing and dressmaking. Who would have thought that the ill-fitting and old-fashioned dress on the left side could be transformed into something more modern? We would save a lot of money if we had her wonderful hands.
6. From mommy to daughter
While we are watching all these transformations, we are also watching Mommy Sarah's daughter grow up right before our eyes. In this photo, you can see that she is older and taller. But nothing has changed; her mommy's old or oversized clothes are still hers for the taking.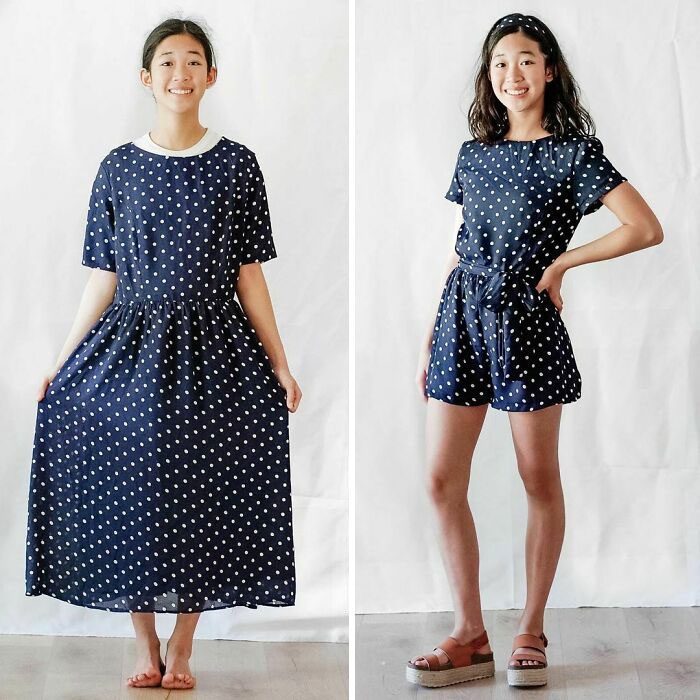 Here you see an oversized polka dot dress become a super cute short jumpsuit, and it even has a matching waist tie. The daughter looks more than happy modeling her mom's creations; theirs has to be an excellent mother-daughter relationship.
7. She does embroidering too?!
If there's one thing this post is doing to us, it's making us want to buy a sewing machine badly. But we don't even know how to sew in the first place so let's see how that pans out. Anyway, this has got to be one of our favorite creations.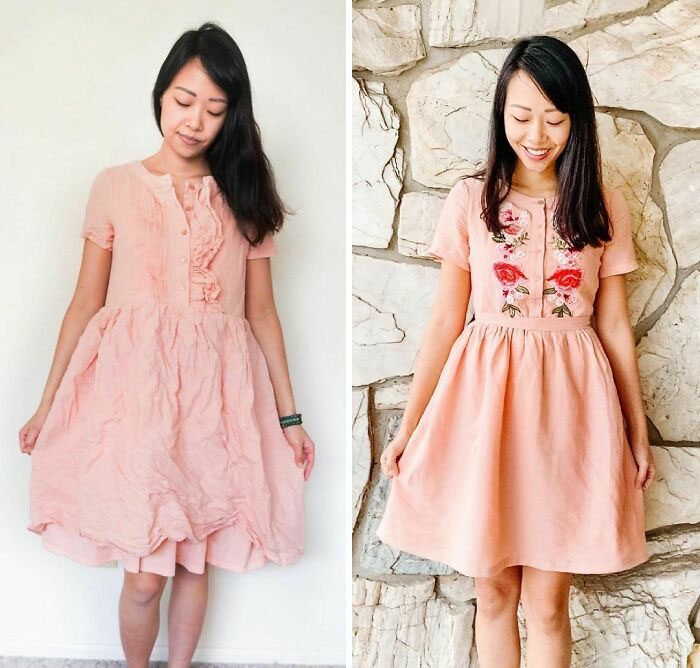 See the before photo on the left and see the after photo on the right. It's such a huge difference, right? It seems that she even does embroideries! We've said it before, and we'll say it again, she's very talented.
8. Giving the dress more oomph
Before this dress was transformed, it was okay, but it lacked character and didn't make people turn their heads. Simply put, it was too plain and boring. Fortunately for Sarah, she knew exactly what to do to give it more character.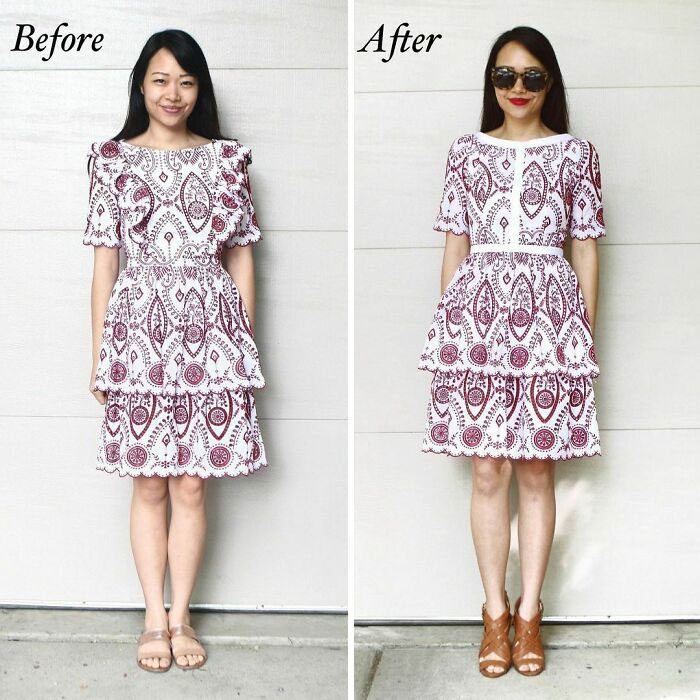 With white bias tape, she worked her magic. Which one do you prefer? The 'before' dress or the 'after' dress? It's amazing how a few changes could make such a big difference, right? If we knew how to sew, we might never buy new dresses again.
9. You can do this in 30 minutes?!
This dress was updated and made more beautiful in just 30 minutes. We can't even finish eating lunch in 30 minutes; there must be something definitely wrong with us. Although the 'before' dress gave off a relaxed vibe, we didn't really find it stylish.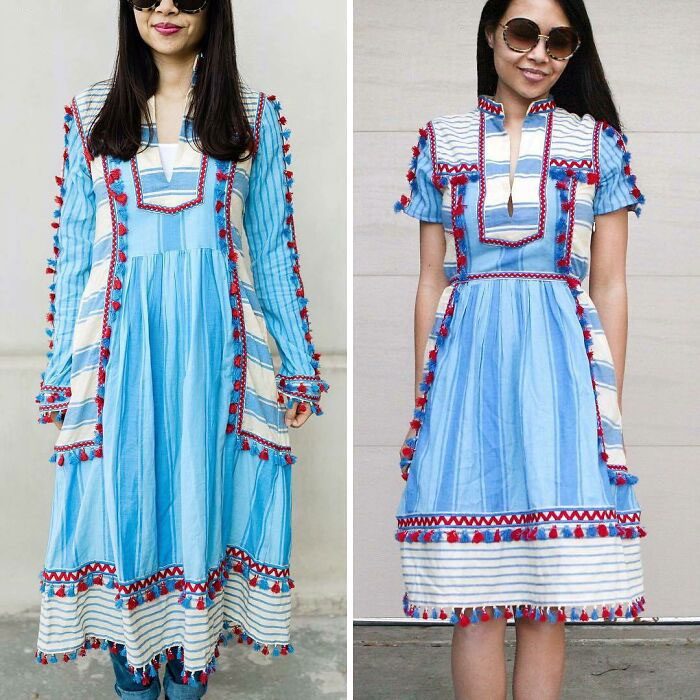 The 'before' dress was shapeless and did nothing good for her figure. We think the dress would make an excellent outfit for Cinco de Mayo because it has Mexican vibes. However, there's a great debate going on that it's impossible to make the changes in 30 minutes.
10. A man's shirt into a woman's dress
If your husband has a shirt he doesn't like wearing, ask him if you can have it and turn it into a lovely shirt-dress. Sarah has done it; maybe you can too. Something that would have been relegated to the back of the closet has suddenly turned into a star.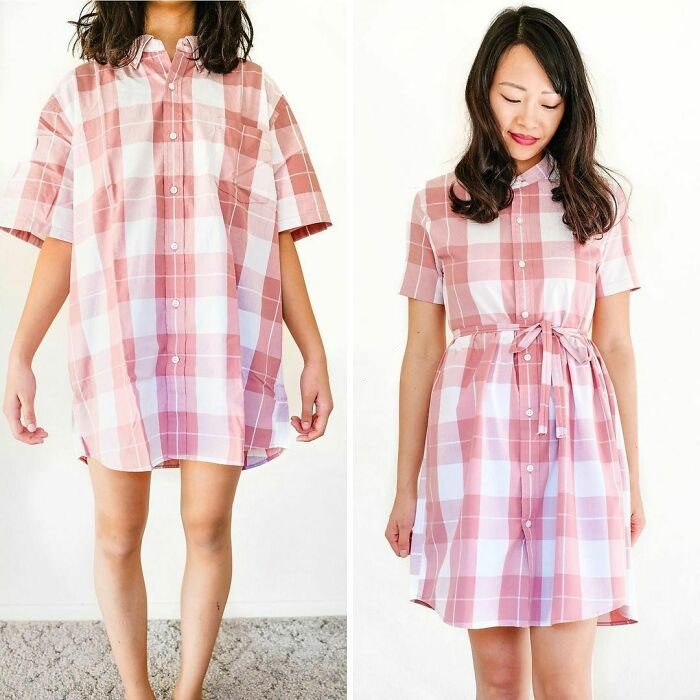 We'd proudly wear this to the office, lunch with friends, and even on dates with our significant other. No one will have a clue that it used to be a man's shirt because the way it's made and sewn together is just impeccable.
11. A little fix makes a lot of difference
A single accessory can make you look more put-together, just as a little fix can make a world of difference on a dress. Just putting on a belt can make a huge improvement, and that seems to be something Sarah does a lot.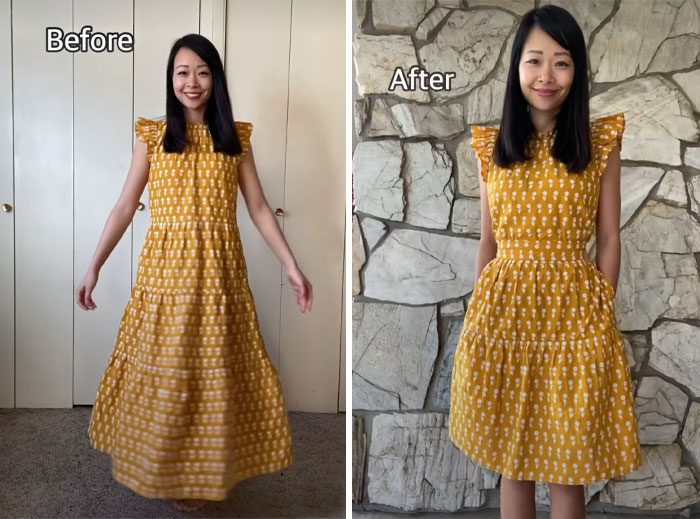 Here you see a shapeless dress transformed into something that looks nicer. She elasticized the waist, and look at the dress now! And, of course, we love the addition of pockets. Pockets are lifesavers, and more dresses should have them.
12. From too small to just the right fit
This dress was a little different. When most, or almost all, of the dresses on this list were too big for Sarah, this one was tight and too small for her. So, she refashioned it by snipping a few inches off the bottom and using the fabric to make the bodice fit her.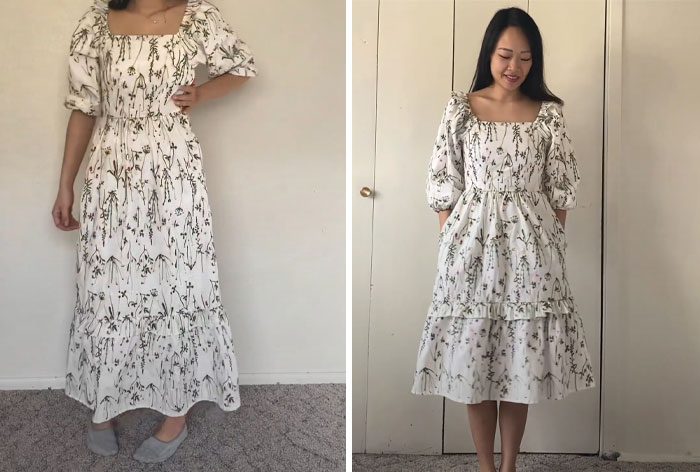 Clever, right? Who would have thought this could be done? If something were too small for us, we would just give it to someone else and not think anything else about it. We love this dress even before the size alteration because it looks very feminine.
13. From drab to fab
Is there anything that this mama cannot turn into an amazing work of art? Although some people say they like the first dress better, we don't. It looks more like a tent than a dress as it could be roomy enough to fit at least five people.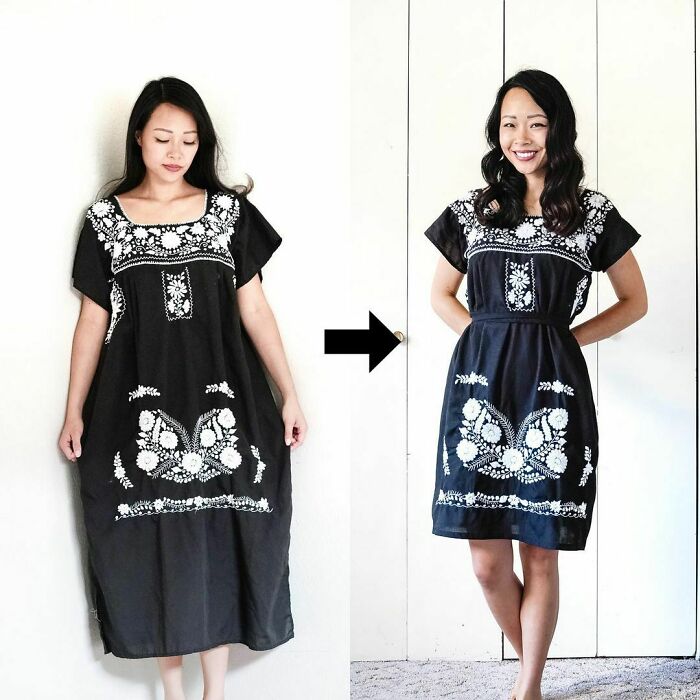 But after transforming the dress, it looks a lot better. Belts indeed have the power to transform a dress from drab to fab. No wonder she keeps using it on many of her looks. We should all keep this in mind and do as she does.
14. Yesterday a jacket, today a bag
Not everything on our list has to do with dresses being transformed into better versions of themselves. We also have a jacket that's been craftily and artfully transformed into a bag with plenty of fringes. She scouted a few thrift stores to find a leather jacket big enough to change into a bag.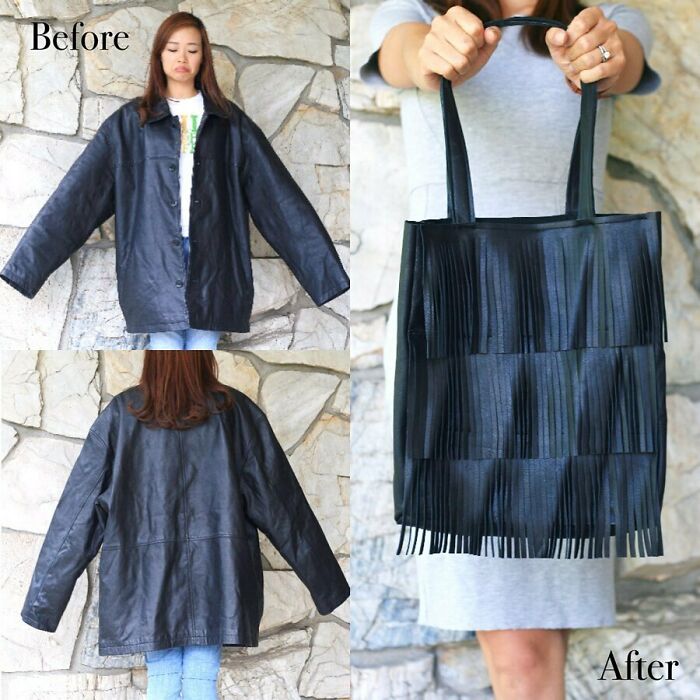 However, after taking the jacket apart, she found out that the leather was a bit thin, so she added the fringes. It made the bag light enough to carry around and put things into but thick enough for it not to look very stringy.
15. Another gorgeous dress for the little girl
If you have talents in sewing, bless the world with it. We don't know what they are called these days, but the numbers of seamstresses, tailors or dressmakers have significantly dropped in the last few years. People are keener on working in the office, shuffling papers.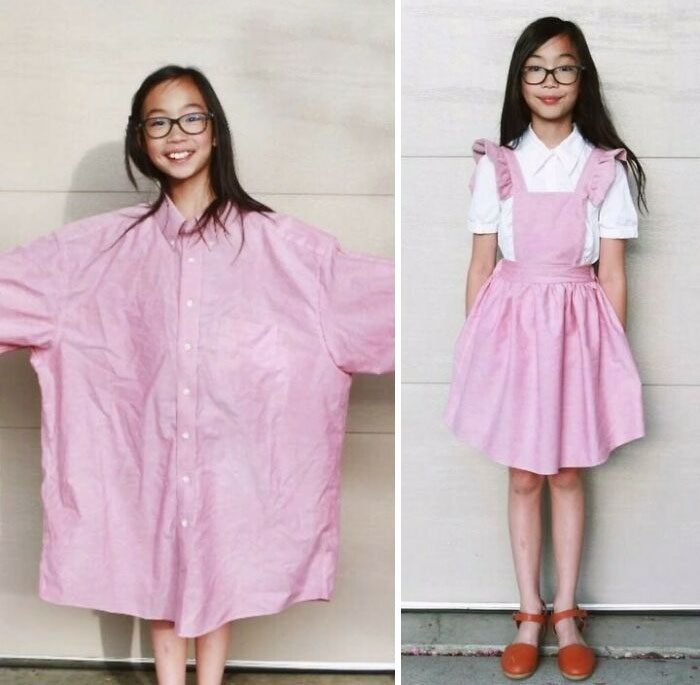 This little girl should count herself lucky she has a mother who repurposes ill-fitting clothes and turns them into something delightful. We're pretty sure her friends and classmates are jealous of her. Not everyone has a mom who can sew.
16. When all they sell are XL sizes
Do you know what's frustrating? Finding something you like so much only to be told that they don't have it in your size and may never have it in your size. Do you just forget about the dress or shirt? Sarah doesn't.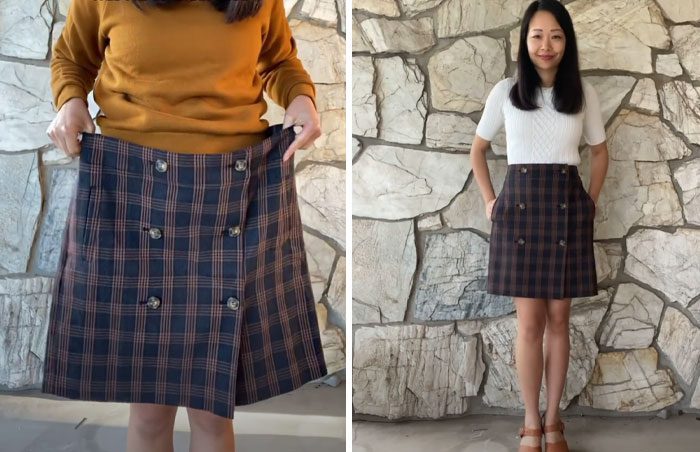 She still buys them, and with a few alterations, she can make them fit as if it was made especially for her. That's one of the advantages of being a seamstress. You get to work wonders with clothes and fabrics, and you never have to worry about anything not being your size.
17. Another XL shirt transformed
Here is another transformation of an extra-large top into something stylish. The top cost $5 at Old Navy, and what made Sarah buy it was the color, not the design. She was inspired by another shirt she saw at a different store.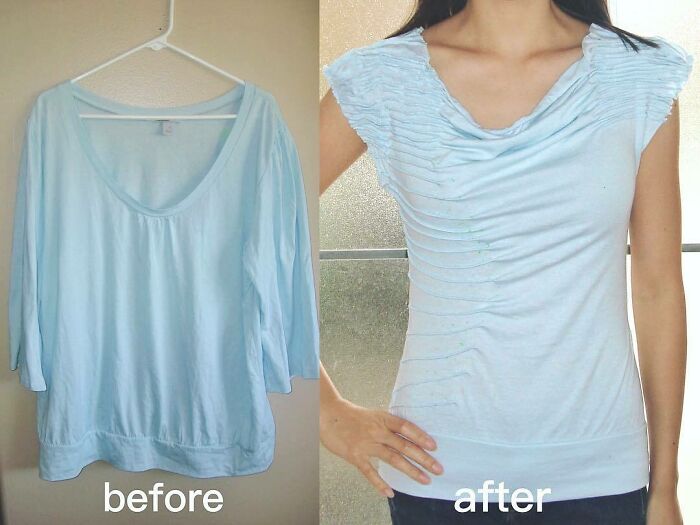 So, she figured, why not have a go at copying said shirt? We didn't see the inspiration shirt, but we trust her when she says that this was really close to it. Who are we to judge when we can't even sew a hole close on a piece of fabric?
18. Making a brand new cardigan from old things
One of Sarah's very first attempts to repurpose old clothes was fashioning a light slip dress and an old cardigan into a brand new and more fun cardigan. Do you like what she came up with? We do; it looks more modern and stylish.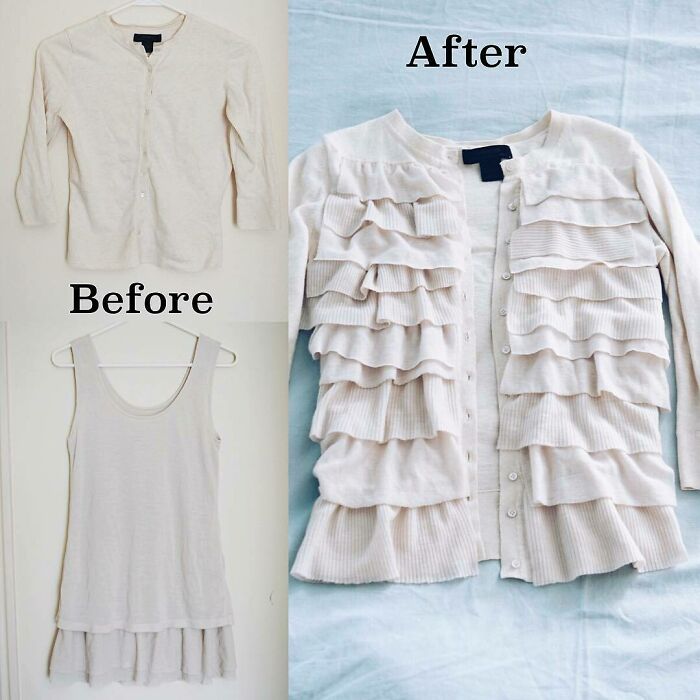 We would totally wear this because it rocks. This screams fun and vibrant, and people are not going to think you're a boring person when you wear this. She should start producing more of this because we're quite sure people will line up to buy it.
19. No dress to wear for a special occasion? No problem
If you had Sarah for a mom, you'd never have to worry about not having anything to wear because she can literally turn scraps of cloth into something that looks like you just bought it from a boutique. Take a look at this XXL shirt she bought from Target.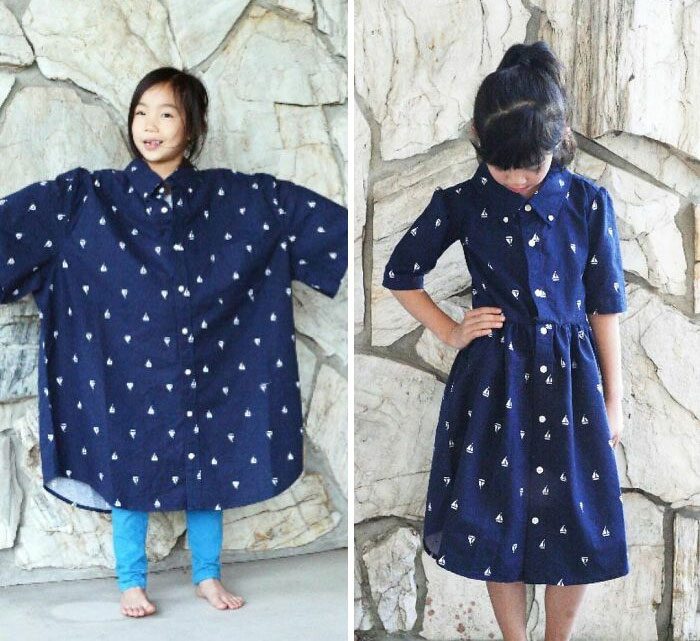 With a few cuts and plenty of thread, she turned it into something that her little daughter loved to wear. Plenty of XXL shirts and clothes sit on racks forever. Imagine the amount of space they take up in landfills!
20. Loving this transformation
Many people said that there's nothing wrong with the 'before' dress and a nice belt would complete the whole look, but we disagree. We still think that the 'after' dress is much better. Here, she uses a belt or an elasticized waist again.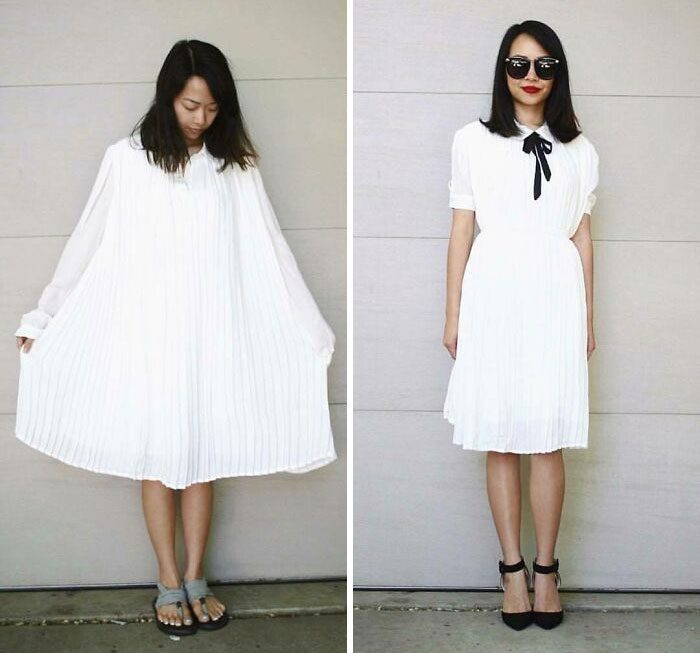 This smart and neat outfit is suitable for school, parties, work, and practically anywhere. How does Sarah do it? Not only is she an excellent seamstress, but she's also a mom and a blogger. We can hardly sew a handkerchief sew if we have nothing to do all day.
21. Much cuter after the alterations
Have you ever found yourself buying something and regretting your purchase the day you put it on because somehow it didn't suit you? That must have been what happened to Sarah here. She mentioned that she never wore the jumpsuit.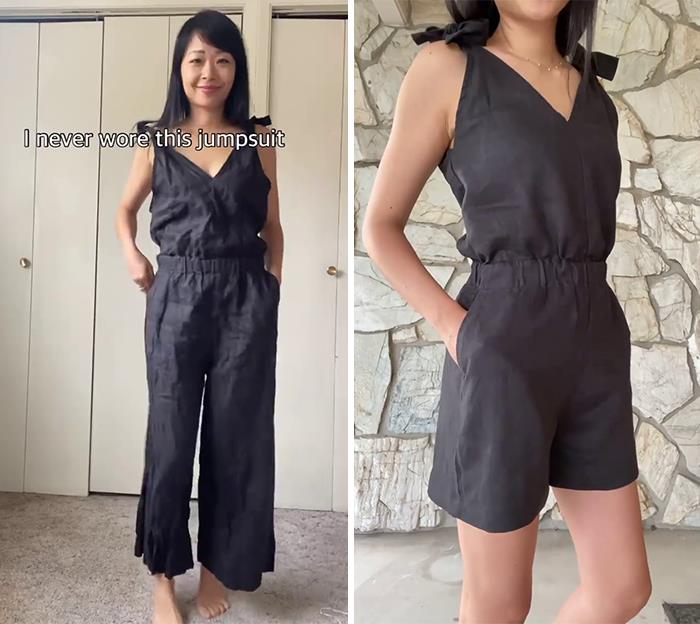 It looked good on her, but her petite frame made the jumpsuit look baggy. So she made some adjustments on the top part and turned the pants into shorts. Now it looks chic and slimming on her, two things we want from an outfit.
22. From a coat to a skirt
If we only had talent in sewing clothes, we bet we'd end up spending less on buying new articles of clothing because we can easily repurpose old ones or what we have in our closets that don't fit. Look at this medium coat that has been turned into a bib skirt.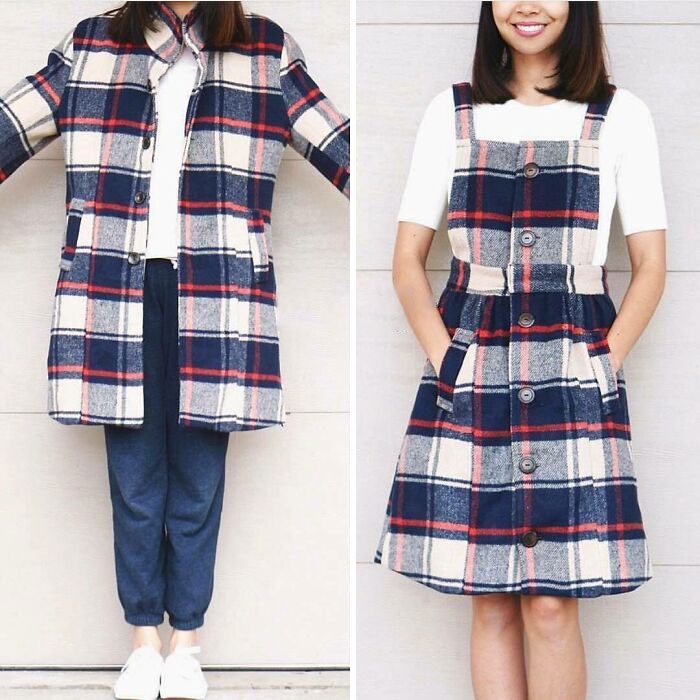 We'd have a big smile on our faces too if we had something like that to wear. Unique, stylish, and comfortable, it is also versatile enough to be worn anywhere, except formal events. This is something people will definitely buy.
23. From mama's skirt to daughter's suspender skirt
What do you do with skirts that don't fit you anymore? You can give them away, donate them, or sell them, but there's another option that's not possible for most of us who don't know how to sew: repurpose them.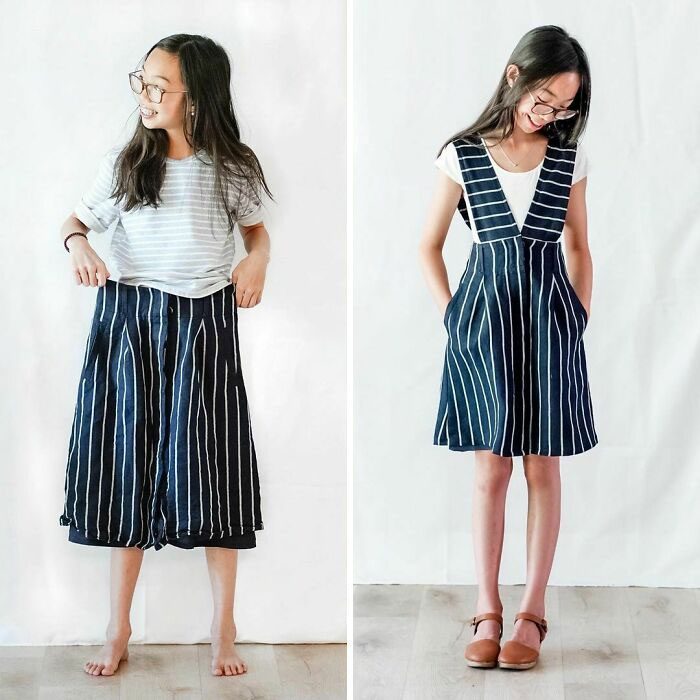 This skirt was bought from a yard sale and ended up in the back of the closet. When her daughter told her that she was in need of a cute skirt or dress in blue, she ended up reaching for it and refashioning it. We love what she did here.
24. From a man's shirt to a little girl's dress
Here is another sample of how an XXL men's shirt can be turned into a cute dress for little girls. We love this creation's bell sleeves because they add more detail and femininity to the dress. Just think of the money that can be saved when you do this.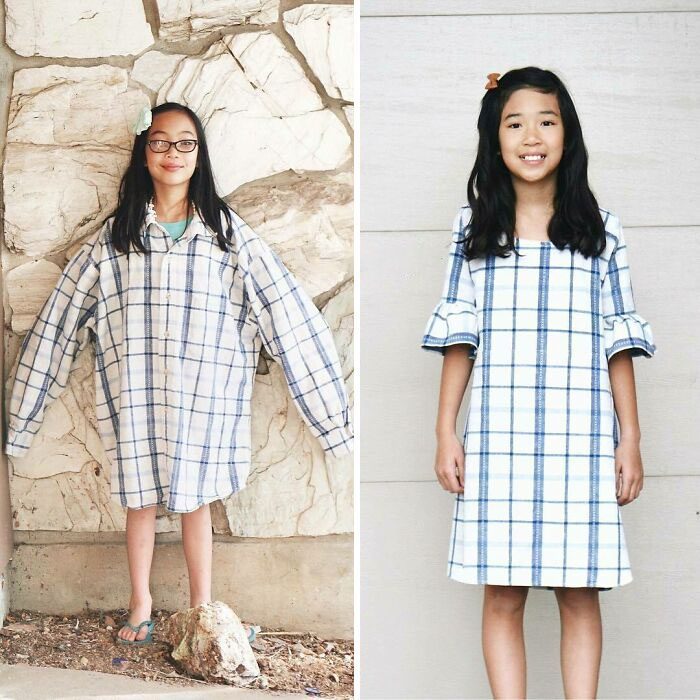 Considering that children grow very fast, it's really a waste of money to buy clothes now and then. If we were oozing with creativity just like Sarah, we'd take this route so we can help the environment and our wallets in the process.
25. Hey you with the red dress on
After seeing this red dress, all we can hear in our ears is the song by Red Dress by Magic. Sarah found this dress in a thrift store years ago and refashioned it into something she will wear. She thought about replacing the buttons but, in the end, decided to keep them.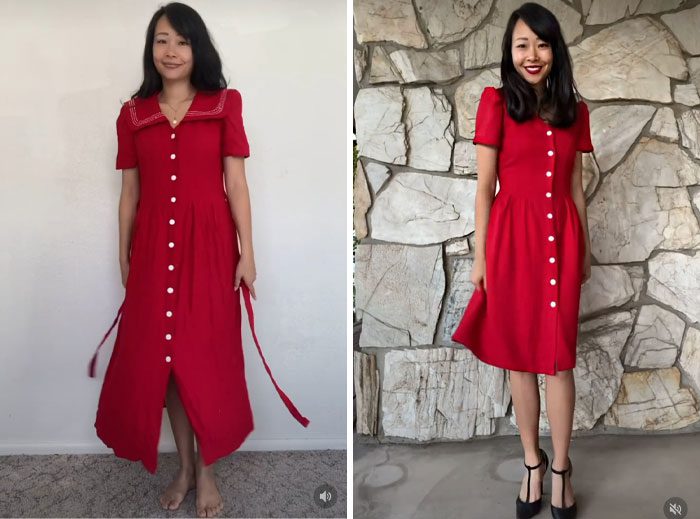 She also decided against putting bows on the dress, and when she was finally finished with it, all she had to do was wear some sexy heels and put on red lipstick, and her look was complete. It's turned into something that can be worn on dates.
26. Some sewing and dying job
This project was unlike the others because it required dyeing the dress a different color. After dyeing, she removed the collar and fashioned the dress into a V-neck. With a cut, she separated the bodice from the neckline and made the bodice narrower to fit her small frame.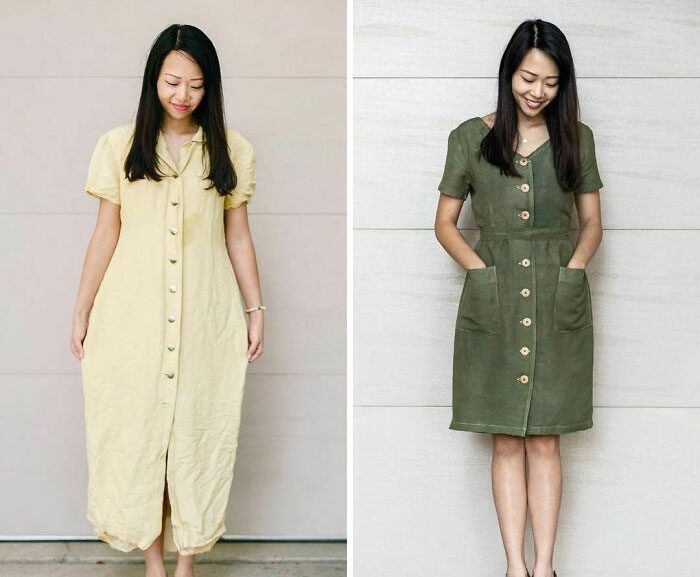 After a few changes to the sleeves, the addition of pockets, making the skirt shorter, and replacing the buttons with wooden ones, you won't even recognize the dress anymore. It's something else entirely and more contemporary. You can wear it anywhere!
27. Another dyeing and sewing job
This is another refashioning and repurposing project that required Sarah to dye the dress into another color. With some effort and lots of sewing, she came up with a dress that you won't recognize if you look at the 'before' picture.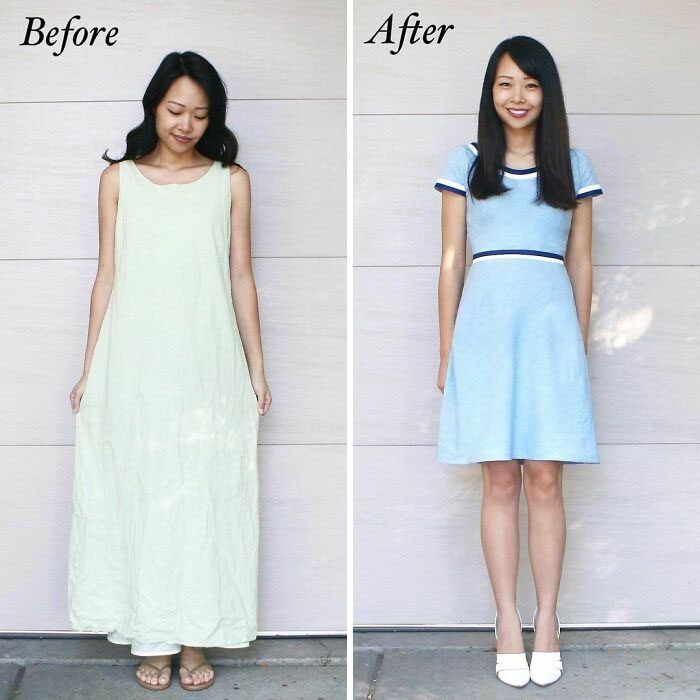 People on the Internet agree that Sarah pulled off an awesome transformation; if they could, they would gladly spend money on the second dress. Cutting dresses to knee length makes a world of difference and makes them look less old-fashioned.
28. The perfect top for fall
Since showcasing her creations on Instagram, Sarah has been inundated with collaboration messages. What you see in the photo below is a result of one such collaboration with Dove Advanced Care Antiperspirant. She turned a $4 blouse from a thirst store into a perfect top for fall.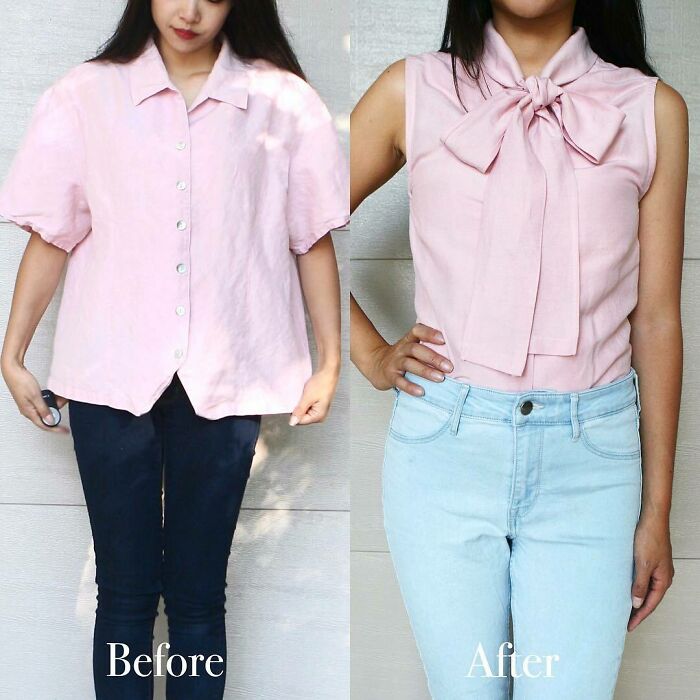 We love the top's color and fabric and loved it even more after she turned it into a sleeveless top with collars that can be tied into a bow. Amazeballs, right? Where does she get her ideas because we're always short of such creativity?
29. A clever way to repurpose extra fabric
To say that Sarah is one talented person is an understatement. She is also an environmentalist, so she makes it a point to repurpose old or unused clothes. We wish to be like her and not let marketing ploys get to us and our wallets.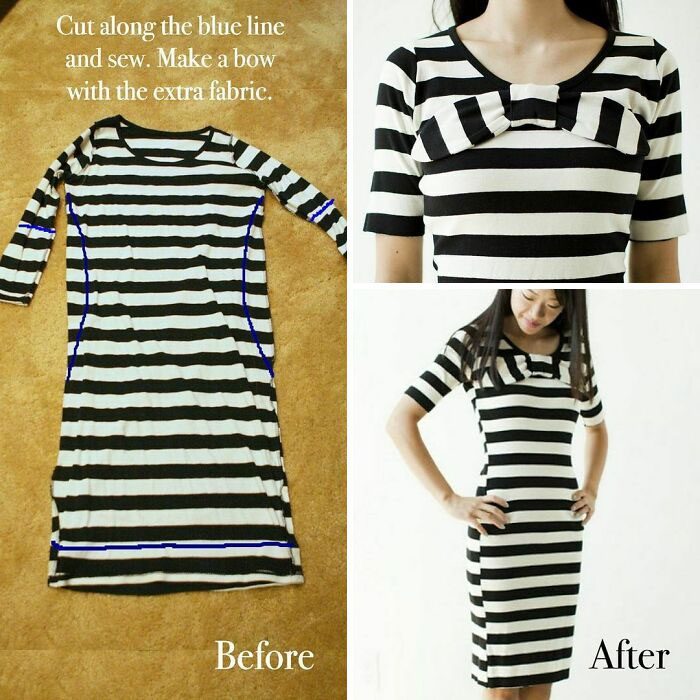 She grabbed this dress off the rack but decided to make some alterations because it was a bit large on her. She cut some fabric from the sides and used it to make a bow which she put near the neckline. Again, a good example that little changes can have a considerable impact.
30. From something extremely large to beautiful
We're sure she found this dress in the thrift shop and it wasn't originally hers because look at how big it is. She looks like she's wearing a tent! So, she did what she did best and turned it into something she could proudly wear.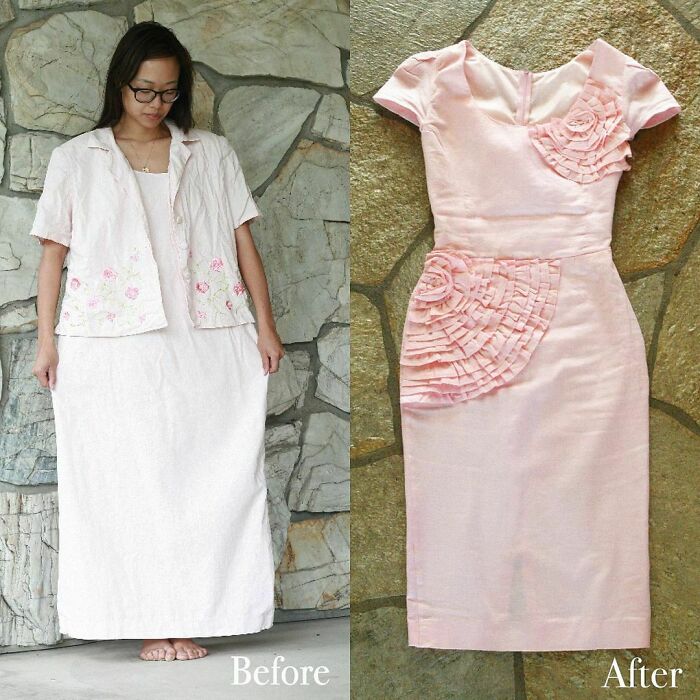 The fabric she cut from the dress was used to make what we think is a decorative flower on the dress' bodice and skirt. Our wallets and bank accounts would jump in joy if we had her skills and talents.
31. A dress hack to keep in mind
Sometimes we end up loving a dress, top, or a pair of jeans so much that we end up buying it or something that looks very similar to it. However, there are times when they look so much alike that you can't tell if people think you're wearing the same dress repeatedly.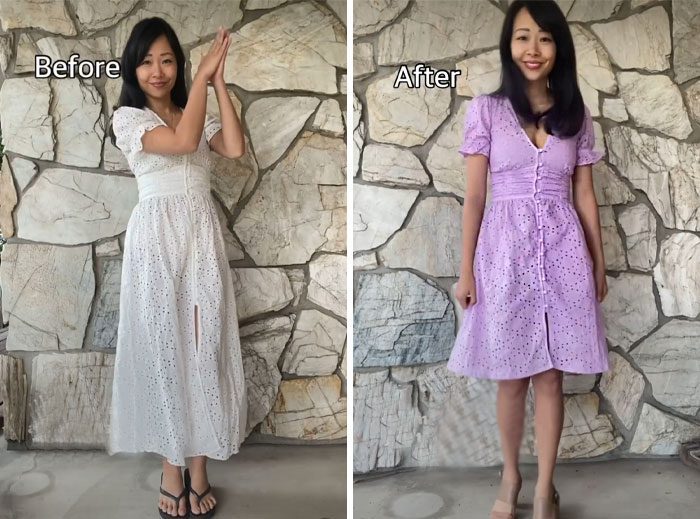 How does Sarah prevent this from happening? She dyes one of them to make the dresses look different. Here you can see a long white dress and a shorter dress with the same style in lavender or lilac tones. Which do you like best?
32. Plain to peplum
You'll love this dress if you're a fan of the color blue. At first, it was long and shapeless, and it's not that it's too large on Sarah, but it was just meant to be that way. She decided to turn it into a peplum top and a skirt.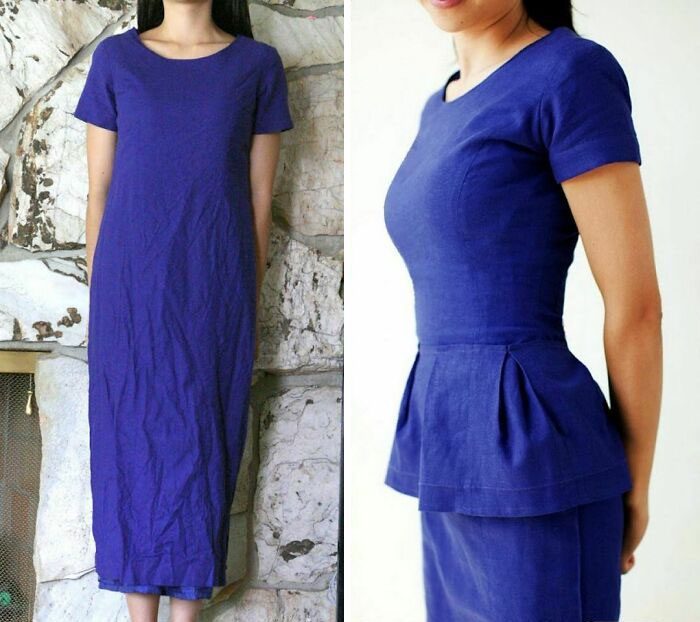 Peplum tops are lifesavers when you're badly bloated and need to hide that extra paunch on your tummy area. Because it's a top and skirt set, you can choose to wear both together or with other clothes. It's something we'd definitely get.
33. From plain to fashionable
Plain tops are best paired with skirts or pants that have prints or patterns. However, there are times when basic tops are just too simple, and you wish they had something more that would make them stand out. That's exactly how Sarah felt with this top.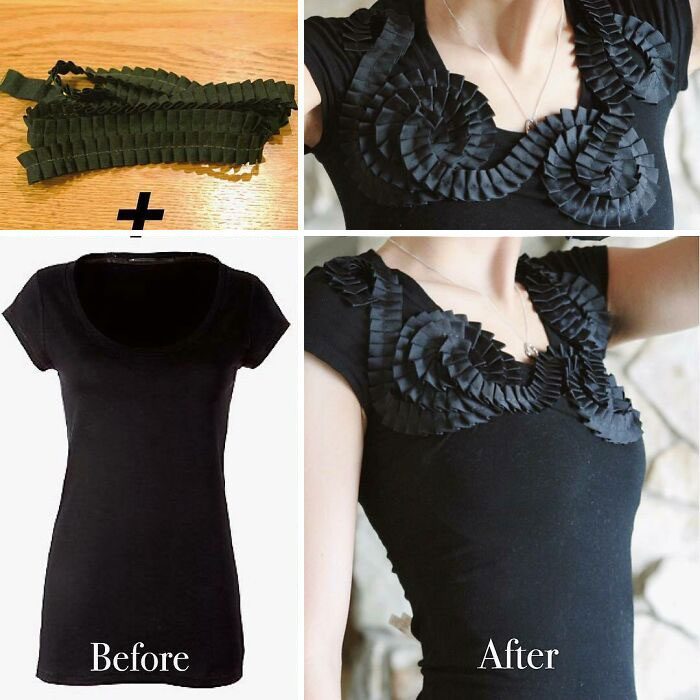 So, she decided to add some black ruffle trim. What do you think? Do you want it just plain, or do you like it with the trim better? Either way, we love it because the top works well with our leopard print skirt.
34. She must be wearing half of her Dad's closet by now?
At this point, we're thinking that Sarah's daughter must be wearing half of her father's closet by now. Seriously though, we know that not all refashioned clothes this little girl is wearing are from her dad; some were bought from thrift shops.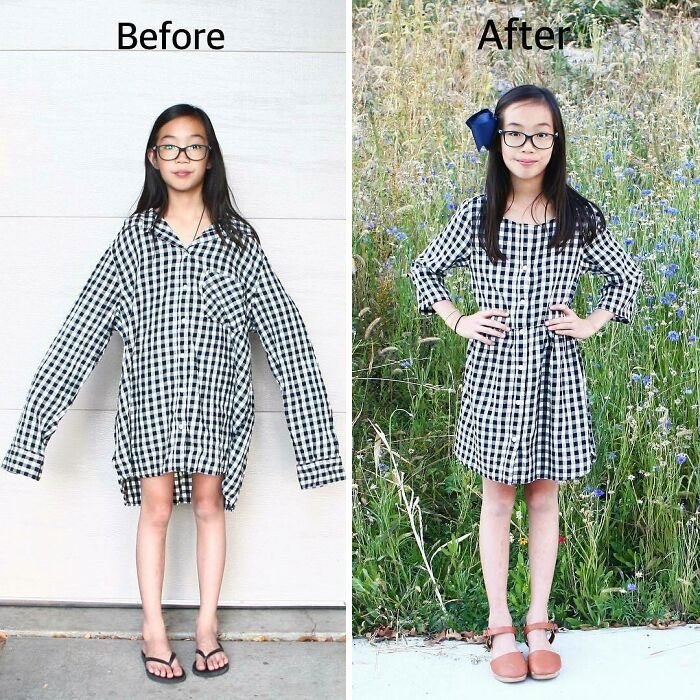 The little girl looks cute, and she must know she's very lucky to have a mother who likes making her a bunch of dresses. Her classmates and friends must be very jealous of her because she wears things that can't be found in stores.
35. Another red dress to love
How do you reduce costs when it comes to clothes? Go bargain hunting in thrift stores. It will take energy and time, but you can find great deals in thrift shops. How many stories of great finds have we read or heard about?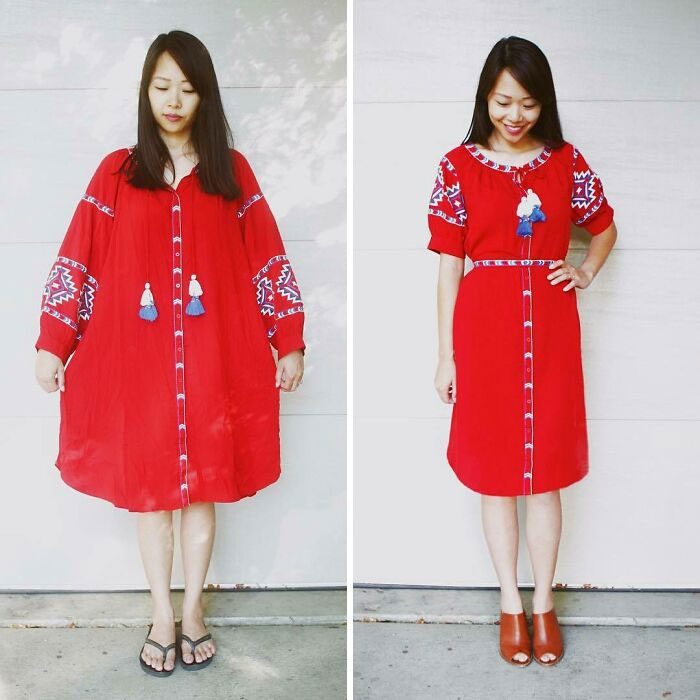 You can quickly transform bargain finds such as this red dress and refashion them into something else. Even if you're not an experienced seamstress like Sarah, plenty of DIY videos and tutorials are on the Internet, which you can peruse to guide you.
36. Would you wear this?
Most of the time we read people's opinions on the Internet, some are good, but most aren't. Comments can be vicious sometimes and affect your self-confidence, such as when people tell you that, at a certain age, you can no longer wear short skirts or dresses like this.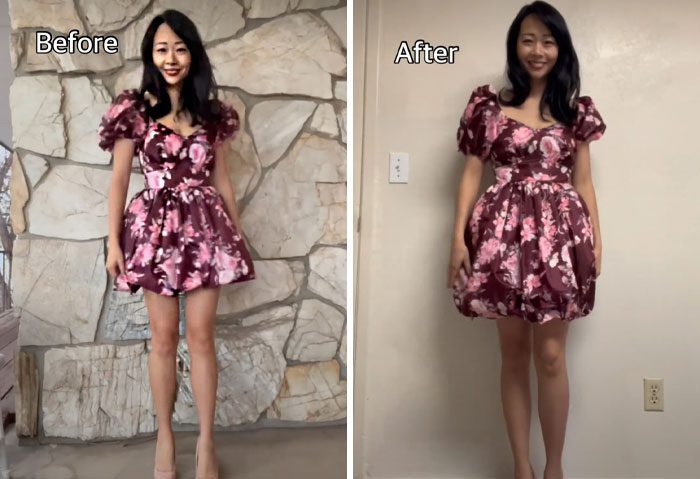 This would make a great party dress for New Year or Christmas. It can also be worn to birthday parties or any fabulous party, for that matter. And we'd like to tell the naysayers that she's not too old to wear the dress. She's got great legs, after all!
37. A skirt passed from mother to daughter
Instead of throwing this skirt away, Sarah made some alterations so that it would fit her daughter. Why waste a good skirt when it's perfectly wearable, right? Not only do you save money in the process, but you also get to help the environment.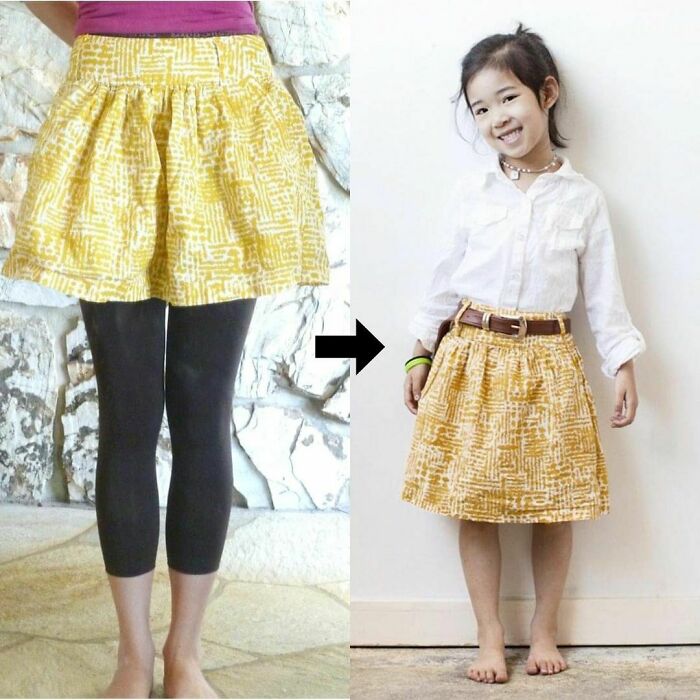 She made the sides narrower so that the skirt would fit her little girl perfectly. Mommies, take notes; if your skirts become too short to wear and you have a little daughter, give them to her instead of throwing them away.
38. One of her most popular creations
According to Sarah, this is one of her most popular creations. Although we like her others works more, we can see why people love this because the transformation is substantial. You can notice the big difference between the dress and the jumpsuit.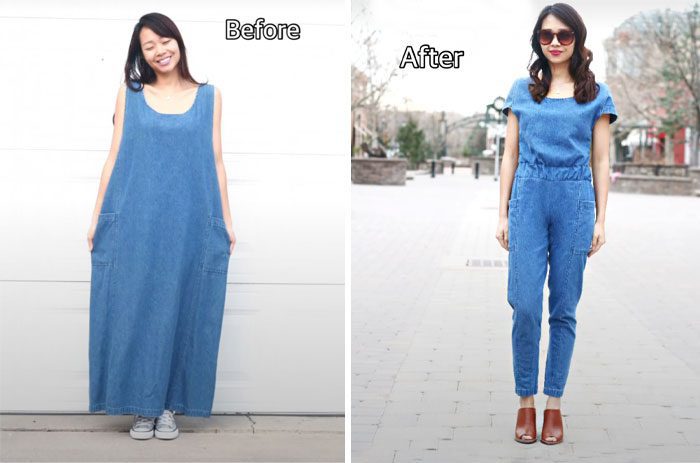 She was essentially just buying the oversized dress for the amount of fabric she could get from it, and that's something we can all learn from. People, if you know how to sew, you should follow Sarah's example and save money.
39. From fashion faux pas to fashionable
We can't help but say it out loud: that 'before' dress is just horrendous. Whoever designed it should quit fashion right away. Seriously though, that's a dress we wouldn't want to be caught wearing anywhere. Thankfully, Sarah was there to update it.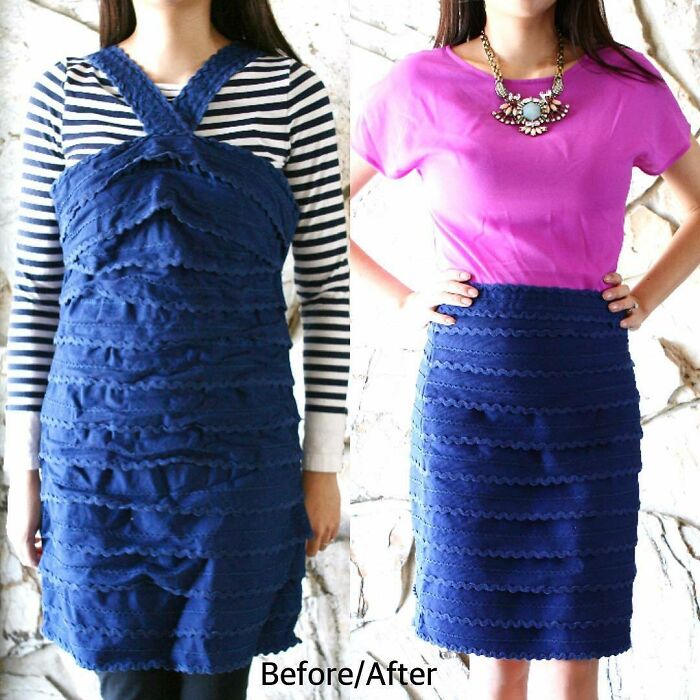 Instead of risking ridicule by wearing the dress, Sarah opted to repurpose it and turned it into a skirt. We weren't surprised that many people agreed that the 'before' dress was pretty bad, which means we have respectable taste in clothing. LOL.
40. You got to have a lot of patience
You need patience when refashioning or repurposing clothes because sometimes you won't succeed during your first or maybe even third try. You need to repeat the process before you get the desired results. But it will be all worth it when you see the result.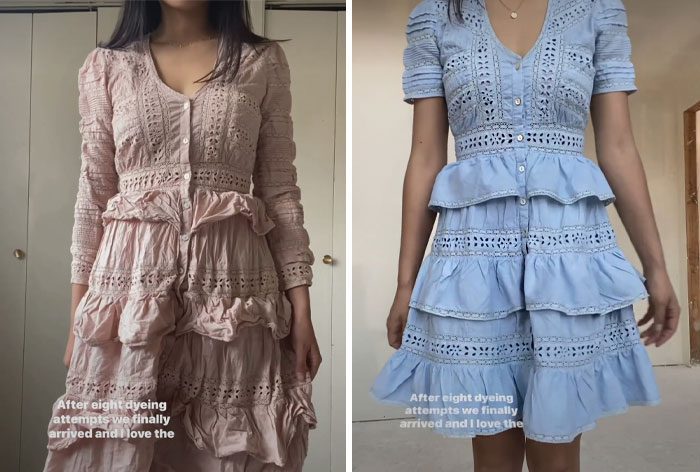 Sarah said this was her most challenging project so far, and she dyed the dress nine times because it was either too dark or too light for her liking. In the end, she settled on a Robin Blur color and shortened the sleeves and the dress.
41. From so yesterday to so today
The 80s casual dress on the right wasn't doing anything good for Sarah's figure. If you saw the dress off the rack, would you buy it and wear it as is, or would you not buy it at all, even if it was only $2? We knew which choice Sarah would make.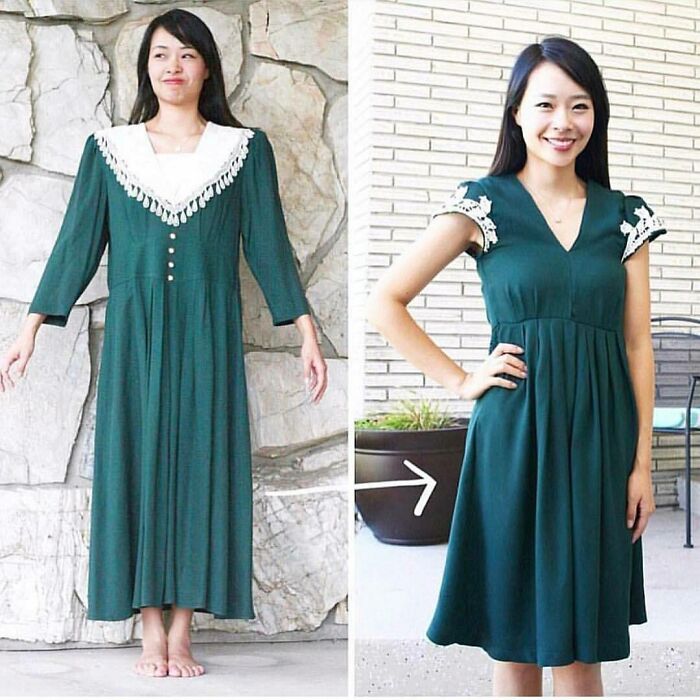 She didn't bat an eyelash; she bought the dress and refashioned it to something more suitable for her frame, height, and the year she's living in. Look how it turned out! Good job, Sarah, as always. You can do no wrong in our eyes.
42. Turning something old into something new
This is a project that needs someone who has intermediate skills in dressmaking, something that we don't possess. Anyway, Sarah turned an old and faded light yellow dress, which looked like the type worn by secretaries in the 70s and 80s, into something you can wear today.
She dyed the dress and refashioned it into a fuchsia peplum dress. She only spent $10 on this project and worked on the dress for almost 4 hours. Not only does she have skills, but she also has an abundant supply of patience.
43. Some holiday fashion cheer for you
If you're looking for some holiday fashion cheer this early, here is what you are looking for. We don't have any problem with the 'before' clothes; it's just that the top was too baggy and made her look like a hanger.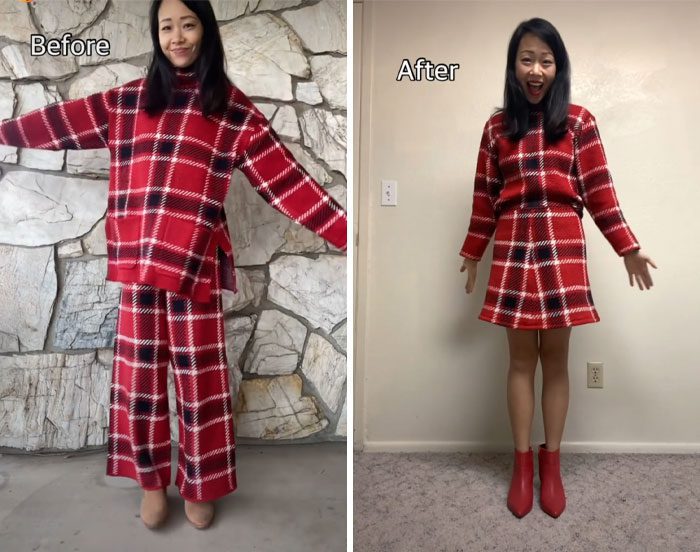 We love the top more in the 'after' photo, but we would have wanted to keep the pants, though we don't have anything against short skirts. Who agrees with this? If you disagree, let us know your point of view because we certainly would love what you think.
44. Plain top to something with more pizzazz
As we've said before, there's nothing wrong with plain tops, they're perfectly okay, but some people want something with more personality and charm. There is nothing wrong with Sarah wanting a top with pizzazz, and she knows exactly what to do to get what she wants.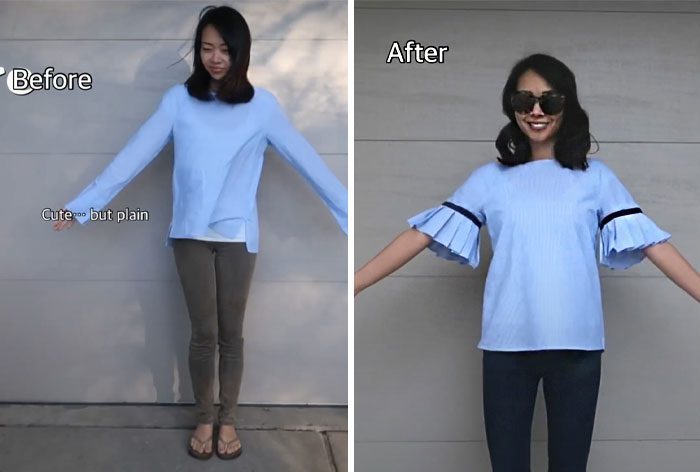 She turned this plain blue top into a top with pleated sleeves by using some navy blue ribbon and a fork. We're curious about the fork, but she didn't elucidate further how she did it, not that we'd understand a word about the process of dressmaking.
45. From a woman's suit to a dress
Would you believe she spent only $8 to refashion this woman's suit into a dress? Yes, she spent 3 hours working on it, but we'd say that it's time and effort well spent because look at what she came up with!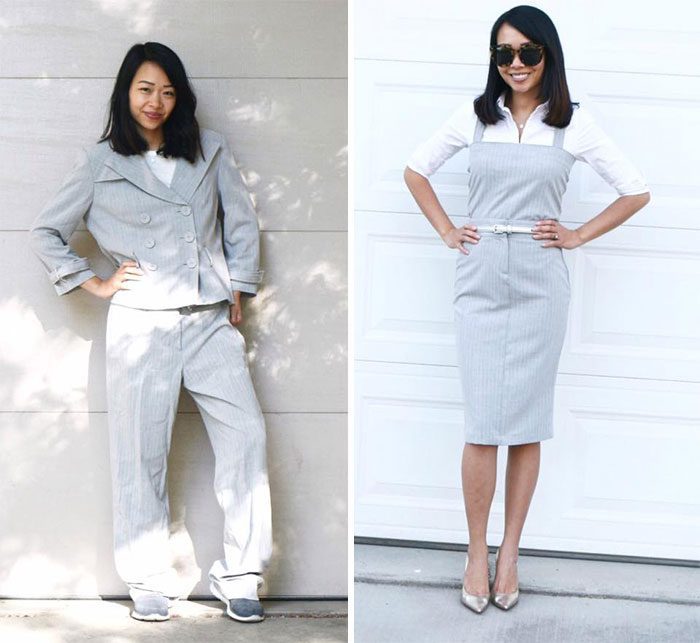 Some people said they like the before version better, but we like the after version more, but everyone is entitled to their own opinion. We couldn't turn that suit into a dress even if we worked 3 or 30 days on it.