Verdant Veggies: 35+ Container Ideas For A Luscious Backyard Veggie Garden
By Joyce S June 23, 2023
---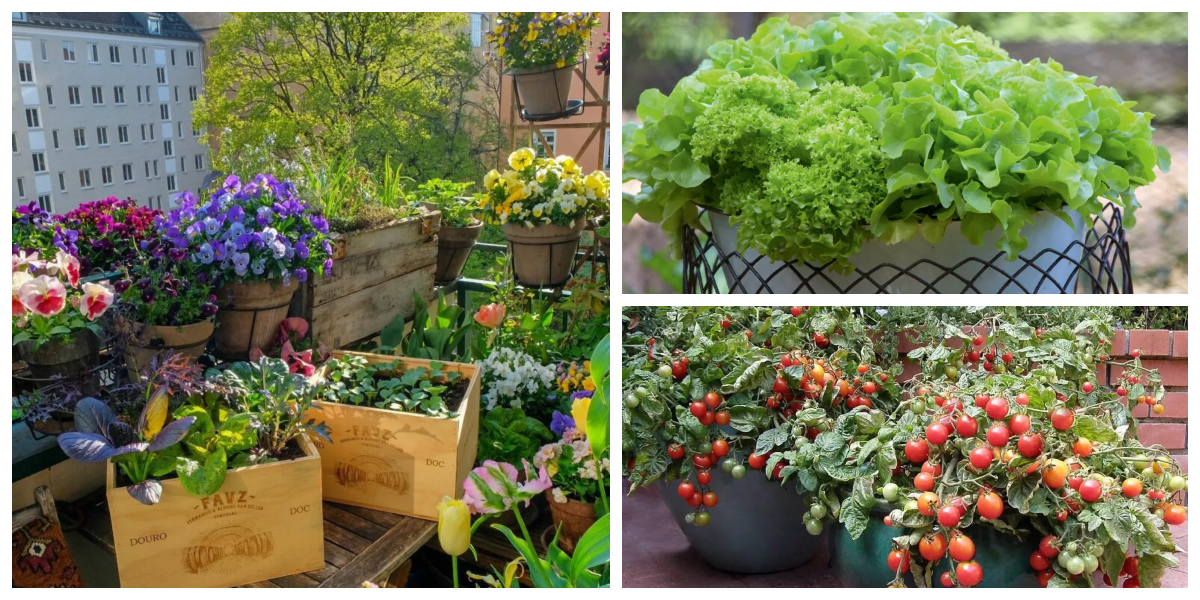 Gardening increases psychological well-being and satisfaction and relieves stress. It is a worthwhile pursuit that adds aesthetic value to a home and allows you to enjoy the fruits of your labor in fresh and delicious produce.
Don't worry if you don't have a sprawling backyard. Ideas for profitable, aesthetically pleasing, and speedily implemented container vegetable gardens abound. The improved yields per pot, the small footprint, and their adaptability are a few reasons they are popular. With a bit of research, you'll find a solution that works best for your situation.
As a starting point for planning your garden, it is wise to choose vegetables that you enjoy eating. This is useful for determining the location of the containers and what their size should be.
DIY Stacked Planter
Nothing beats the flavor of freshly picked herbs used in cooking. But what if you don't have a large backyard where to plant a herb garden? The solution lies in this pyramid of fashionable herbs. This space-saving design utilizes three pots stacked on top of one another to create one large container.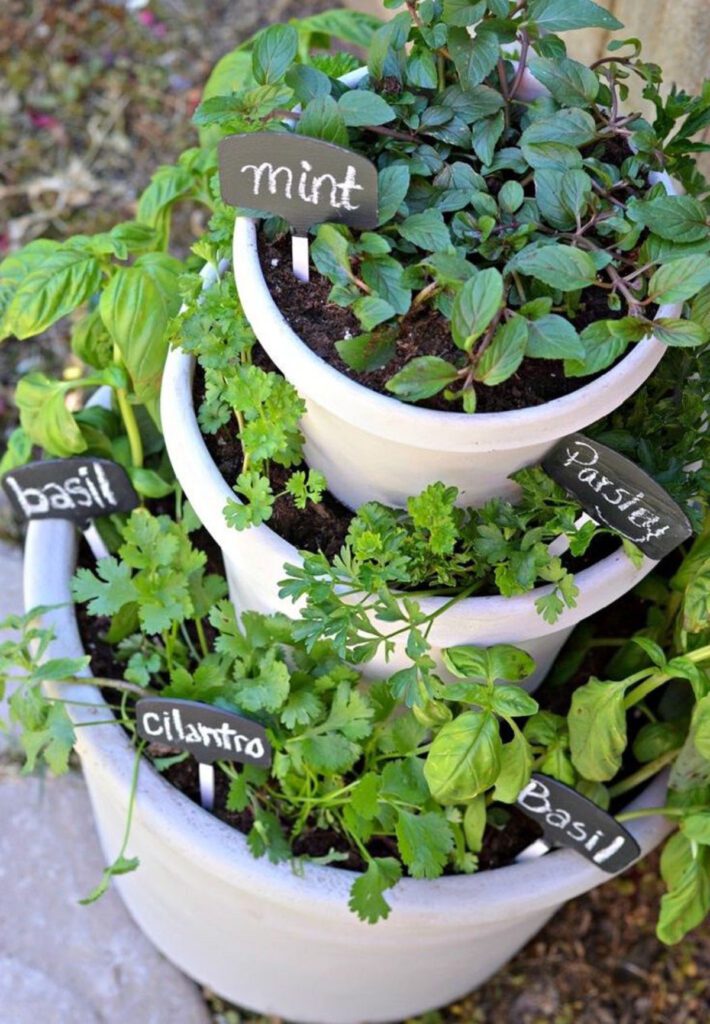 Herbs aren't the only thing you can grow. Try your hand at this intricate floral tower created from pots of varying heights if you want to show off your artistic prowess. It's an excellent example of combining two gardening trends that will always stay in style: terracotta and bright colors.
Fabric Containers Add Charm and Functionality
Portable and adaptable, fabric containers are great options if you don't have room for an in-ground garden. They are versatile, allowing you to grow plants in your driveway, patio corner, or anywhere else that gets six to eight hours of sunlight daily.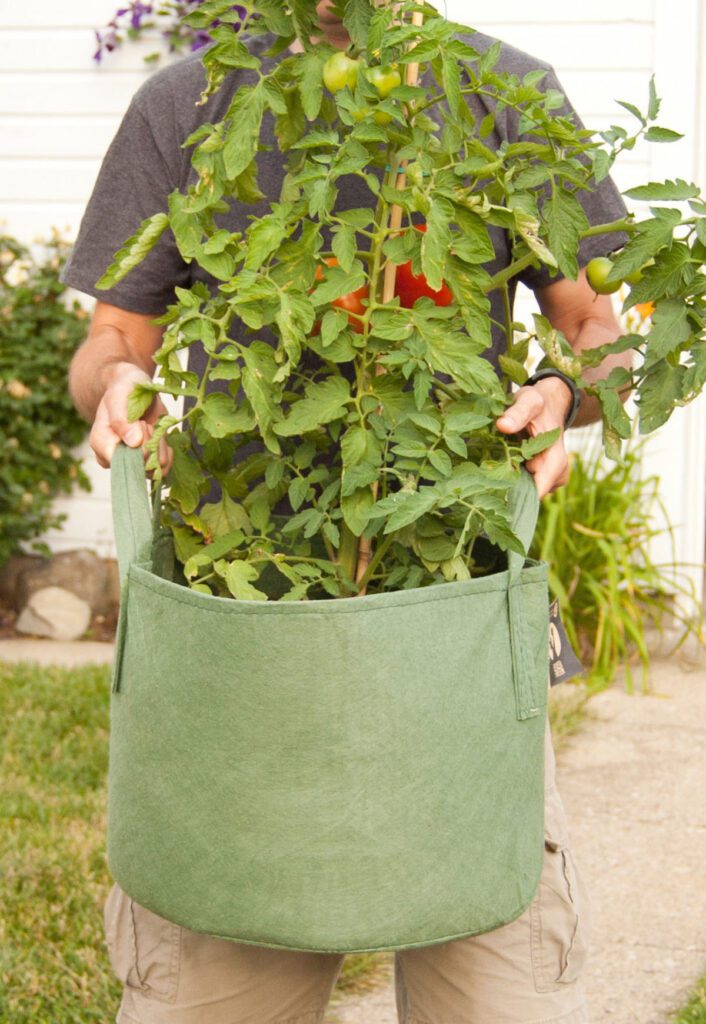 Compared to wooden or plastic containers, these are significantly lighter and easier to manage on a balcony or deck. Fabric containers are easy to transport because of their lightweight design; some even come with handles that make carrying them more manageable.
Bring Art To Your Garden
We love to see colorful versions of ordinary things. Use colorful containers to add a splash of style to your landscape. Purple basil, Hungarian wax pepper, tomato, parsley, and golden oregano look fantastic in these glazed pots in vibrant blue, orange, and yellow.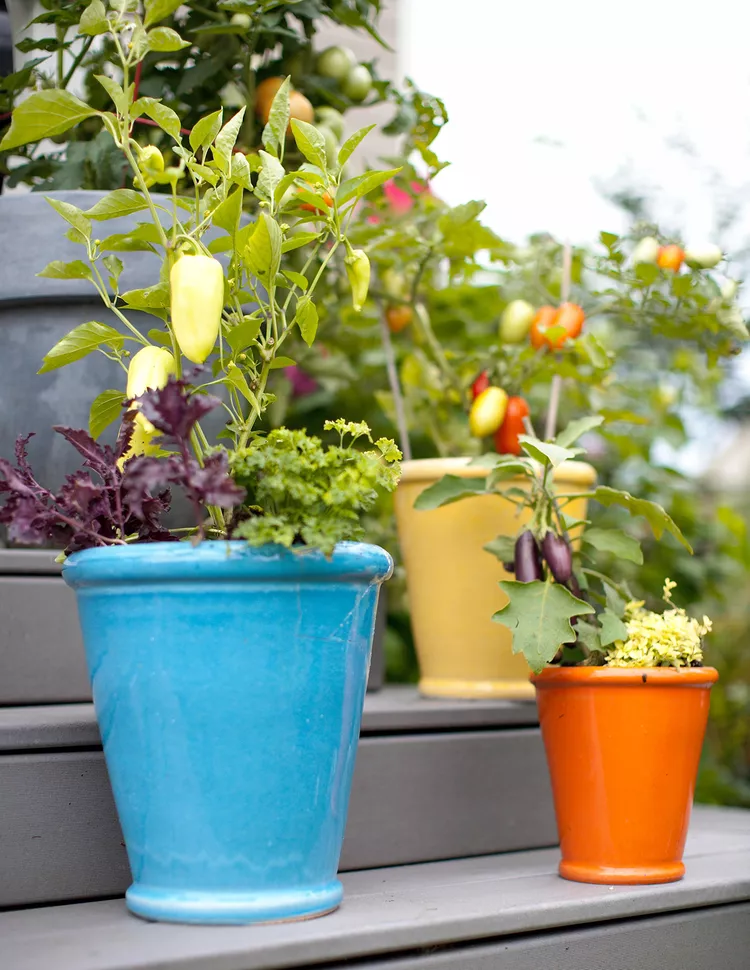 Growing vegetables in containers is a fantastic way of enhancing the aesthetic value and productive potential of patios or balconies of all sizes. Vertical planting is another way to stretch your imagination. With some paint and wooden poles, old tires become a creative vertical vegetable garden.
DIY A Hydroponic Garden
Growing herbs and vegetables with hydroponics, or cultivating without soil, is a lot of fun. It's a method that's been around for far longer than most people think. Passive hydroponics systems are ideal for plants harvested often, including non-woody herbs.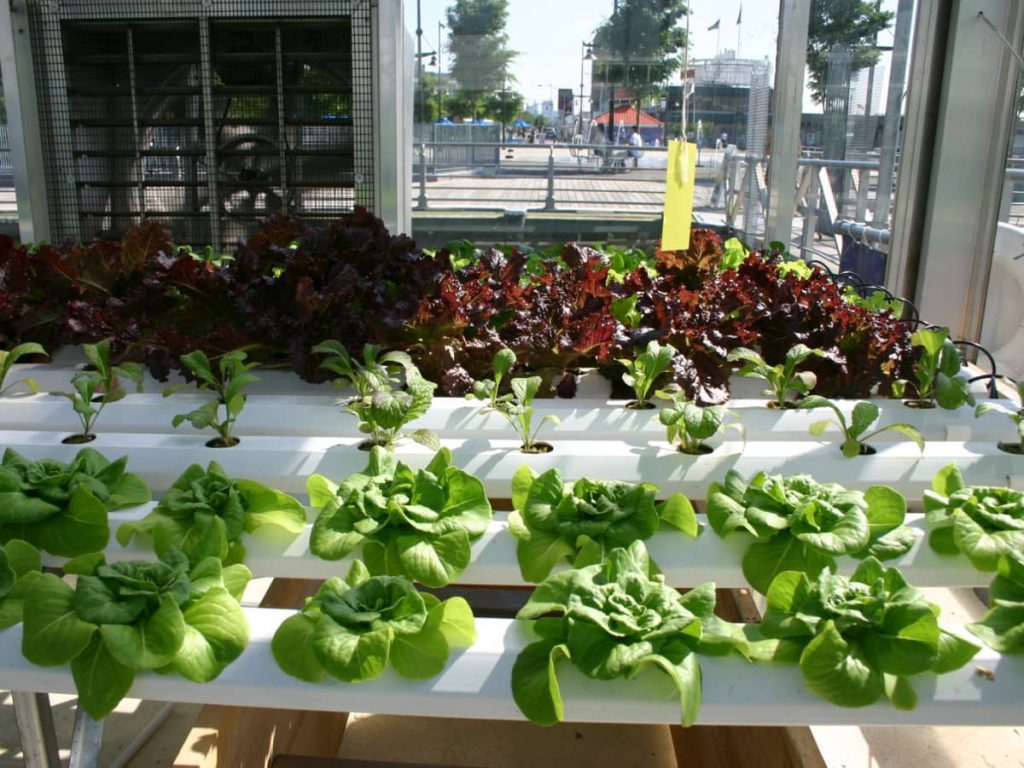 The easiest ones to grow in this system are basil, oregano, mint, thyme, and leafy greens like lettuce, Swiss chard, and strawberries. Plants like cucumbers and tomatoes are not ideal for first-time hydroponic growers since they demand ongoing care to thrive.
Place Planters Vertically
The key to successful vertical farming is selecting the appropriate crops and cultivars. In contrast to bush-type species, plants with a trailing, rambling, or spreading growth habit can be easily trained to grow vertically. You may get the most out of your gardening area by rethinking old practices.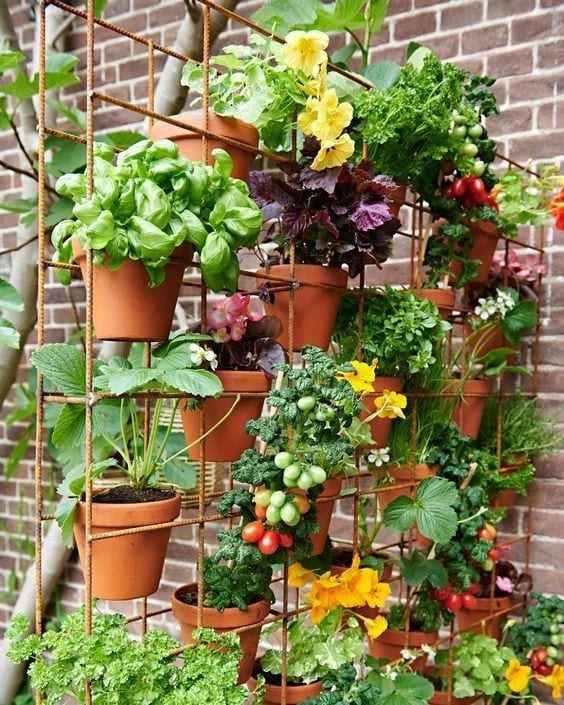 Growing herbs and leafy greens in small, lightweight pots and vertically stacking them works as fine as placing them all over the ground. Some of our most successful vertical garden crops have been pole beans, climbing peas, sweet potatoes, vining tomatoes, and trailing varieties of zucchini, cucumber, melon, and squash.
Colorful Crates
Fresh or old wooden crates may be used as robust planters or tool sheds. Crates may be used for various purposes, such as displaying flowers, storing seed-starting pots, and organizing tools. Arrangements of flowers in different hues look fantastic in painted crates.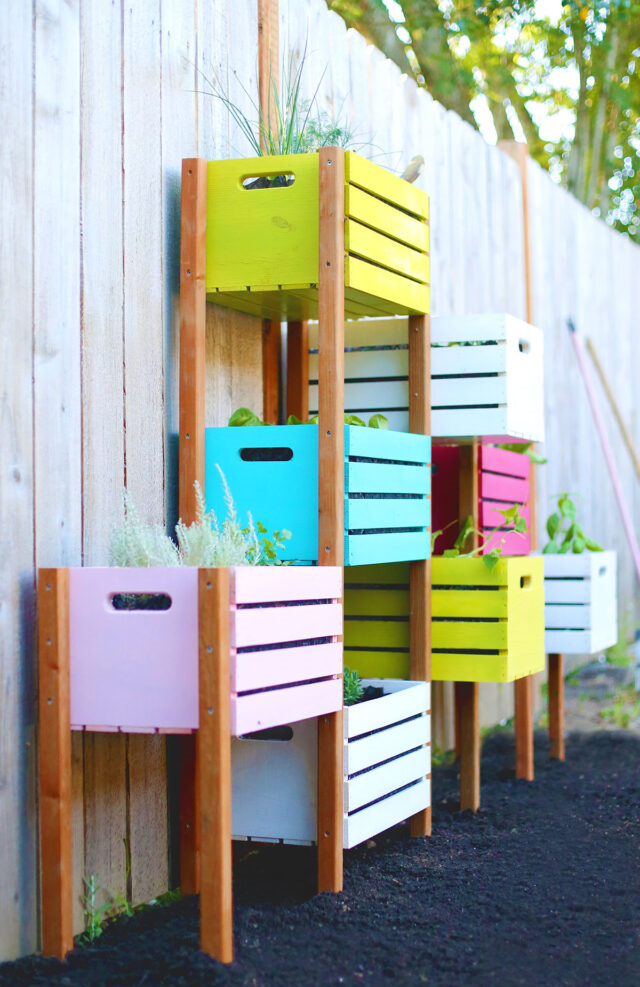 Crates can be made deeper for plants with more extensive root systems, like eggplant. Plants like kale and sweet William may be easily transported if you have crates with handles. Growing in stacked containers is like gardening on a raised bed, making the plants more accessible.
Tiny Containers for Tiny Veggies
Most veggies can grow in small containers, but those that thrive in small spaces are tomatoes, sweet peppers, spinach, kale, onions, lettuce, radishes, and beans. So, don't worry if you have a limited area for planting at home because you have options.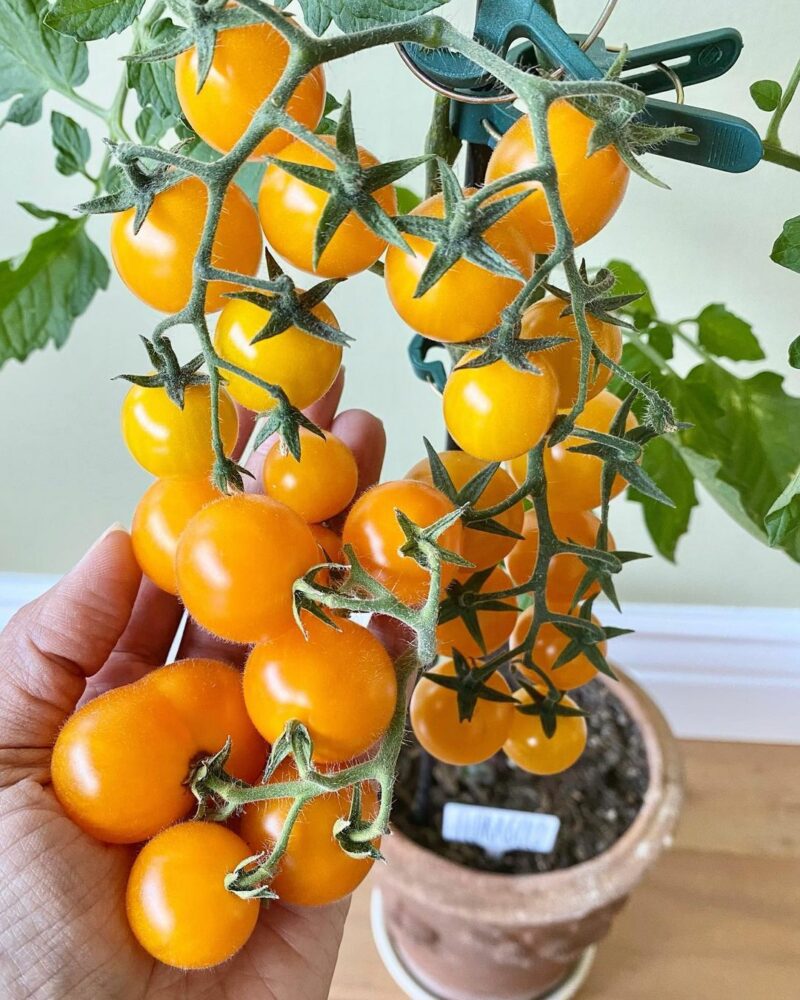 Grow microgreens and miniature tomatoes if you have a small garden and no time to wait for your plants to mature. These little herbs or vegetables have a big taste and are ready to pick in as little as five days.
Opt For Hanging Baskets
Why not grow veggies in hanging baskets if you're short on room? The finest herbs to grow in hanging baskets are the compact or "bush" variety. Tomatoes and basil look pretty and taste well together. Using a selection of pots naturally placed in waves is ideal for arranging your garden.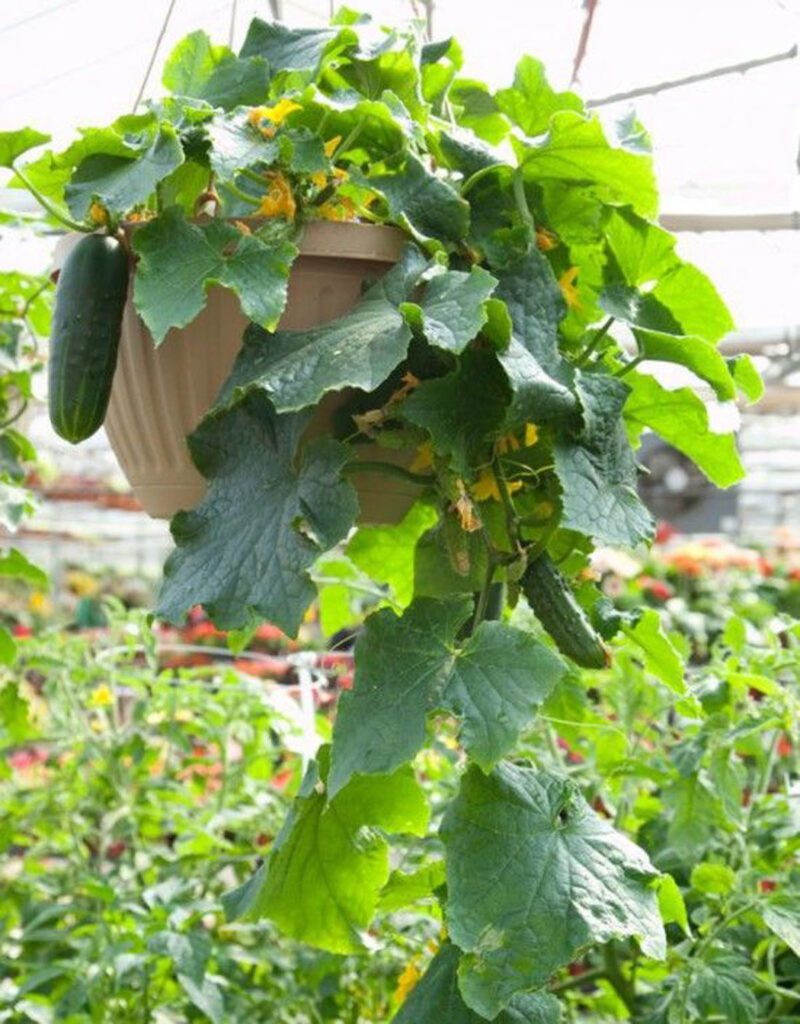 If you want the finest produces from your garden, you should also let companion planting ideas dictate your arrangement. Hanging the containers and pots beside the kitchen facilitates easy access if you need to grab a handful for your dish.
Recycled Bottles To Grow Lettuce Vertically
Growing our own food is something we should all do. It doesn't matter if we're crammed into an apartment with no balcony, a studio with a little patio, or the proud owners of a sprawling mansion with acres of lawn. Once you learn the basics, you'll discover that growing herbs and veggies is a relaxing hobby.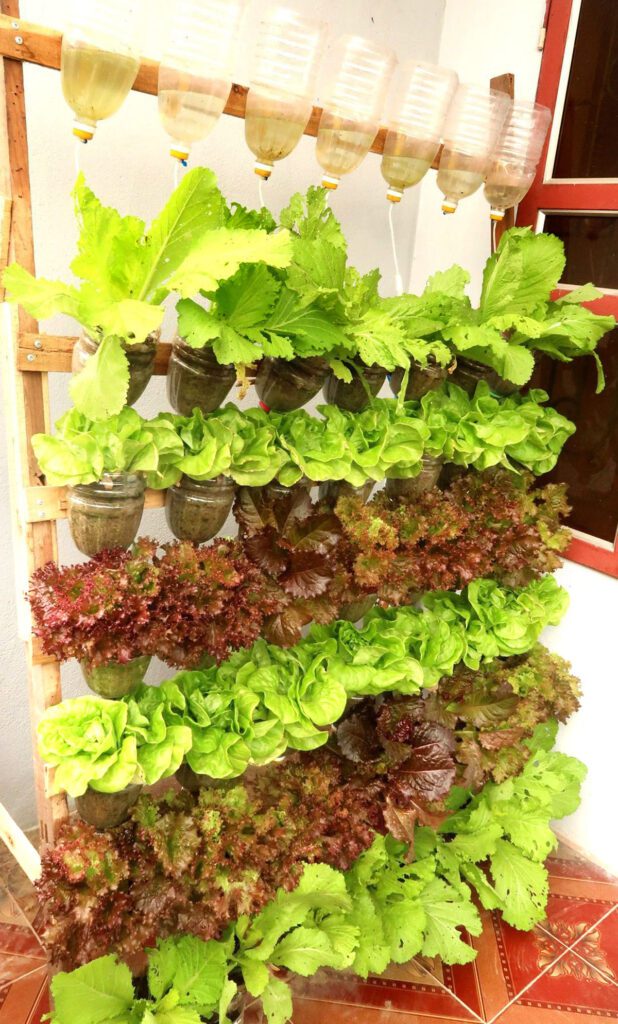 The creative use of plastic bottles to create a vertical landscape only enhances this. Grow your vegetables in a vertical garden and cut your grocery bill in half without sacrificing valuable floor space. Picking your own vegetables will bring you such joy.
Vegetable Boxes
Grow aromatic herbs beside your veggies in window boxes so you'll be greeted by the lovely aromas whenever you open a window. This is ideal for growing herbs like 'Pesto Perpetuo' basil, which may be used as a centerpiece too.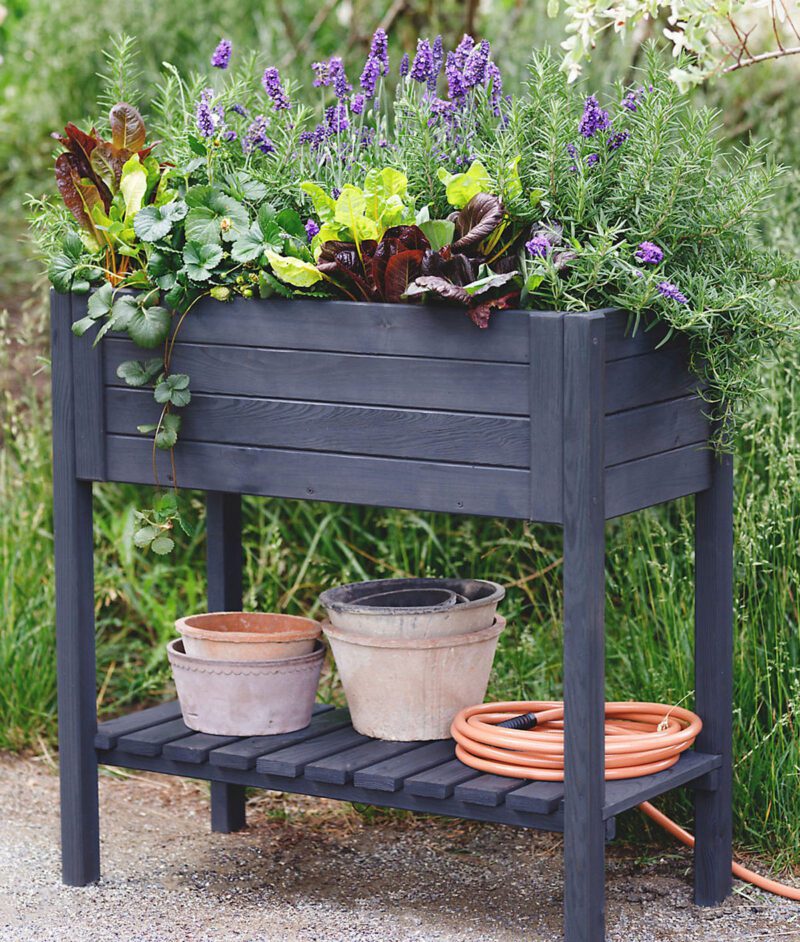 Herbs and vegetables like 'Tumbling Tom' tomatoes, spearmint, lemon thyme, and oregano can be grown in compact containers and trail over the edge. This window box's combination of fragrances, flavors, textures, and colors is enticing. It includes purple sage, red-veined sorrel, purple kale, and rosemary.
Bring Color To Your Decorative Planters
Make your favorite planters edible works of art by filling them with veggies with aesthetically appealing leaves, blooms, or fruits. Add some color and texture to your container garden with red-stemmed Swiss chard, bright 'Lemon Gem' marigolds, and fiery peppers.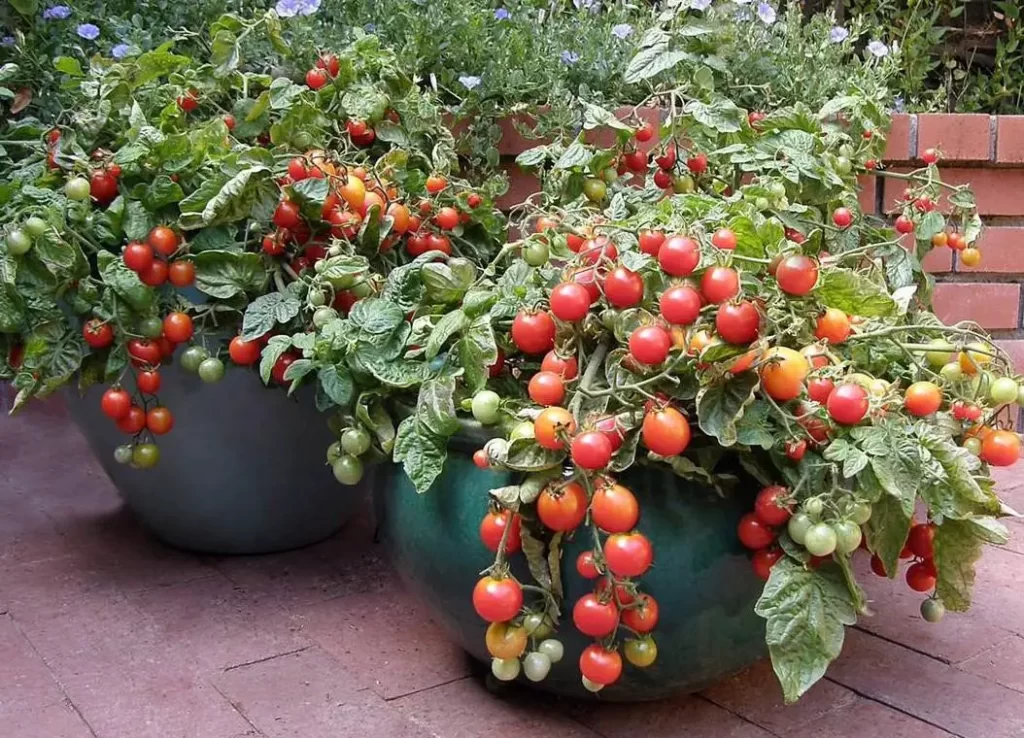 Planting tomatoes in a container garden is a fantastic idea. Pick two or three tomato types and cultivate them on a few plants for a bumper crop. A few tutorials will teach you more about the best container-grown tomato cultivars.
Make Planters Out Of Tin Cans
Using discarded tin cans as planters is a great way to reduce waste. Spruce up your recycling with some cute succulents and a splash of color. Use them on your front porch or kitchen window to grow herbs or flowers.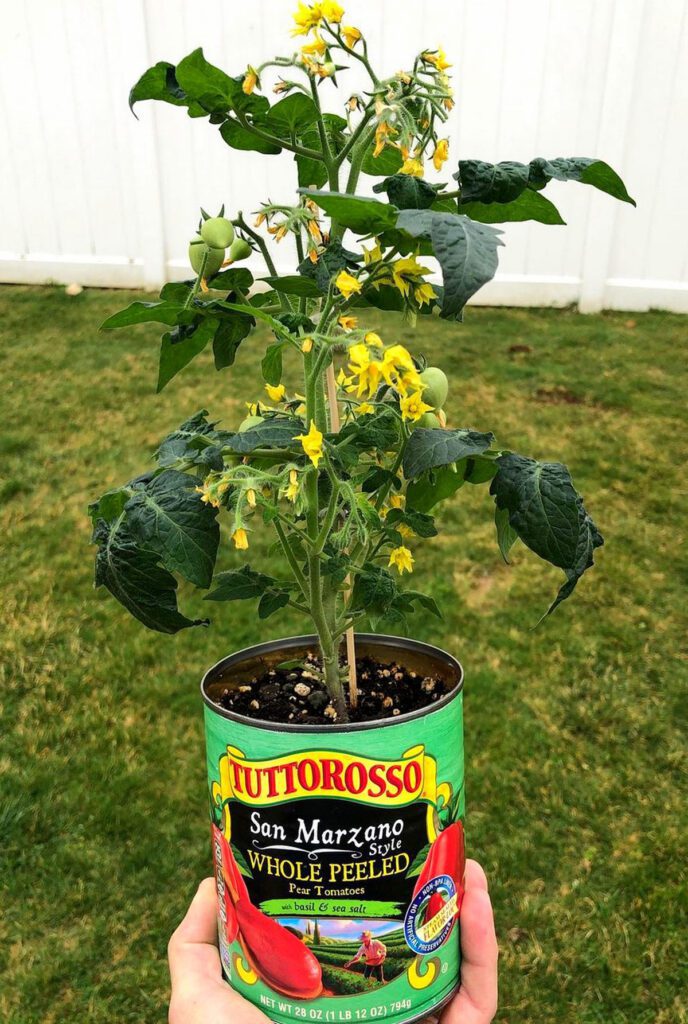 Be extra enthusiastic and try doing a two-tone design on a single can. Imagination and novelty are vital to the success of this cheap and easy do-it-yourself project. No need to paint that pretty tin can if you'd rather keep its original appearance.
Buckets Make Great Planters
You might be wondering why somebody would cultivate with a 5-gallon bucket. There are many reasons to use 5-gallon buckets instead of an outside garden, aside from a need for more space. Compared to raised beds, buckets are inexpensive and require less care.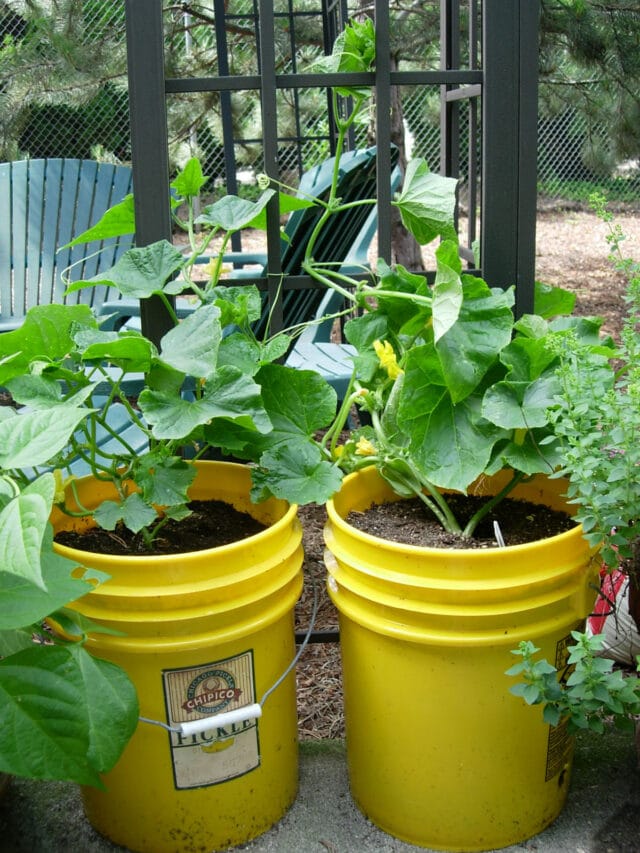 Additionally, the buckets take up little room in your yard. Plants in buckets have less chance of being trampled, and you can be assured that the dirt within is suitable for plant growth. You won't have to deal with pesky weeds too.
Five-Gallon Buckets To Grow Cantaloupes
As helpful as they are, 5-gallon buckets are only suitable for some types of plants. There are a plethora of resources online that detail which foods may be grown in buckets and how many of each should be planted.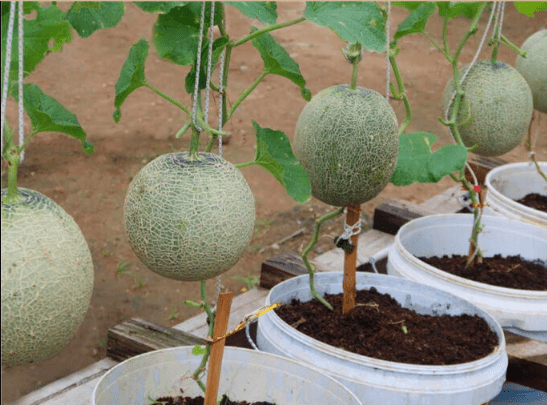 One of the best five-bucket crops is melons. Because they are large, it is recommended that only one is planted in a bucket. Melon plants, like cucumbers, may grow lengthy tendrils, so giving them plenty of room to develop and thrive is crucial.
Build A Vertical Lettuce Planter
If you're interested in vertical vegetable growing, some excellent guides explain how to build a sturdy and attractive ladder planter. Use crops that thrive in tiny pots, like crispy lettuce, to create lovely arrangements. For a colorful display, you can choose chili and herbs to complement geraniums in pots.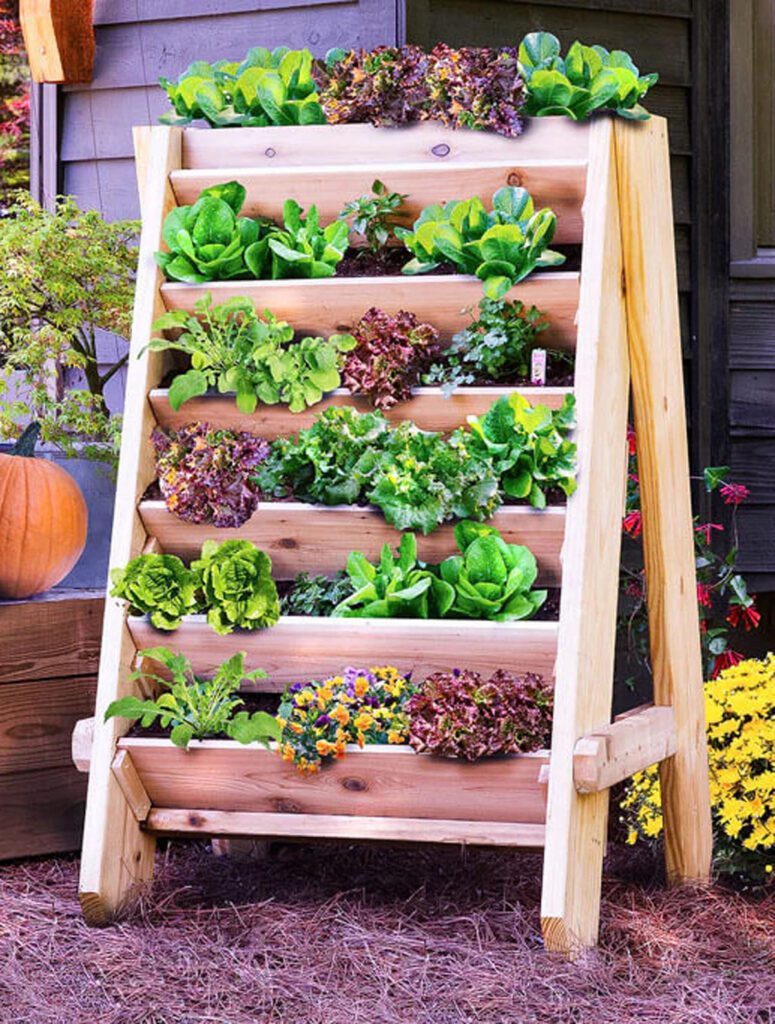 Lettuce, radishes, miniature tomatoes, and bok choy are shallow-rooted plants that thrive in this setting. Wooden or metal plant supports and ladders can be used where a trellis would be impractical to provide vertical dimension. You can make your yard more charming by reusing old steps too.
Try Raised Garden Beds
You can build raised beds from bricks, stones, or other reused materials according to your needs. You can go with something standard or make something completely original. A raised bed planter can be used as a temporary or permanent home for plants.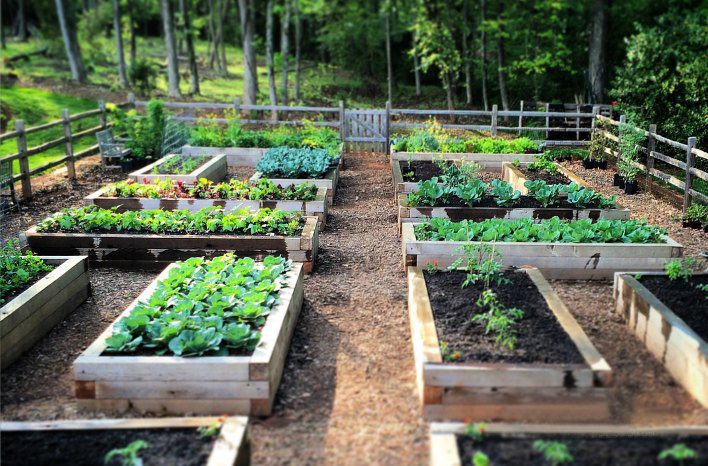 The cost to build a raised bed will increase in proportion to the level of detail you put into it. Planting in raised beds has numerous advantages, including improved soil drainage, deeper planting (requiring less bending), and easy disassembling of temporary additions.
Grow Veggies in A Willow Planter
The natural look and texture of willow and wicker planters are ideal for softening the edges of hard landscaping on the patio. A wide choice of vegetables, such as zucchini, brassicas, and corn, would make beautiful arrangements alongside colorful flowers.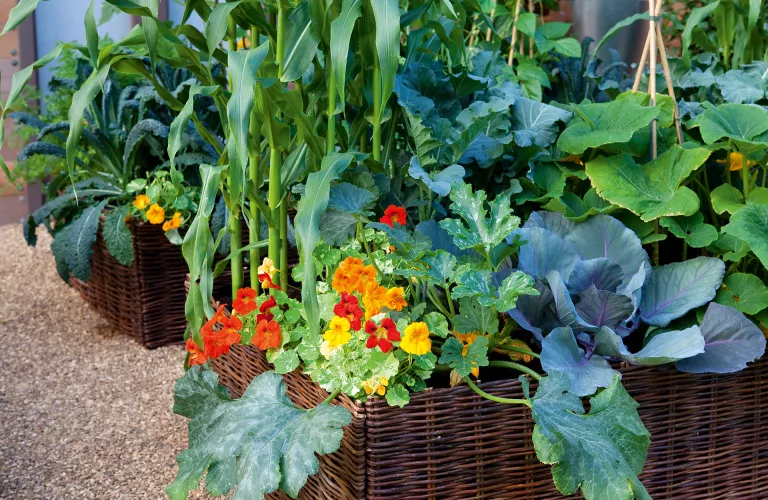 It's wise to grow these veggies alongside nasturtiums to maximize the benefits of both plants. Since aphids and black flies prefer vegetable gardens without pests, nasturtiums can be sacrificed to attract the insects' attention, so you get healthy veggies every time.
Terra Cotta Vases To Grow Tomatoes
With their natural and rustic look, terracotta pots bring appeal and functionality to any outdoor space. These clay containers have many potential uses aside from housing plants. Refrain from throwing away unused clay pots around the house, and give them a second lease on life.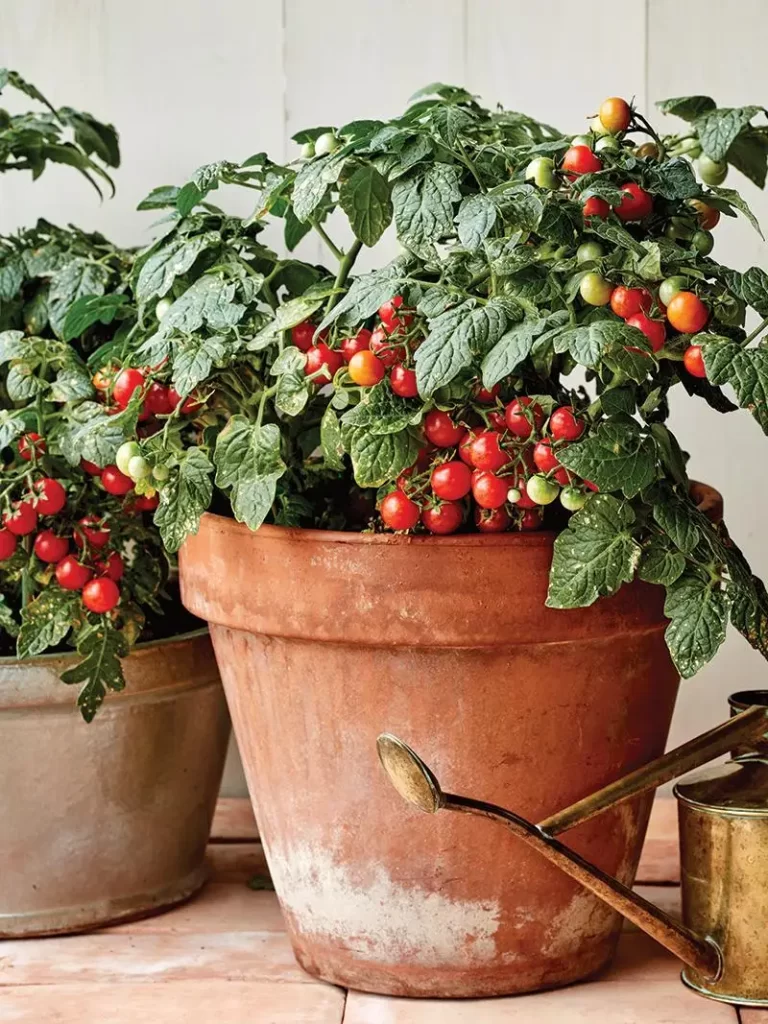 A vertical garden can be made out of terracotta pots by stacking them on top of each other. This maximizes functionality by dividing the planting area into different levels. These vases are a great addition to any room, giving it a rustic air.
Upcycled Containers In Your Garden
Upcycling and repainting old containers is a great way to add a personal touch to your garden. Choose vibrant hues that look great next to the greenery of your crops. We recommend revitalizing old steel drums with paint and some elbow grease.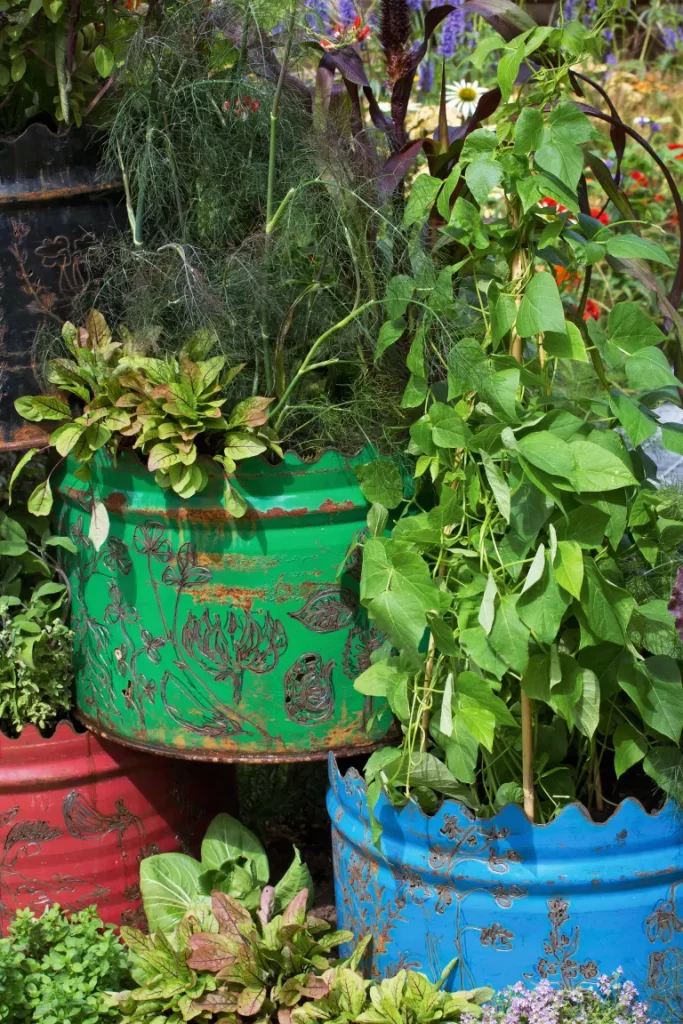 Painting them in vibrant colors and etching them with floral designs is one way to go, but you can get the same effect with other materials like wood and terra cotta. Plant beans and peas or low-growing vegetables like brassicas, fennel, and carrots in your repurposed containers.
Bring The Garden To The Table
Having lunch at a planted table while collecting fresh herbs and leafy greens as you go sounds just delicious. You can get a table made primarily with a planter in the middle or achieve the same look by placing a long planter in the heart of your table.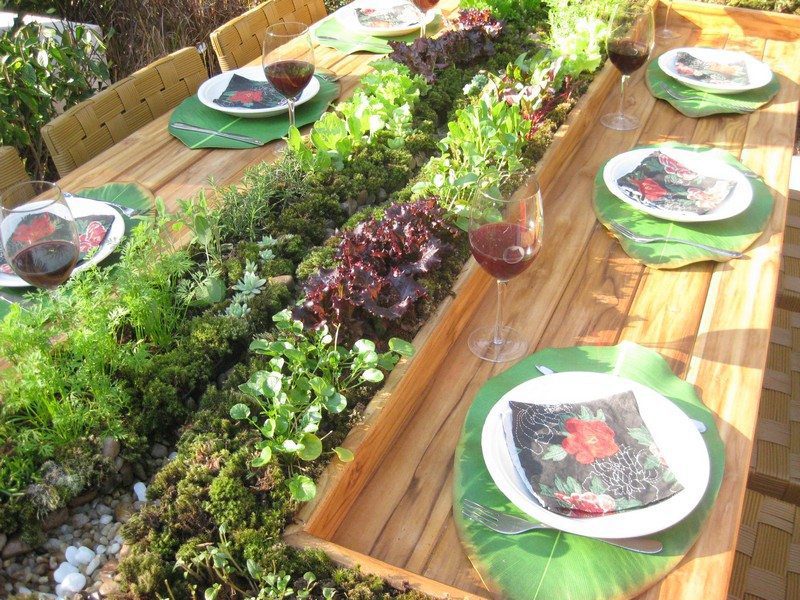 Plant low-growing flowers among the crops for a splash of color. Ingenious patio layouts like this one, which has steps with baskets of brassicas and planters running along the perimeter, make the most of the space available for container gardening.
Succession Planting
Succession or successive planting is a great way to maximize a tiny outdoor space. After your summer plants have finished producing their fruits and vegetables, you can grow cool-season foods like broccoli once the warm weather comes to an end.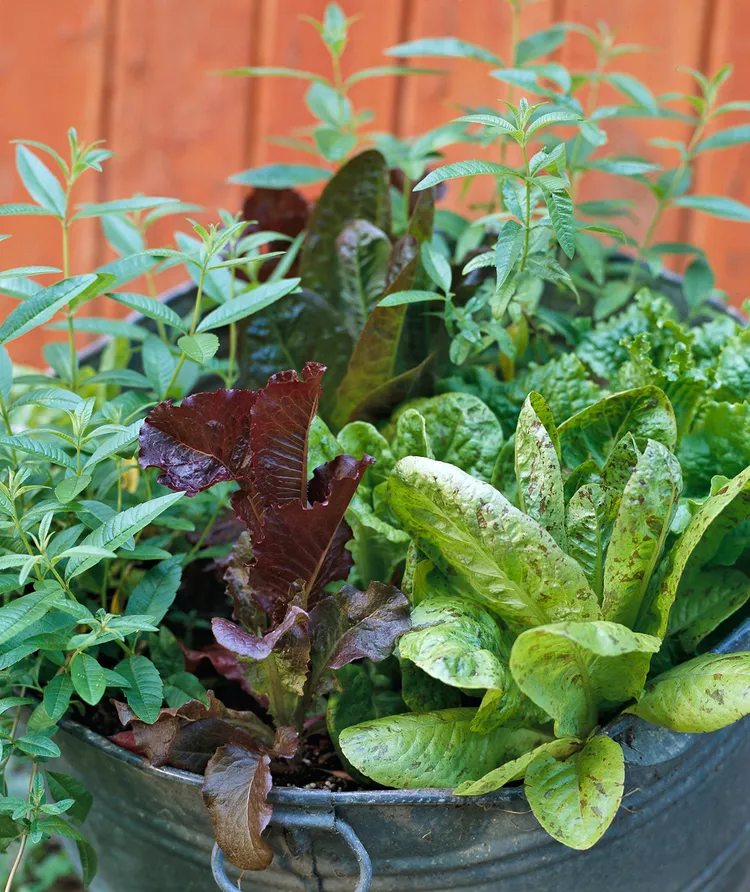 Succession planting in a container vegetable garden demands precise timing so that an early spring planting of a fast-maturing, cool-weather crop can be followed by a later spring planting of a crop that needs a more extended and warmer growing season.
One-Pot Vegetable Planter
The Mediterranean region has gifted us with an abundance of herbs used to make dishes taste a thousand times better. They also make for beautiful additions to any garden and flourish in areas with abundant sunlight and relatively dry soil.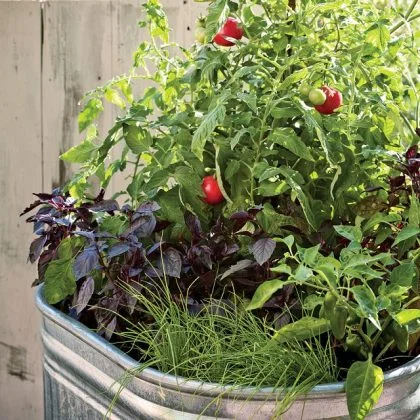 Sage, thyme, rosemary, oregano, and lavender are excellent companion plants for pots. Combine lemon and verbena and lemon and thyme in your garden for a refreshingly uplifting perfume. Spreading lemon and thyme around the base of your verbena plants will help keep their moisture.
Movable Garden
We bet you haven't thought of this trick. Assemble a raised bed and equip it with wheels to quickly relocate it and optimize plant sunshine exposure. This method of growing vegetables allows for easy transplanting to the area with the most sunshine.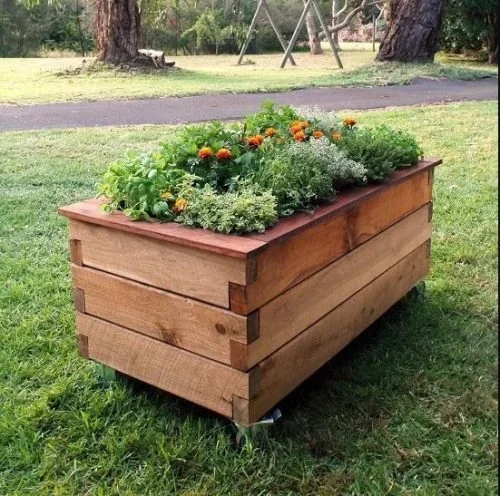 An easily moveable planter like this can do wonders for a dull patio or porch. Attach wheels to an old wooden structure or container, and you have a functional plant stand perfect for sprucing up your patio, balcony, or yard.
Hide Ugly Buckets
Generally, store-bought plants are perfectly fine in the same container for an extended time. Most people use plastic or azalea pots which lack appeal. Depending on the species, plants can be top-heavy and wobbly if their roots are not well-established.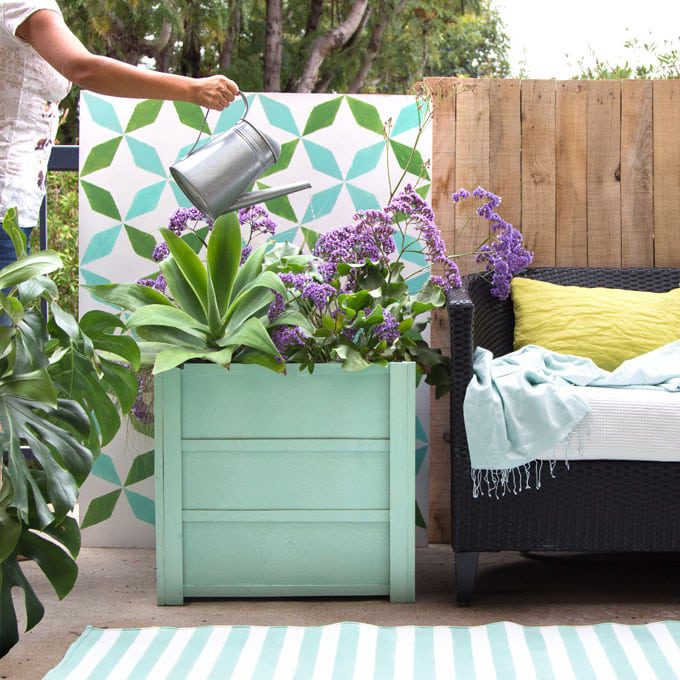 You can hire a professional landscaper to "double pot" your plants or "use a cache pot planter" to "spruce up" their appearance. Despite the absence of a drainage hole, these beautiful planters are an excellent addition to any indoor space.
Upcycle Glass Bottles
Don't know what to do with empty glass bottles at home? There are several eco-friendly DIY projects we can think of, and this is one. Taking cues from sophisticated glass terrariums, you can adapt the concept to make a version for your garden.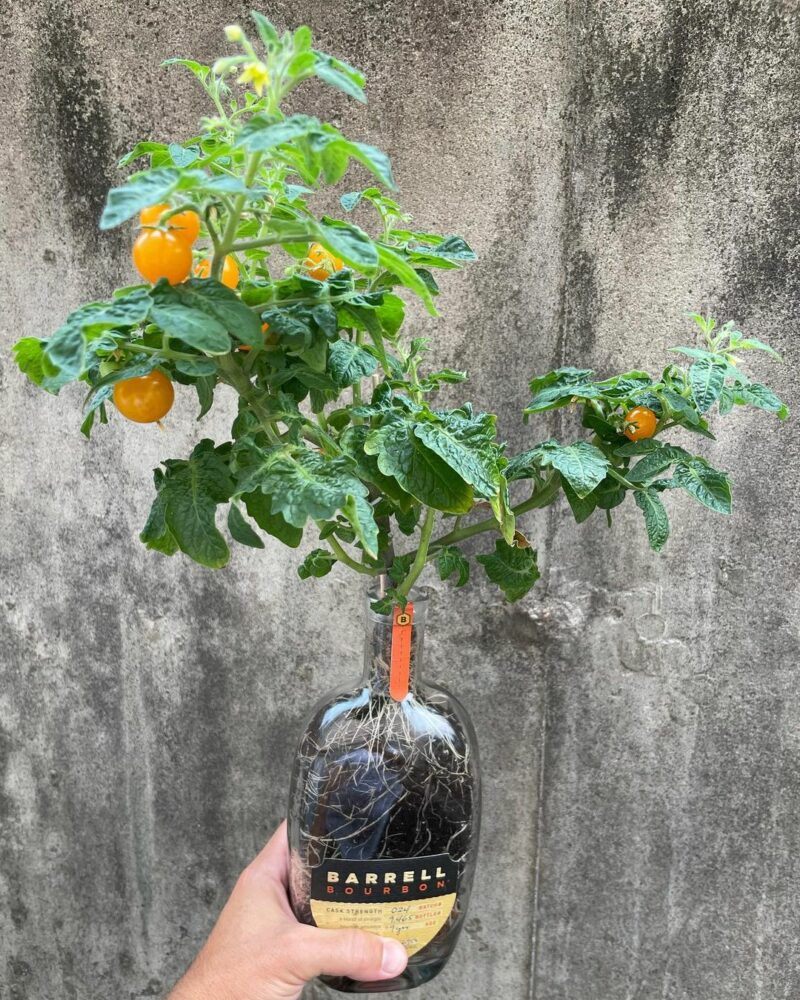 The structure's soil is ideal for cultivating cute succulents. If you want to grow attractive plants or orchids in your yard, used miniature bottles are the best option, such as empty perfume or medicine bottles that can be converted into planters.
Soda Cans Make Nice Planters
A tin can garden is another option to explore if you want to grow veggies. We should embrace any chance to put the metal cans to good use. They still have so much life after serving as storage for canned vegetables, fruits, soups, and meats.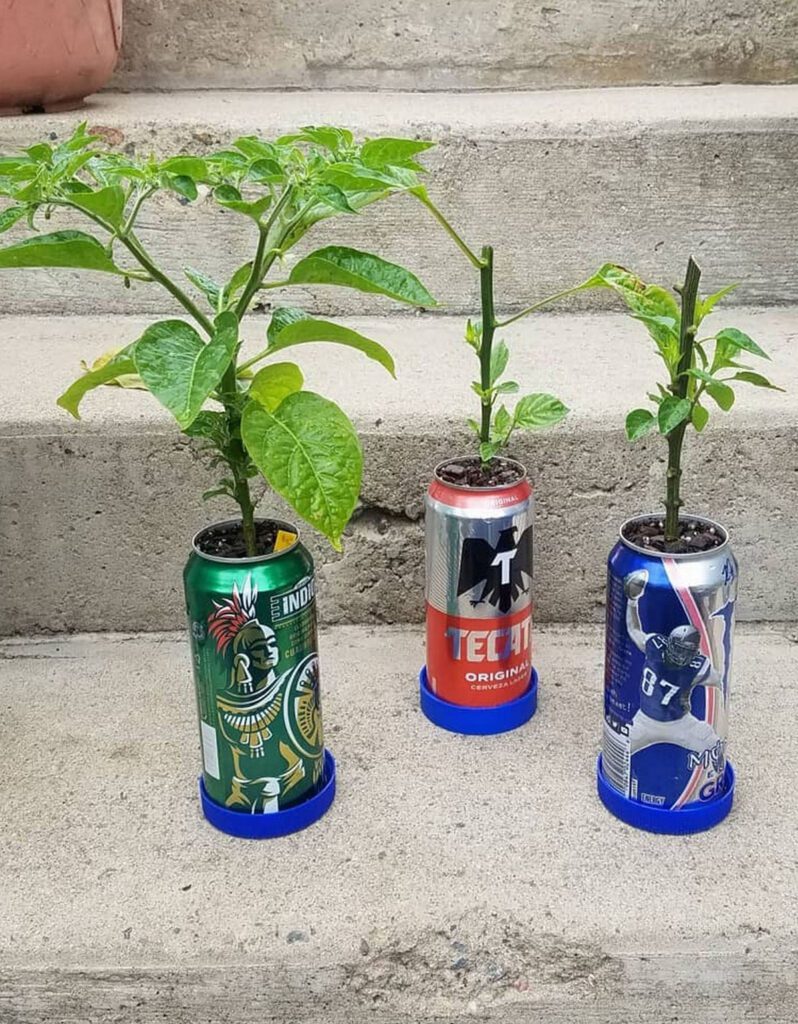 Fill soda cans with soil and drill a drainage hole in the bottom. Growing food in metal cans requires careful consideration of a few factors. When you crack open a can of food, the inner layer is exposed to air and begins to spoil. It's essential to check the can for rust before using it.
Play With Textures
Statement greenery as a dramatic centerpiece could render a practical container stunning and eye-catching. If you have fantastic foliage, you won't need to plant flowers in pots. It's a good idea to search for plants that have vibrant leaves, such as Coleus.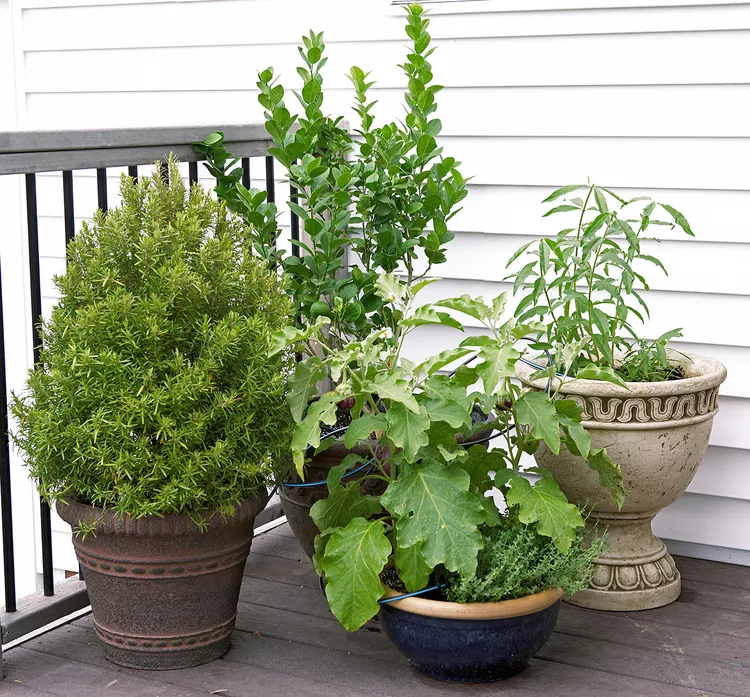 You can still make a bold impression with all-green plants by blending textures. The rosemary's thin needles provide the ideal contrast when placed next to the eggplant's large, bold leaves,. In addition, the atmosphere is elevated with a potted citrus tree, lemon verbena, and thyme.
A Strawberry Tower
Strawberry towers can be made in various ways and are vertical planters. They also come already made and can be ordered from a garden center. The DIY strawberry tower is designed to raise the strawberry plants above the ground. For a small apartment, they work wonderfully.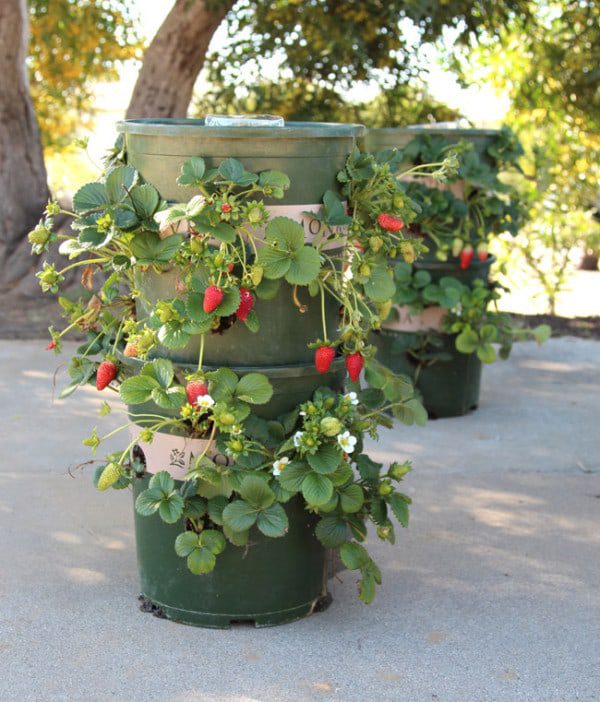 A strawberry tower cuts your back slack because you won't have to go down on the ground. A combination of materials, like stacked pots, buckets, crates, scrap wood, or wooden pallets, can be used in your DIY strawberry tower. Use your imagination to make something unique and enjoyable.
Select Unique Planters
Make your container vegetable garden more visually appealing by using exciting planters. Planters can be made at home from recycled materials or purchased in different forms and sizes. One way to put your stamp on your garden is by giving it a unique layout that speaks to who you are.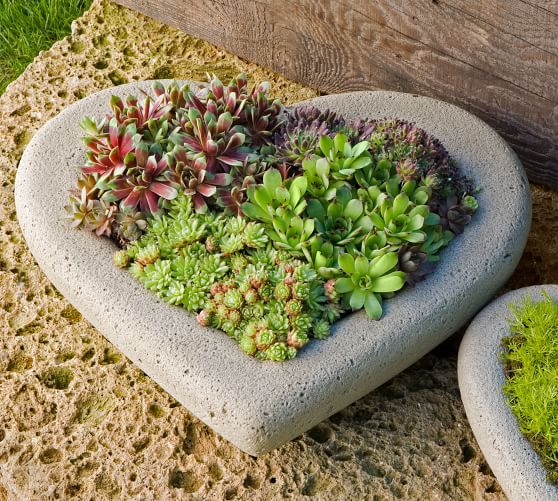 A heart-shaped vegetable patch is just one possibility. You may purchase a prefabricated shaped container or dig a hole in your yard using standard gardening equipment to create a custom-shaped vegetable bed. Use a fence to enclose the vegetable bed and keep it in its intended shape.
Mix Your Veggies With Colorful Flowers
Create a lovely container vegetable garden by planting a variety of veggies and flowers in various pots. Flowers like borage, calendula, and nasturtiums are easy to grow and delicious. Garden pots may be placed anywhere, from the patio to the flower garden.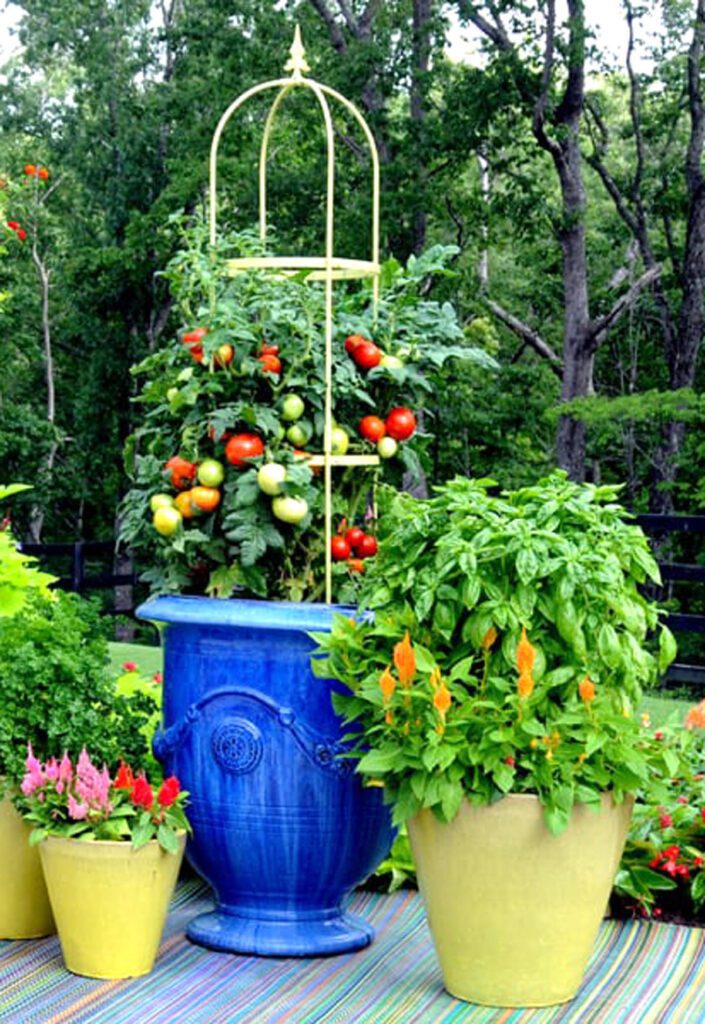 Moving containers near pest-deterrent flowers is one way to reap the benefits of companion planting. Planting edibles amid your flowers is a great way to modernize while paying homage to classic potager cottage gardens. This arrangement elevates the aesthetics too.
Edible Flowers Are A Must
Flowers come in many colors, and their vibrant blossoms do more than just brighten your yard or your day. You may be surprised to learn that many flowers are edible too, making them an excellent addition to any vegetable garden.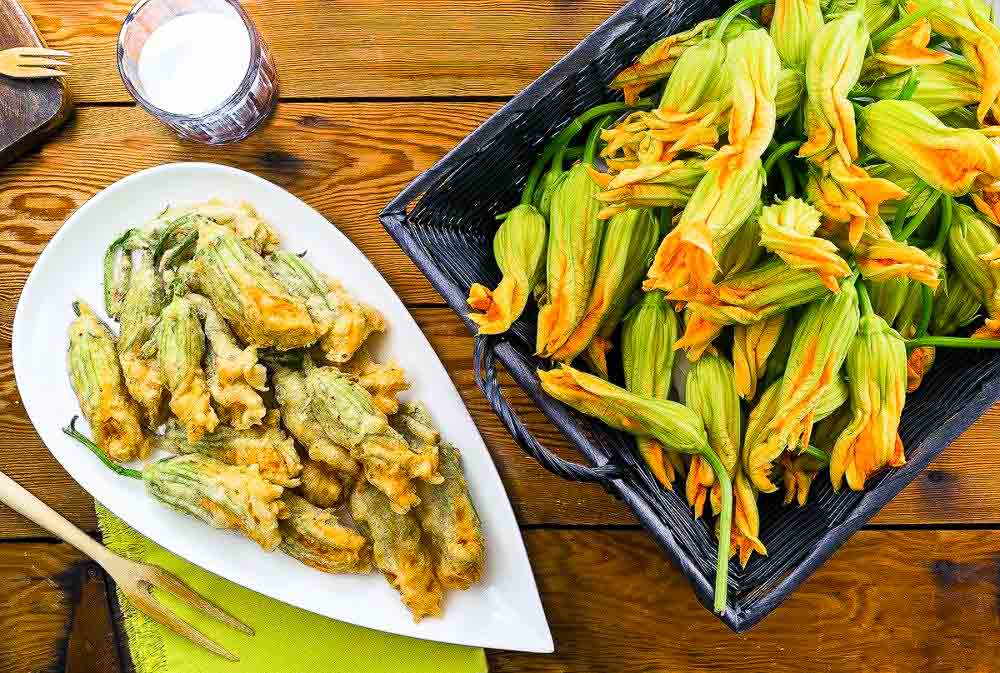 They look beautiful and are effective in warding off pests. Thanks to repellent plants and helpful insects your homegrown fruits and vegetables will be safer to consume. You save money and eat safe and healthy produce at the same time.
Play With Heights
Choose containers of varying sizes to add aesthetic interest and create a dynamic grouping. There is a lot of eye candy in these four containers of cucumbers, tomatoes, peppers, basil, thyme, and parsley. Experiment with height and create layers with your vegetable containers.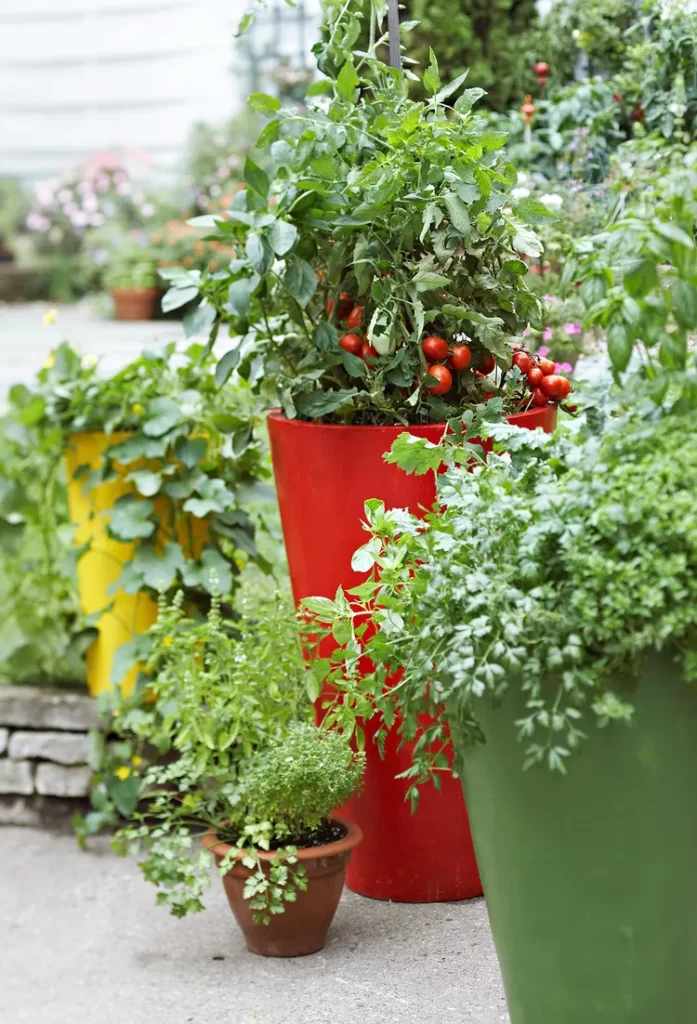 Even if you already have beds in your garden, large zinc planters and galvanized metal tubs can still be useful and add aesthetic value. You may also use a repurposed onion box or wine crate since the plants will look great against the natural wood tones.
Use Your Balcony
Don't think that only people with a garden or allotment can grow their own food. Growing vegetables on a balcony is easy with a little imagination. The temperature and wind speed can be lower than in a garden on the ground.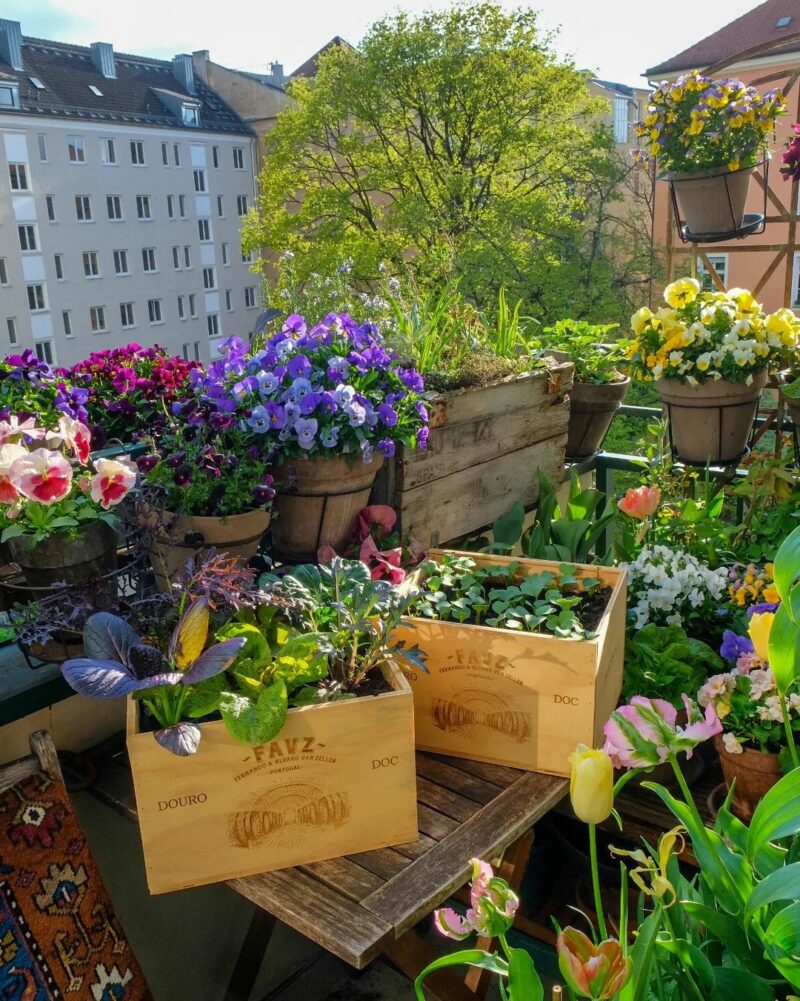 But balconies are still suitable for growing various vegetables, including radishes, beets, peas, and salad greens. To start growing yummy veggies, select containers and opt for arrangements that fit your space. The key is not how big the area is, but how you optimiz
Upcycle Tires
A tire garden is easily created by filling a used tire with dirt and putting the desired seeds or plants. Raise your garden beds by stacking tires, or use individual tires as self-contained pots. Get creative by painting the exteriors to complement your garden's color scheme or landscape.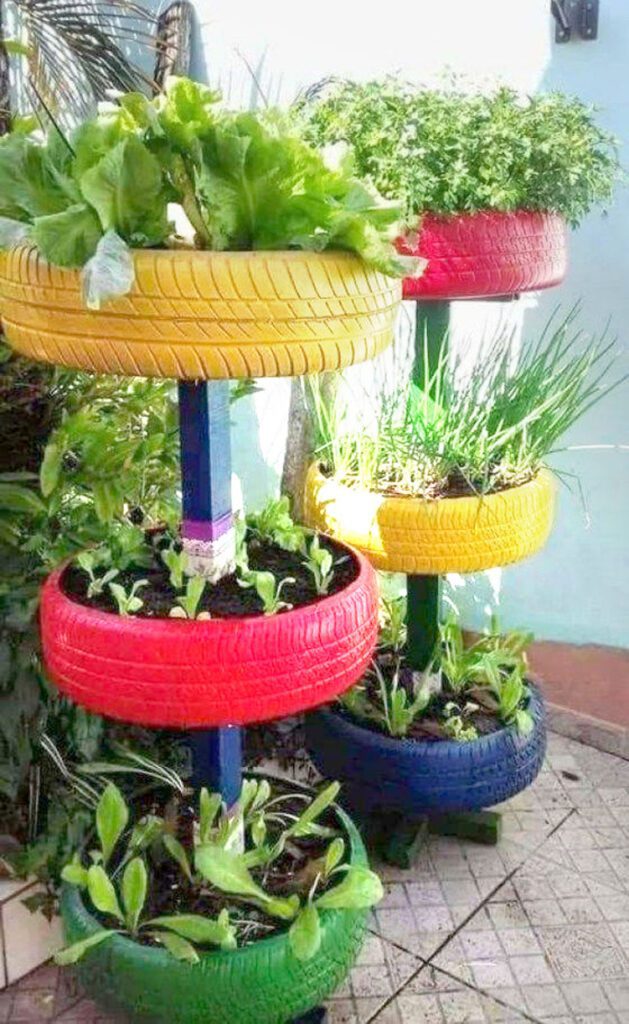 Their depth makes them ideal for planting, and they may be drilled with drainage holes so plants get adequate water. As the tires dry out in the sun, the soil stays warm and dry, which helps avoid root damage. Because of their enclosed nature, tire gardens make it simpler to manage weeds too.
Learn To Contain Vining Vegetables
Edible vines are productive and efficient space users. Pumpkins, melons, and gourds may be grown, as can cucumbers, pole beans, and other types of beans, Malabar spinach, vine tomatoes, squashes, peas, and possibly even vines but some vining food plants, such as watermelons or pumpkins, require a lot of areas to develop.
On the other hand, scrambling cucumber will flourish in a container. When combined with a taller plant like rosemary, its large, colorful blooms and bold foliage become the focal point of any arrangement. To add a burst of color to your dish, seek cucumbers with a lemon twist.
Color-Block Flowers and Veggies
For a sophisticated container vegetable garden, try sticking to one primary hue, like purple. Consider two shades of deep purple eggplant artfully set off by decorative verbena and calibrachoa, which have softer purple blossoms. The purple hues on the leaves of tricolor sage are another nod to the color scheme.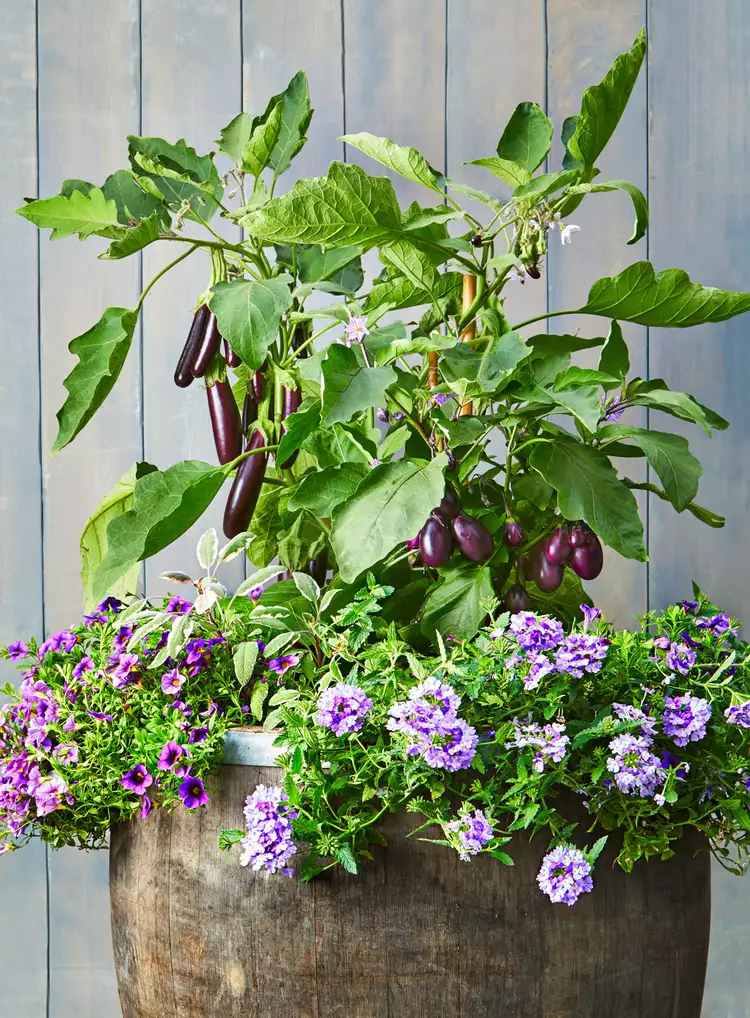 When planning your white garden, keep these things in mind: there are many shades of white. Comparing a so-called "white" bloom to a genuinely pure white blossom can highlight any cream, pale pink, or blue undertones. Place plants with green or silvery foliage between the off-whites and the pure whites to maintain a uniform appearance.
A Fragrant Garden
Think about how you'll use the aromatic qualities of the plants you're considering for your garden. Chocolate cosmos and related blooms could have a more enticing perfume from a distance, which is fascinating because certain aromas take time to develop.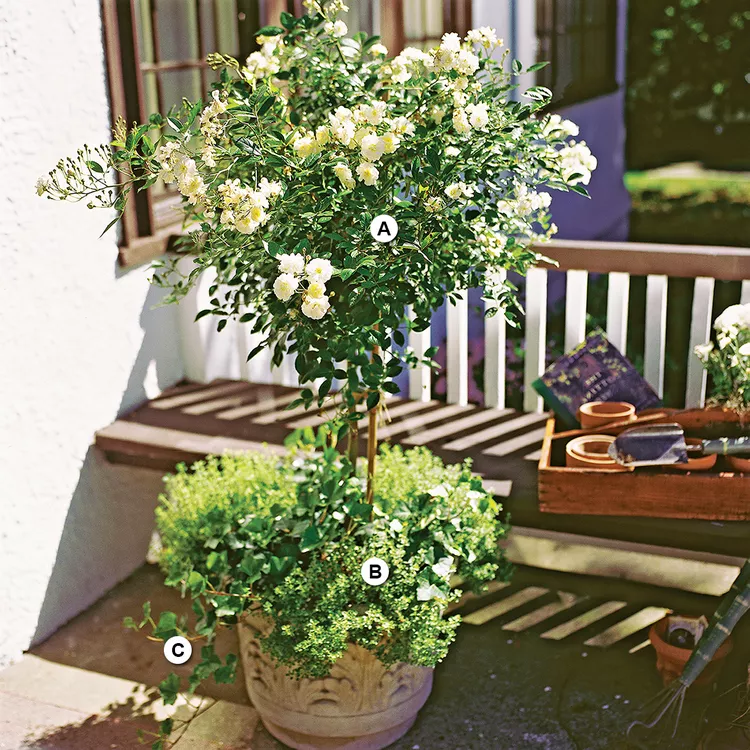 Honeysuckle and chocolate vine, two fragrant climbers, would look wonderful near windows and favorite lounging spots. The fragrant oils of certain aromatic plants are released only when the plant is rubbed, while others are released into the air whether or not the plant is touched.
Mulch In Your Garden Beds
Mulches make your garden look neater and also help prevent weeds from growing in the soil surrounding plants. The majority may be produced in your yard, making it simple and inexpensive to mulch your vegetable gardens. Depending on your location, you may even be luckier.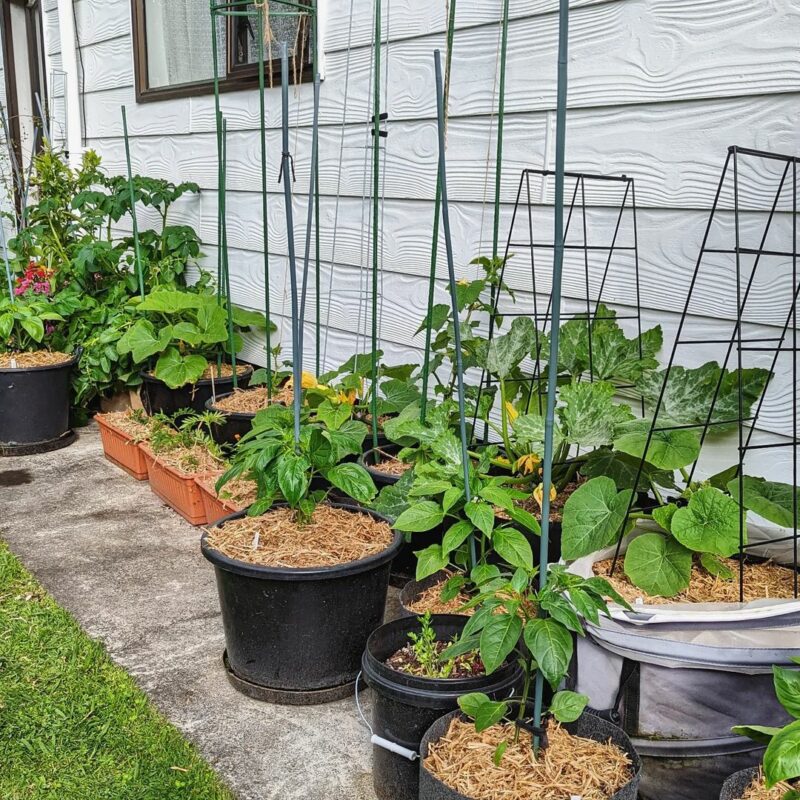 If you live in a region where deciduous trees shed their leaves at the end of the season, you already have access to the materials necessary to create high-quality organic mulch at no cost. Mulching with shredded leaves improves soil quality and encourages the growth of beneficial organisms like earthworms.
Add Some Style To Simple Planters
Cucumbers, beans, and peas are just a few delicious vining plants that thrive in containers when given a trellis to climb. To prevent them from toppling over, you should also stake your taller plants, such as tomatoes, eggplants, and peppers.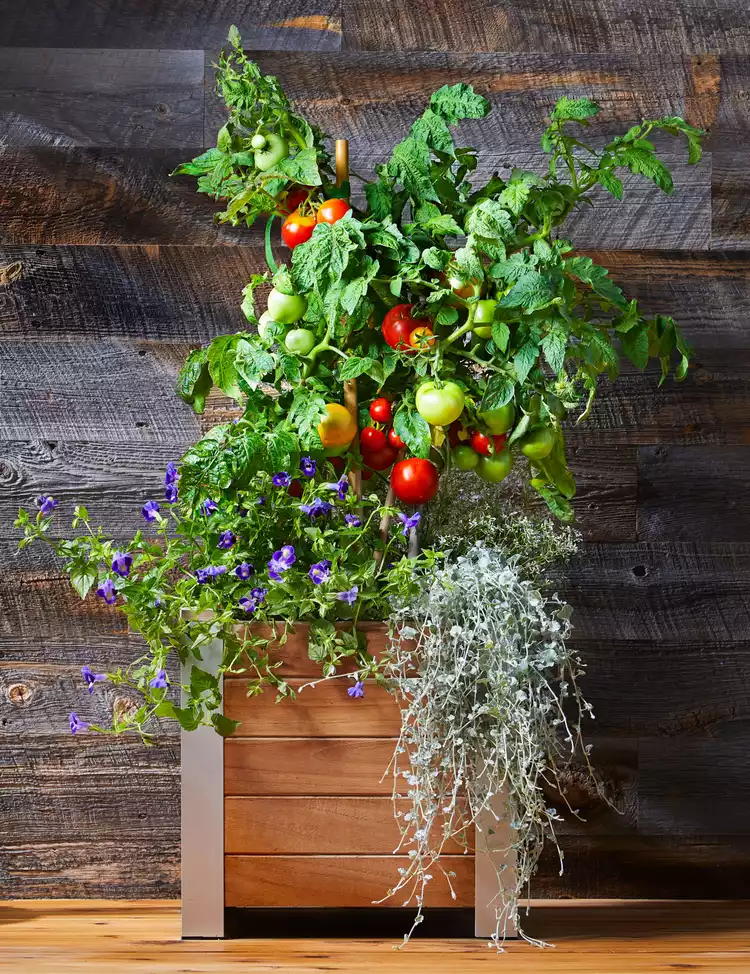 Here, a 'Patio' tomato plant, which grows to around two feet and produces an abundant fruit harvest, needs simple bamboo pegs to support it. Wishbone flowers 'Indigo Moon' and dichondra 'Silver Falls' are planted at the foundation to soften the bright red of the tomatoes.
Cut-And-Come-Again Lettuce Planter
Removing only the outer, more mature leaves from a plant, a cut-and-come-again gardener encourages the plant's core to keep producing new leaves throughout the growing season. It's a simple method for getting many harvests in a row without doing any extra work.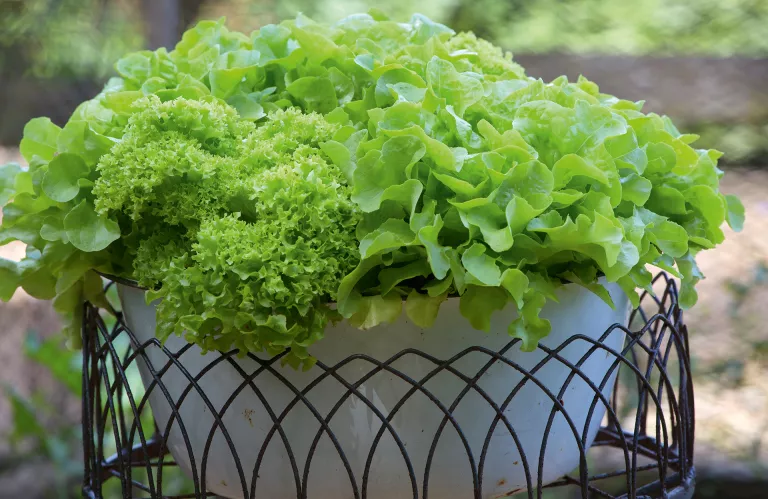 Cutting back on the oldest leaves of your plants while they're still young is the key to keeping them alive and well. Don't wait for them to reach full size before harvesting. This prevents the plant from ever reaching maturity and going to seed. The leaves are protected from turning bitter as a result.
Ornamental Grass Planters
Plant some beautiful grasses in the bottom to make any gardening container look more impressive. The purple fountaingrass brings even more vibrancy to the area. The more shade it can get, the better this plant will do. You'll find here five types of grass that blend in perfectly.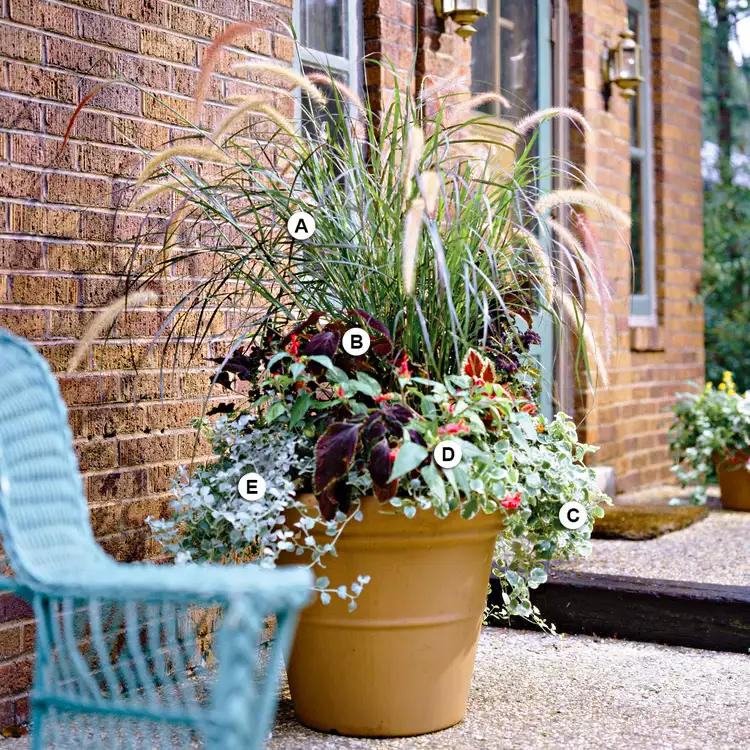 (A) purple fountaingrass, (B) coleus ('Sun Velvet Red'), (C) plectranthus ('Variegatus'), (D) impatiens ('Dazzler Pink'), and (E) licorice plant. Since purple and orange blend nicely together, use them to create a dramatic contrast with a salmon geranium. Full sunlight is ideal for their development.
Seasonal Greenery
Some vegetables do better in the cooler fall and spring temps, while others thrive during the height of summer. It is smart to mind the seasons and guarantee produce all year long by opting for succession planting, for example.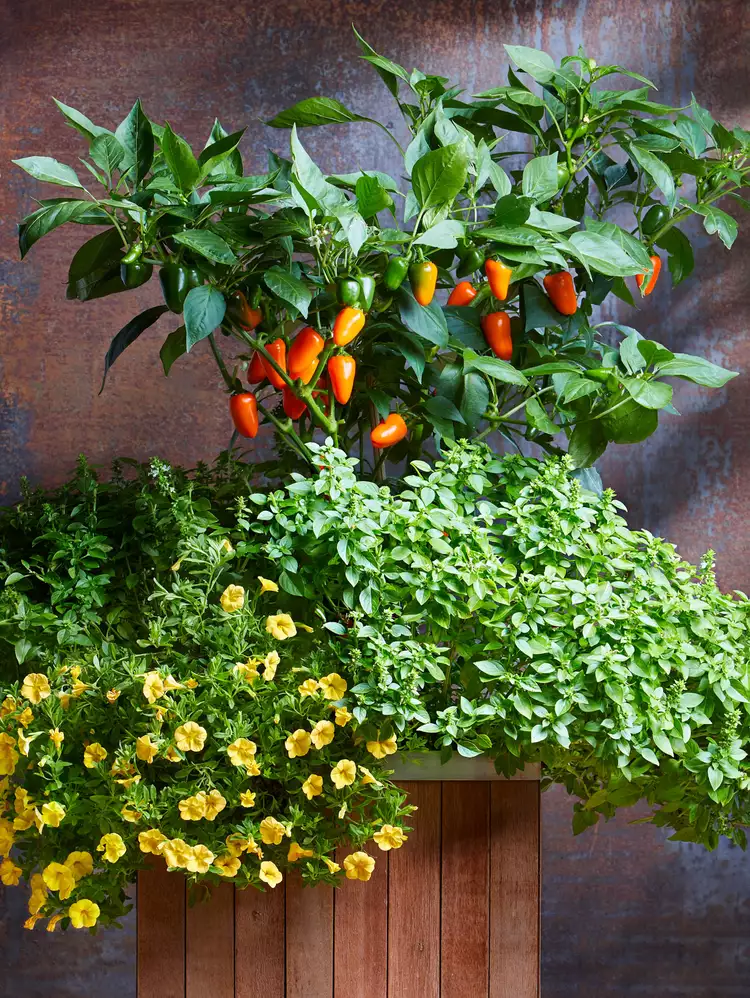 Ensure the veggies, herbs, and flowers in your container garden are tolerant to the season. The bright 'Lunchbox Orange' peppers, 'Spicy Globe' basil, and 'Superbells Yellow' calibrachoa are just a few examples of plants that thrive in the sweltering heat of summer.
Smart Setup
Sometimes we get extra excited and buy tons of flowers or stack dozens of plants in our tiny patio or garden area. Fortunately, the amount of greenery you can grow does is independent of the size of your space. Often, a mere arrangement of four containers is all that's needed.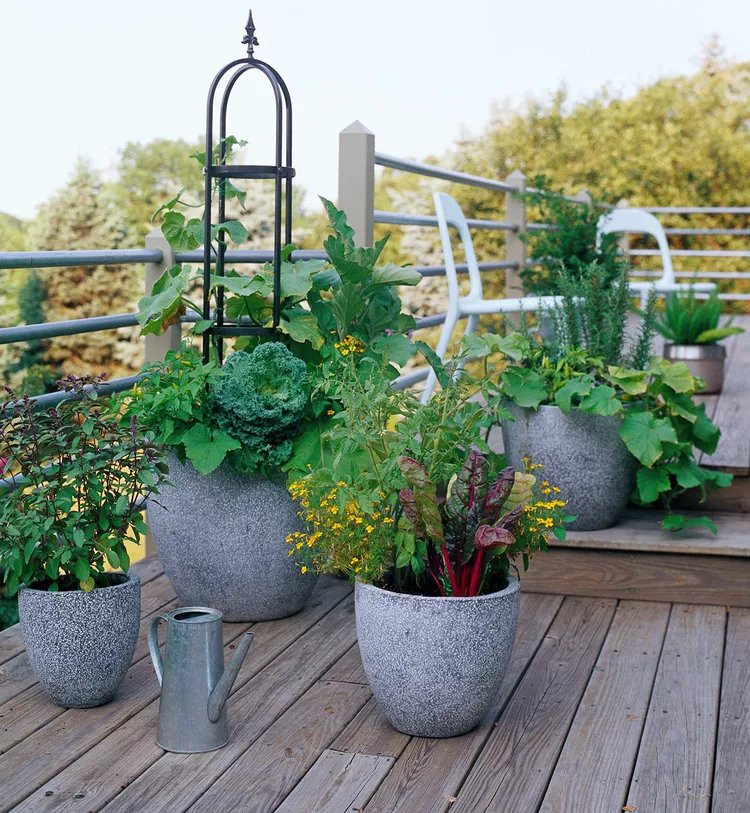 With this arrangement, you can cultivate a bountiful harvest of tomatoes, eggplants, Swiss chard, basil, peppers, cucumbers, and a few other edibles. To conserve time and energy, you should only cultivate the kind of plants you and the family want to consume.
Old Barrels As Planters
Barrels can also be the foundation for a creatively crafted salad container garden. If you want to learn how to grow all the components for a delicious Cobb or Caesar salad at home, this garden therapy instruction is for you. And here's another attractive and useful option: a garden shed.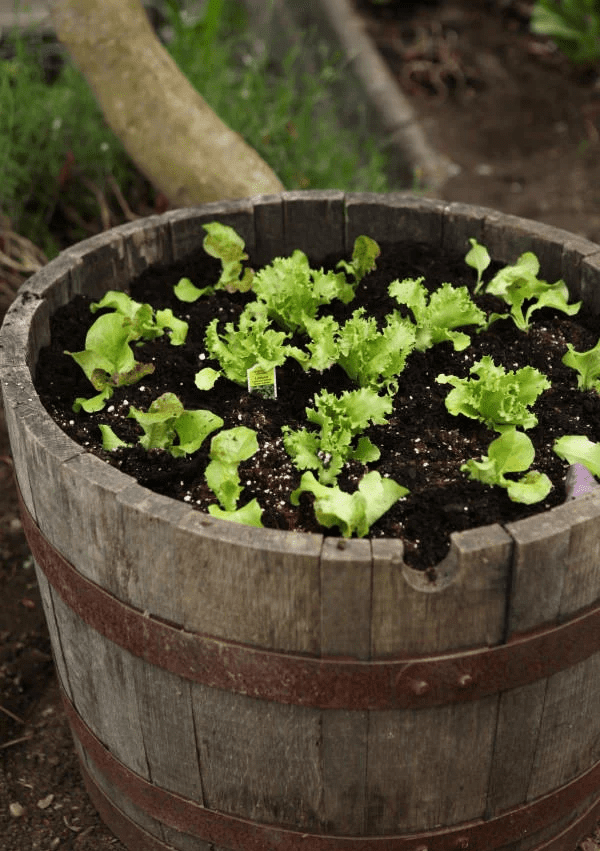 This kind of planter can be placed near the house for easy access. Vegetables are not merely practical because they're eaten. Like any other plant, aesthetically pleasing containers bring out their beauty and colors. So, don't settle for ugly pots.
The Upside-Down Technique
When you only have a little space for planting, having a typical garden full of herbs and veggies can be challenging. This inverted tomato planter technique is one example of a novel approach that's not only attractive but functional too.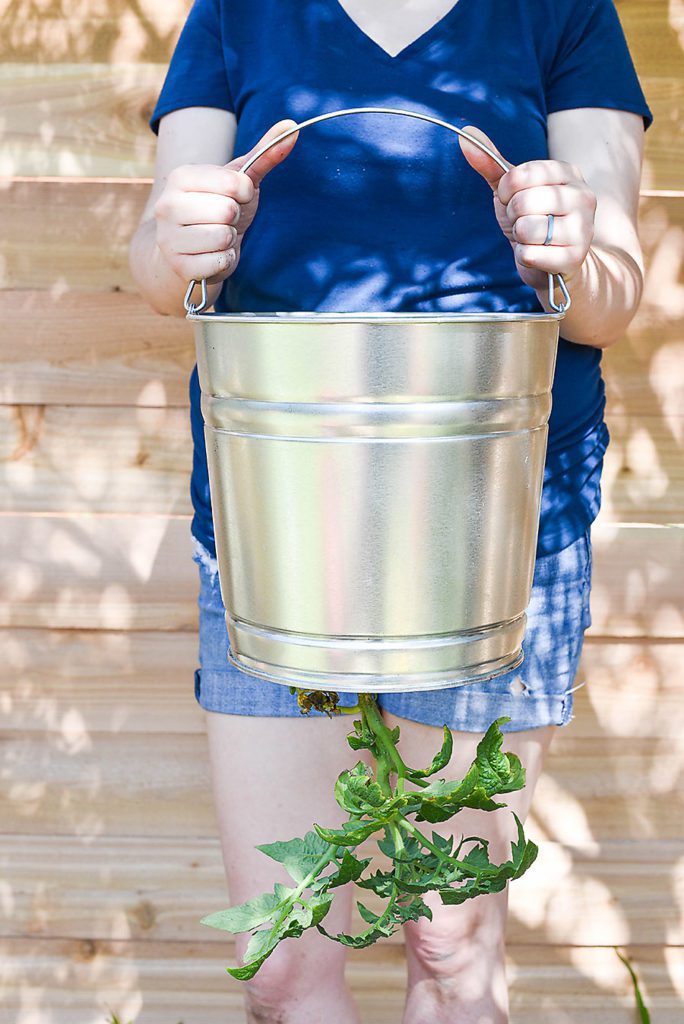 This one-of-a-kind planter can be crafted in just 20 minutes with the right materials. It ensures that you have access to tasty tomatoes throughout the season. It keeps the fruit off the ground and out of the reach of animals, and it doesn't take up a ton of room in a modest yard.