35+ Upcycling Marvels That Turned Trash Into Treasured Gems
By Farah J June 12, 2023
---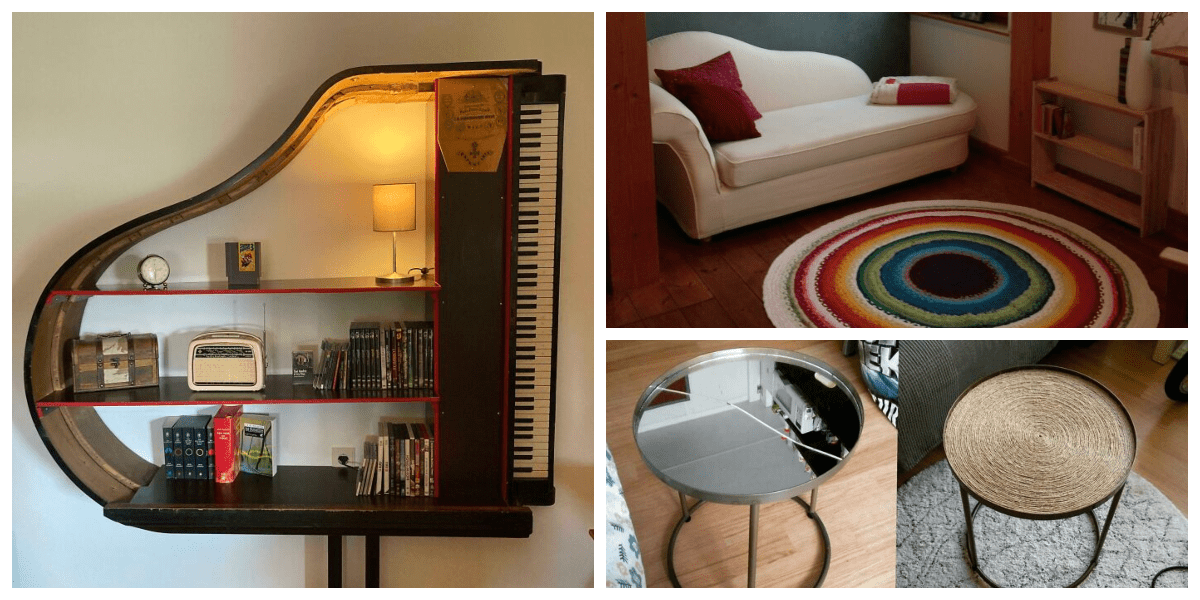 Trash to treasure, garbage to grandeur! That's our motto! Do you ever wonder what happens when creativity and resourcefulness collide in the most unexpected ways? This isn't just taking lemons and making lemonade; it's to whip up a delightful lemon meringue pie and throw in a sprinkle of magic!
Forget about thinking outside the box; some folks think outside the dumpster! From discarded milk cartons turned into drink trays to old furniture transformed into stylish ottomans and cabinets, these resourceful individuals have a knack for seeing potential where others saw rubbish.
So, prepare for a wild ride filled with marvel, inspiration, and a whole lot of "Wait. They made what out of what?!" moments. You'll be amazed as we delve into the quirky world of repurposed junk and witness magical transformations that will leave you questioning why you ever threw anything away!
Creative multipurpose baskets
The next time you are strolling through a hardware store, and spot these plastic shipping or bale straps, hold up and consider this idea. Don't dismiss them as boring pieces of trash. You can upcycle those things into beautiful baskets.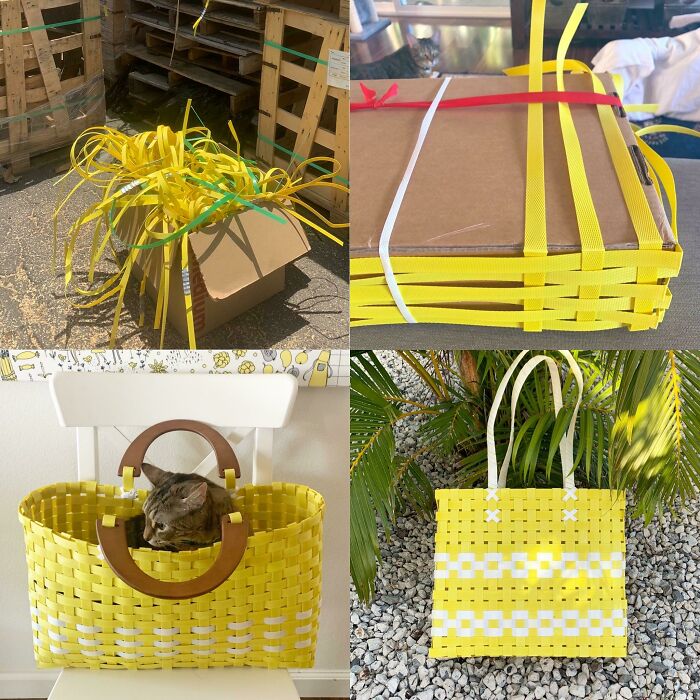 Who says baskets have to be plain and boring? This person weaved her magic and created these sturdy and fashionable bags. And to make things even better, her cats loved them! She utilized those dull cords to make such stunning pieces that would make even Marie Kondo jealous!
Potential VS results
This person rescued and renewed a couple of wooden beach beds that were on the verge of being tossed away. He stumbled upon these weather-beaten, abandoned, and forgotten pieces and decided to give them a well-deserved makeover. Takes a special kind of person to see potential here.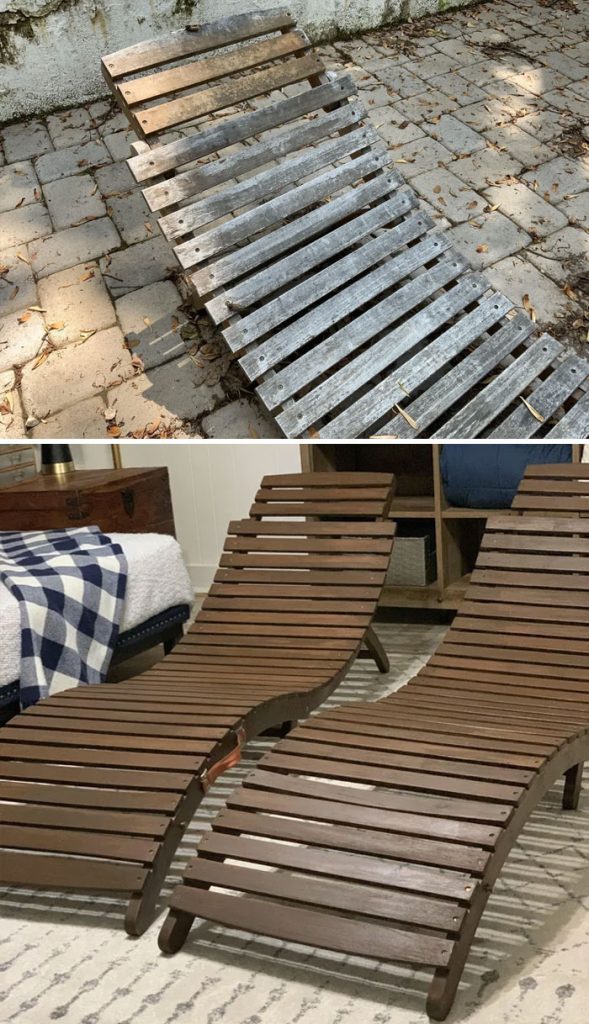 With a creative eye and a splash of color, he painted each chair in vibrant hues, turning them into eye-catching beach essentials. He already knew they had potential, so he didn't let them go to waste. He upcycled them into stylish and rejuvenated pieces.
Caffeine couture
This guy took recycling to a whole new level of style. An obvious coffee lover, it seems he had this brilliant idea of taking used coffee bags and turning them into fashionable jackets. He gave them a new lease on life.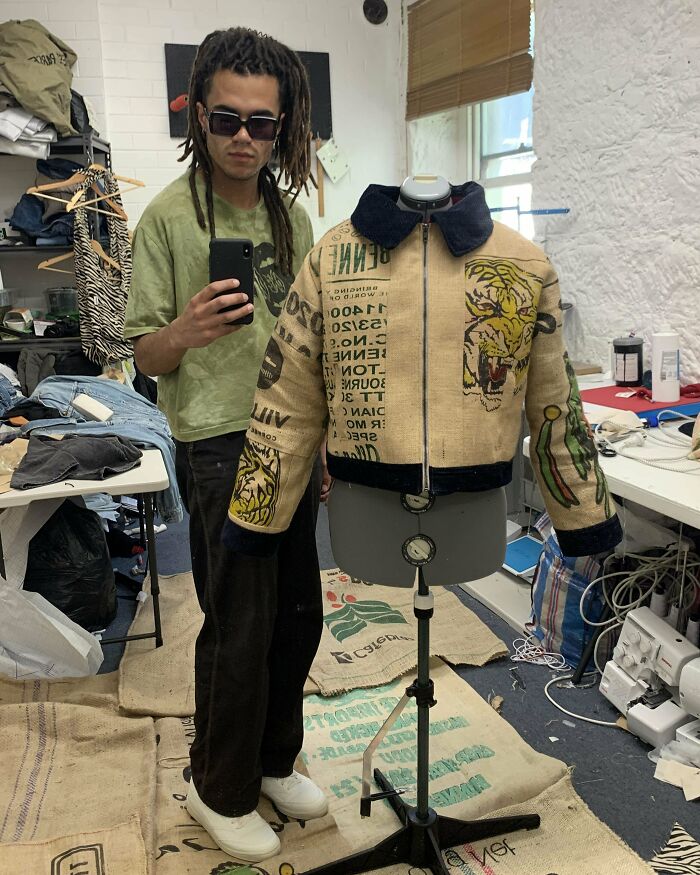 His collection is wearable art right brought right to your hands. Wearing one of these means making a fashion statement. He channeled his inner fashionista and let those coffee bags brew up a genius design that has made him quite popular!
DIY laptop holder
This DIY creation would be ideal for our work life. If you have some delivery boxes stacked up in your house and you're scratching your head wondering what to do with them, then you can try to make this laptop holder for yourself.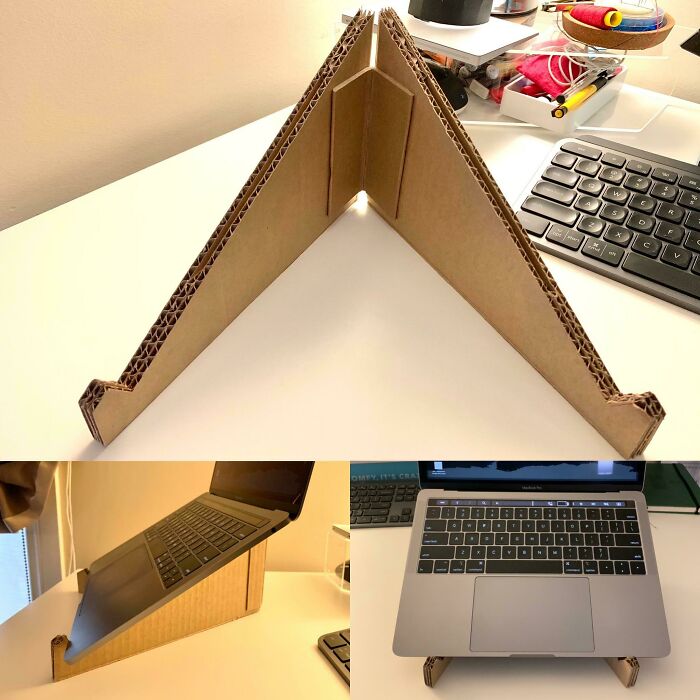 This person upcycled a couple of delivery boxes by gluing them together and creating a fantastic, personalized laptop holder. The laptop and the holder now look like a match made in a crafty heaven! Out of all the projects on this list, we're definitely trying this one out.
Artist's World
Have you ever taken a trip to Doodle Land? If not, then what are you waiting for? Open your kitchen cupboard and if you have plain white cups just sitting there, take them out and unleash your inner artist by doodling! Trust us; it's so much fun!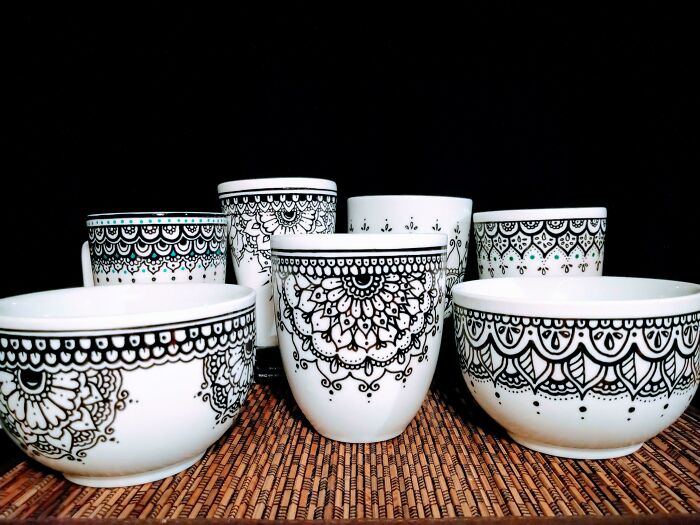 The person has made their cups so beautiful with their doodling magic that they look like they came out of the factory this way. They created a new design for every piece and made such a beautiful collection. You can even sell them later and make a profit!
50 cents turned into a $50 dress
This is such a cute example of transforming an old dress into a new one. This woman had an old dress that she bought from a yard sale for just 50 cents a few years ago. One day she decided to make her daughter a dress from it.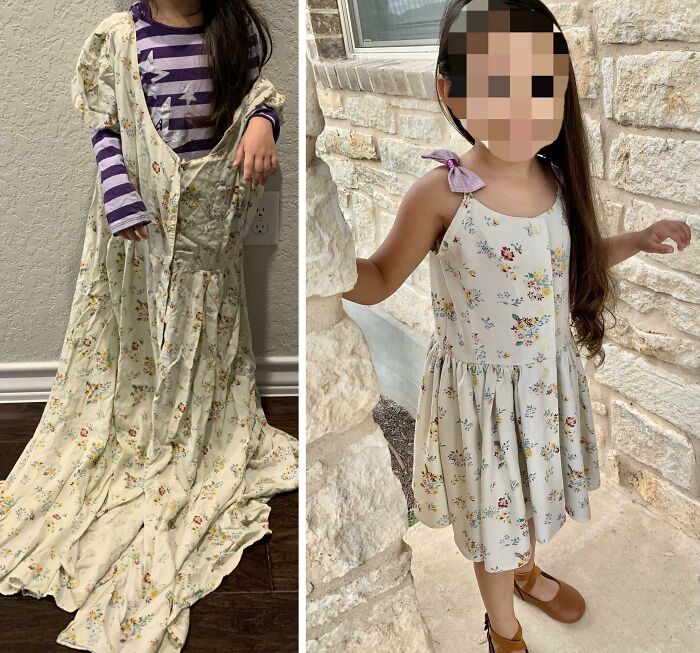 She took the dress, and with a lot of creative intent, she breathed new life into it. She expertly removed the worn-out parts and added beautiful embellishments to it for her daughter. The little girl looked so pretty that no one would have believed it wasn't store-bought!
Warm and cozy
Crocheting is a craft that brings warmth, coziness, and a whole level of cuteness into our lives. It is a delightful way to express your creativity and make cute pieces that are uniquely yours. You start with a simple strand of yarn and transform it into something beautiful.
This woman got an old sweater and didn't like its design that much, so she turned it back into yarn and crocheted a beautiful little cat bed from it! If you want, you can easily learn how to do this at home and make your own unique creations with old sweaters you don't wear anymore.
Wearing the umbrella
This person is the ultimate recycling genius. They transformed broken umbrellas into a parka! This is such an excellent concept that more people should adopt since broken umbrellas are so common. We toss them away when they can't handle a little rain anymore.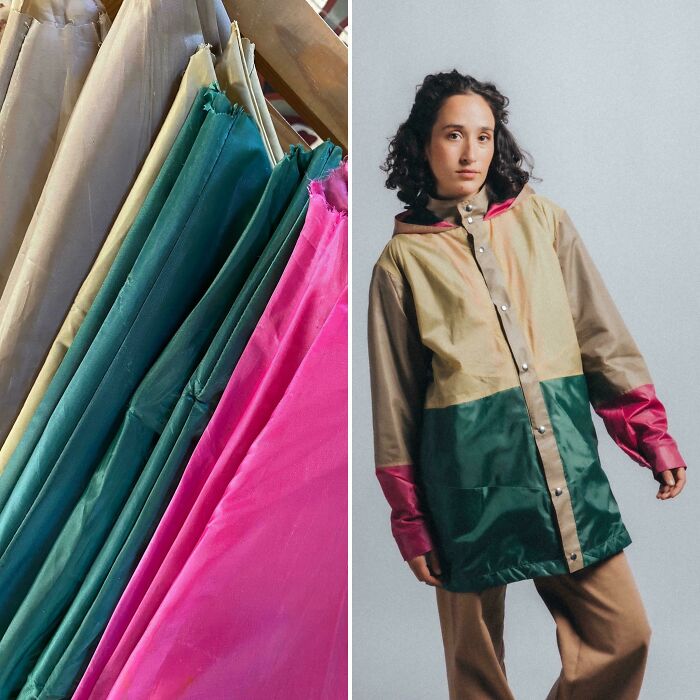 This guy turned those broken things into something very useful. Who would have thought? With some serious creativity and sewing skills, he repurposed broken umbrellas into something stylish! So, the next time your umbrella gives up on you, remember it could be reborn as a trendy parka!
Three in one
This amazing woman did something really special for her daughters for Christmas. She transformed an old microwave cart into a rolling Lego stand. This is so heartwarmingly creative! She wanted to find a unique way to organize all the Lego pieces, and she did it.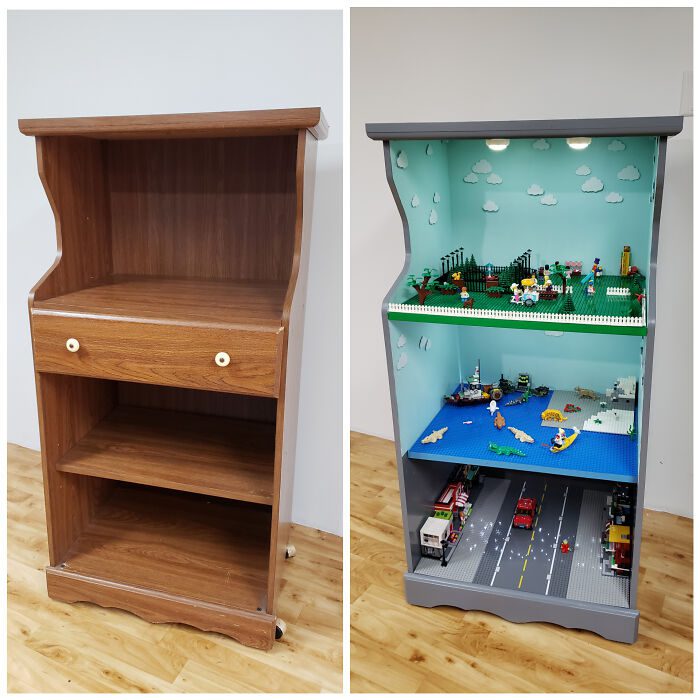 Instead of going out to buy something new, she decided to get creative and repurpose an old furniture piece that was sitting in the garage. With some DIY magic, she turned it into the perfect Lego storage stand. It's incredible how a little imagination can bring so much joy!
Fifty Shades of Blue
This person is, no doubt, a super-talented human being. She created a beautiful three-piece denim dress out of eight pairs of jeans! Armed with a sewing machine and a vision, she carefully deconstructed the jeans and sewed a stunning dress.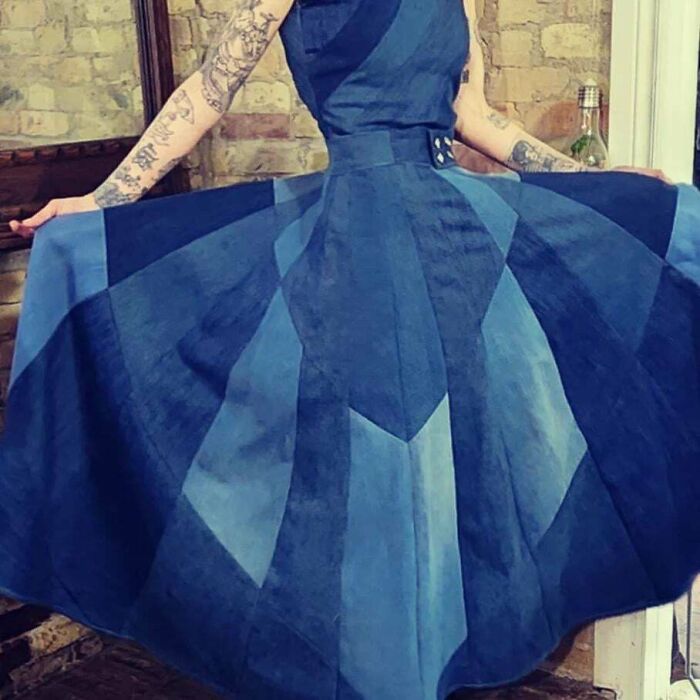 Can we talk about how beautifully all the shades of blue came together here? And how stunning she looked wearing this masterpiece? Her creativity and ability to transform something so ordinary into something extraordinary are truly inspiring. Now we know what to do with that pile of old jeans!
Christmas colorful decor
With the festive season approaching, this woman wanted to give her home a warm and welcoming touch. But instead of buying traditional decorations, she saw potential in a couple of unused bifold doors and made them into colorful Christmas art.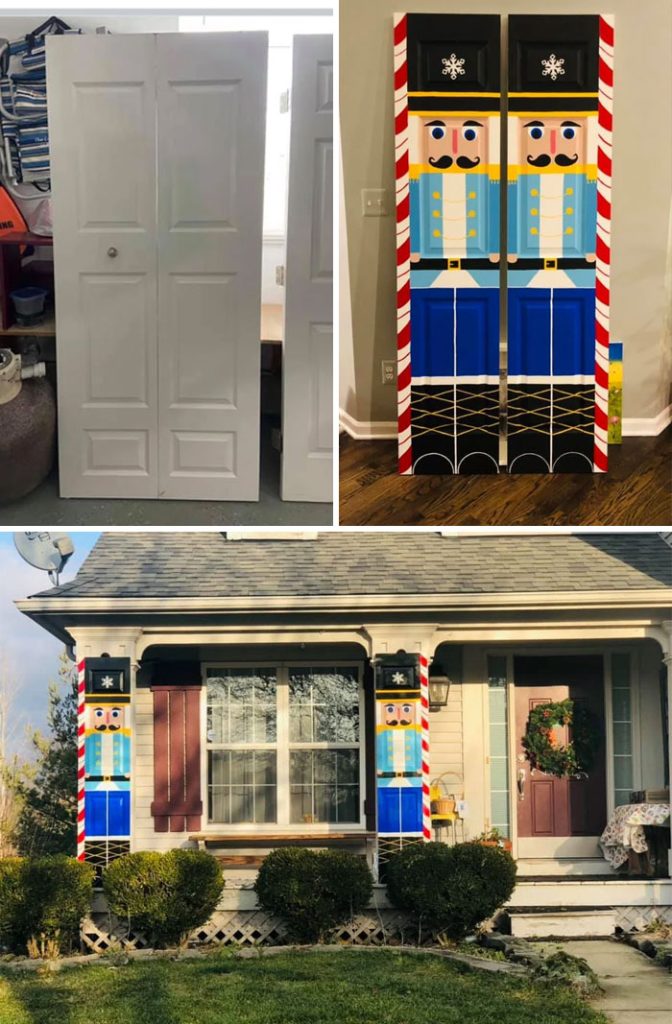 She hand-painted vibrant and cheerful holiday motifs that instantly brought a festive atmosphere to her porch. With some DIY spirit, she turned ordinary objects into colorful festive holiday decor. We are sure her neighbors were all jealous of her outdoor decor!
Blackpink era
This woman's DIY fashion skills definitely earned her some styling points. She created two-toned pants from two pairs of black and pink ones. How cool is that! What she ended up with was a pair of uniquely colored pants with stunning designs and pockets.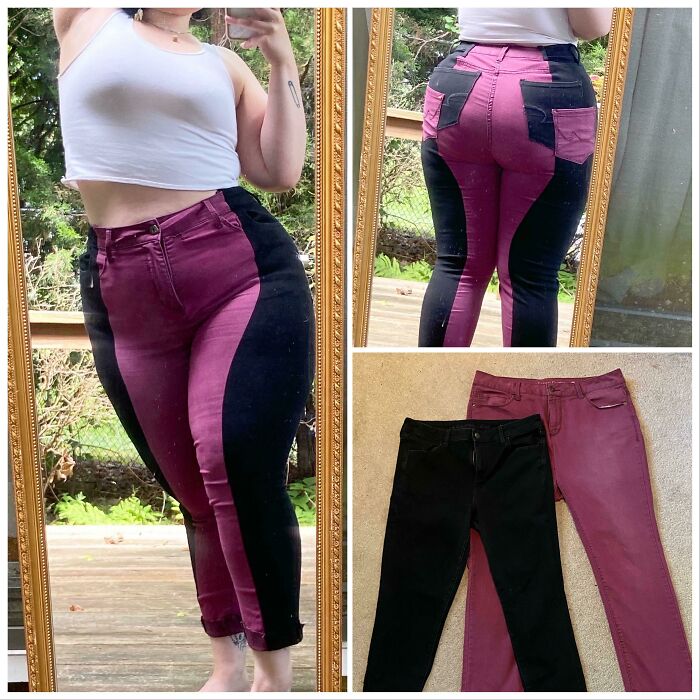 The two separate pants were not in her use because one pair had a busted crotch, while the other one was bought from the thrift store and didn't fit her. So she decided to give both of them a makeover. This new creation cost her only $6!
From bottom to top, wear
What would you do if you were feeling crafty and you stumbled upon a pile of old denim jeans and corduroy pants in your closet? Would you not dive into the deep and explore the wonderful world of quilting with these fantastic fabric treasures?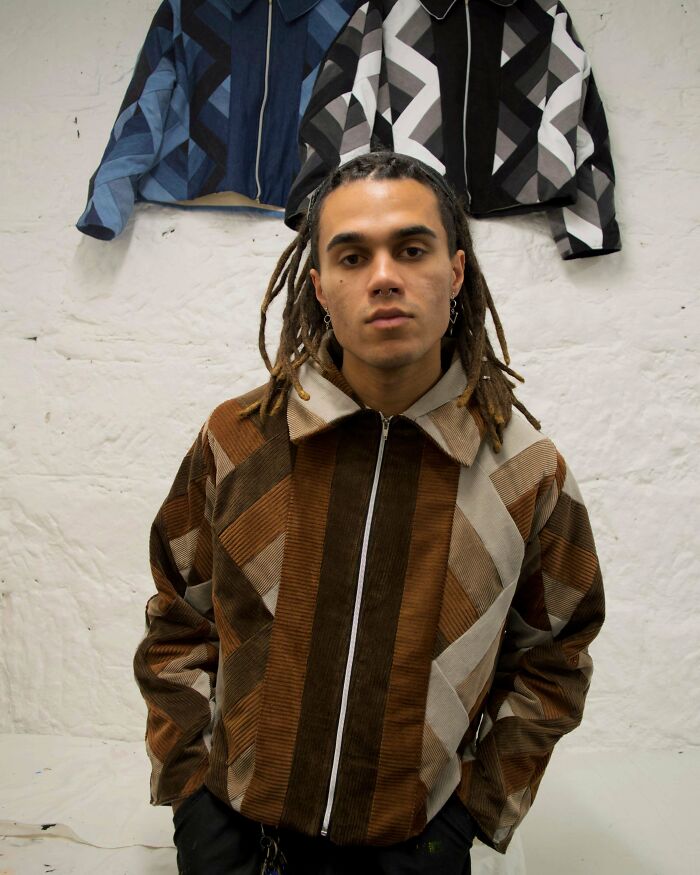 To be honest, we wouldn't mind getting this in all three colors. The denim fabric effortlessly added a rugged charm and created a patchwork masterpiece as a whole. The design and patterns used on the jacket are simply amazing, wouldn't you agree?
Ridiculously warm
It's incredible how a little resourcefulness and creativity can turn thrift finds into fashionable treasures. This person not only gave her blanket a new lease on life, but she also ended up with a unique and one-of-a-kind fashion piece that no one else has!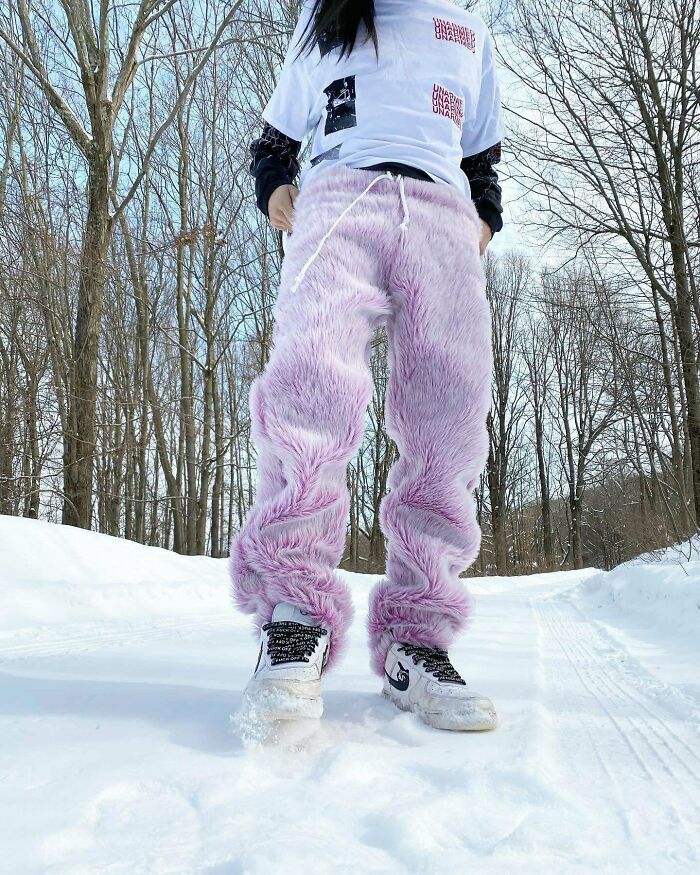 She turned her cozy and thrift lilac-colored blanket into a pair of sweatpants. The soft and warm fabric made them perfect for cold weather or just lounging around in ultimate comfort. Moreover, the color of the pants looks so cool in the snow!
Rainbow carpet
This person is clearly passionate about finding creative ways to reduce waste. So, he decided to tackle this pile of unused textiles. He took recycling to a whole new level by creating a brand-new carpet from old clothes and bedsheets.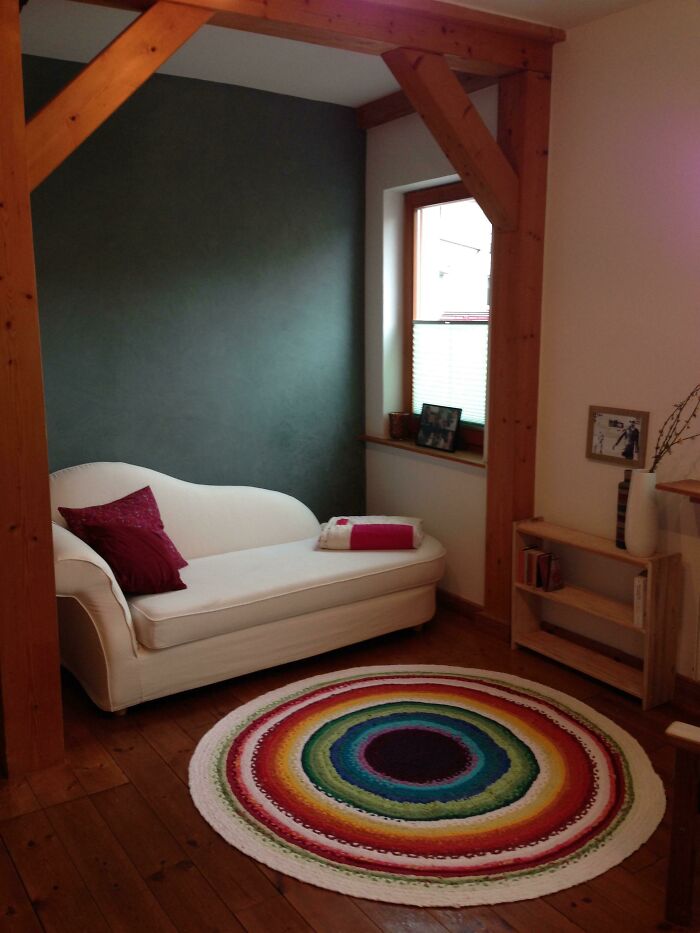 This rainbow-colored carpet is a unique focal point for this cozy little room. The guy's crafting skills are beyond incredible! With the new carpet, the while toned sofa, and the wooden floor, the room got a wonderful, aesthetically pleasing vibe.
Gorgeous curtain upgrade
With a little imagination and creative magic, even curtains can become a fashion statement. This genius lady decided to give these simple pink curtains another chance at life by recycling them rather than allowing her mom to throw them out.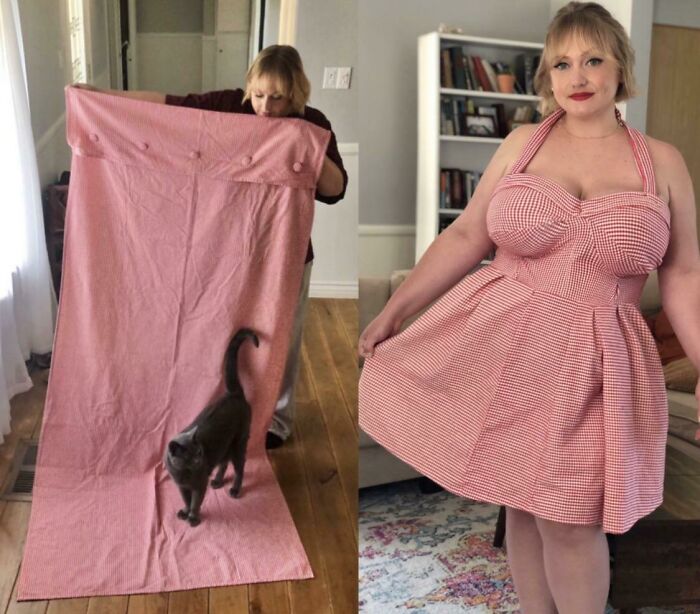 With the help of a sewing machine, she upgraded them into a pretty short dress with a beautiful design. We are in awe because, frankly, she looks stunning! Those are some incredible designer chops! It's amazing how she upcycled the fabric into a dress that's both stylish and sustainable.
Cozy blanket wrap
Do you have those cozy wool blankets that often have a few holes or frayed edges? If yes, then instead of tossing them out, you can upcycle them into something creative and stylish, like how this man made a colorful hoodie out of him.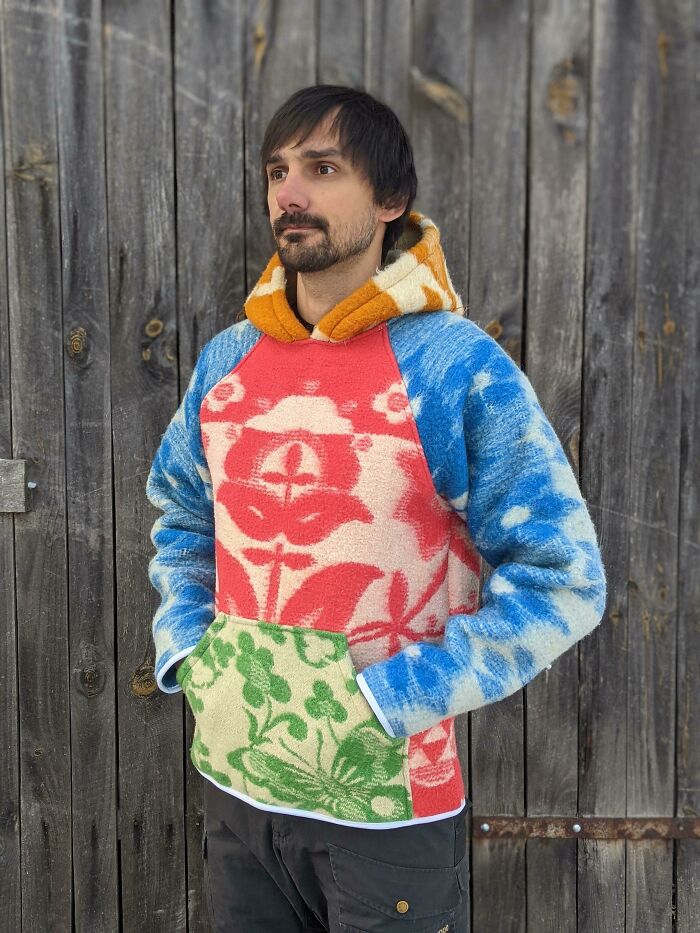 He gathered all the usable bits of wool and got down to business. He patched and stitched the scraps together and turned them into a unique and cozy blanket hoodie! What he got in the end was something full of warmth and comfort. Who knew old scraps could be so useful?
Hoodie with ears!
Who knew recycling could be so fashionable and fun? Here's an old-school coat that has seen better days and some worn-out curtains begging for a fresh start. With a little bit of DIY magic, they've been transformed into super cute hoodies!

We are sure this lady's daughter will be hopping around like a cute little bunny in this adorable hoodie! It's so cute that we think it should also be available for adults, right? Her mother clearly has the talent to start her own fancy clothing line someday.
Antique beauty
Up next, we have an incredible recycling story. So this man stumbled upon an antique boiler door, and instead of letting it gather dust, he had an ingenious idea. He decided to transform it into a dual-purpose marvel that we're sure amazes all his guests!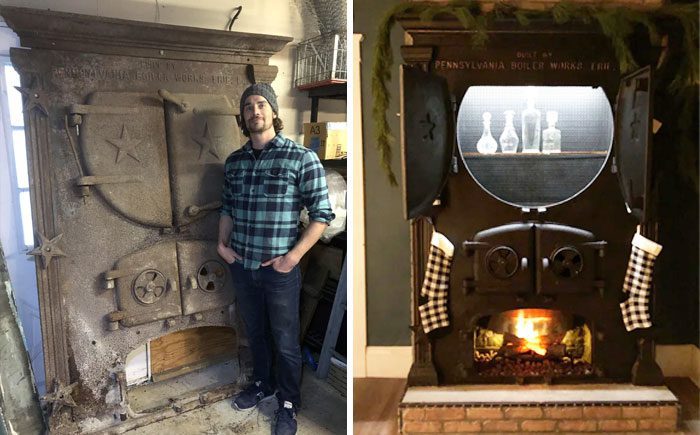 With excellent craftsmanship, he recycled the door into a stunning fireplace, but that's not all. He also cleverly utilized the inner compartment of the door and transformed it into an antique liquor cabinet. It's a testament to the beauty of repurposing.
Beauty and the beautiful dress
This woman told us a truly enchanting recycling tale. She had these old gold curtains that had a touch of wine damage here and there. Instead of dismissing them by stashing them in a trash can, she created something magical.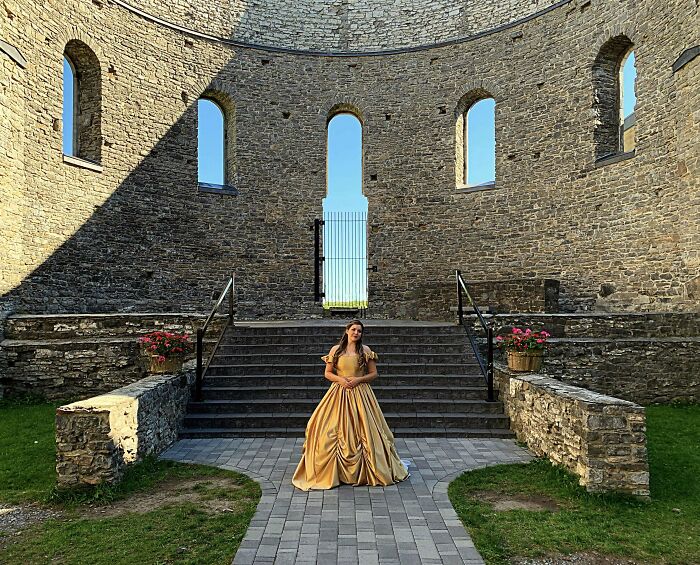 She used her sewing skills and repurposed gold curtains into "Belle's" dress from the Beauty and the Beast story. And just like that, those old curtains became a princess gown that would make anyone feel like royalty. Now all she needs is "Prince Adam!"
Creativity level 100
This fashion-savvy heroine turned a thrift men's polo shirt into a stunning two-piece dress for herself. The end result was a creation that showcases the power of upcycling. She saw potential in a men's polo shirt and decided to embark on a creative journey.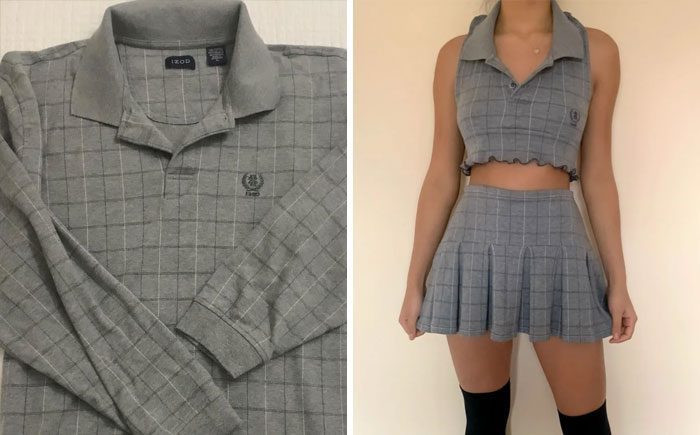 With careful measurements, she came up with the pattern and the design herself. The mini skirt has a yoke, box pleats, and an elastic waistband. Additionally, she kept the collar and made the top into a halter with a lettuce hem.
Recycling paper waste
A little imagination and an upcycling spirit can turn everyday materials into something extraordinary for us and the environment. For example, this person decided to create something cool from old paper and cardboard. Instead of throwing them out, he saw an opportunity for them to be recycled.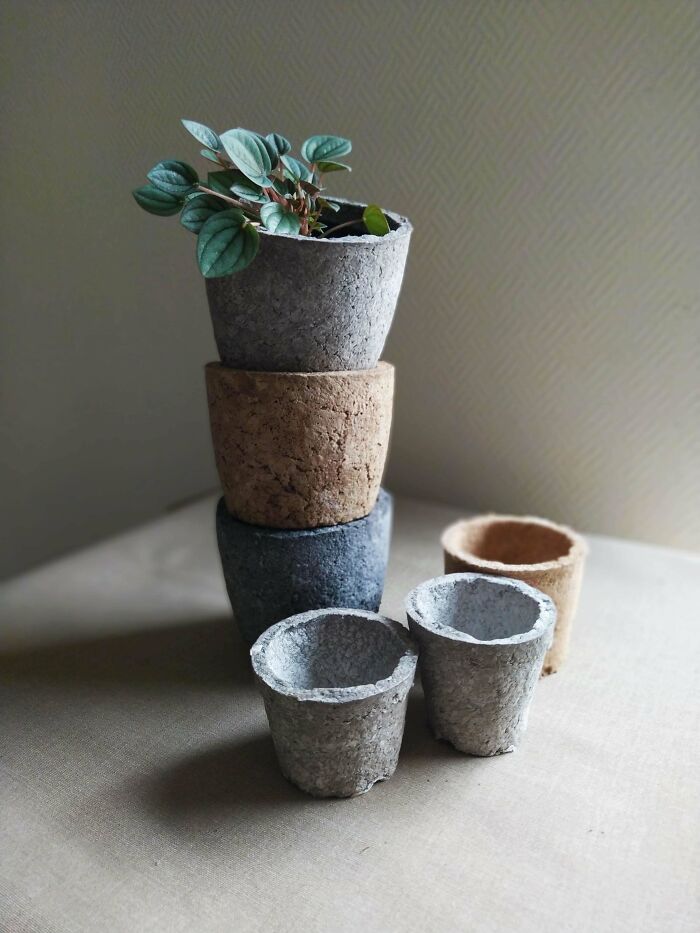 This is such a fantastic way of recycling paper waste and creating something that's useful and eco-friendly. He gave each pot a personalized touch. This collection features one-of-a-kind plant pots that are not only functional but also add a delightful touch of handmade charm.
Unique t-shirt
This is such a cool recycling project. Someone created a single fabulous garment from three old t-shirts. He realized that he had a collection of worn-out t-shirts taking up space in his closet, so he decided to combine them into one!
He carefully selected three t-shirts with complementary colors, envisioning a unique masterpiece in his mind. Then, he skillfully deconstructed and pieced different parts together to create a brand-new unique design. The three distinct shades made the shirt so elegant and fresh.
Patterned goodness
Next, we have another exciting upcycling adventure involving an old, worn-out Patagonia jacket that found new life through some patchwork magic. Rather than giving up on it, these people saw an opportunity to turn it into something stylish and super cool.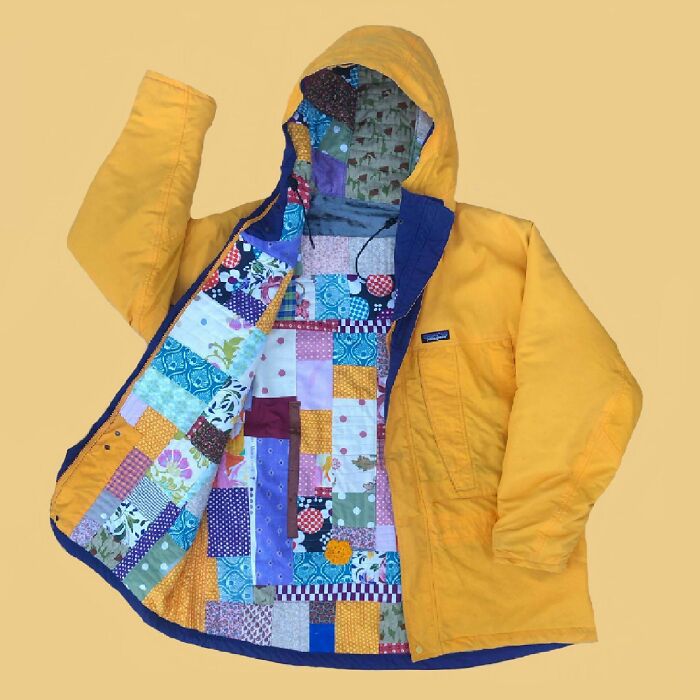 With a collection of colorful fabric scraps, they set out on a mission to turn this jacket into a work of art. They skillfully incorporated the scraps into a single design, creating a stunning mosaic of colors and patterns. The once-destroyed jacket was reborn as a statement piece. 
Ikea wind and rain breaker
Now, that is one sturdy-looking backpack. And it's probably waterproof too! This person decided to give his old backpack a new look by turning it into a brand-new IKEA-inspired backpack. We know backpack and IKEA are not words you often hear mentioned in the same breath, but here we are!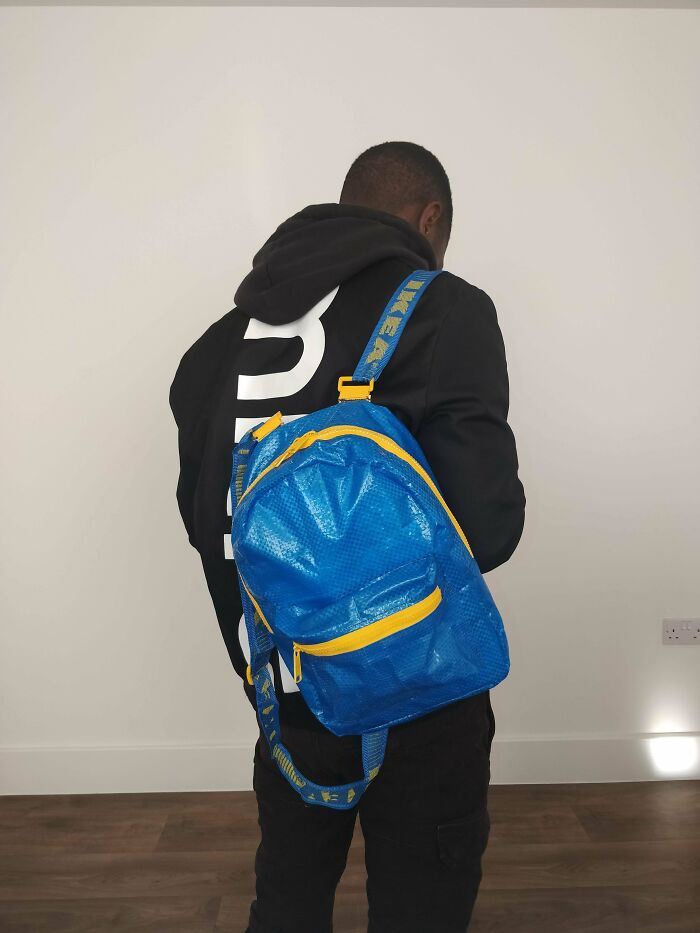 He selected a vibrant and durable fabric that matched the iconic blue and yellow colors of the brand. He also added sturdy straps and functional pockets, just like the original backpack. And the final result is just mind-blowing! It looks like it came straight off the shelves of IKEA. 
Stylish tray
This ingenious idea of turning a milk carton into a stylish and functional drink tray is such an excellent creation. Someone in a cafe, who was a clever DIY enthusiast, remade a milk carton into a handy drink tray. Props to them and their creative upcycling!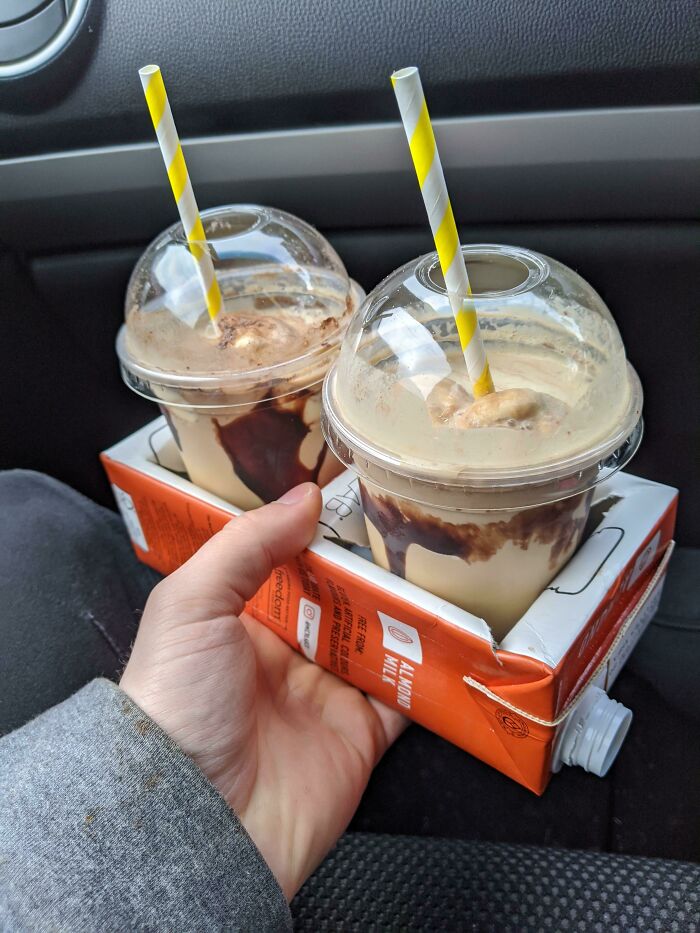 This transformed milk carton tray reminds us that with a little imagination and creativity, you can turn everyday objects into functional pieces that bring ease and joy to our lives. It's a fantastic example of how simple household items can be reused, all while reducing waste.
An old piano, new shelves
Have you ever seen an old piano in a dusty attic covered in cobwebs? Now, most people would have shrugged and left it for the termites. But this person saw decor potential where others would have seen firewood. He transformed this piano into unique shelves.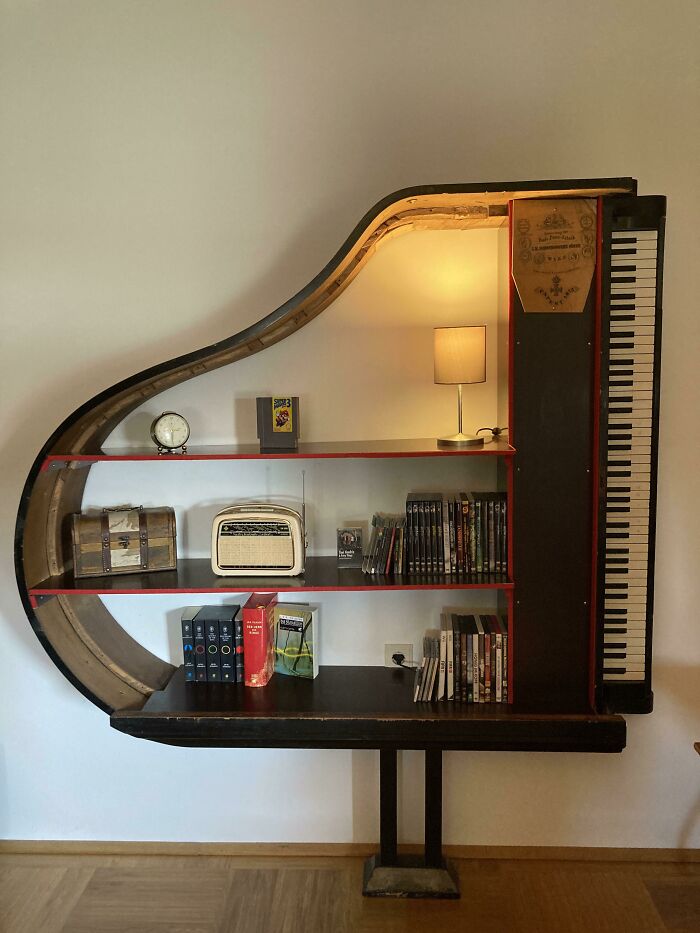 Who would have thought that an old piano with water damage could become an aesthetic bookshelf in your living room? The piano keys became a whimsical border, and those lovely wooden panels provided a sturdy home for books and decor pieces.
From bland to colorful
Let's talk about this retro tea trolley. It looks so awesome with its brown hues and colorful yet stylish vintage vibes. Seems like someone didn't like its bland look before, so they painted it in a riot of cheerful colors, transforming it into a true showstopper.
The combination of bold blues, lively pinks, and sunny yellows brought an instant burst of color to the room. It's like a piece of art on wheels, ready to brighten up any tea party or gathering. The vase and teapots on the trolley complete the look.
The lucky dog
Can you believe what this crafty person did with leftover denim scraps? He turned them into fantastic dog toys for his furry companion. What a lucky dog that is! It was not only an excellent way to keep their pup entertained but also a clever way to reduce waste.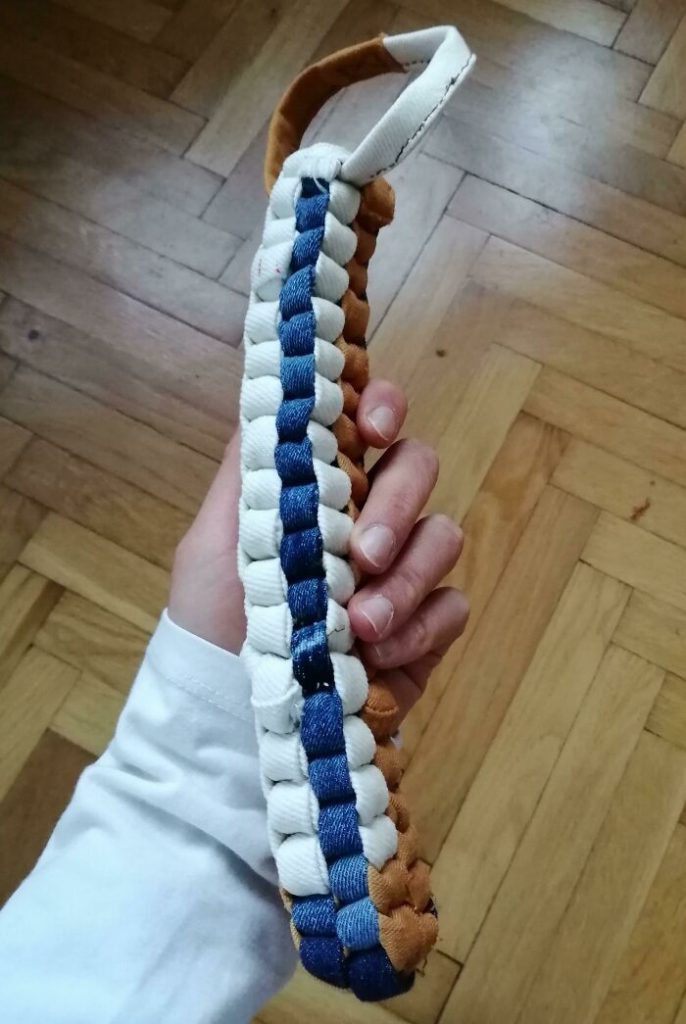 It was such a brilliant and sustainable idea to recycle old scraps into something fun and useful. The texture of the denim looks perfect for a dog's playtime, and the braided design makes it durable and classy! Talk about turning scraps into a tail-waggin' good time!
Kitchen perfection
What an innovative transformation this person pulled off with an old dresser. He repurposed it into a stylish microwave stand that completely changed the functionality of the piece, and the result was remarkable. Are we witnessing a furniture makeover magic trick?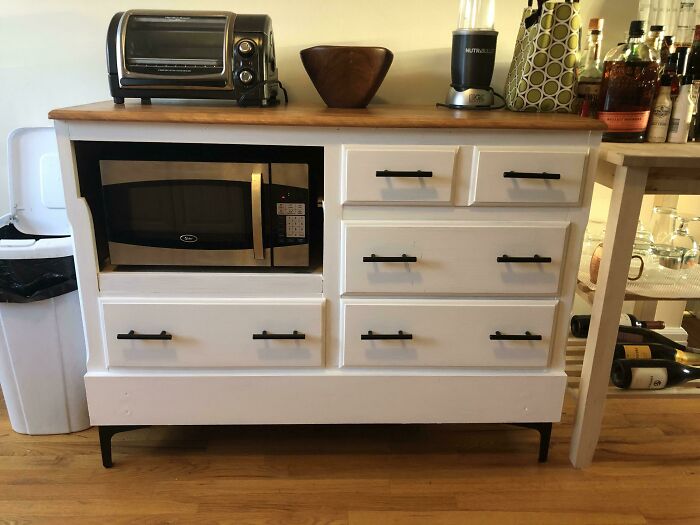 The old dresser found a new purpose when it was integrated into the kitchen layout. Who would have thought that something like this could be transformed into such a functional piece? It looks like it was originally meant for a kitchen rather than a bedroom!
Modern touch
This person decided to honor her grandmother's memory by transforming her coat into a brand-new style that she could cherish. Now Every time she wears it, she will feel a warm connection to her grandma. It's almost like she's carrying her love everywhere she goes.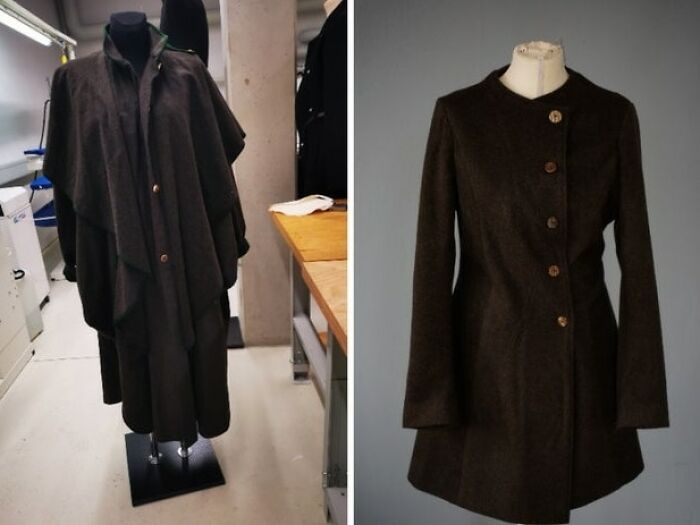 She sewed the coat with some updated design elements and buttons to give it a fresh and personalized touch. The result was a stunning new wool coat that held the memories and essence of her grandma's original piece but with a touch of her style.
A new life
This is a remarkable example of turning broken or discarded furniture into treasure. It is a true testament to the transformative power of creativity and the potential hidden within discarded items. The once broken and forgotten wicker furniture was given a makeover.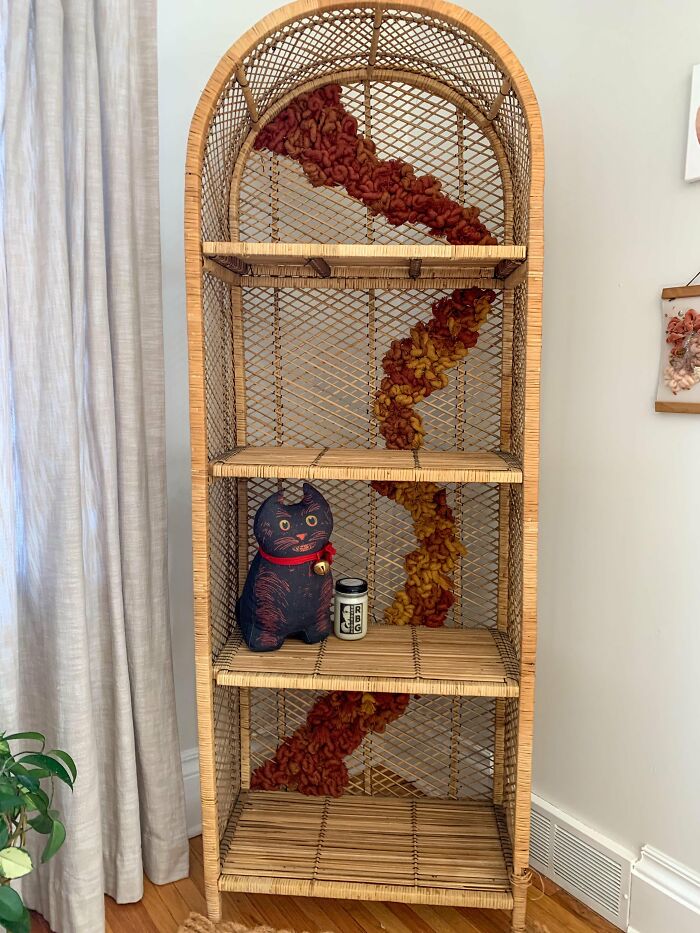 Thanks to their creative spirit, this person weaved over the broken areas to give them a new look. He interlaced the new wicker strips with the remaining structure, restoring the strength and stability of the furniture. The new intricate design and vintage hues breathe new life into the wicker stand.
Perfect plant holders
Did you know that the old lamps could find a new purpose as a vessel for nature's wonders? This person turned old lamps into unique plant vases through the magic of upcycling. Seems like he always had a knack for finding creative solutions to everyday problems.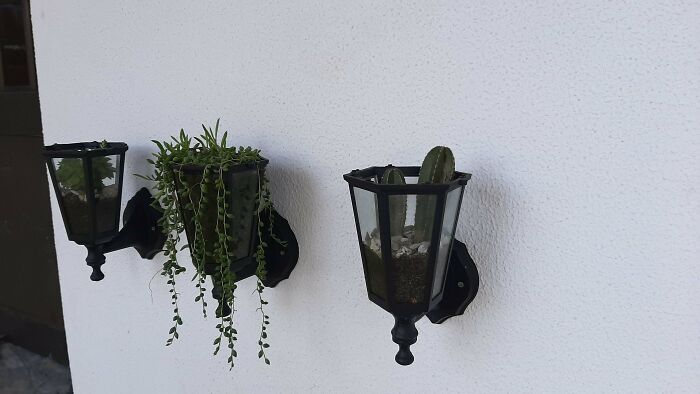 He filled the lamps with soil, choosing a variety of plants and flowers to complement the lamp bases. Each lamp vase became a mini garden of its own. They all look so cool, especially the middle one, right? Upcycling is such a fun activity!
Fried eggs-themed stools!
Revamping these 1960s folding stools looks like it was such an amazing project. The woman who owned them decided to give them a fresh new look instead of throwing them out. As you can see, the transformation was really impressive.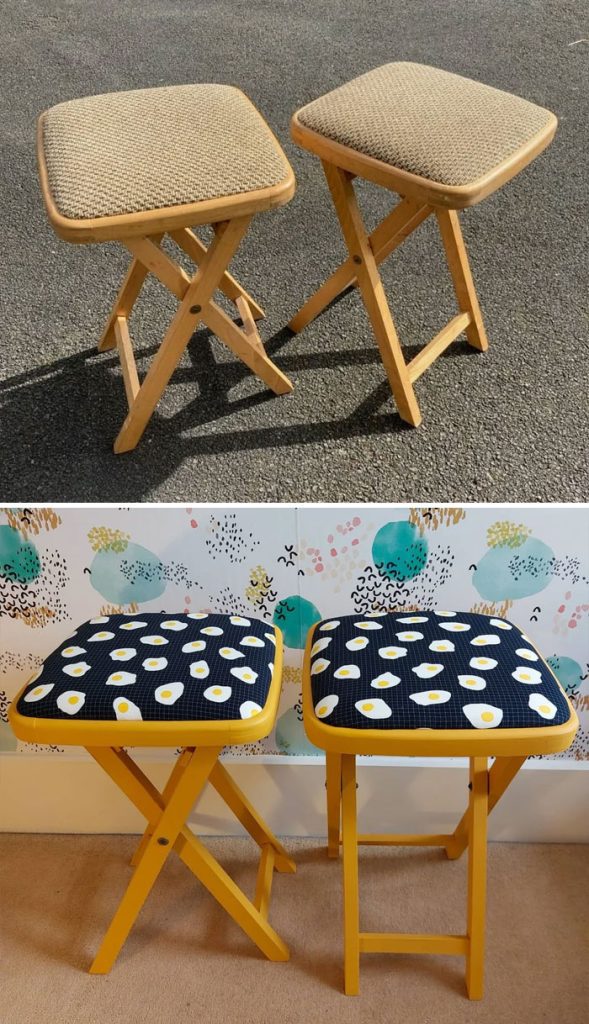 First, she tackled the upholstery. The original fabric was outdated, so she stitched this funky fried egg-themed fabric on them. And then she painted the stools with the Dixie Belle chalk paint. The final result of the project was beyond stunning! 
Strawberry Moo rugs
Looks like this person had had their heart set on a fancy custom pink cow rug for a long time. But the main catch was that the rug cost $500, and her wallet wasn't feeling enthusiastic about the idea, so she came up with a brilliant solution!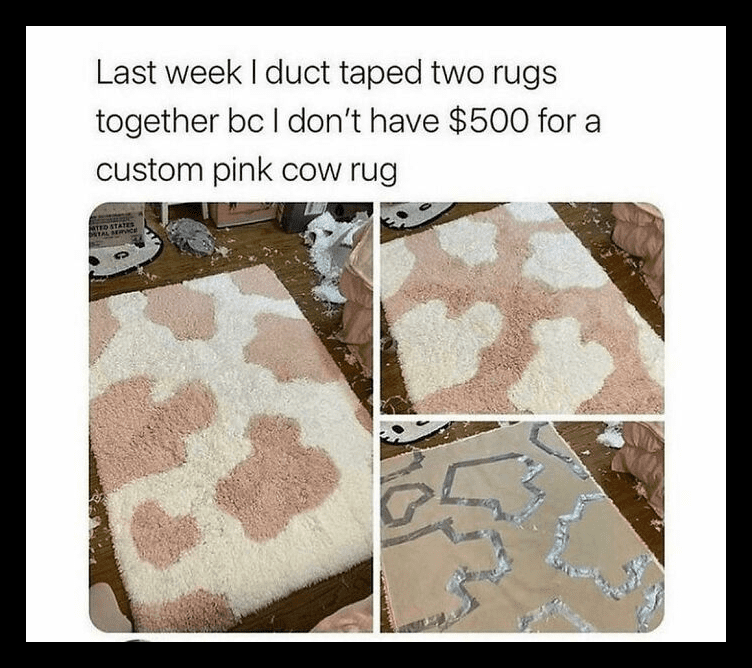 With a roll of duct tape in her hand, she took two rugs and combined them, and voila! The result was a unique, albeit slightly quirky, pink cow rug! And the best part is that it didn't cost her $500, just a little creativity and some trusty duct tape.
Tags and Bags
Let's talk about this incredible DIY project whose creativity level is 100%! This person had collected a bunch of tags and labels from various clothing items, and instead of letting them go to waste, he decided to turn them into something extraordinary.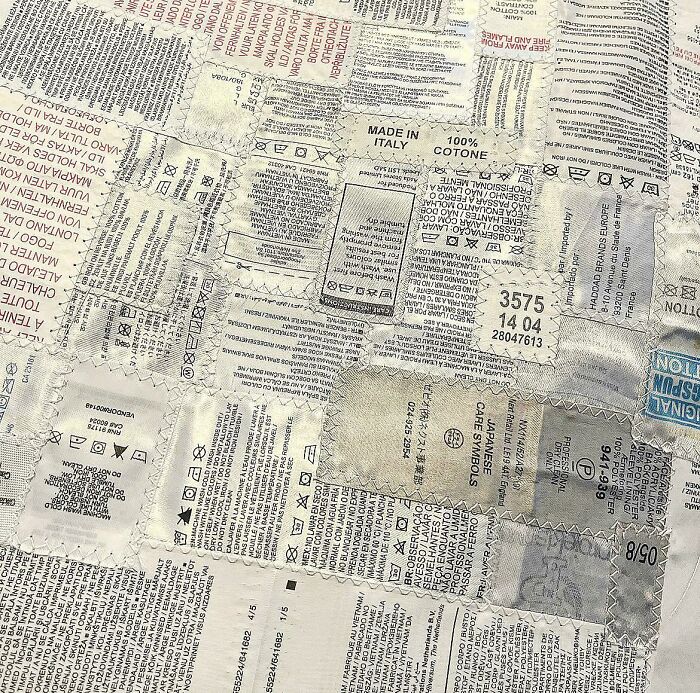 He sorted through the tags, selecting a variety of shapes and sizes that would create an interesting patchwork result. It's like he was putting together a puzzle of fashion statements and memories. Now that the tags are all sorted and stitched together, they are ready to be transformed into a bag!
Ikea bags into a stylish windbreaker
You won't believe the intuitive DIY project this person did! He took a stack of Ikea bags and transformed them into a stylish windbreaker. He already knew the durability and waterproof qualities of these trusty blue bags, and as such, he saw the potential to remake them into something unique.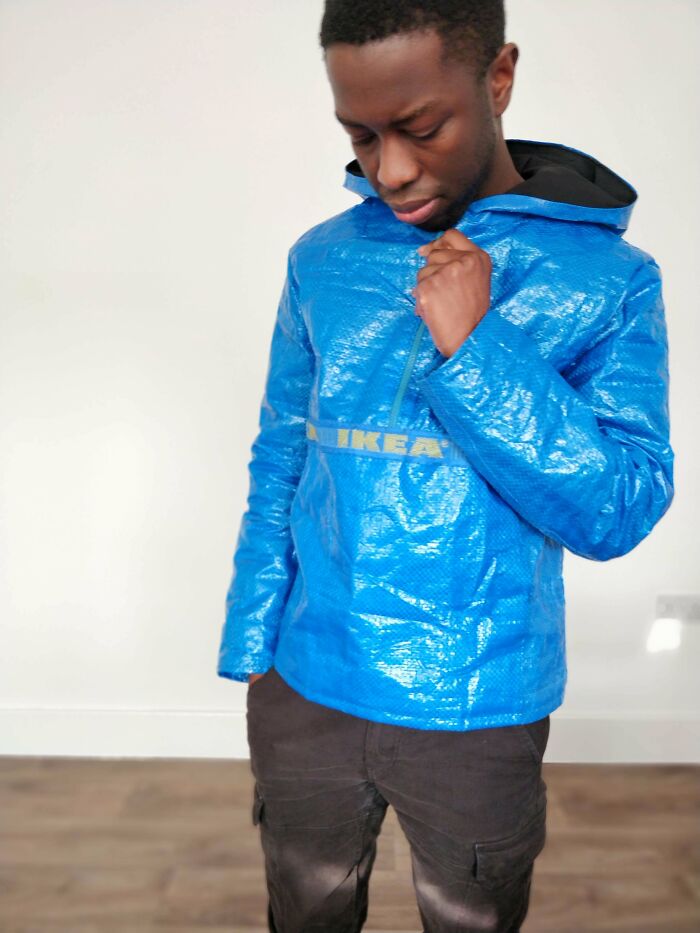 He incorporated features like a zippered front closure, adjustable cuffs, and a hood made entirely from those blue bags. He created a striking windbreaker that not only repurposed the Ikea bag but also turned heads with its innovative design. Clearly, creativity has no bounds!
The stove comes in handy.
This person's sister did this remarkable upcycling project where she turned a burnt stove top into a brand new one. Though the stove had suffered a major malfunction, she refused to let it go to waste. This upcycled stove top became a testament to her ingenuity.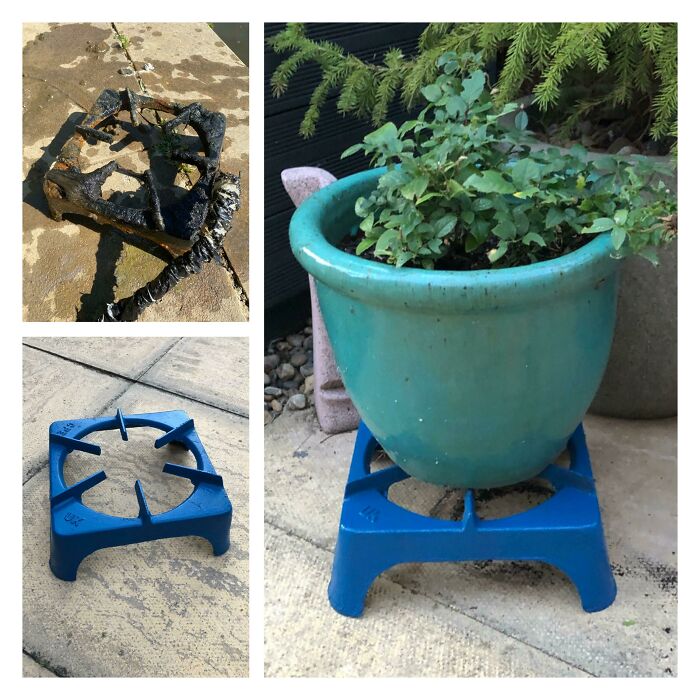 Her sibling had come across it by magnet fishing a few months back, so she decided to upcycle it. She painted the stove top blue and made it into a stand for her flower pots. The color combination of the pot and the stovetop looks so awesome.
Artists have it all!
What a beautiful hand-painted transformation! This person had a set of worn-out cabinets, and instead of replacing them, he gave them a new and fresh look. He hand-painted them beautifully and drew a picture of a sleeping Arctic fox on the front doors.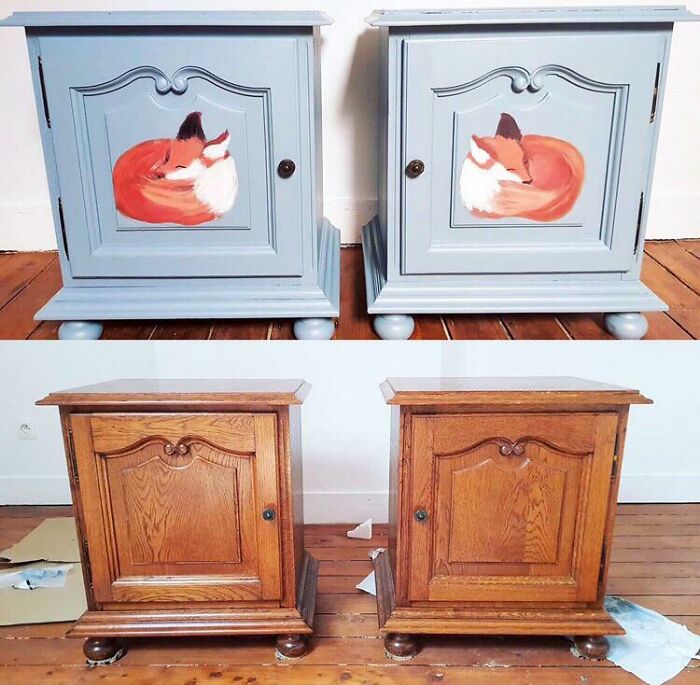 He chose a fresh sky-blue color that breathed new life into the old cabinets. The once dreary drawers were now transformed into new furniture with a fresh and vibrant hue. The satisfaction of seeing the final outcome must be truly rewarding.
Plant hanger for plant lovers
Next, we have someone who had an old cd rack from his college days lying around collecting dust, so he decided to do something creative with it instead of throwing it out. He transformed it into a stylish plant hanger with a touch of grown-up sophistication.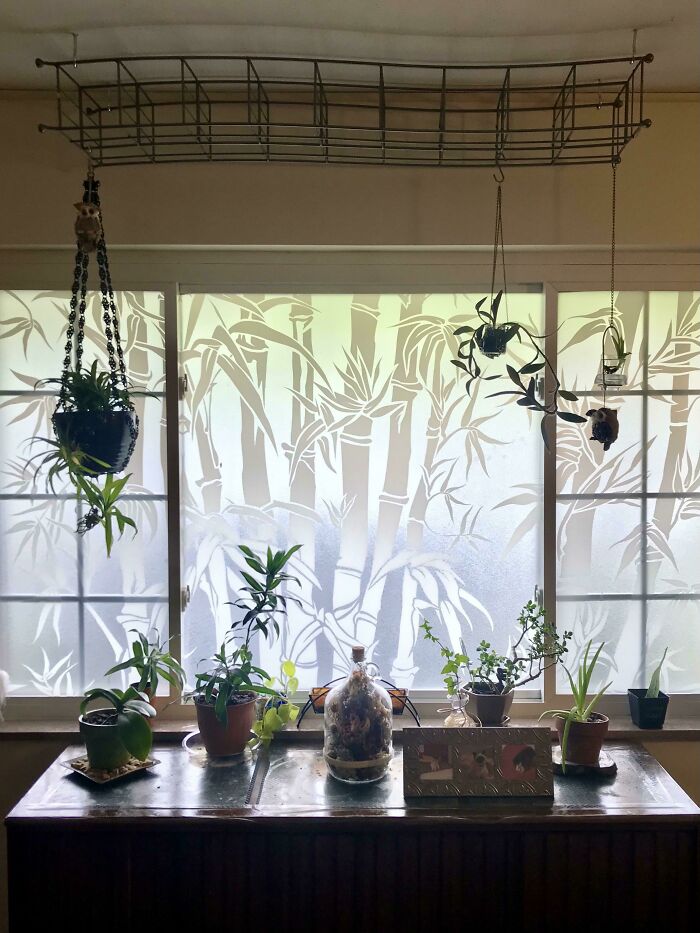 With a vision in mind, a little creativity, and some strategic positioning, he designed the perfect spot for his beloved houseplants. He managed to create a stunning display of cascading greenery from the once-neglected CD rack. It added a touch of effortless charm to his room.
Writing desk into changing station
This is such an incredible upcycling project. It's an inspiration for all parents or soon-to-be parents. This lady owned this old handmade writing desk, and rather than selling it online or tossing it aside, she decided to upgrade it for the new nursery.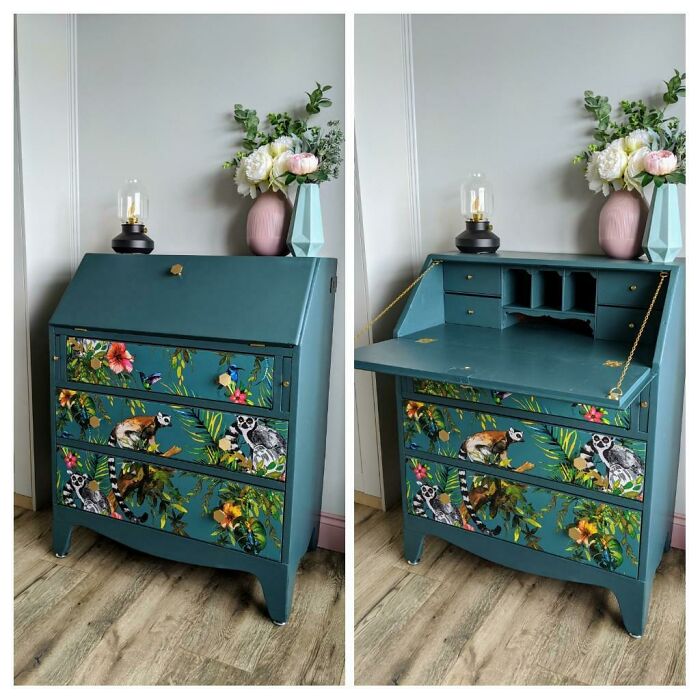 She painted the desk in the coolest blue shade and added some animal stickers to the drawers. The old writing desk was transformed into a beautiful piece of furniture for her little one. Now, it can double up as a dresser and a changing station.
Bridgerton inspired!
Seems like this lady is a big fan of the Bridgerton series and fell head over heels for the stunning Regency-era fashion showcased in the show. She decided to bring a touch of Bridgerton into her own wardrobe with a stroke of creativity and sewing skills.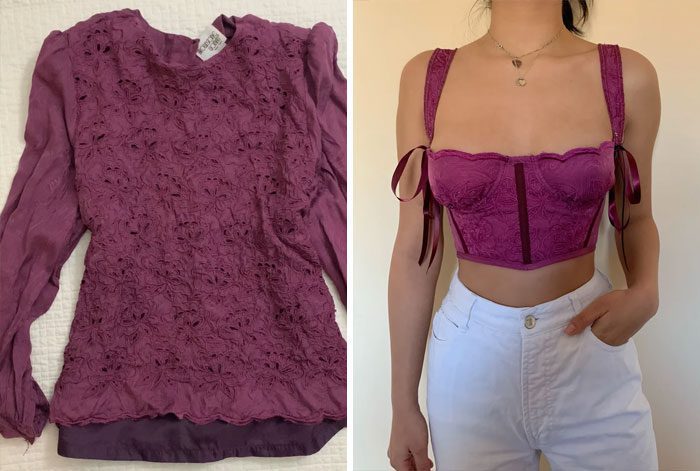 She beautifully transformed her vintage blouse into a fitted bustier. Granted, the ladies on the show don't wear clothes like these on their own, and they are instead worn under the dresses. But she could totally rock this as is right now!
From the kitchen to the bedroom
What a wonderful transformation this is! The person who owns this closet was in need of a new one for their bedroom, so rather than buying an expensive one, they brought an old kitchen cupboard from their grandparents' house and upcycled it into something new.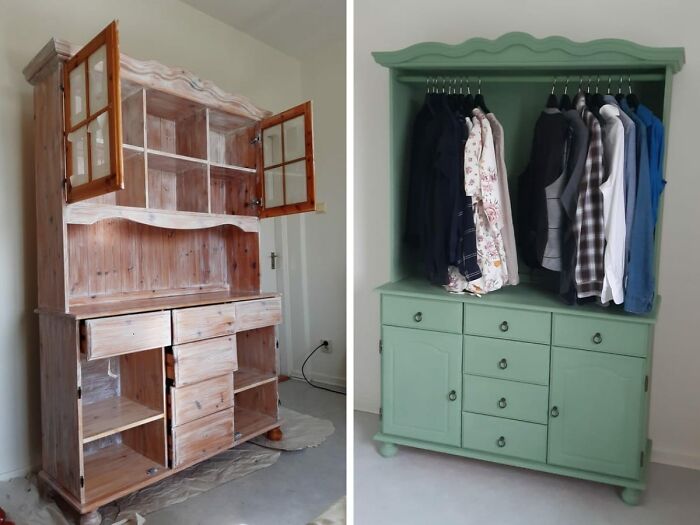 They assessed the cupboard's structure and made a few modifications to suit its new purpose. They removed the shelves, added a hanging rod, and installed a few hooks. Additionally, they painted the cupboard in a fresh sea-green color which turned it into a stylish bedroom closet.
Minimalist aesthetic
We are in love with how aesthetically pleasing this transformation is! This person bought a side table whose top was already broken. So he decided to upcycle it himself. He gave it a new purpose using an unexpected material, rope.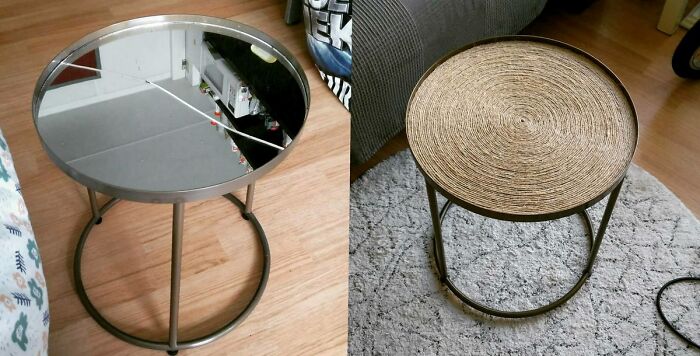 He transformed the entire surface of the table into a charming and intricate design. The rope design not only covered the imperfections but also added a unique texture and character to the table. This transformation showcased his creativity and love for sustainable design.
Chopsticks shower shelf
So this person had an amazing idea to make a unique shower shelf using nothing but a collection of takeout chopsticks and Raffia that came with Valentine's Day flowers. Who would have thought that those little wooden sticks could be transformed into something so functional?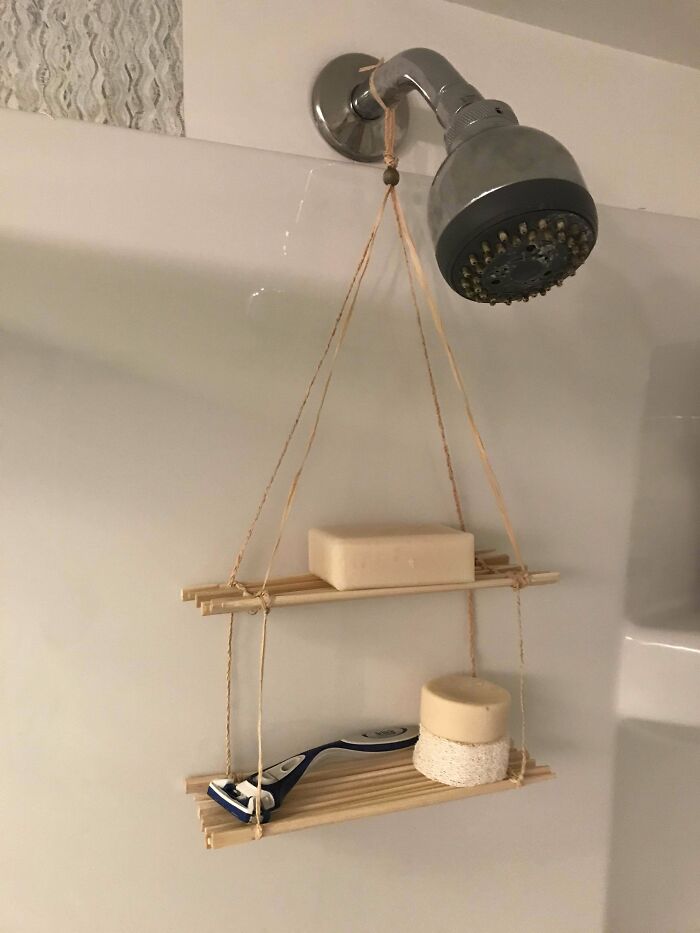 This little creation, which is visually very appealing, is the perfect spot to store shampoo, conditioner, skincare items, and other shower necessities, all within arm's reach. Plus, it adds a unique touch to the bathroom decor that you won't find in any store.