From Trash To Treasure: Upcycling Tin Cans Into Works Of Art
By Navkiran K February 9, 2023
---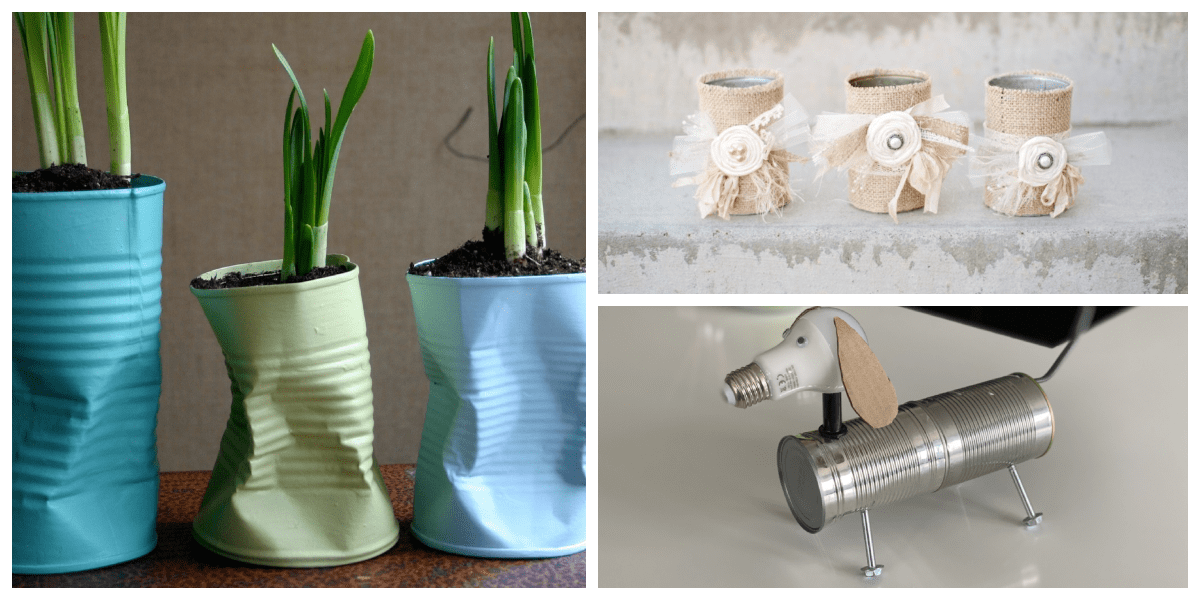 There's a lot that can be done with things that are hard to recycle, and tin cans are one of them. Tin cans are widely available and often discarded after use, are the perfect material for upcycling. With a bit of creativity and some essential tools, tin cans can be transformed into beautiful and functional household items that are both eco-friendly and cost-effective.
The possibilities for upcycling tin cans are endless, from planters to candle holders. This article will show some of the most innovative and attractive ideas for upcycling tin cans into stylish and practical household items. The best part about these DIYs is that they will not take much time. Also, you can make several decoration items instead of buying them from stores. Take a look at these cool creations.
1. DIY rocket stove
Have you ever wanted to make your rocket stove? Now you can do that with a few old tin cans and a bit of creativity. It may sound intimidating, but with the correct instructions, you can turn a discarded can into an eco-friendly camping cooking device!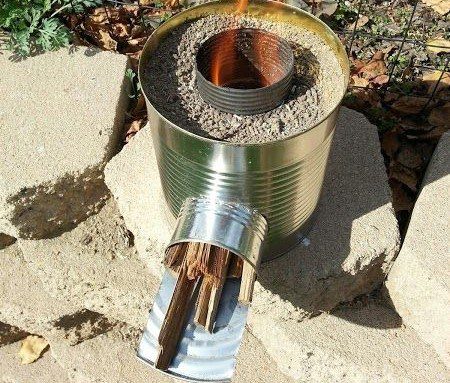 With some good old-fashioned elbow grease, whip up delicious meals instantly using this stove. Your meal is sure to be powered by the pride and accomplishment of doing things yourself! The stove is fuel efficient and isn't affected by rain or wind, which is perfect for camping.
2. Easy bake an apple pie
Old cans may not seem like the first choice when making an apple pie, but with a bit of creative thinking and some simple guidelines, you can use them to whip up a delicious dessert in no time. These tin-can pies will be great to serve at parties.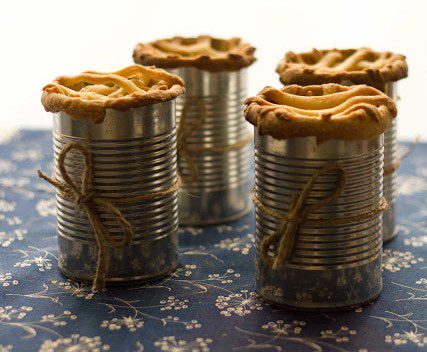 To make your bottom crust, roll out the dough until it's slightly bigger than the diameter of your can, then press it firmly into place against the inside walls of your can with a spoon or rolling pin. Pierce holes into this lower crust with a fork and put the filling to bake.
3. Create some ambient lighting
Hanging tin cans on the wall with candles can create great, creative lighting. While having a few warm-glowing candles to set a romantic mood or add extra ambiance is usually enough, you can take your tin can candle display to the next level by using this simple concept's versatility.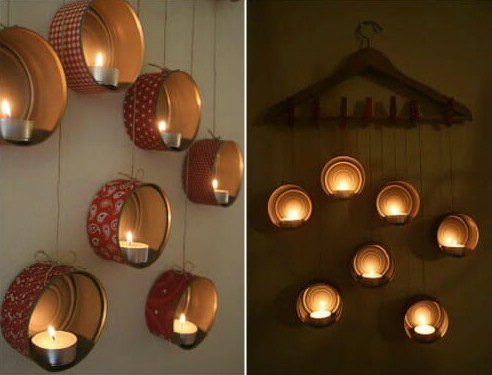 Tin cans come in all shapes and sizes, so you can pick whatever suits your space best; why not mix tall cylindrical cans with short, squat ones? You could also paint your cans beforehand and create a deliberate color scheme or go minimalist and leave them without paint.
4. Vibrant pencil holder
If you want to spruce up your workspace or add a fun, creative touch to your home office, why not paint an old tin can and use it as a vibrant pencil holder? It's an easy DIY project that won't take much time and will make a huge impact.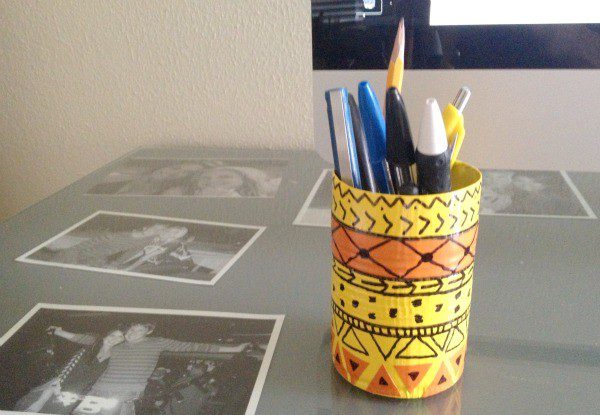 First, place the painter's tape around any area on the can you don't want to be painted over. Lay out the newspaper and begin spraying short bursts away from the tin can in order for all sides of it to receive an even layer. Allow drying between coats until reaching full coverage.
5. Keyboard pen stand
Have you ever been in a loop of a crafty rut? Why not try something unique and take an ordinary tin can and turn it into something fun and valuable? Repurpose some old computer keys with a bit of paste, strategically arranging them in whatever pattern you think looks best.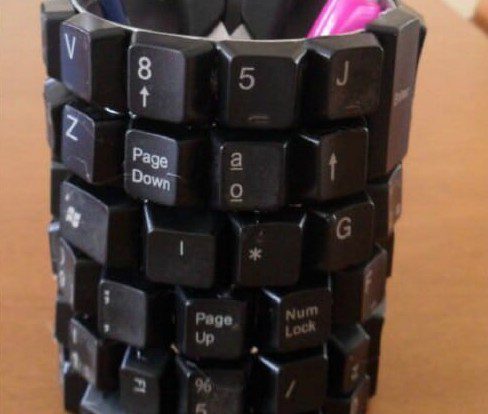 Once you've allowed it to dry, voila! You've got an eye-catching pen stand unlike any other. Whether in your study, office, or bedroom, this quirky little container is sure to bring a smile to all who catch a glimpse of it. As bonus points, why not add some vibrant colored paint around the edges?
6. Hanging hairbrush storage
Hollow tin can storage for hanging hair brushes is an easy and creative way to organize your bathroom. It looks stylish, it's cost-effective, and it's great if you're short on shelf space. Start by selecting the right size of a tin can. Make sure it's big enough to accommodate your hair brushes and other items.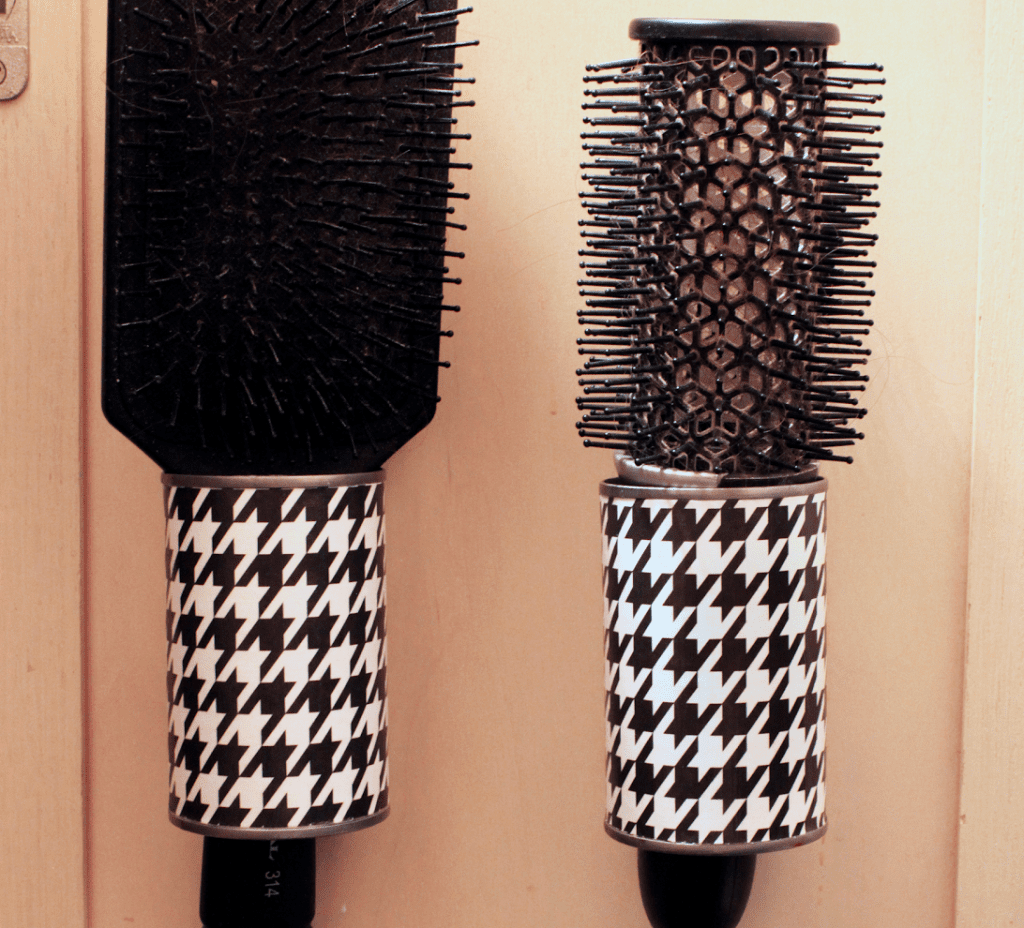 Cut away the top and bottom of the tin can with scissors or scissors-like tools; be very careful when doing this, as the edges will be sharp after cutting. Use sandpaper or steel wool to smoothen out any sharp/jagged edges. Now hang up your unique hollow tin can holder on wall hooks.
7. Christmas tree ornaments
Christmas tree ornaments made from old cans can add a unique and creative flair to your tree this holiday season. Whether you are going for a rustic, industrial look or making a statement about reusing items, most people would throw away; cans that can be transformed into beautiful ornament displays that bring cheer to any room.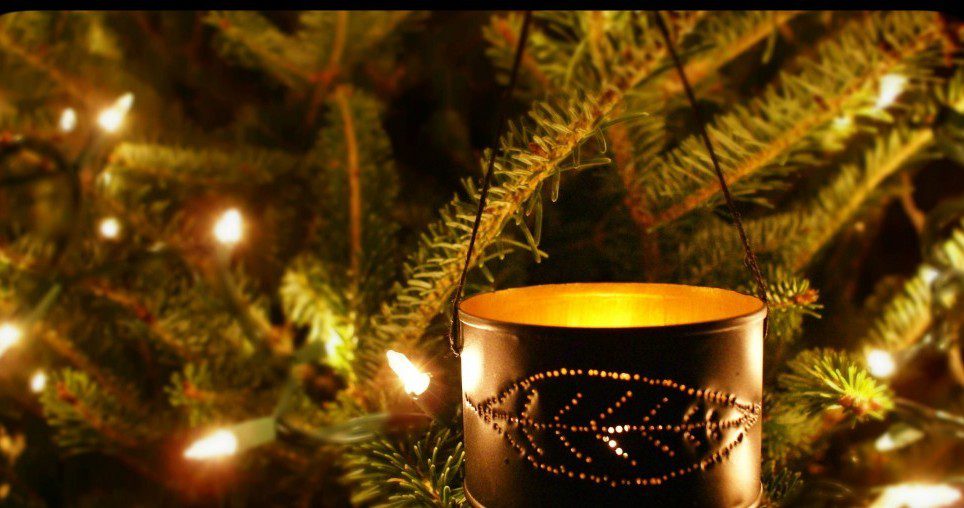 First, you need to clean the cans as best as possible with soapy water and a sponge. Use craft cutters like scissors and pliers, if needed, to shape the aluminum. Once they're all cut out using acrylic paints of precise colors, so they pop on your Christmas tree later on!
8. Cool wine rack
Making the ideal wine rack couldn't be easier with a DIY project like this one! All you need is old tin cans and a bit of creativity. Connect them together to create a unique piece that looks like it took months to create but only took minutes. As an added bonus, you get bragging rights.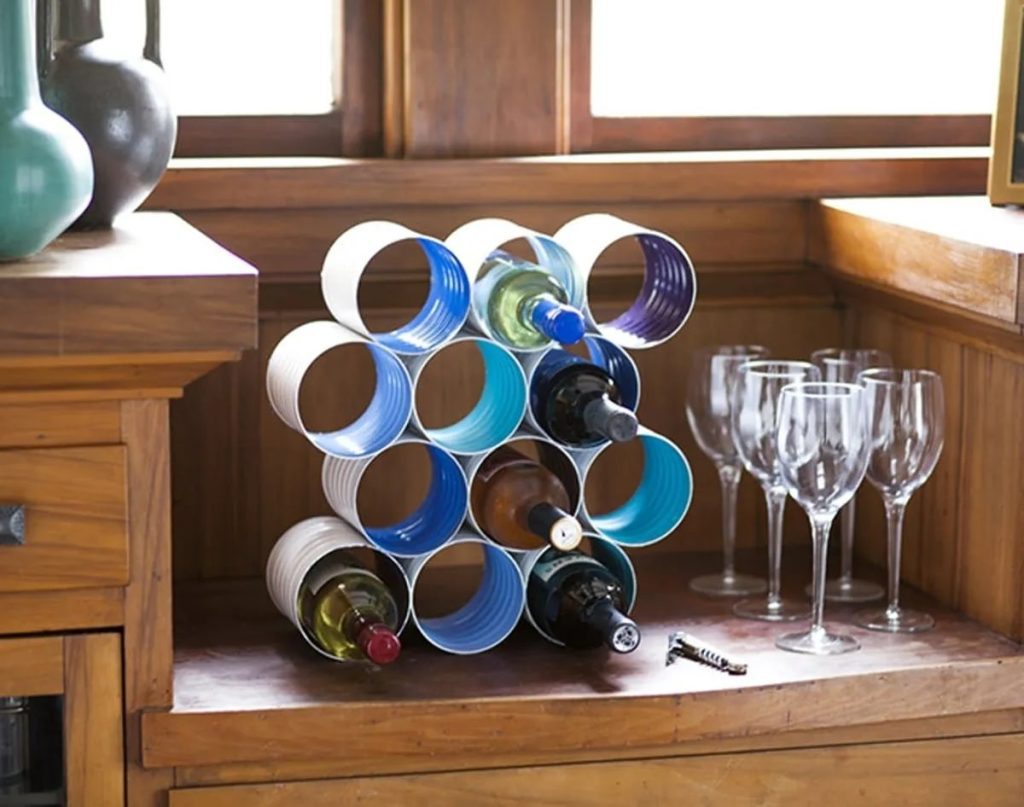 This creative wine rack is perfect for the modern yet classic home, adding personality and style without breaking the bank. Now, if only pouring the wine was this easy! You may also paint the tin cans before connecting them. Use one color or get creative painting some patterns on the tin.
9. Vintage planters
Do this upcycling project to add some vintage charm to your garden by turning your old tin cans into planters. It's an easy and affordable way to breathe new life into something that might otherwise end up in the trash. Best of all, you can get incredibly creative with how you decorate them!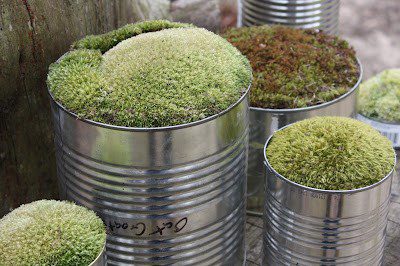 Paint them in bright colors, glue on lace or felt fabric, or stencil patterns on the outside – they'll look great whether they're lined up along your balcony or near the window. Get crafty and let your imagination run wild; your tin can planters will be sure to bring a smile to any gardener's face.
10. Make a Christmas wreath using tin cans
You can make a beautiful wreath at home using tin cans. All you need to do is take some cans and start painting them red or green. Then cut the bottom of each can to make a cylinder and cut the cylinder into 2-3 inch wide strips.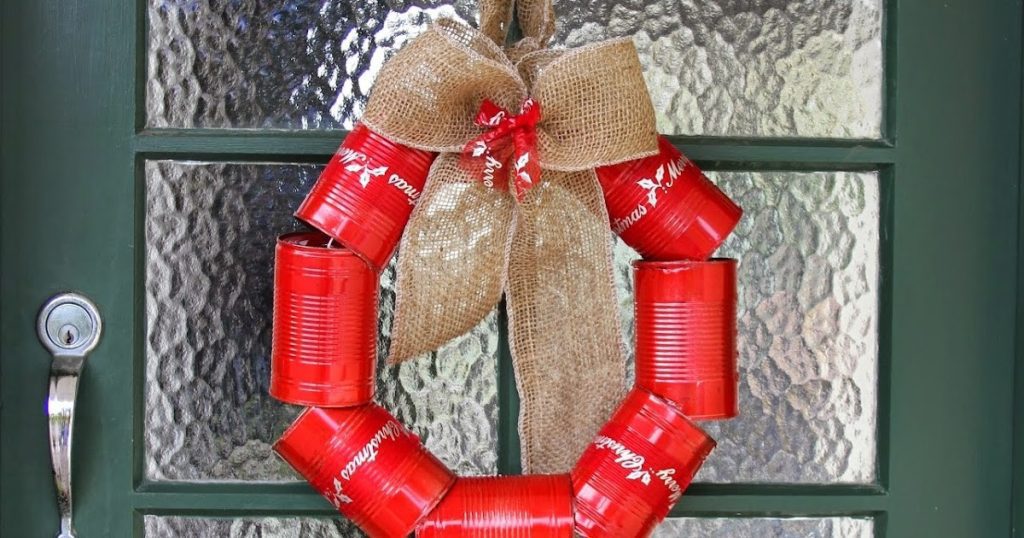 Bend each strip into a circular shape to resemble a ring. Using a hot glue gun, attach the ends of each ring together to form a wreath shape. Once done, secure the rings together by wrapping the wire or floral wire around the wreath. Now you can decorate it the way you like.
11. Stilts for kids
If your kids need something to do and you're in a pinch, there is an easy solution—making some homemade stilts! You don't need anything fancy, just two empty cans and a couple of feet of string. It's so easy. Even the most craft-challenged parent can manage it.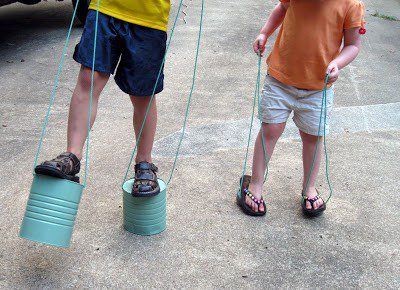 With a little bit of ingenuity, you may save yourself some money while teaching your children the joys of DIY projects. Not only does this activity help them expend energy by walking around on the stilts outdoors, but it also encourages creative problem-solving and teaches them the value of reusing materials. 
12. Burlap candle holder
Making a burlap candle holder using an old tin can is a great way to add an elegant and unique touch to any wedding or party. And best of all, it's pretty easy! You'll need an old tin can, several pieces of burlap fabric, scissors, a glue gun or strong adhesive, and ribbon for decoration.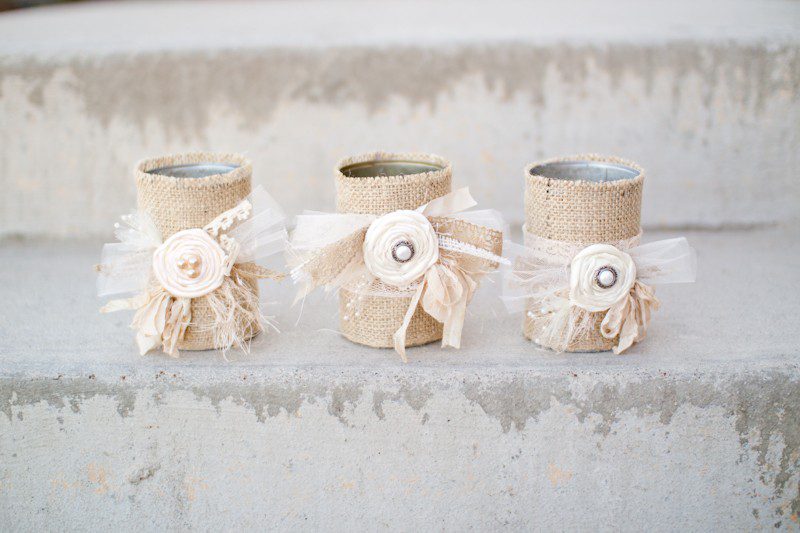 Measure the circumference of the tin can and cut out two pieces of burlap large enough to wrap around its sides. Make sure there is at least one-inch excess on both sides, so the fabric overlaps when connected in the back. Use a glue gun or strong adhesive to connect both ends together.
13. Tin can organizers
Are you feeling cramped in your workspace by all the pens, pencils, and other supplies that seem to take up more room than necessary? Think again and try out a creative DIY solution with some old tin cans. Tin can organizers are an easy way to help reduce desk clutter.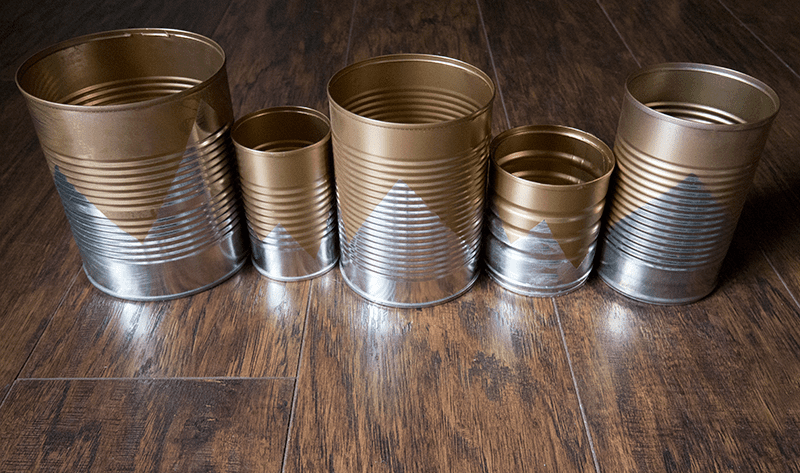 They add a touch of style with a bit of mod podge and paint. You may use one paint combination for all the cans. Customizing tin cans for use as pen holders or for other items is a great way to get more organized while having a bit of fun at the same time.
14. Wrap cans in fabric
Use a stash of old cans of soup and veggies to make fancy containers. Wrap them in some pretty fabric and create unique vases or storage containers for your home. A dose of creativity can take an everyday item and turn it into something special to enjoy for years to come.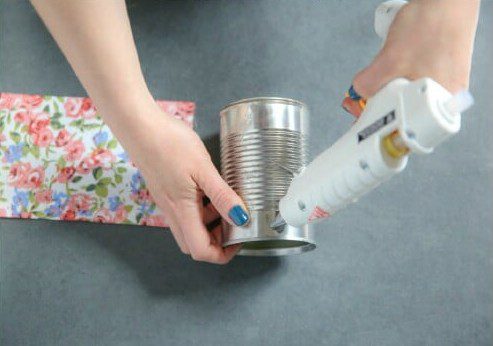 You may paste old clothes with prints and designs. Plus, this project won't break the bank: why buy expensive decorations when you already have some excellent materials lying around? Upcycle your old cans into stylish decorations that will add a bit of extra personality to your space.
15. Nautical rope vase
This creative and crafty project is the perfect way to repurpose an old tin can into a nautical rope vase. Gather some colorful rope and get ready for a DIY adventure. Simply wrap the can in circles, creating a base that looks like it's been fished out of a pirate treasure chest.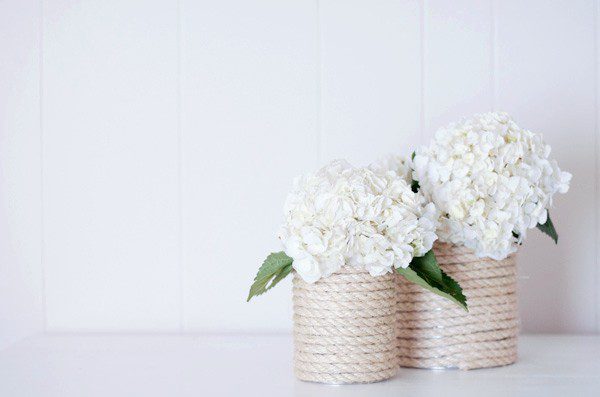 Top with a simple flower arrangement for something genuinely artistic! Whether you've been dreaming of taking a sailing trip or just appreciate the maritime aesthetic, this upcycled vase is an ideal way to bring a light, coastal atmosphere into any space. So set sail in style and get crafting today!
16. Hanging lanterns
Making your own hanging tin can lanterns is an inventive way to spruce up your summer nights. Get a few empty cans, some glue, and your favorite colored tissue paper—then you're all set! You won't have to worry about going through a pile of tangled extension cords trying to fit lights on your patio.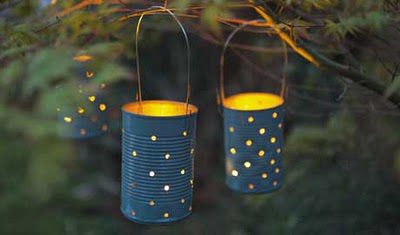 All you have to do is hang them around your outdoor space, and suddenly it looks like a chic European cafe. You may also use a nail to make holes in the cans to make a design. Even better, you'll be able to enjoy the transformation you created with these versatile luminaries.
17. Chic vintage tin cans with lids
Transform ordinary tin cans into chic vintage accessories with some craft supplies and a few simple steps. With high-quality construction, these lidded cans can be used to store items like sewing materials, small books, photos, or jewelry. Add a personality and style by spray painting the cans in a classic retro color.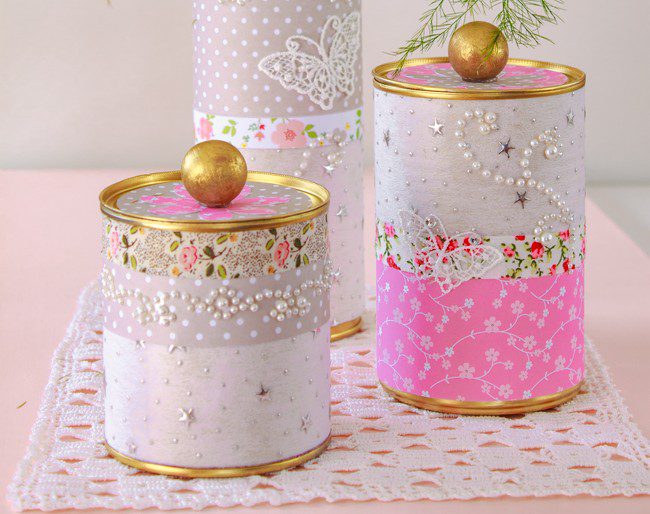 Moreover, give them an extravagant makeover with your selection of colorful embellishments like lace ribbon and fabric flowers. The possibilities are virtually limitless! Whether you prefer a traditional or adventurous style, DIY tin cans with lids offer the perfect starting point for your creative project.
18. Tin man figure
Transform old tin cans into a work of art – your very own tin man sculpture! With some basic supplies and a spark of creativity, you can create a stunning piece that will attract attention when displayed outdoors. It's the perfect way to add whimsy to your garden or outdoor space.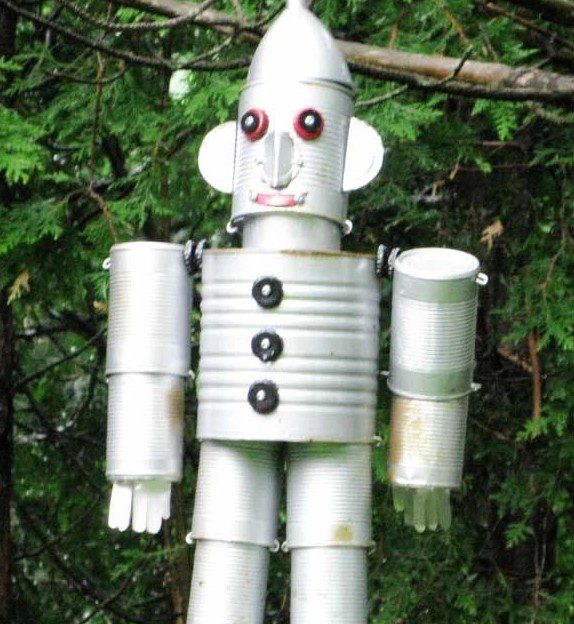 Just collect the cans and paint them silver for an impressive finish. Who would have thought something as humble as tin cans could become such an eye-catching ornament? And it just shows what a little bit of effort can do!
19. Containers with teacup lids
When looking for an eco-friendly and floral way to store your kitchen supplies, consider making tin containers with old teacups as lids as an upcycling idea. It'll add a touch of character and a homey feel to your kitchen and give your tea cups a second life, and offer great aesthetic charm.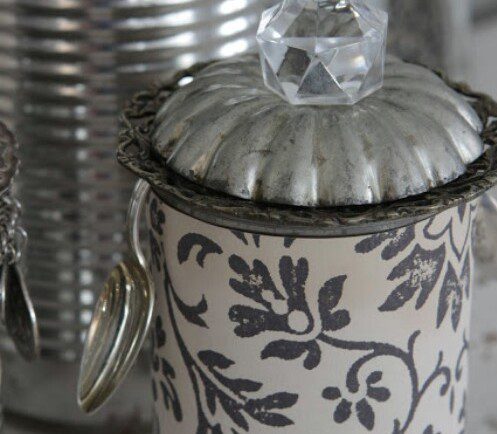 This is an easy and cost-effective project, as all you need is the teacups of your choice, some metal sheets, scissors or other cutting tools, a glue gun, and at least two hours! A result of this creative endeavor will be something unique that will set you apart from anyone else.
20. DIY colorful wind chimes with tin cans
DIY colorful wind chimes with tin cans is a fun and creative project that offers several benefits. Tin cans are widely available and often considered waste, making them a cheap and readily available material for upcycling. This even helps to reduce waste.
By making your wind chimes, you can choose the colors, designs, and sounds you want, making your wind chime unique. So, take some time, use your creativity, and start making your wind chime. We are sure everyone will compliment you for your efforts.
21. Tin bowling game
When trying to find a fun and memorable activity to do with your kids, take some tins and create a homemade tin bowling game. You only need some paint, tins, and a creative eye to get the job done. Add some extra giggles to the game by painting funny emojis on each of the tins.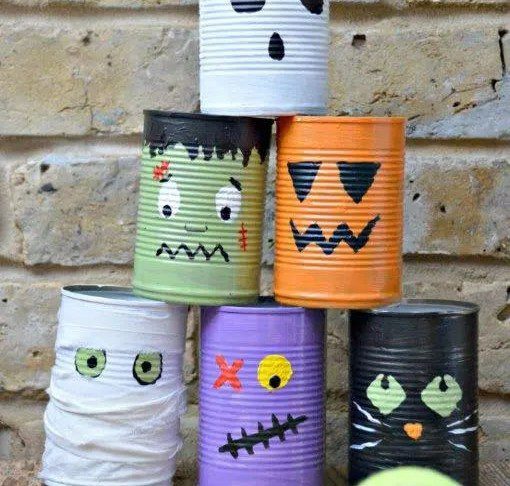 Once finished, you can spend hours of hilarious entertainment, making sure to topple all the pins! Whether your kids are crafting newbies or veteran artists, this activity is an enjoyable and unique way for them to bond together—plus, who wouldn't love rolling around a few painted-up tins?
22. Working tin music speakers
Working with tin cans may sound like something from decades gone by, but it's surprisingly straightforward to make a set of working music speakers. With just a few everyday items, you can build yourself speakers that will give you decent audio quality, plus the satisfaction of creating something truly up-cycled.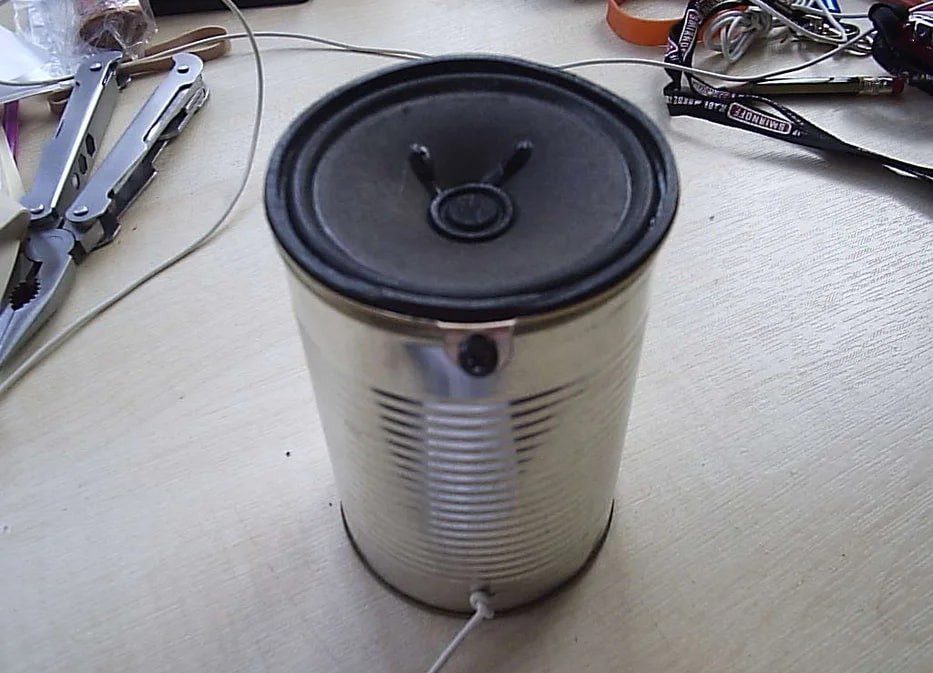 Making your tin can speakers won't cost you much. Instead, it can all be found in your home using an old donor speaker! Fit the speaker inside the can and cover it to make a working music speaker. Paint the can speaker in a fun color, or leave it as it is.
23. Tin can camera for decor
Recycling at its finest with this DIY! Instead of throwing those old tin cans in the recycling bin, why not turn them into practical- yet still visually pleasing- decorations? With a few craft skills, you could make a unique "tin can camera" that is sure to draw glances and conversations.
Flex your artistic talents by using colorful paint elements to give your camera an extra pop. They make great additions to any room, whether it's a living room or an office. Paint it silver or black to look like a real camera. Making use of the unused will bring some extra flair to your home!
24. Robotic dog for kids
Who would have thought that old tin cans lying around in the attic could be so much fun? With a little ingenuity, you can turn those recycled cans into a robotic dog that can bring your children hours of entertainment and joy.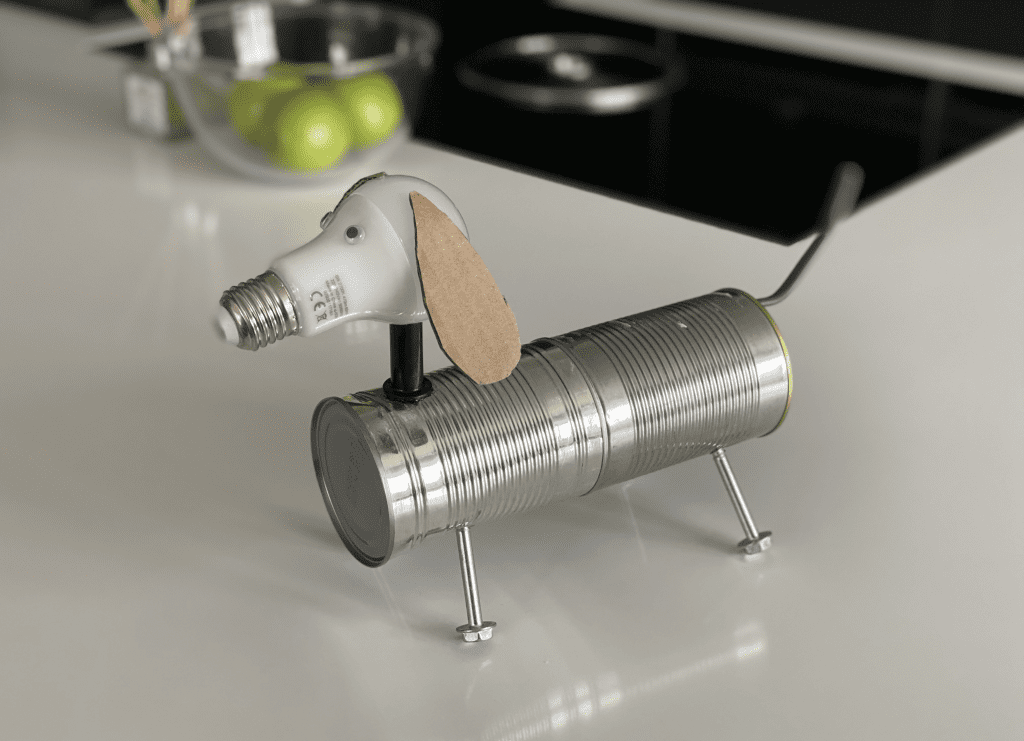 The project is not just good for the environment but also helps teach kids about DIYs and encourages creativity. Building a robotic dog will give them an appreciation for making something unique with their own two hands! You'll need a strong cutter, glue, nails, tires, and a metal chain to assemble the dog.
25. Wedding tin can centerpieces
Creating a unique wedding decoration with an old can sounds like an impossible task, but it's easier than you think! All you need is to take an empty soda or beer can and paint it white, add some decorations and colorful ribbons, and voilà—you have a spectacular wedding tin can centerpiece.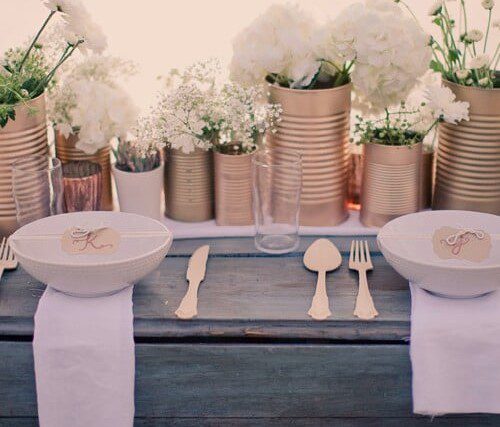 It's the perfect way to pay homage to the traditional decor idea of the past while injecting a bit of fun and creativity into your wedding decor. When looking for something fresh yet intimate for your ceremony, grab a few cans and watch how quickly your friends become inspired by your rustic chic style.
26. Intricate lampshades and lights
With a bit of creative thinking and some tinkering, you can create intricate lampshades and lights using just tin cans, a nail, and a hammer. Do this by cutting tin cans into custom shapes, punching holes in them with the nail, and beating the edges to give them their unique design with the hammer.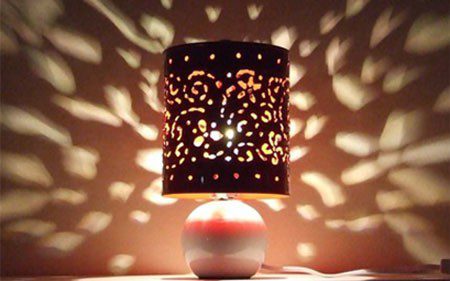 This will result in one-of-a-kind decorations that will add flair and personality to your home. Plus, these DIY masterpieces are much more satisfying than pickups at the store. You can replace your old lampshades with tin ones to give them an industrial look.
27. Decorative hanging planters
Upcycling those old cans and turning them into decorative hanging planters can be the perfect way to get your creative juices going! From shiny metallic paint jobs to delicate floral patterns, you can make your can look as pretty as a picture.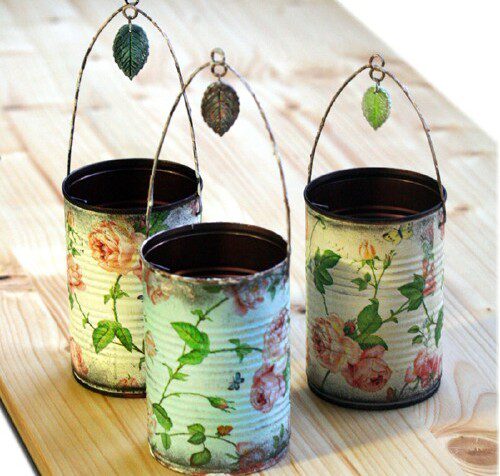 And don't worry about having small spaces for planting—these cans are great for growing small succulents that require little maintenance. So go ahead and give your green thumb a try with this easy DIY project—you can even incorporate this artwork piece into your home décor!
28. Bake cakes
Celebrating a birthday with cake is one of life's finest pleasures. Take it an exciting step further and bake a few cake-filled tins that come together to create a unique tower of delight! Creating your assemblage of baked goods doesn't require any fancy tools, just your favorite recipe and a few old tin cans.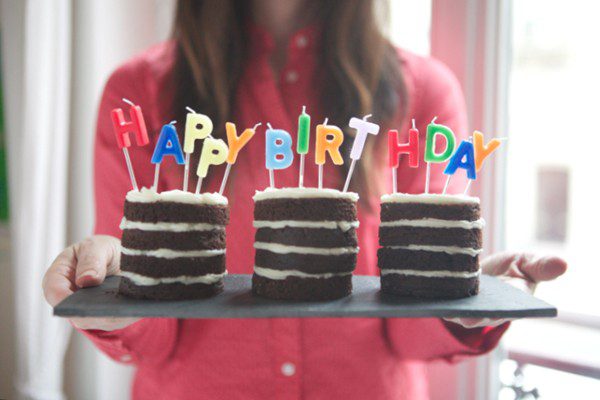 The possibilities are endless—you may add different flavors, textures, and decorations to make the final cake something exceptional. Who could imagine such simple ingredients could lead to such extraordinary pleasure? Combine cake mix and bake in cans, let it cool and remove on a large tray to assemble.
29. Artsy tin can planters
Creative composters are sure to get excited about these artsy tin can planters. Refashioning slightly crushed cans into visually pleasing and helpful objects is an excellent way to give them a second life. The possibilities are unlimited when it comes to creative planter options – display tiny blooms, miniature succulents, or any type of herb!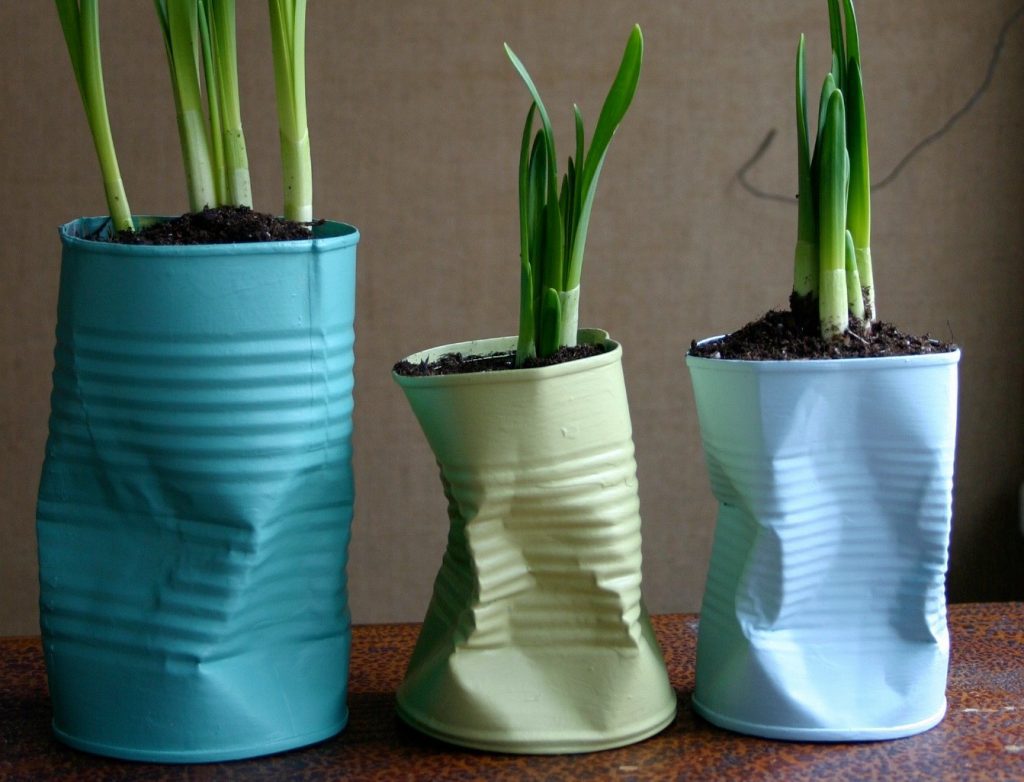 With brightly painted cans, you are guaranteed to add a touch of color to your garden design. Plus, the nostalgia associated with cans conjures up memories that make the garden more sentimental. Enjoy the satisfaction of completing a DIY project for your green haven by DIYing these easy and affordable artsy tin can planters!
30. Use tin cans as a cutlery holder
You can use tin cans as cutlery holders. They make an excellent organizing solution for your kitchen utensils, as they are readily available, cost-effective, and can be easily transformed with a coat of paint or decorative paper to match your kitchen decor.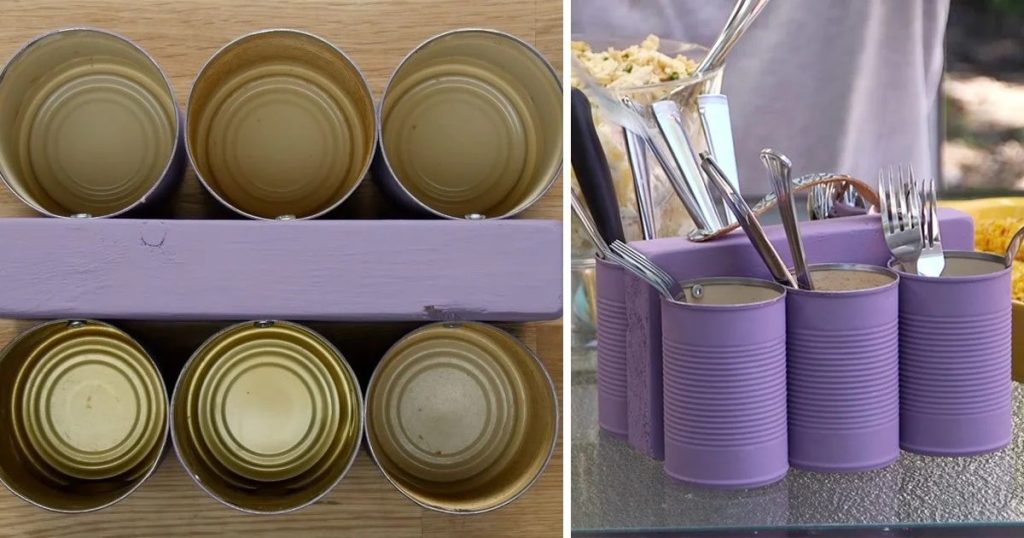 To make a cutlery holder, clean and dry several tin cans, paint or cover them with decorative paper, stack them together using a hot glue gun, and fill them with utensils. The compact design of a tin can cutlery holder makes it an excellent space-saving solution for smaller kitchens.
31. Garden scarecrow
What better way to keep pesky critters out of your garden than a scarecrow? But you don't need to spend money on expensive store-bought models because, with a few leftover tin cans and some handy crafting skills, you can make a unique and spooky creation that will rival any professional model!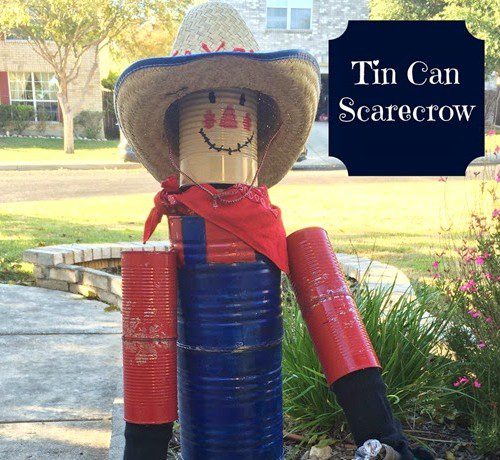 Collect tin cans in various sizes and colors (the more mismatched, the better!), paint them if desired, and use twine or string to attach the pieces. Depending on your style, place them side by side in rows or even stack them together like blocks. Add some straw and fabric clothing to bring it all together.
32. Futuristic robot decor
Decorating your living room uniquely and excitingly can be fun and fulfilling. A great way to bring some futuristic flair into your home is by creating a tin can robot decoration. This statement-making piece of décor combines multiple tin cans of different sizes.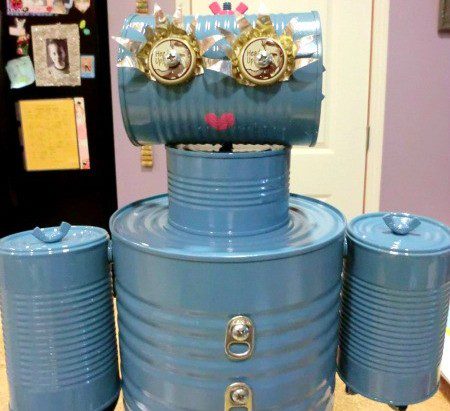 With some decorative paint and plastic details to create an interactive sculpture, add personality and style to any living space. Not only is this project relatively simple, inexpensive, and quick to assemble, but it is also sure to excite your family and guests with its visual impact.
33. Artsy spring planters
When you're looking for a simple way to level up your spring décor game, why not paint some old cans and decorate them with lace? Cans are an inexpensive canvas, perfect for a unique DIY project, whether you want to jazz up your windowsill or create rustic-chic centerpieces for the next backyard party.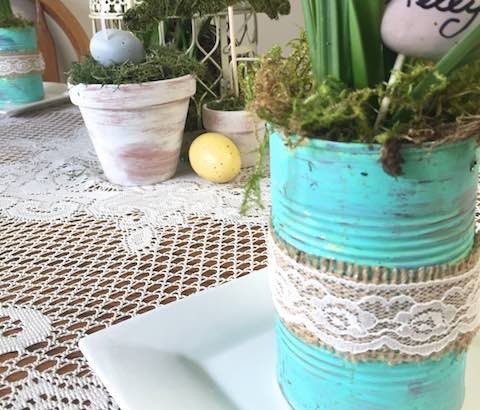 Artsy planters crafted from recycled materials can help you get a quirky look. When the warm weather passes and winter comes back around, you may use them as storage containers! Get creative with your color combinations and add on ribbons, gems, gold foil—anything you think would help make those old cans shine like new.
34. Vintage craft supplies holder
Making a tin vintage craft supply holder is an excellent way to store and organize all of your crafting materials. It is easy to do, requires very few supplies, and you can customize it to fit the theme of your room. Simply select a tin that has the ideal size for your crafts.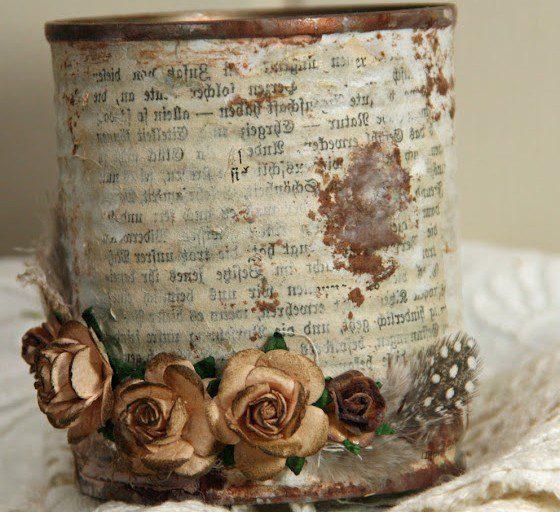 You may metal etch, stick old book paper, or paint it with any design desired. Line the inside with felt or fabric to protect delicate items and glue magnets onto the back so it sticks to metallic items. Once assembled, you'll have a stylish holder that stores all of your crafting items in one place.
35. Cute tin lawn critters
Painting tin cans is an excellent activity for both kids and adults. It's a chance to be creative and have fun with colors. Plus, recycling tin cans is a great way to adorn your garden. To make these cute tin lawn critters, start by painting the cans in bright, bug colors.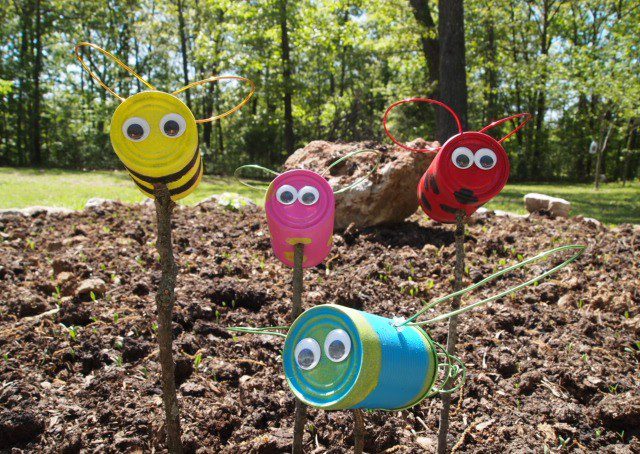 Use whatever colors you like or whatever you have on hand. Once the paint is dry, add some googly eyes and antennae. You can also add other details like mouths or wings. These critters will look cute in your garden or on your porch.
36. Industrial desk lamp
Making your industrial desk lamp has never been easier. Get a tin can, metal pipe, and a light kit to create a unique and stylish lamp for your home or office. Using the tin can as the lampshade adds an interesting texture to the design and makes it stand out from traditional lamps.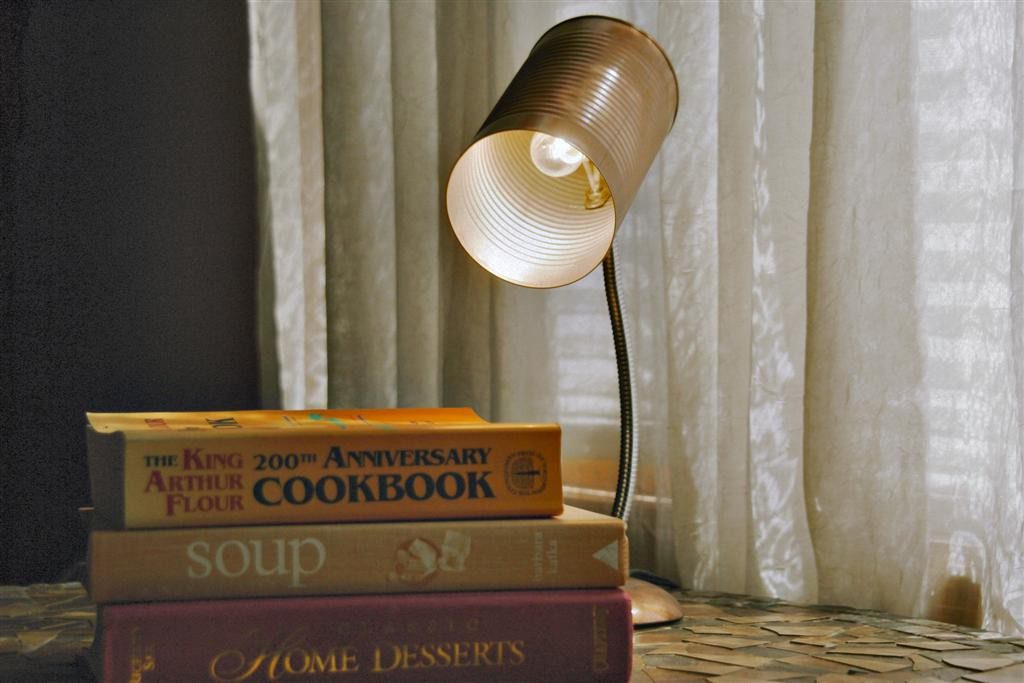 You may use any old study lamp with small light and add a hollow tin can as a lampshade. And because you make it yourself, it is also an economical way to incorporate industrial-style design into your space. It's a great way to get creative and brighten up any room with your unique flair!
37. Indoor hanging herb garden
When looking to transform your interior design while adding a bit of flavor to your cooking, an indoor hanging herb garden is perfect. With simple tin cans and craft skills, you can easily add a mini-garden inside your home. This proves to be an inexpensive and efficient way to keep herbs close at hand.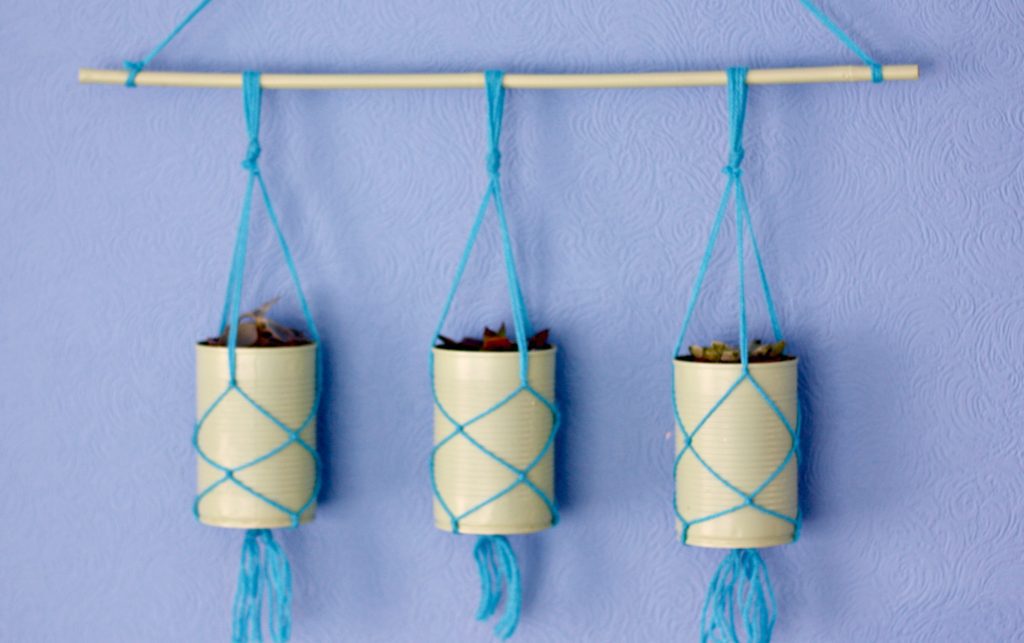 Moreover, it'll add charm to any kitchen or living space. Use a rack to hang the tin planters. An indoor hanging herb garden can last for months and yields excellent results with minimal effort – simply replant your herbs as they become depleted, and enjoy growing your spices!
38. Flower arrangement container
If you're looking for an economical, creative way to make a stunning flower arrangement container, why not use a tin can? Tin cans are perfect for fun and exciting craft projects, and they are a great material to use when utilizing items from around the house.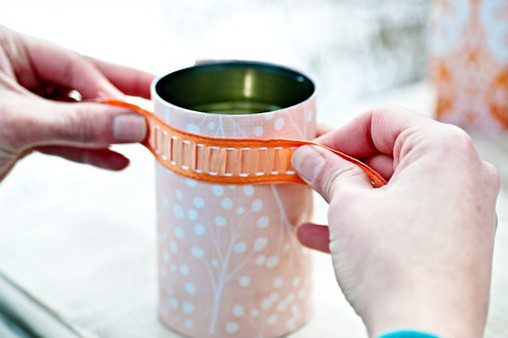 Tin cans can be found in multiple shapes and sizes and provide endless possibilities when looking to spruce up a dull room. Using paint and other arts-and-crafts supplies like ribbons or washi tape, you can give the tin can an entirely new lifestyle. The flower arrangement container you create will surely surprise everyone.
39. Can Christmas tree
If you're feeling creative this Christmas season, try something different and make a festive Can Christmas tree. It's an exciting craft project that the whole family can do – just gather some paint tins of various sizes and paint them green. Once they are all dry, arrange the cans into the shape of a Christmas tree.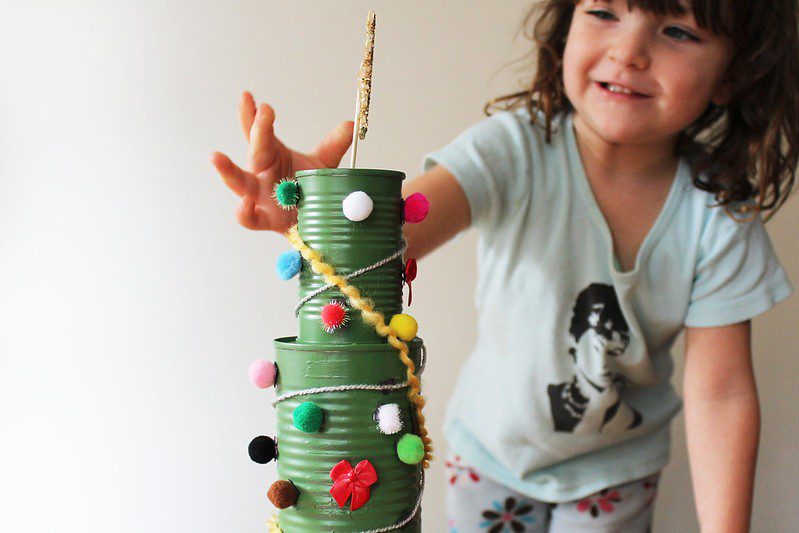 When assembled, your decorative cans can be decorated with ribbons, lights, and other decorations to bring holiday cheer to your home! This is also an ideal way to upcycle materials while adding a unique decoration to your home. You may place this tree anywhere in the home for a Christmas look.
40. Make roses using tin cans
Yes, it is possible to make roses using tin cans. You can use tin cans to create metal roses that can be used as decorative elements in your home or as accessories such as jewelry or hair accessories. You will only need a few materials to do so.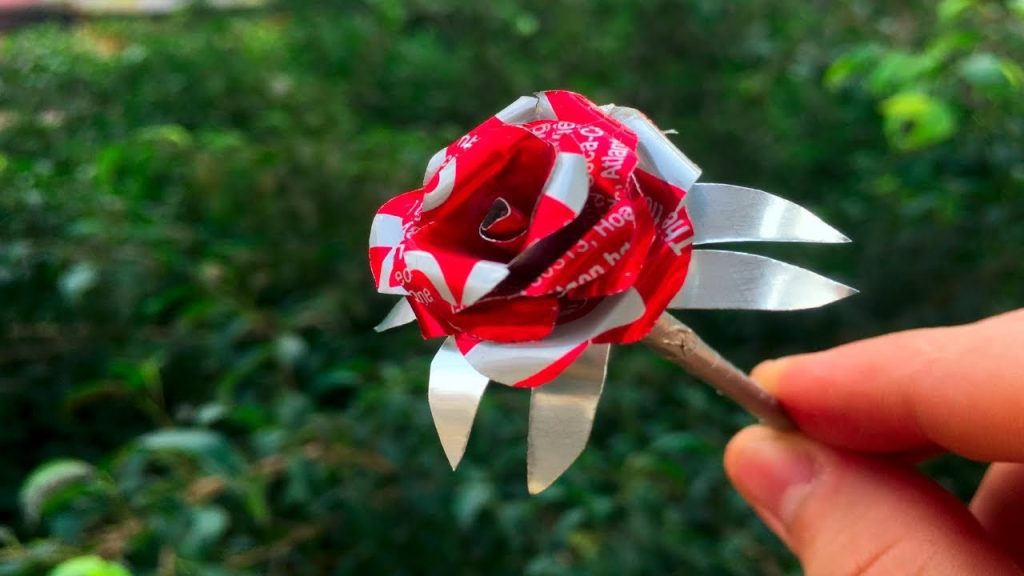 Cut the can into strips using pliers and wire cutters to make the rose. Roll each strip into a tight spiral to form the rose's petals, and use a hot glue gun to attach the petals. Make sure you give it a rose petal shape.
41. Candle pedestals
With just a few supplies, you can create beautiful candle pedestals using old cans. Whether you want to upcycle something you already have or thrift store finds, this is an easy and satisfying craft project. Just paint the cans in an easy pattern and place the candle on top.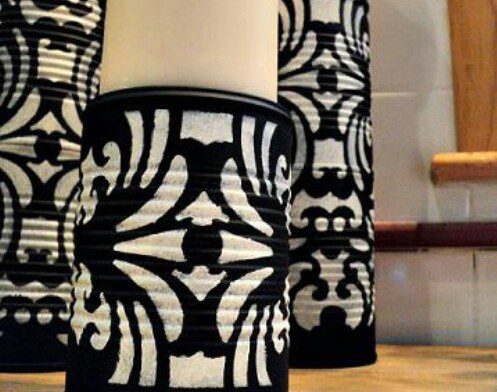 Complete with an old soup can and some basic tools, you can make something special that is perfect for spreading the perfect soft light in any room! With just a little bit of effort, you'll have some stunningly unique candle pedestals that will be sure to inspire conversation and admiration in your home.
42. Working tin grill
While camping, you can take your cooking game up by cutting a tin into a grill shape. The sturdy, heat-resistant metal is perfect for grilling over an open flame or hot coals, and it doesn't rust with time like other materials. Make a few slits alongside the surface of the can.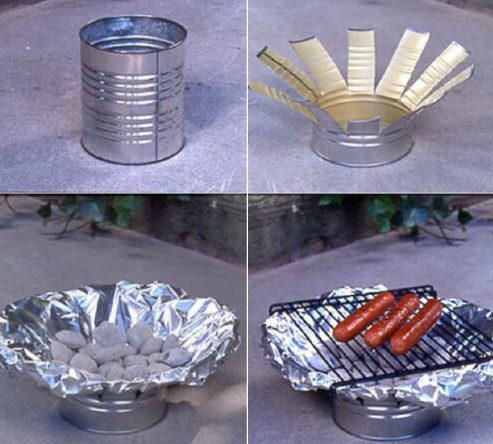 Place rock, foil, and coals with a grill and start cooking. You can get creative in the kitchen by making your own custom-shaped tin grill – from savory kebabs to s'mores and everything in between. Enjoy a freshly cooked treat during camping trips without having to worry about hauling bulky equipment along with you.
43. Votive letter holders
Tin can voting candle holders with alphabets or letters are a great way to make a unique, inexpensive centerpiece for any occasion. They are super easy to make and add a bit of personality and DIY charm to your space. To create these votive candle holders, get tin cans in various sizes.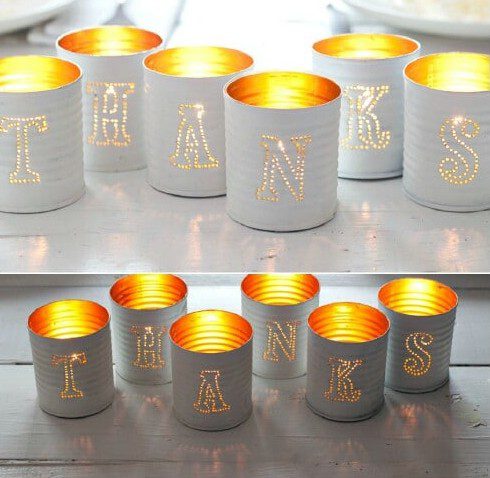 Start by washing the cans and removing their labels. Use a craft knife to carefully remove the top lid of the can so it's open at one end; again, smooth out any rough edges with sandpaper or similar material. Punch in the alphabet or letters to create the design. Place tealights within each punched indentation.
44. Snowman for the winters
Creating a snowman out of old tin cans is a great way to get creative and make the most out of what you own at home! Taking those trusty cans of beans, soup, and whatever else has been lying around your pantry and turning it into a winter wonderland piece of art—who could resist?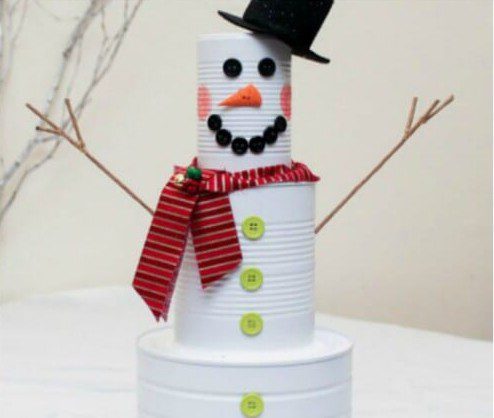 Painting the cans in different Christmasy colors and using glitter, markers, and hot glue to decorate can give that extra sparkle. You may not be able to utilize your creativity to build a snowman with like you can with real snow, but that won't stop it from becoming the main attraction in any room!
45. Floral Decor 
Making tin can flowers may seem like an intimidating project, but with a few scissors and some glitter, it's bound to come to life! All you need is some recycled tin cans, a hot glue gun, and creativity. Cut your tins into petal and leaf shapes and assemble them.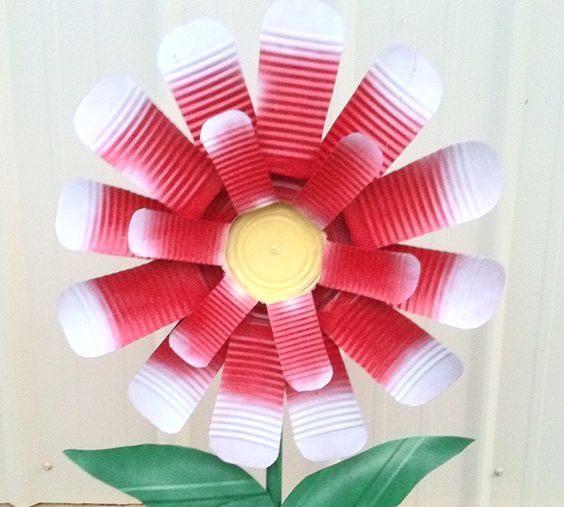 Ensure that each piece is properly secured before painting. This is the time to get creative; use any colors you like or paint them all in one shade. Once everything has dried, you've got yourself a bouquet of unique tin can flower art pieces perfect for decorating shelves or gifting to friends.