Helping The Environment: 45 Incredible Ways To Give A New Purpose To Plastic Bags
By Harpreet K October 2, 2022
---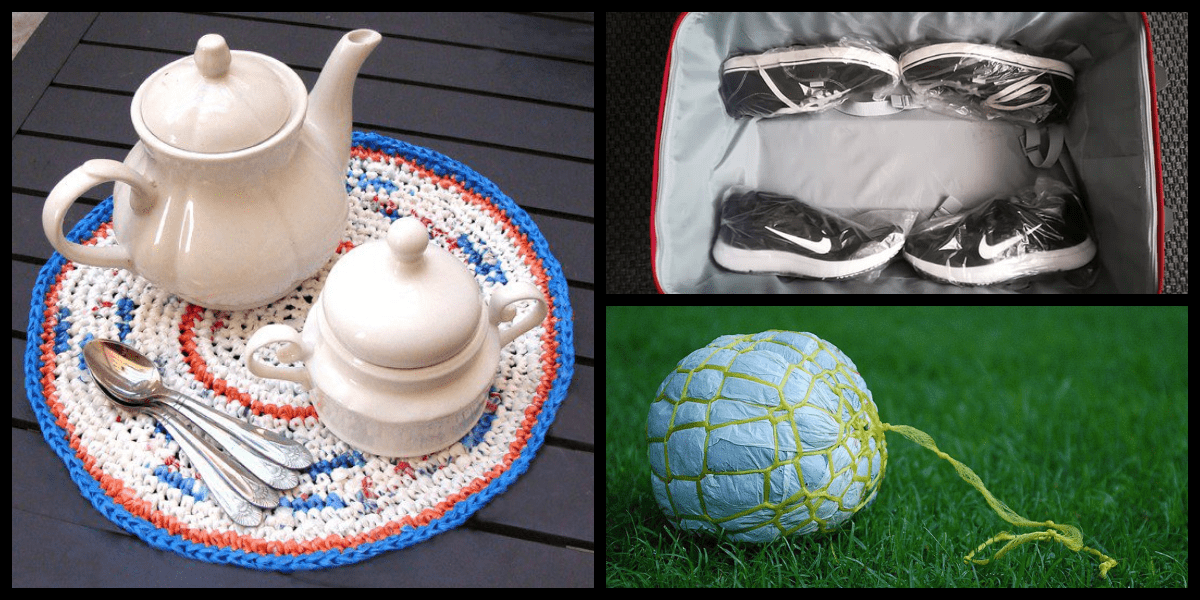 Have you ever taken a moment to ponder how many plastic bags you use in a week? How about in a month? A year? It's likely way more than you can guess. And, unless you recycle them, those bags eventually end up in landfills.
Moreover, they can contaminate soil and water ecosystems. Additionally, when plastic bags are recycled, they can be turned into new products like park benches, decking materials, or even clothing items. So by recycling plastic bags, we can help reduce waste and conserve resources.
There are lots of manners to find a new use for plastic bags so they don't have to be wasted. Some of these are so easy and will require only a few hours, so you can easily try them.
Check out these fantastic plastic bag reuse ideas!
1. Crocheted clock
Turning old plastic bags into a fun and funky Crocheted Clock is a great way to upcycle those pesky bags and give them new life! Not only will you have a one-of-a-kind timepiece, but you'll also be reducing the amount of waste produced each year.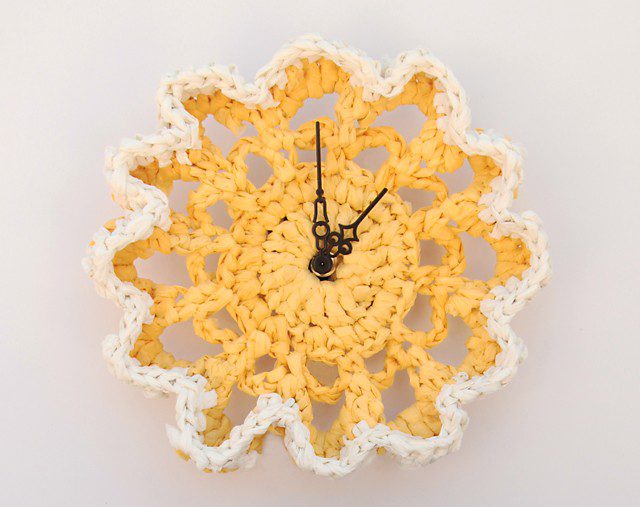 You'll need a clock kit, a knitting needle, plastic shopping bags in assorted colors, and scissors to get started. Begin by cutting off the handles of the plastic shopping bags. You'll only need the body of the bag. Make a circular design using the plastic bag cutouts. Install the clock and secure it.
2. Pencil pouch
Cut your plastic bags into long, slender strips—the strip's width will determine your pouch's thickness. Make all of your strips consistent in width. You should have around 20 strips in total. Measure 16 inches from one end of one strip, and cut it off to begin knitting your pouch.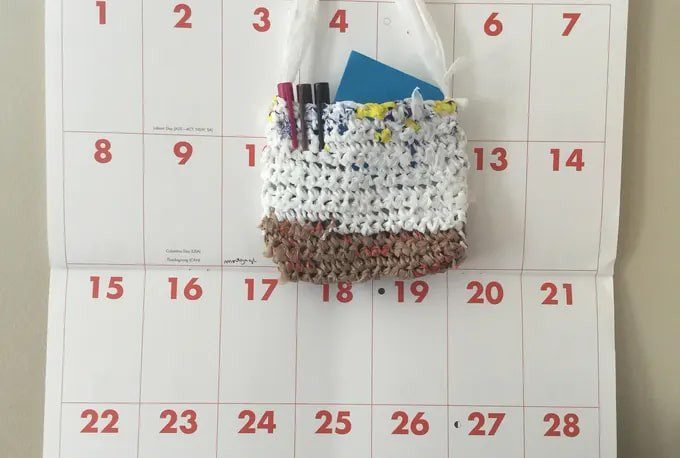 Start knitting and make a large rectangle that can be sewn to a pouch. You may use different colors to create a fun design. Stitch the pouch and also add handles to be able to hang it. You can also add a closure as a button or a ribbon to secure the bag.
3. Jump rope
It might not be the most appealing item you've ever laid your eyes on, but it definitely is effective! Cut the handles off of a few plastic grocery bags. Lay one bag out flat and fold it in half lengthwise. Take the other bag and place it over the first.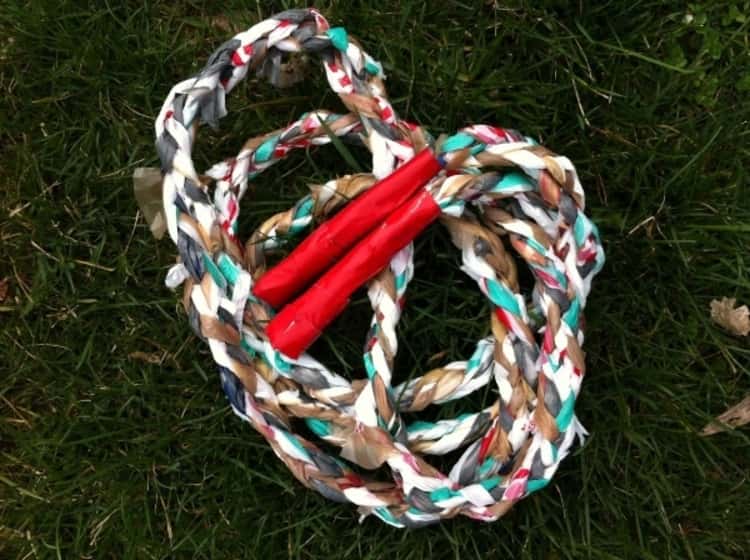 Ensure the folded edge of the first bag is in the middle of the second. Starting at one end, twist both bags jointly as if you were wringing a string. Tuck in any loose edges and repeat on the other side when you get to the end. Voilà! You've got yourself a makeshift jump rope!
4. Plantar cover
A plantar cover is a great way to keep your plants decorated and presentable. You can either buy this item or create your own. To make your own, you'll need some old plastic grocery bags. Cut them into strips about 1 inch wide, then braid them together.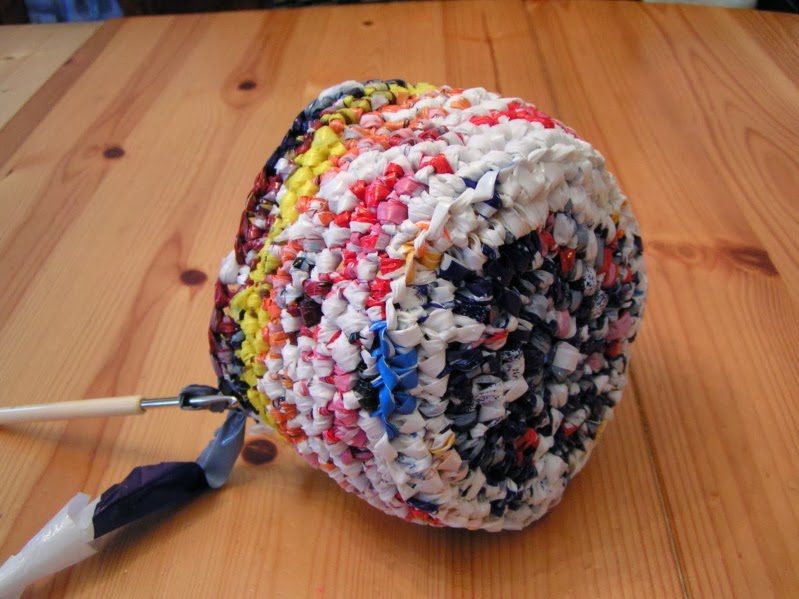 Ensure the braid is tight so the cover won't come undone. When it's done, secure a knot and cut off any excess plastic. Your plantar cover can be used on any type of plant, but it works best on plants that have been recently transplanted.
5. Fun upcycled coasters
There are several ways to make coasters out of old plastic grocery bags. One way is to cut each bag's bottom and then crumple them into small balls. Arrange the balls on top of each other and use an electric iron to fuse them. Let them cool before cutting into coaster shapes.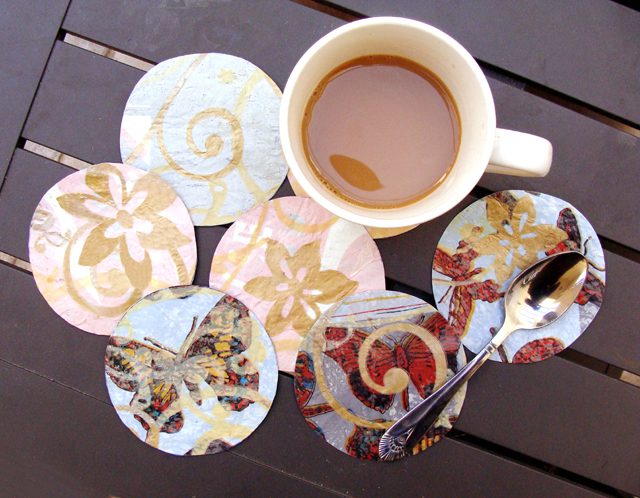 Another way to make coasters out of grocery bags is to cut them into thin strips, then weave them together like you would with a basket. This method takes a little longer but can be more fun if you have kids helping out.
6. Multicolor rug
This is a great way to recycle old plastic grocery bags and create a beautiful, multicolor rug for your home. To make the rug, you'll need plastic grocery bags in various colors, scissors, pins, needles, thread, or a sewing machine. Snip the base off each of the grocery bags.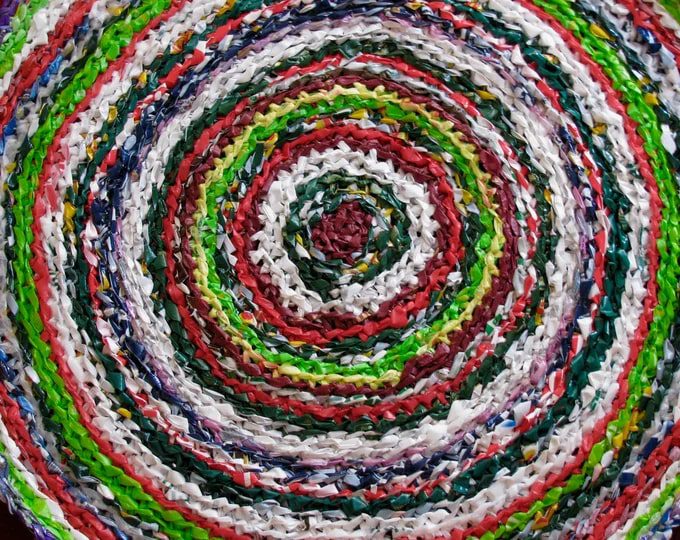 They should be about 15″ long. Cut multiples to make a wide rug. You'll also need some extra bag pieces for the fringe on the end of your carpet. Fold each strip in half and start braiding them. Stitch all the braids together to make a circular rug.
7. Reusable shopping bag
This one is pretty straightforward. You only need a few plastic grocery bags and it'll only take an hour of your day. Cut the handles off of two or three grocery bags. Cut each one into strips, making sure to cut along the bottom seam so the strips are flat.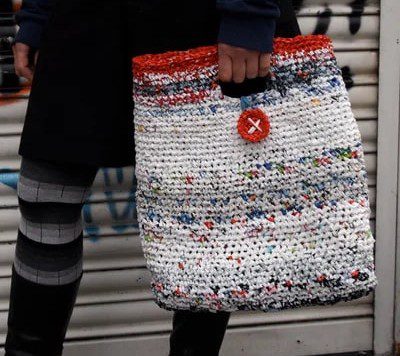 Then, use a crochet hook or knitting needles to start knitting. If you're new to knitting, watching a few YouTube tutorials might be helpful before getting started. Once you've knit a few rows, tie the ends together to create a shopping bag shape. You've knit your reusable shopping bag using recycled materials!
8. Plastic bag flowers
This may be a fun project for kids to do with you. You'll need about 20-25 plastic grocery bags for this project. Cut the bottom off each bag. Separate the handles from the bag and cut them off as well. You should now have a long, thin strip of plastic film.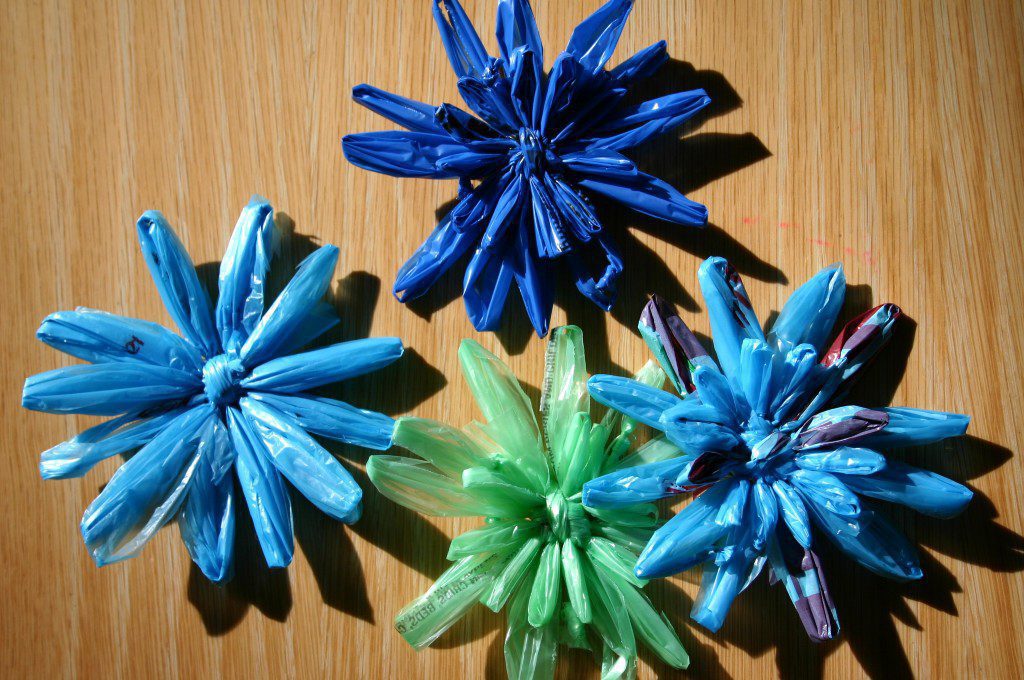 Cut each strip into thirds, ensuring you have an equal number of strips from each bag. Take one strip, and "accordion" fold it or just make loops. This will create the petals. Gently curve the petals inward so they form a flower shape. Glue four or five petals together in a bunch.
9. Hammock chair
Why not recycle your old plastic grocery bags into comfortable hammock chairs? This is a wonderful project for those who want a fun weekend DIY project. All you need are some essential hand tools and about an hour of your time. Start by cutting the bottom of each bag.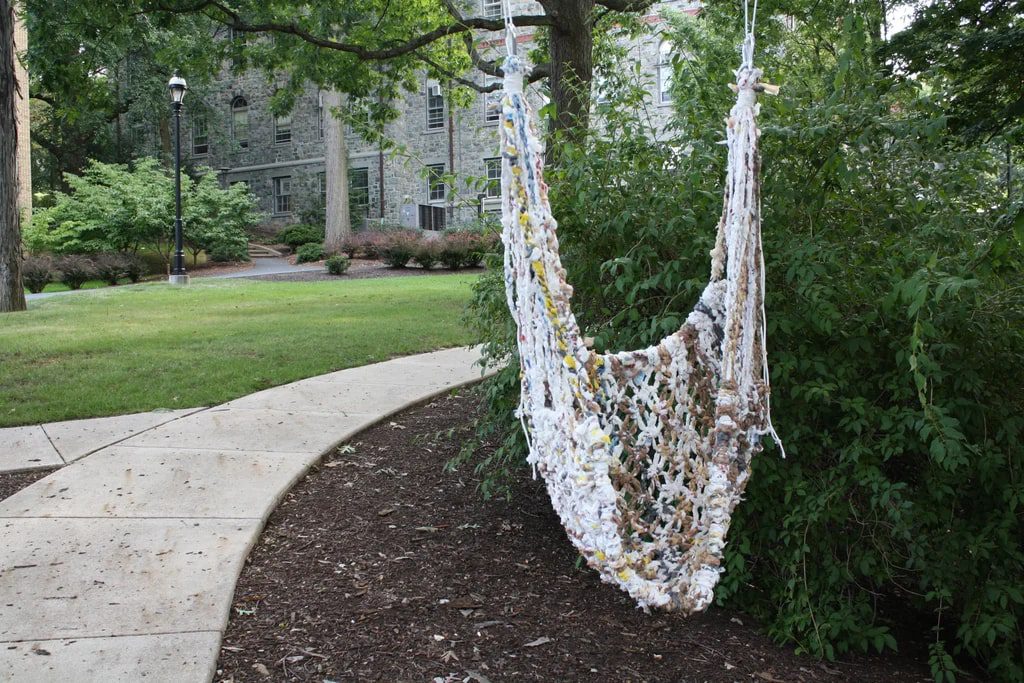 Cut them into strips, weave them together, and tie the resulting hammock chair to a sturdy post or tree. Don't forget to leave an empty space at the top so you can sit in it comfortably. You may even add a cushion for extra comfort.
10. Pretty flowers
Among the great ways to recycle old grocery bags, turning them into pretty flowers is one of the best! Just cut the bag into thin strips, then make a petal shape by folding the strip in half, lengthwise. You may also cut out exact petal shapes from the plastic sheets.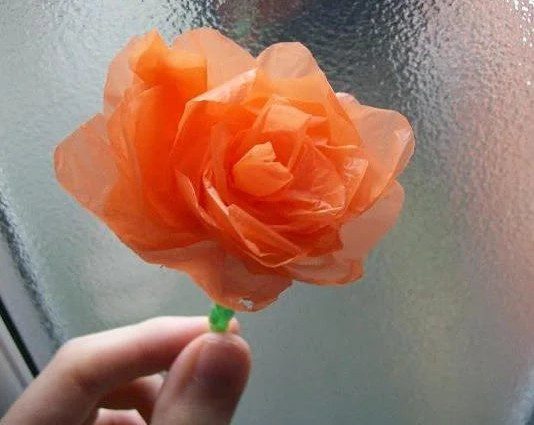 Once you have a few petals, hot glue them together in the center to form the flower. You may use this same technique to make any flower – you just have to experiment with different colors and shapes! Add a wire under the flowers and cover it with green bag strips.
11. A quirky lampshade
Covering your old lampshades with rolled-up plastic grocery bags is a great way to give them a new look and protect them from dust. It's an easy project that only takes a short while, and the results are remarkable. Start by folding one of the grocery bags in half to form a long, thin strip.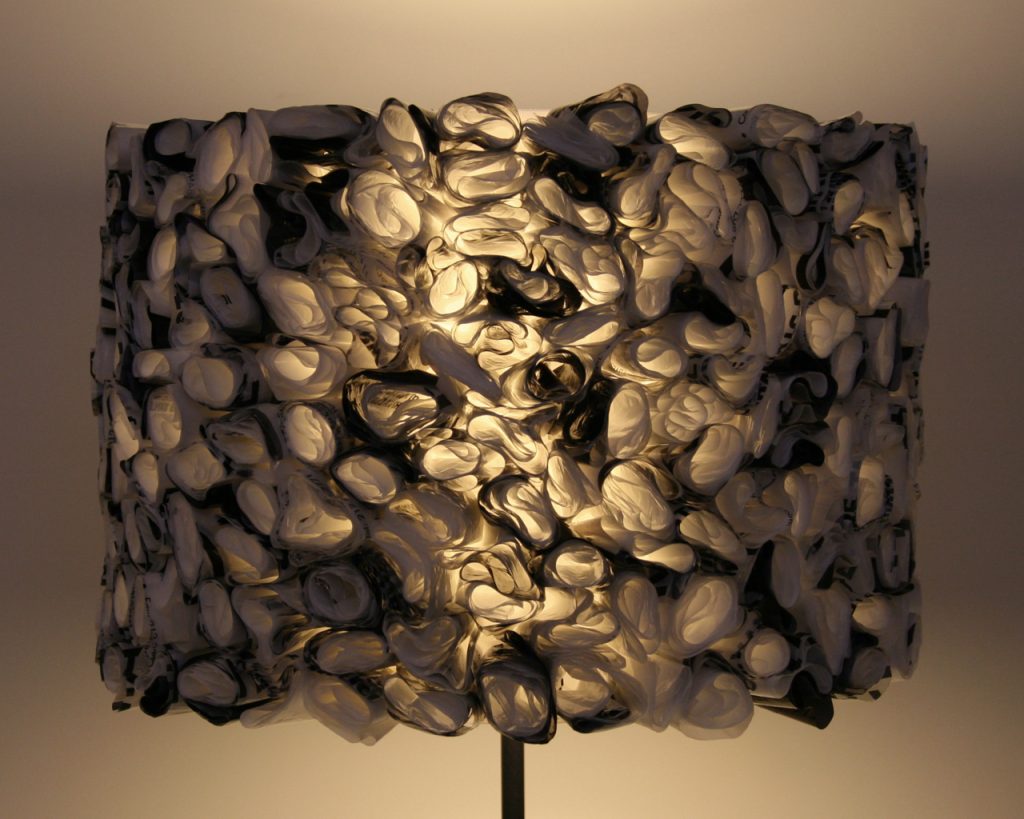 Wrap the strip around the top of the lampshade, ensuring it's tight and secure. You'll likely need to use lots of strips of grocery bags to cover the entire shade. Once the shade is covered, use scissors to cut off any excess plastic bag material. Secure the strips using glue or tape.
12. Outdoor pillow insert
There are a few ways to make low-maintenance outdoor pillow inserts using old plastic grocery bags. One way is to cut the bottom off a grocery bag and then open it up to form one big sheet. Then, utilize scissors to clip the sheet into smaller pieces.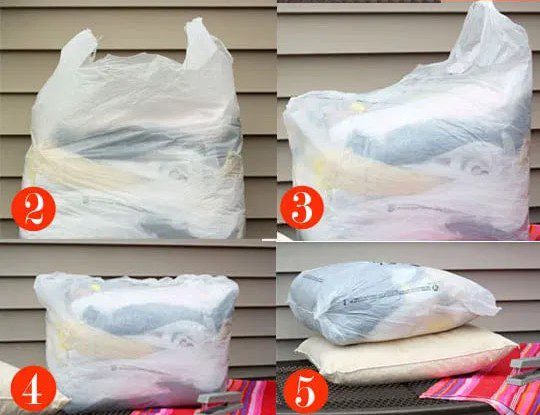 Another way is to ball up all the grocery bags until they form small balls and use an iron on medium heat to flatten them out. Once they're flattened, cut them into square or rectangular pieces about the size of pillow inserts. You can also just sew together a bunch to prevent seams.
13. Alien stationery holder
There's no need to recycle those old grocery bags–with a few simple steps, you can turn them into an adorable alien desk caddy! Cut the handles of the bags. You may take similar colored bags to ensure the alien holder looks uniform.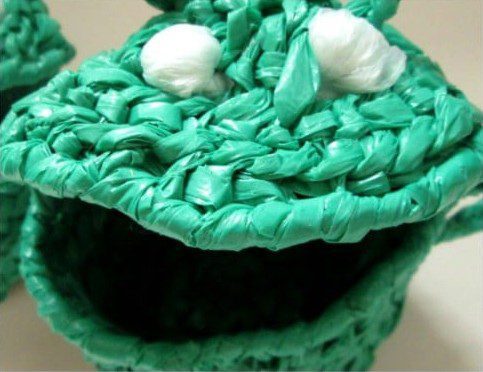 Cut thin plastic bag strips and braid them together to form thin braids. Use these braids to create a cylindrical shape. You may use glue or thread and a needle to sew these braids. Make a similar alien shape at the opening of the organizer. Add eyes and teeth to make it more realistic.
14. Crocheted placemat
You'll need about 12-15 grocery bags to make a placemat. Start by folding the bags in half so that they create a thick layer of plastic. Then use a crochet hook to begin stitching the edges together. You'll want to use a basic single crochet stitch for this project.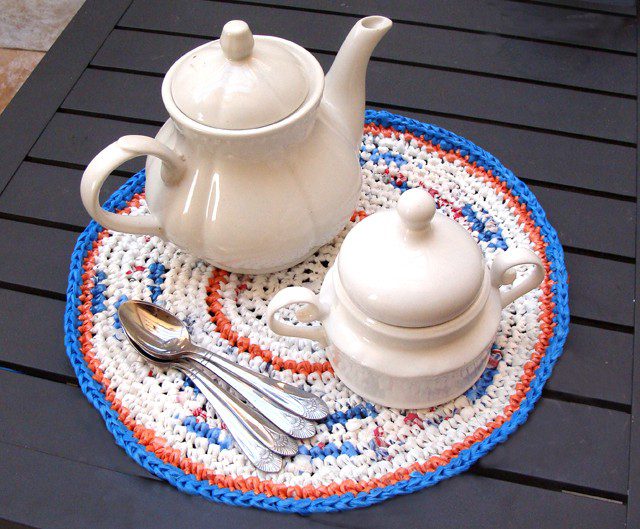 Keep crocheting until you have created a rectangular shape about 14 inches wide and 18 inches long. Finally, finish off the edge with a simple slip stitch. You may also crochet these in a circular or triangular shape. Choose opposing shades for a rich look or monotone hues for a sober look.
15. Clothespin organizer
This is a great way to upcycle those old grocery bags and keep them from ending in landfills. Not only does it help reduce waste, but it also saves you some much-needed space in your laundry room or closet. Cut the bottom of an old grocery bag to make a clothespin holder.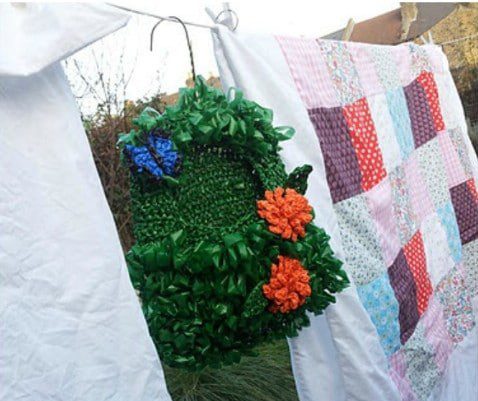 Cut the bag in half so that you have two equal-sized pieces. Fold each piece in half, so the short ends meet, and sew along the three open sides. Finally, turn the bag right-side out, and you're ready to go! Alternatively, you may braid the grocery bag strips and then sew the bag.
16. Jellyfish toy
Make a jellyfish toy out of an old white plastic grocery bag for your kids to play with. You may add this to a water bottle to make a sensory toy for toddlers. Cut the bag open along one side to form a large rectangle.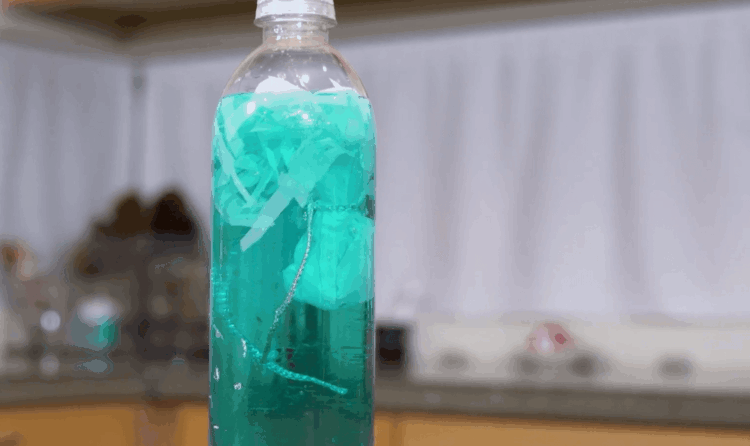 Now, cut the rectangle into four long strips. Twist the strips together at one end to form the head of the jellyfish, and then fan out the other end to form the tentacles. If desired, you can add some googly eyes or other decorations to make your jellyfish even more fun!
17. Soft and comfy slippers
You may become a big fan of recycling plastic grocery bags by turning them into soft, comfy slippers. They are great for keeping your feet warm on cold winter nights and also really easy and quick to knit. Start by cutting off the handles of an old plastic grocery bag.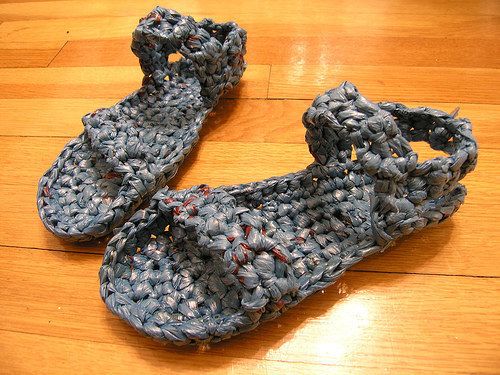 You'll want to use a fairly thick bag, as thinner bags may tear when knitting. Open the bag, and tuck it in half, so the two bottom corners meet. Cut thin strips and start knitting from the base corner up to the top corner. Use an easy online template as a guide.
18. Reusable food wrappers
This is a great way to reuse old white plastic grocery bags and avoid using disposable food wrappers. Cut the bottom off each bag, making a rectangle about 18″ x 24″. Cut a piece of velcro about 3″ square, and sew it to one end of each strip.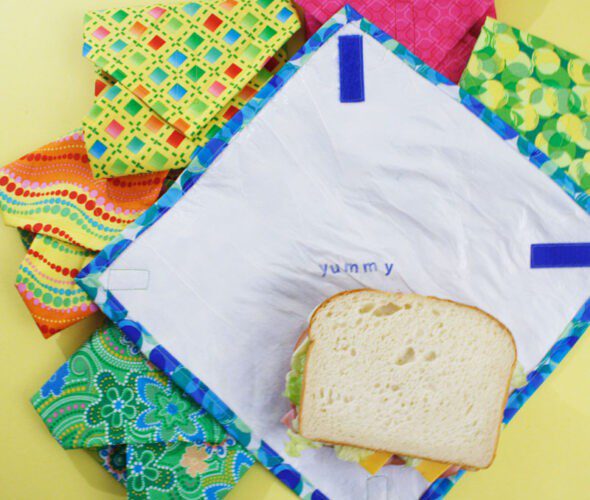 Now you have reusable food wrappers that can be closed with velcro. They will maintain them securely in place and stop them from getting messy. When you're done eating, detach the wrappers, fold them up, and put them in your pocket or bag until you're ready to use them again.
19. Colorful pom poms
Pom poms are incredible DIY decorations and look fancy on a gift pack. You may also hang them from the ceiling during a kid's birthday party. The best part is that you don't have to buy these from the market if you have plenty of plastic bags at home.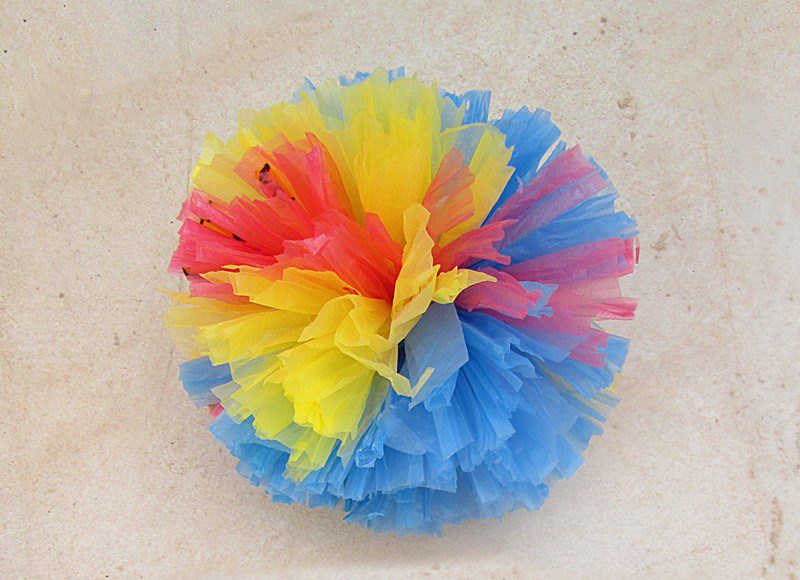 You can make colorful pom poms using old plastic bags. Use transparent bags to make the pom poms look nice. Snip the base off each bag, then cut them into strips. Roll the strips on cardboard and tie a strip in the middle. Remove the cardboard and use scissors to shape the pom pom.
20. Fun DIY sneakers
You may enjoy wearing this unique pair of shoes. For this, you'll need an old pair of worn-out sneakers. Plastic bags may not have good durability, so it's best to fuse them over the layer of worn-out fabric of the sneakers. You may also use thick layers of plastic bags.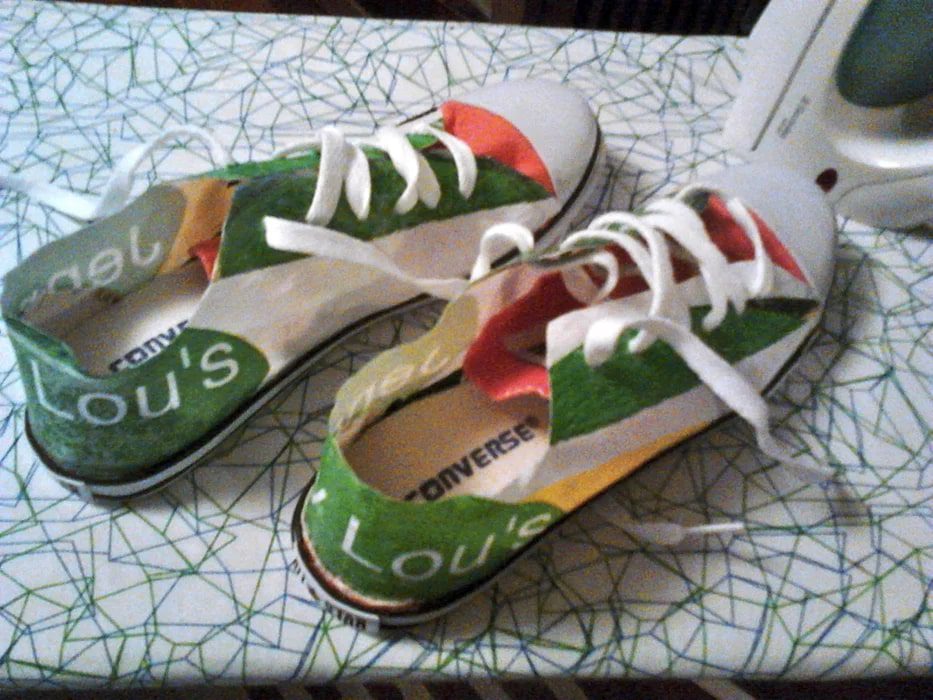 Moreover, if you were to use a combination of recycled grocery bags and other types of recycled plastic materials, you could likely create a fairly durable pair of sneakers. Take apart the sneakers to use them as plastic-cutting templates. Fuse the plastic bags and the fabric before adding them to the sneakers.
21. Plastic trash can
Making a trash can out of old plastic grocery bags is easy. Just cut the bags into thin strips, then weave them together like you would with a basket. You can use any kind of bag – plastic, paper, even cloth ones.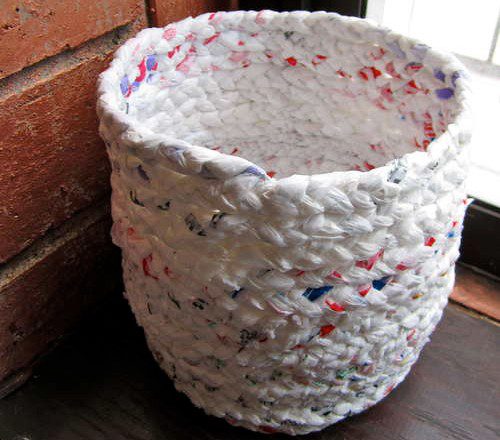 Grocery store bags work best because they're sturdy and easy to cut. This is a terrific method to recycle bags and make something useful. It also makes for a cute and stylish trash can that no one will ever guess is made from recycled materials. Give it a try!
22. Easy shoe packing
When you're packing for a trip and trying to figure out what to bring, it's always a pain to try and cram your shoes into your suitcase. But with this easy trick, you can pack them easily using plastic grocery bags. Put each shoe inside its bag, then fold the top of the bag.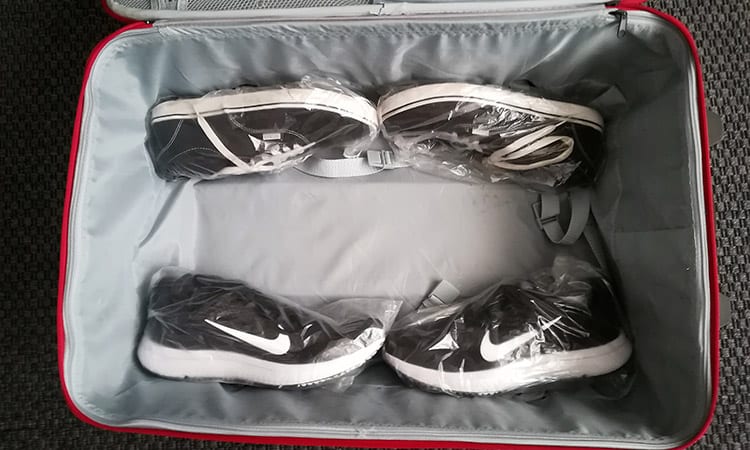 This will prevent your items from getting filthy or broken and will save space in your suitcase. Plus, if you need to bring an extra pair of shoes with you on your trip, you can tuck the grocery bags into your luggage. They're lightweight and will help keep your shoes safe.
23. Woven table runner
Table runners are a great way to add a pop of color or pattern to your table setting, and they're also an enjoyable DIY project. Plus, using recycled materials like old plastic grocery bags makes them even more eco-friendly. You may make a few for special occasions.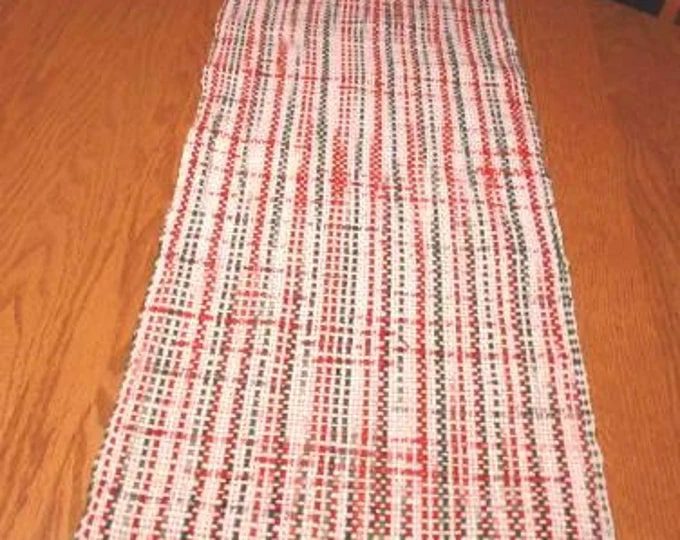 You'll need a roll of masking tape, about 20 old plastic grocery bags, a sharp pair of scissors, and measuring tape to make your table runner. Cut long strips of plastic from each bag and you'll have multiple strips of plastic. Weave the strips together to form a long rectangular table runner.
24. No more stinky diaper
You may use a plastic grocery bag to store a stinky diaper. Just make sure to tie the top of the bag tightly so the smell doesn't escape. When looking for an easy way to dispose of a dirty diaper, use a plastic grocery bag as a liner in your garbage can.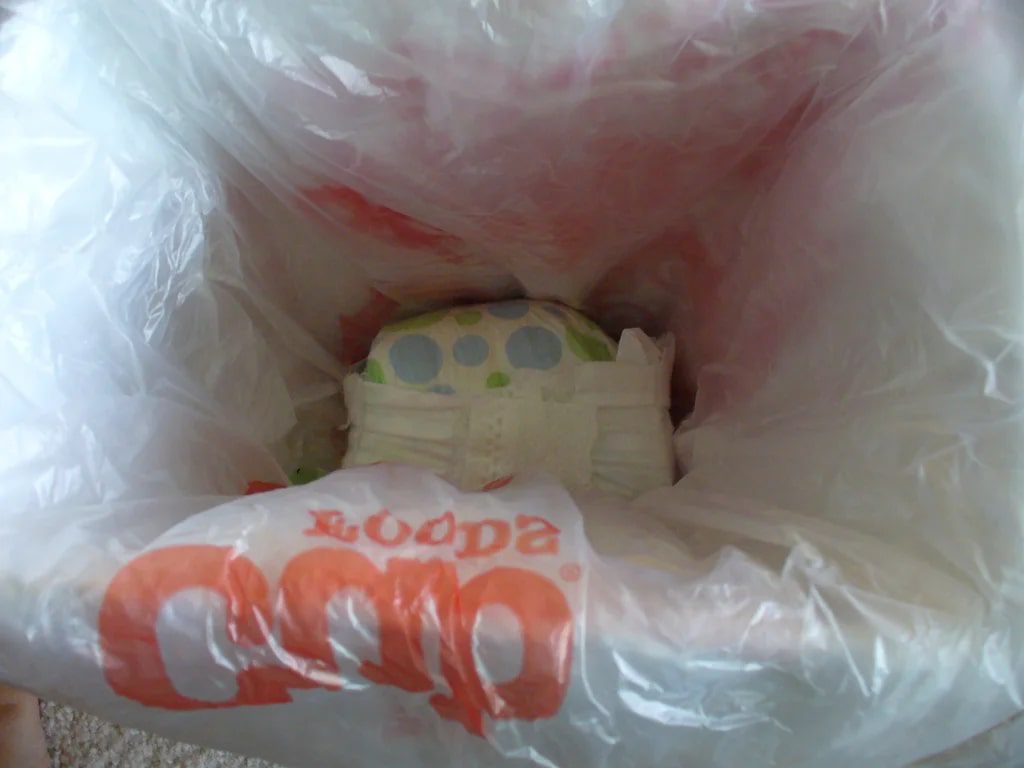 Place the bag inside the garbage can, tie it securely, and throw it away when it's full. Using grocery bags for this, you'll be reusing the plastic bags instead of discarding them after the first use. Besides, reuse them as liners whenever possible.
25. Laptop bag
Making a laptop bag with handles and pockets out of old plastic grocery bags is a fantastic way to reuse and recycle materials. It's also a fun project that can be concluded after some pretty easy steps. Gather a few supplies, including old plastic grocery bags, a ruler, scissors, and a pen.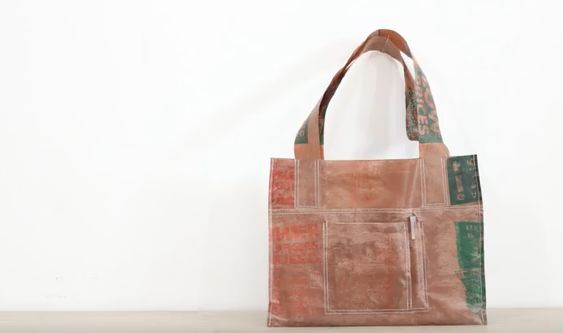 To put it all together, stack three grocery bags on top of each other and lay one panel of fabric on top (the bottom should be facing up). Pin the handles to either side of the bags and stitch them. You may add pockets in the front to store additional items.
26. Floral tote bag
Are you looking for a fun and straightforward project that is also environmentally friendly? Try making a floral tote bag from old plastic grocery bags! Make strips from the bags, then use them to knit a bag in a rectangular shape. Stitch the knitted sides to form a large pocket. Add handles using braided strips.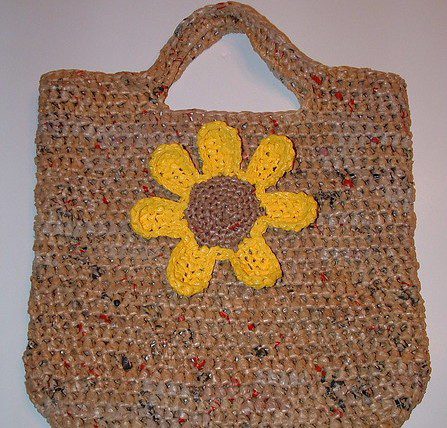 You can create any design you wish or follow the simple steps from an online tutorial. This is a great way to reuse materials that would otherwise end up in the landfill, and it also makes your new tote bag unique and stylish.
27. Festive door wreath
Gather a few dozen old plastic grocery bags. Cut off the handles and then cut each bag open, so it lays flat. Fold each bag accordion-style until you have one long strip. Cut the strip into roughly 12-inch pieces. You may pick white bags or include some colorful ones.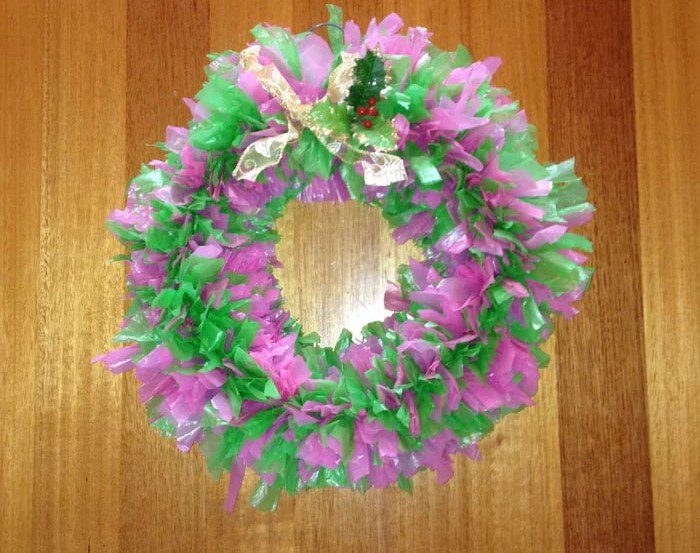 Wrap these strips around a circular frame made of plastic or metal. Secure these with a hot glue gun or tape. You may add flowers and ribbons to decorate the wreath. Also, include a piece of twine or ribbon to hang the wreath over the door.
28. Crinkle toys for babies
You can use crinkle toys to keep your baby occupied. Crinkle toys make a crinkling or rustling sound when you move them. This noise is usually caused by small pieces of paper, plastic, or cloth inside the toy. Stuff the polythene cuttings in a cute bunny shape toy.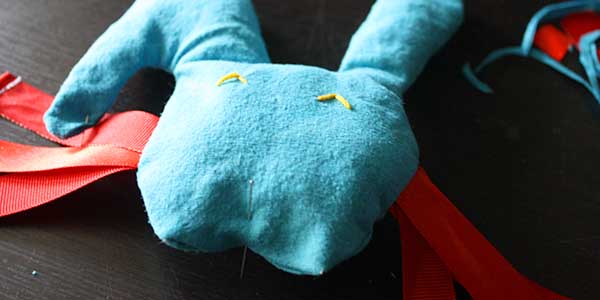 You can make a crinkle toy for your baby by folding a grocery bag and securing it with a rubber band. Then, cut several slits in the bag so the plastic will make a crinkling noise when moving it. Your baby will love the sound and texture of this homemade toy.
29. Clean showerhead
Use a plastic grocery bag and vinegar to clean your showerhead. Just fill the bag with vinegar, attach it to the showerhead, and let it sit for a few hours. The vinegar will help dislodge any built-up gunk or dirt, and the plastic bag will help keep the vinegar in place.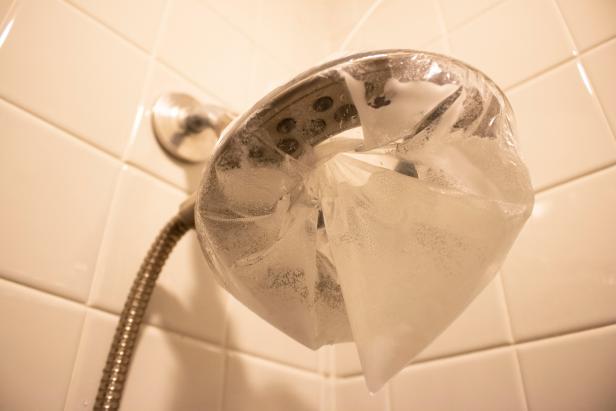 You may have to scrub a little bit to get all the grime off, but it's worth it for a sparkly clean showerhead! Repeat this cleaning process every few weeks so that the shower is clean and has good water pressure at all times.
30. Make a kite
It's possible to make a light kite out of plastic grocery bags. You'll just need a few essential instruments, such as scissors, a ruler, and some duct tape. Start by measuring and cutting six panels out of the grocery bags. Next, fold each panel in half, width-wise, so the bag is divided into two panels.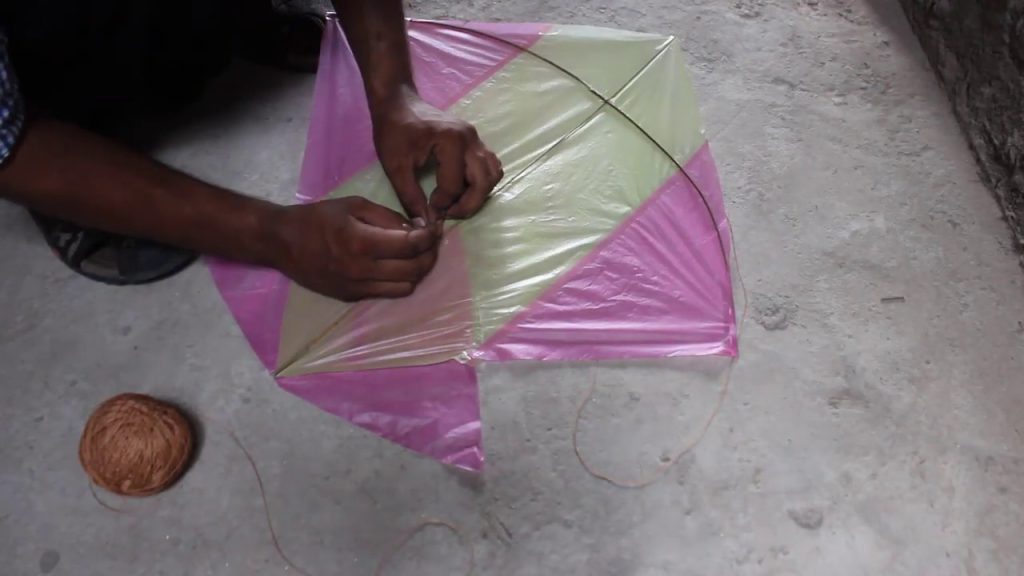 Fold each panel in half again lengthwise so that you have smaller panels. Finally, use duct tape to tape the edges of each panel together so that you have a rectangular kite shape. Now it's time to add the tail and the strings. Cut a piece of yarn and tie one tip around the center.
31. Portable basket
Reuse those pesky plastic grocery bags and keep your hands free while picking flowers or carrying things around. Cut the strips of the grocery bag into 18-inch lengths. If the bag has a drawstring, cut off the top portion of the bag so that you have a long, uninterrupted strip of plastic.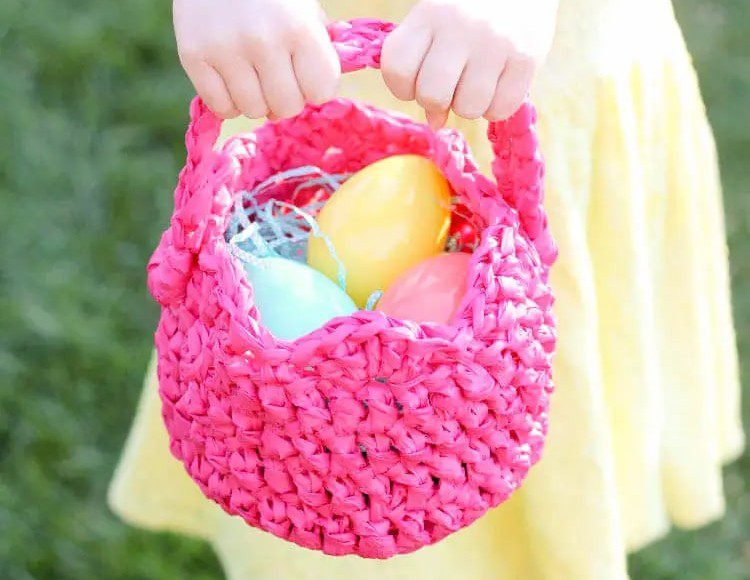 Knit the basket using the crochet method. This will weave a strong basket that can hold a lot of weight. You may use this shorter strip later to thread a strap for your basket. Braid the strips together to create a sturdy handle to make the basket portable.
32. Cheap plastic ball
Making a cheap plastic ball is quick and convenient! All you need are a few plastic grocery bags and some scissors. First, cut the grocery bags into thin strips. Then, twist the strips together to create a ball. You can use any bag.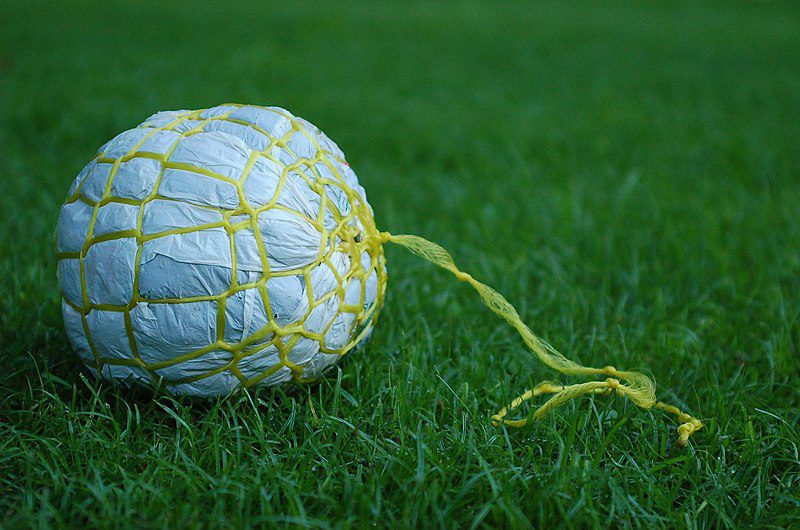 Ensure it's made from plastic so that it will be durable enough to hold its shape. Tie strings around the ball to secure it. This project is ideal for children and is a splendid method to recycle old grocery bags. Have fun playing with your new DIY ball!
33. Plastic yarn for DIYs
Create something fun and practical with the help of a few supplies. You may need plastic grocery bags, yarn needles, and a crochet hook. Get started by cutting the base off of a grocery bag. It'll create your yarn ball. Cut each of the other grocery bags into narrow stripes, about an inch wide.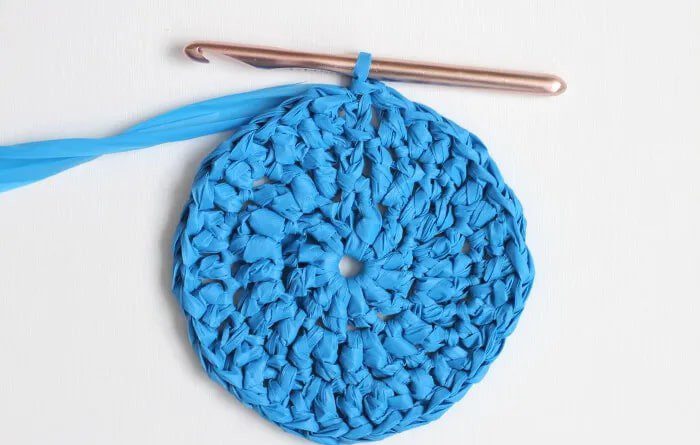 Then tie them all together using a double knot. When you get a big ball of plastic yarn, get creative! You can use it to make lots of things, from coasters to placemats to rugs. Moreover, you may knit tablecloths or phone covers using this yarn. Have fun with it!
34. Waterproof packing
Save on packing space and keep your clothes dry while traveling. Just fill up a few plastic grocery bags with clothes and then put them in your suitcase. When you're ready to pack your bathing suit and towel, grab a bag of clothes and head to the pool or beach.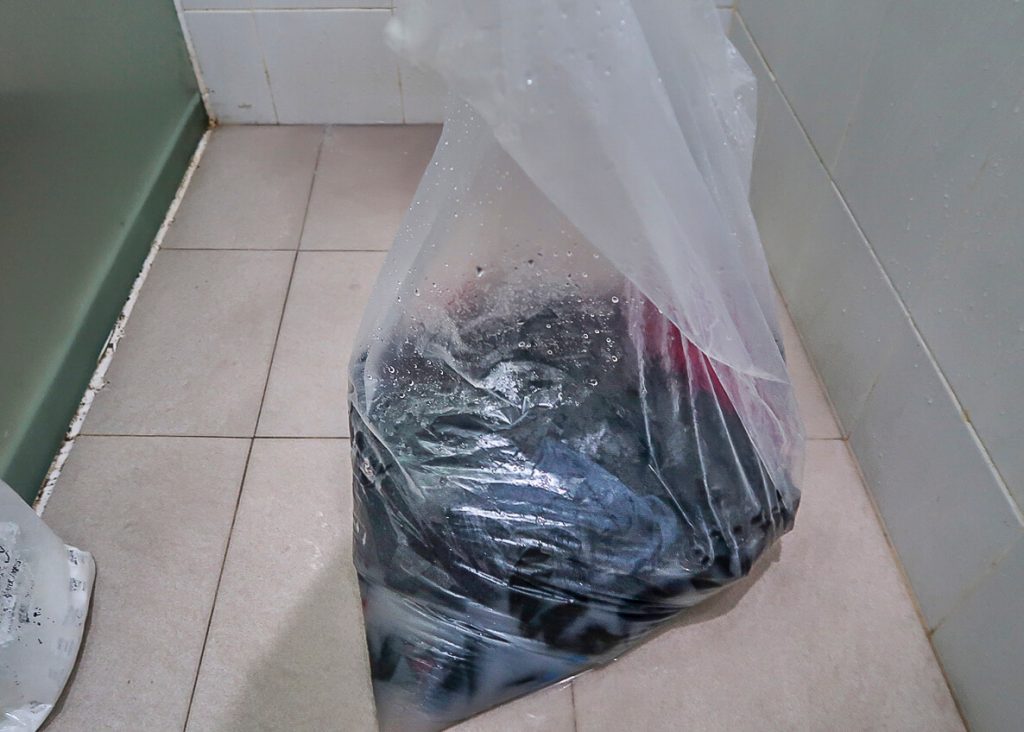 And if it starts raining while you're out, you'll be glad you have those plastic bags to keep your clothes dry! Moreover, you may use these bags to store your dirty laundry. It'll keep the other clean clothes from getting smelly from the dirty ones.
35. Cover car side mirrors
One way to keep your car's side mirrors from frosting in winter is to cover them with plastic grocery bags. This simple trick will help keep the mirrors clear and free from ice, which can be a big help when you're driving in bad weather.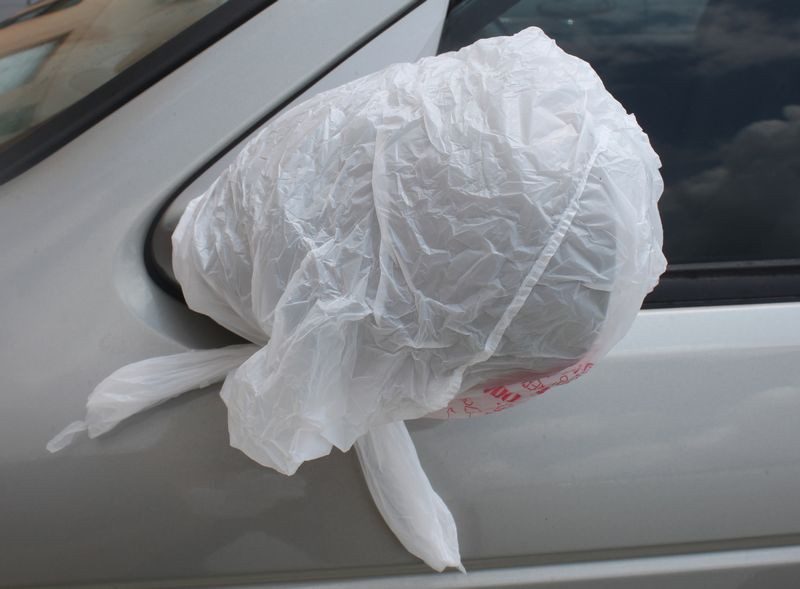 Just cut a couple of plastic grocery bags, so they fit over your car's side mirrors. After that, use some tape or a rubber band to hold the bags securely. Make sure to remove the covers when it warms up outside or when you start to drive.
36. Soft pendant light
This is a fabulous manner to add character to your lighting fixtures and make them more visually appealing. It's a simple, inexpensive project that can be concluded really quickly. Plus, it's a great way to upcycle old grocery bags into something new and useful.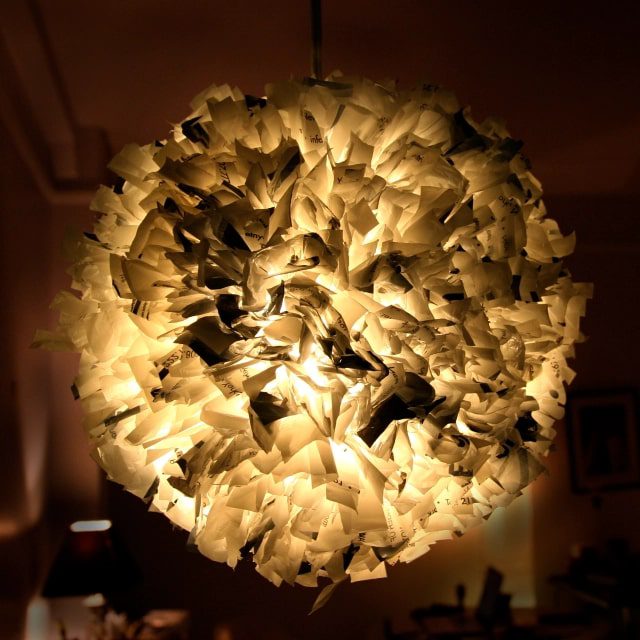 Cut the strips out of different colored bags and then adhere them to the light with some strong adhesive. Instant upgrade! You can use any pattern or design you like, so have fun with it. Not only will this make your lighting more interesting, but it'll also help brighten the room.
37. Braided bracelets
You may succeed in making beautifully braided bracelets out of grocery bag strips. It's an eco-friendly and stylish way to reuse and recycle plastic bags. Moreover, you may ask kids to help as it's also a fun craft project. Turn the grocery bag into thin strips. You'll need about six strips per bracelet.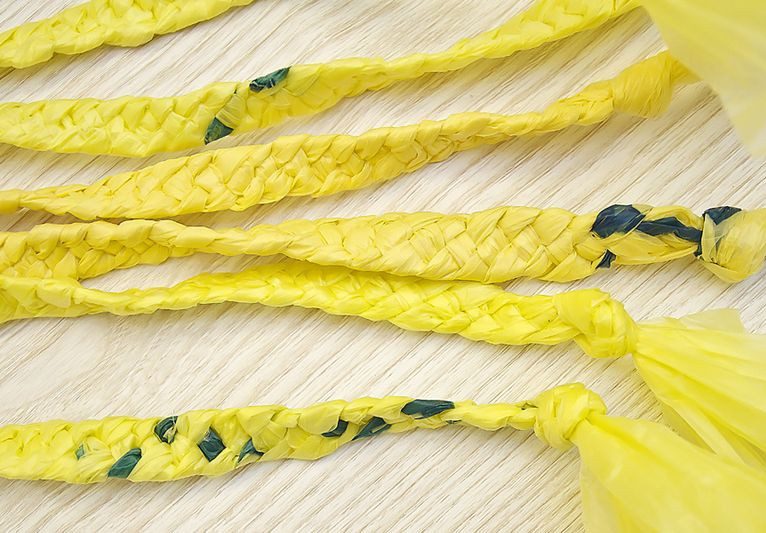 Next, braid the strips together into a three-strand braid. If you're unsure how to braid, there are lots of YouTube videos that can assist you. Once the braid is complete, tie a knot at the end to secure it. And that's it! Your bracelet is ready to wear.
38. Paint something artsy
To do this, you'll need some paint, a grocery bag, and paper. Cut the bottom off the grocery bag and open it up, so it forms a flat sheet. Pour some paint onto the plastic sheet and spread it with your fingers.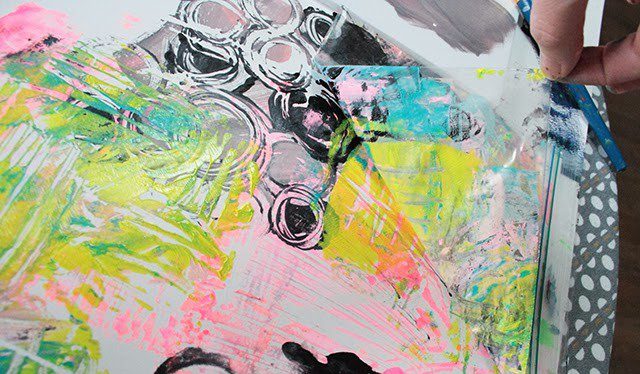 Then press the paper onto the paint and rub it around to transfer the paint to the paper. You may use different paint colors to create incredible designs on the paper. It's easy to layer different paint colors using plastic sheets. Let the paint dry completely before framing or displaying your artwork.
39. Adorable napkin rings
You may make these adorable braided napkin rings with a few available supplies for your next dinner! You'll need a few grocery bag strips cut out into circles, some hot glue, and a little time. Take a few strips and glue them together at the top. Divide these into three and start braiding.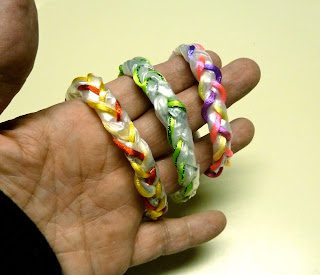 Tape or hot glue the end of the braid to form a ring. Slip your napkin through the ring and secure it with a knot or clip. You may use a contrasting color to use over the napkins or make a multicolor ring. You can use red and green for a Christmas theme.
40. Rain jacket
You may use a needle and thread or a hot glue gun to make your plastic rain jacket. First, trace the jacket's sleeves and body over the plastic bags and cut them out. You may use more than one layer to make it sturdy.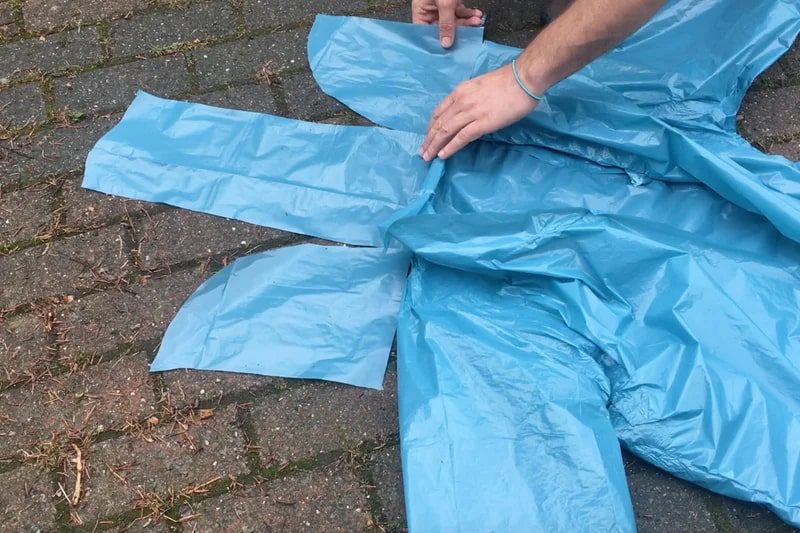 Remember to leave some extra inches to sew the jacket or paste it using glue. Start gluing or stitching the plastic sheets to form a jacket. Also, add a cap over the shoulder. Once you're done assembling the jacket, turn it over, and it's ready to wear.
41. Small coin pouch
This is a fun and easy project that can be completed in just a few minutes! All you need is a sewing needle, thread, and plastic grocery bags. First, cut off the handles of two grocery bags. Then, fold one bag in half, so the bottom edge meets the top edge.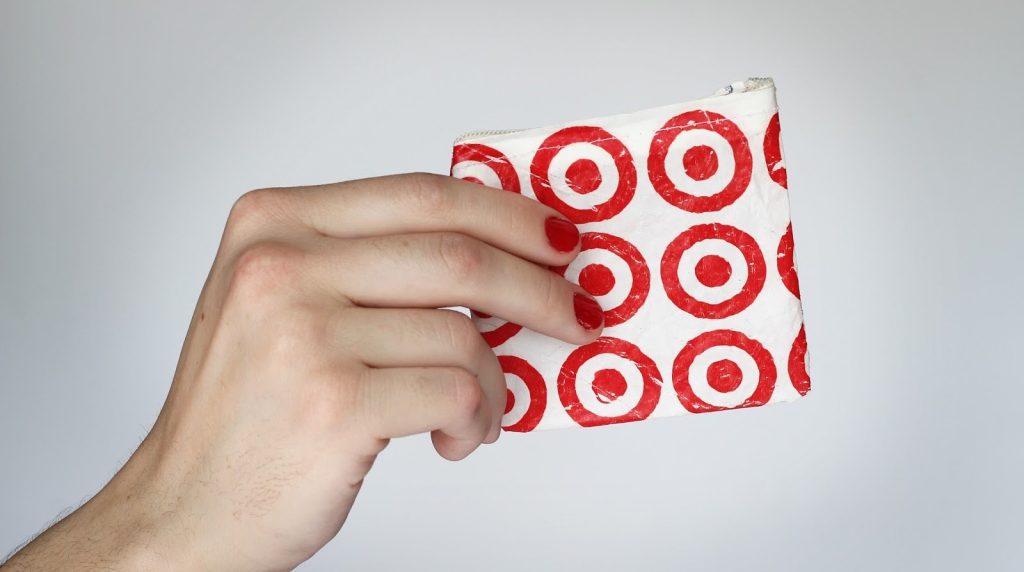 Sew across the folded edge with a needle and thread. Make sure to backstitch at the beginning and end of your seam to prevent it from unraveling. Repeat this process with the second bag, ensuring to line up the seams so that the two purses are identical. Add a zipper to make the bag secure.
42. Sturdy hat
Cut the bags into long, thin strips to have plastic bag yarn. It'll make it simpler to knit. Now, use a crochet hook to knit the hat. You'll have to decrease and increase stitches to form the hat's shape while knitting.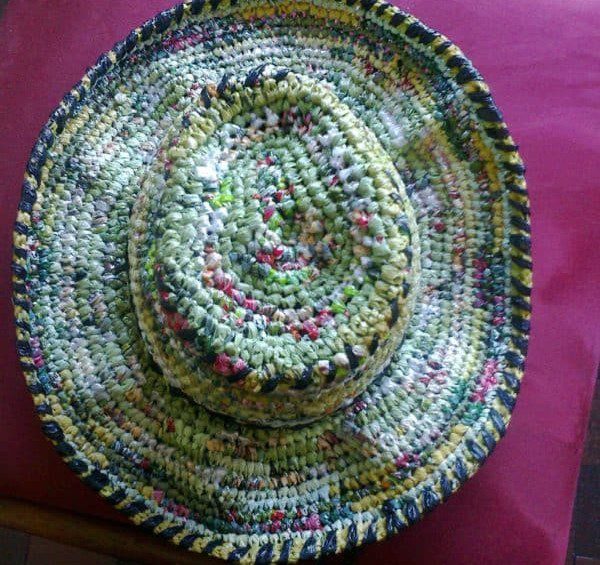 Repeat this process until you have enough chains to fit around your head (or your intended recipient's head). Now, simply knit stitches onto each chain loop until you have the desired thickness for your hat. Bind off and weave in the end. Voilà! You have designed your eco-friendly hat.
43. Parachute toy
Making a parachute toy for kids is a fantastic option to keep them entertained and engaged. All you need are some plastic grocery bags and some tape. Fold one bag in half twice so that it forms a triangular shape. Cut off the opened end, making sure to leave a long tail.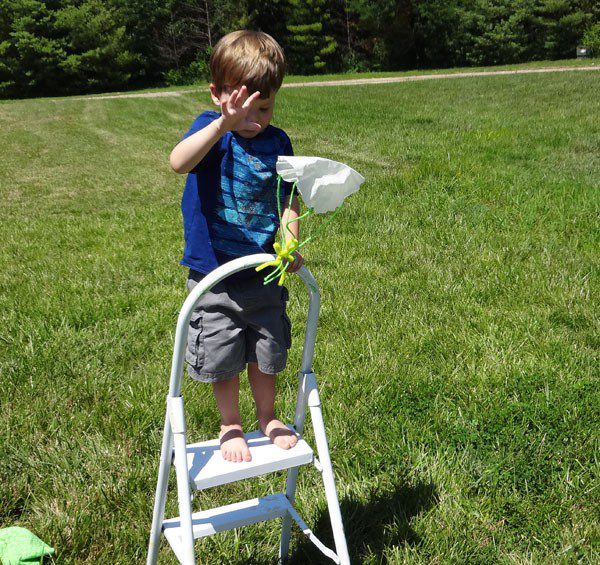 Tape the cut edge shut. Twist the top of the bag until it forms a loop, and then tape it in place. Cut another bag open, leaving a long tail on both sides. Connect each tail to the loop on the first bag, taping them securely in place.
44. Small wallet
Use this awesome hack to recycle those pesky plastic grocery bags that seem to accumulate in your home. It's a handy way to carry your ID, credit cards, and cash when you're on the go. Grab about 6-8 plastic grocery bags, scissors, needles, thread, or a hot glue gun to make a small wallet.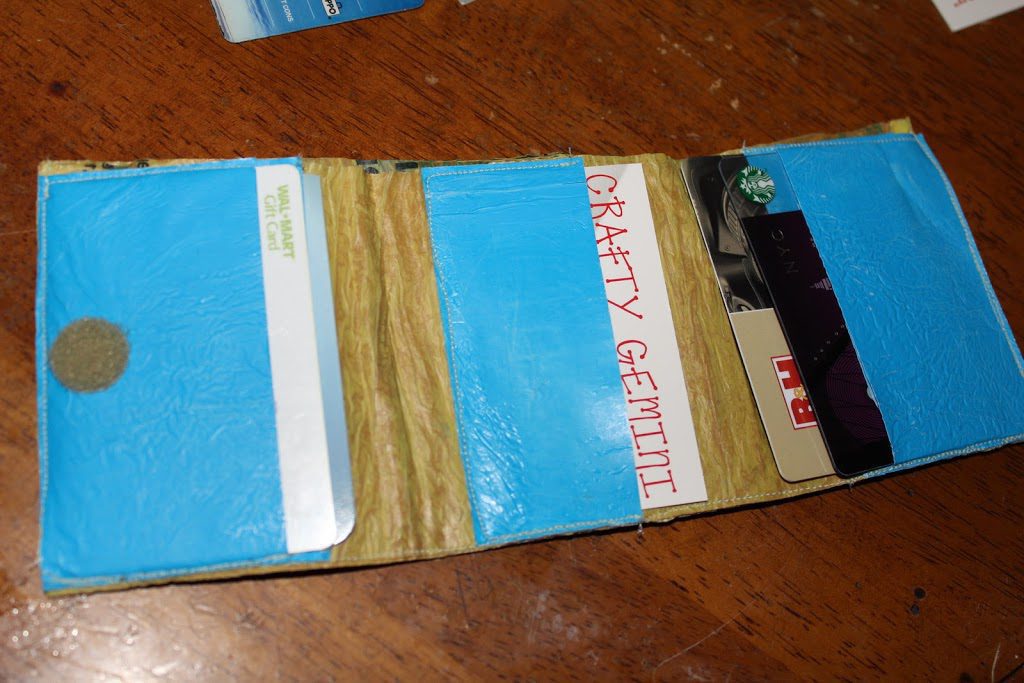 Cut the bottom off of one of the grocery bags to make a flat rectangle. Use this as a wallet cover while also making inner pockets. Sew three sides of the top bag together, leaving one side open. Use a straight stitch and knot the thread at the end so it doesn't come undone.
45. Outdoor hammock bed
All you need is a few sturdy shopping bags and some patience. Start by folding your grocery bags in half, twice. This will make them stronger and less likely to tear. Next, cut each bag along the fold lines so that you have four strips of fabric per bag. Now it's time to weave!
Use two planks of wood for the frame of the hammock bed. Start from one end of the wooden plants to the other. Take the first strip of fabric and place it over the second strip, then under the third strip. Continue weaving in this way until you reach the end.